FROM GRAIN TO GLASS
A LOOK INSIDE ALBERTA'S FIRST CRAFT DISTILLERY
BY TYLER DIFLEY
Located inside the skeleton of a 1920s-era movie theatre just off of Main Street in Turner Valley, Eau Claire Distillery is the first of its kind in Alberta — a genuine craft distillery using only premium Alberta grains and Rocky Mountain water to make its small-batch spirits.
"I thought Alberta of all places, with our premium grain, should be a place where we have a craft distillery," said Eau Claire's president and co-founder David Farran. "Alberta ships our barley to Scotland to make scotch, so why don't we make premium products here?"
Until recently, the answer to that question was quite simple: government regulations made it nearly impossible.
For many years, Alberta's perfect conditions for craft distilling went to waste. Government regulations required that any distillery in the province have the capacity for 250,000 litres of absolute alcohol production annually. This amounts to roughly 625,000 litres of 80-proof vodka, gin or whisky—far more than any true craft distillery could ever produce.
Then, in December 2013, the Alberta Gaming and Liquor Commission eliminated the minimum production rules, opening the door for a craft distilling industry to establish itself in the province. Farran and his business partners were the first to take the plunge.
Farran's career started in beer rather than spirits, when he joined fledgling craft brewery Big Rock as vice-president in 1984. He has also founded several successful businesses, including Pipestone Travel Outfitters, Associate Veterinary Clinics and Medalta Healthcare Solutions.
Farran created Eau Claire Distillery with the help of two of his old colleagues: former Big Rock brewmaster Larry Kerwin and former Associate Veterinary Clinics CFO Brad Stevens. Together, they built the business from the ground up.
Turner Valley was chosen as the perfect location for the distillery, Farran said, because of its agricultural roots and storied history as a hotbed of illicit alcohol production during Prohibition.
"Prohibition and boom time in Turner Valley overlapped, which created some incredible sort of frontier town mentalities," he said. "There were lots of stills hidden in the hills. There was a street called Whisky Row full of speakeasies."
Despite the end of minimum production requirements, Farran and his team faced their fair share of regulatory hurdles and other challenges on the way to making their business plan a reality.
"Being the first and pioneering is never the easiest position to be in," he said. "There was a lot of fear of what would happen in the industry and trepidation on the part of the government to allow change, but it's the right thing for the consumer.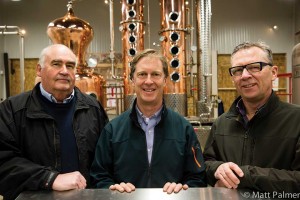 "We're in virgin territory, but it's a fun place to be."
After a few months of hype, Eau Claire released its first two products this summer: Three Point Vodka and Parlour Gin. Both are made with locally grown malting barley—an unusual base for vodka and gin, but one that produces a smooth, flavourful spirit with an appealing touch of sweetness. For the gin, Eau Claire uses a blend of 12 botanicals with an Albertan twist, including Saskatoon berries and rosehips.
The bottles for both the vodka and the gin carry eye-catching designs, depicting what Farran called "social animals."
"We wanted to develop what we thought would be an iconic Canadian brand, something that reflected Alberta and our home roots," he said. "We thought the best way to reflect that would be to incorporate what we call social animals, which are different Canadian animals in social scenes that would be reminiscent of Alberta country culture."
In the case of the vodka, the name of the spirit also draws inspiration from its local roots and geography. Three Point Vodka is named after Three Point Creek, a tributary of the Sheep River, where Eau Claire gets its water.
Eau Claire plans to add whisky offerings to its repertoire in the near future, Farran said, including a rye whisky and a single- malt. However, according to Canadian law, all Canadian whiskies must be aged a minimum of three years, so the release of these darker spirits is at least a few years away. In the meantime, Farran said, he and his colleagues are developing some other creative spirit offerings.
"We have a lot of ideas," he said. "We'll come out with some special seasonals, particularly around Christmastime, but I'm not ready to reveal the secrets yet."
At Eau Claire, the grain that gives life to its spirits is never an afterthought. In fact, it's an integral part of the distillery's farm-
to-glass philosophy.
"You have to be able to source it and know where it came from at the farm, then follow every transparent step of the process right through to the bottle," Farran said. "We've been sourcing it direct from farmers and we've been getting good advice on growers from a lot of the seed-cleaning plants that have kind of done referrals for us.
"We do plan to profile our farm suppliers on our website so people can actually see directly where it comes from in a transparent food chain."
According to Farran, the base grain is vital for the terroir it lends to the finished spirit. Terroir—a French word meaning the specific characteristics imparted to an agricultural product from the environment in which it was grown—is a concept most commonly used in relation to wine, but Farran said it is equally applicable when it comes to the grain used for distilling.
"When you actually choose specific grains according to soil type, climate and according to the year,
you get some amazing differences in taste that get translated into the product," he said. "Instead of treating the product as a uniform commodity, you're now talking about the differences from year to year, almost as you would a fine wine."
Farran is so passionate about grain that he farms some of Eau Claire's supplies of barley and rye on his own operation near Turner Valley, using his team of horses and a 100-year-old plough.
"We have about 25 acres under cultivation by horses," he said. "Which is a small part of our overall production, but it makes for great special editions."
The development of Three Point Vodka—the product that launched Eau Claire into the spirits market and gave people their first exposure to the craft distillery—was extremely important, Farran said. Eau Claire reached out to a variety of industry experts, including several local bartenders and storeowners, to run focus groups.
"They approached us early on to get our opinion on things like packaging, price points, style, what's working, what's selling for us, and what we've seen on the market where we think there's opportunity," said Jesse Willis, co-owner of Calgary's Vine Arts Wine and Spirits. "It's been a neat process for us because we've been able to watch them along the way and give a little bit of our input and our insight."
According to Farran, the consultation process was extremely valuable in crafting the final product.
"We wanted to make sure what we were making fit the market," he said. "We did go back to the drawing board a few times."
Once Farran and his team were satisfied with their vodka, Eau Claire's finished spirit slowly filtered into the market. The initial release started with a few bars, restaurants and liquor stores around the province, including Vine Arts and popular Calgary restaurant Charcut Roast House. So far, the reception has been overwhelmingly positive.
"I think people are surprised by how smooth it is," Farran said. "Many have said they never expected that vodka could be something you would sip neat, much as you would a whisky."
Matt LaRocque, Charcut's wine and service manager, said he has seen a similarly positive response at the restaurant. The only difficulty has been convincing drinkers to try something different in place of their usual favourites.
"It does take a little bit of hand-selling because you have to break people out of their habits for Grey Goose and some of the bigger names," he said. "Generally speaking, you just need to get them to try it. Once they do, they love it."
The bartenders at Charcut are fans of the vodka as well, LaRocque added.
"At Charcut, we really like to cocktail and focus on the ingredients within them," he said. "The guys behind the bar are essentially chefs, and the ingredients that they get to cook with are vital. What Eau Claire brings is just a great flavour component."
Although Eau Claire is the first craft distillery to set up shop in Alberta, the industry is thriving in other parts of the country. In recent years, a number of new micro-distilleries have sprung up from coast to coast, with particularly high concentrations
in British Columbia, Ontario and the Maritimes. Many of these upstart distillers have already received critical acclaim for their creations.
According to independent whisky commentator Davin de Kergommeaux, the quality of Canadian craft spirits stems from the difficulties of starting a craft distillery. These allow only the most passionate and skilled distillers to excel in the industry.
"Craft products are somewhat more expensive than mainstream offerings and, as such, appeal more to the connoisseur," he added. "This is why they have to be good to survive."
Although they lack the economies of scale possessed by their mainstream competitors, craft distillers do have some advantages over their commercial brethren.
"The breadth of flavour and selection is large, and, in some cases, each batch introduces new flavours," de Kergommeaux said. "As well, craft distillers can experiment with different grains, combinations, barrels and so on, one small batch at a time."
For Farran, the biggest advantage lies in the differing motivations of small- and large-scale distillers.
"To focus on quality and taste rather than volume speaks for itself," he said.
Now that Eau Claire has shown a small-batch distillery can succeed in the province, Farran said he hopes more distillers
will follow his lead in order to build a craft industry in Alberta. Before long, more enterprising individuals could be transforming Alberta's natural riches into handcrafted spirits.
"It's going to be great to showcase what the province can do," LaRocque said. "And these guys are definitely going to lead the way."