HARVESTERS FOR HIRE
SAILING THE AMBER WAVES
BY LEE HART
Shawn Thacker knows the signs. When he sees turtles moving up onto the road where he's working in east-central Colorado, it's a good indicator that there's rain on the way that could interrupt winter wheat harvest.
After 22 years on the custom combining circuit in the U.S., Thacker, who operates out of a home base at Burdett in southern Alberta, is familiar with the pattern. Turtles and snakes moving to higher ground in the morning is a likely sign there will be some weather later in the day. Humid, daytime temperatures reach 26°C to 32°C, and then come the thunderstorms in the late afternoon and evening. And often, along with the heavy rain comes hail.
"It is just part of the monsoon system in this part of the U.S.," said Thacker during a mid-June interview. "You can get those thunderstorms nearly every day. I have seen us all set to go and we're just waiting because the grain is a bit tough, and then a storm will move through with hail and in 15 minutes it takes out 2,000 acres of wheat right in front of you. And then you just have to move on."
That same day, a bit further east in western Kansas, Lee Petersen and his Saskatchewan-based custom combining crew are also harvesting winter wheat. They had to leave quite a bit of crop behind in Oklahoma because that area had received about 10 inches of rain over three weeks—the crop was getting very weedy and the farmer decided he would cut it for winter feed.
"We've had a bit of rain since we've been here in Kansas," said Petersen, who farms at Hodgeville, Saskatchewan, when he's not custom combining. "But we are combining today. The forecast is for 50 per cent chance of rain for the next five days, so we'll see what happens. This area is a long ways from being out of the drought, but it is probably the greenest I've seen it in a few years."
Those weather concerns are a fact of life for these Canadian- based custom combiners. And yes, there are plenty of "facts of life" in the custom harvesting business. You need a sizeable investment in machinery, trailers and trucks. You have to line up and manage a reliable work crew for the season. You have to move what amounts to the equivalent of a small circus anywhere from 2,500 to 3,000 kilometres just to get to your work starting point. You're away from home for three to four months. You have to set up camp and then move the whole operation every week to 10 days or so as you edge north. And then, on top of all that, you have to keep your eye on the sky— what's the weather going to do today?
Both Thacker and Petersen said most of the U.S. winter wheat harvest is a race against the clock and the weather. When the crop is ready, it is ready. Farmers want it harvested in a timely fashion, because if there is a delay weather can downgrade quality and yield very quickly. A hailstorm can wipe it out completely. Because of the weather systems, the U.S. winter wheat crop doesn't enjoy the relatively wide harvest window found across the Canadian Prairies.
Storms can be a daily concern, and most farmers are hoping for a four-, five-, or six-day break in the weather to get the crop harvested.
The custom combining business isn't for everyone, "but it does get into your blood, a bit," said Petersen, whose father and uncle started back in 1968 and were involved for years. Petersen struck out on his own about 16 years ago.
"It is a different life, but you meet some great people along the way," said Petersen. "One thing I think about a lot is you're working for other farmers, and here's someone who's put everything into this and you're helping him get that crop harvested. It's his year's work and you're helping him get it into the bin."
Thacker, whose family name is well established in the southern Alberta agriculture industry, farmed himself before moving full-time into custom harvesting 22 years ago.
Today, his service includes seven Case 8120 combines equipped with 36-foot headers, grain carts, grain trucks, crew trailers and tractor-trailer units. He also offers custom swathing services as needed—although that's mostly in Montana and Alberta. He buys new combines each year and has the manufacturer deliver those machines directly to the first farm he'll be working on in a southern Midwest state.
"So when we left Alberta in early June we had a total of 12 vehicles on the road," said Thacker. "That included nine tractor-trailer units and three pickups. Going down, because the combines are delivered to the farm, we can get moved down in one trip. Coming home, because we are bringing the combines with us, it will take two trips to get everything back into Canada."
Thacker actually only uses five combines in the most southern states— primarily for winter wheat harvest—and picks up two more in Montana as he moves into harvesting barley, as well. He wraps up the season in Alberta with all combines working until October to harvest mostly wheat, barley and canola in Canada.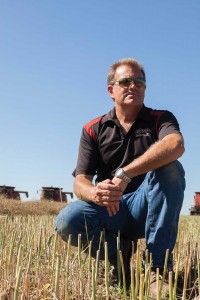 Operating a custom combining service takes a lot of co-ordination, said Thacker. There is not only a fleet of equipment, but he has up to 17 employees. They set up camp, usually at full-service campgrounds, and plan to book about two weeks of work in any given location before the next move.
"Costs have increased considerably in recent years," he said. "At one time, we needed to have 300 acres per machine at one location to make it economical, and now we need 1,000 acres per machine."
Thacker said depending on where he starts—New Mexico or Kansas—it's a 2,200- to 2,800-kilometre trip to the starting point. In the U.S. (with lighter crops), all equipment will use about 1,500 gallons of diesel fuel per day, and that increases to about 2,300 gallons per day in Alberta with heavier crop conditions.
"In a season, we buy about $450,000 worth of diesel," said Thacker. "So you can imagine the fuel man is our best friend. We try to contract and forward price as much as we can."
While custom combining rates vary, depending mostly on crop conditions, he said margins are tight.
"With a new combine with two headers, and even if you can pick up good used trailer units, you are looking at at least a $500,000 price tag to get each machine to the field."
Thacker said his rates for custom combining range from about $32 per acre plus fuel all the way up to $60-plus when they supply their own fuel and the trucking is included, but he said there is a wide range of arrangements and rate structures, depending on the crop and the individual farmer.
"You have to be very flexible and very adaptable in this business," he explained.
Ted Nibourg, an Alberta Agriculture and Rural Development business management specialist, said the interest in using custom farming services varies widely. Based at the Ag-Info Centre in Stettler, he receives a lot of calls from farmers trying to figure out the proper rate to pay a neighbour for custom work.
"A lot of it is just neighbour-to-neighbour, one-off type work," said Nibourg. "Somebody's haying equipment breaks down so the neighbour goes over and does some cutting— what is that worth?"
Among the "professional" custom farming services, field spraying is probably most popular, said Nibourg.
"Farmers may not want to buy a big field sprayer, they may not want to bother with getting a pesticide applicator's licence, or they may just not want to bother working with chemicals."
Josh Umscheid and his Big Slick Custom Spraying company near Vulcan started with a sprayer and a trailer, but the operation has since expanded due to local demand.
He has upgraded field-spraying equipment a few times, now running a 120-foot-wide Case IH 4430 sprayer, complete with auto-steering, GPS guidance and "all the bells and whistles." He also owns a semi tractor–trailer unit with a 52-foot flack deck trailer. It carries three water storage tanks with a total capacity of 4,000 gallons, plus has room to carry chemicals and other supplies.
And the work has changed too, said Umschied.
"The first year, I was trying to get the business established so I was taking on all the jobs I could, and that meant 160 acres here and 500 acres there," he said. "It was a lot of travelling. But since then, I have really narrowed it down to three main customers," totalling about 20,000 acres.
When he started, it was mostly applying a pre-seeding burn- down, followed by in-crop weed control, "but the last couple years I have been busy really from May until November.
"I am seeing clients show a lot more interest in fungicide applications these days," said Umschied.
Depending on the farm and growing conditions, he covers all of those 20,000 acres at least twice, quite a bit of it three times, and some of it four times.
"Probably our slowest year (due to weather) was about 40,000 acres, our best or busiest year was about 80,000 acres, and probably we're averaging 50,000 to 60,000 acres per year."
Treatments include pre-seeding burn-down, in-crop weed control, fungicide and pre-harvest treatments, and some post- harvest weed control applications.
Custom haying services are probably the next most popular of the custom services, Nibourg said. If a beef producer has 200 or 400 head of cattle, having one's own haying equipment may make sense, "but if someone has 50 to 60 head, in most cases it doesn't pencil out to own your own equipment."
Although custom harvesting services are in demand, timeliness remains the key factor.
"A lot or most farmers own their own equipment simply because they want the crop harvested when it is ready," said Nibourg. "They'll hire custom combines if they can get them when they're needed."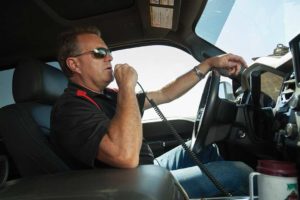 In comparison, Thacker will combine for some new farmers every year in addition to his base clientele of repeat customers. If there is drought or hail in one area, he may work for different farmers who have crop in another area. He has only one large farm customer in Alberta to whom he has provided custom combining services for 21 years.
When Petersen's father, Lloyd, and his uncle Cliff started custom combining in 1968, they headed into the U.S. with two John Deere 95 combines. Lloyd only stayed with it a short time and decided to concentrate on building the family farm at Hodgeville, while Cliff carried on for years. Petersen and his father began doing some custom combining work in Canada in 1980. Then in 1998, when an opportunity came along to expand, Petersen began custom combining in the U.S. When he married, Petersen took his new bride on a honeymoon to the U.S. along with three 9600 combines.
"Today, we get our own crop seeded at home first, and then usually head south around the first of June," said Petersen. They crop about 5,000 acres of grains, oilseeds and pulses and run a small cow– calf operation at Hodgeville.
Usually starting out in Oklahoma, he makes his way north through Kansas, Colorado and Montana, arriving back in Canada around the end of August. He combines his own crop at home, along with doing custom work in Saskatchewan until late October.
The custom harvesting equipment lineup this year includes four New Holland CX8080 combines with 35-foot MacDon straight-cut headers, one tractor, a grain cart, four semi units to haul machinery and a grain trailer. He also has trailers to accommodate a crew of seven seasonal workers.
And being on the harvest circuit in the U.S. continues to be a family affair, as Petersen's wife and three children join him on the annual trip south.
"When we leave Saskatchewan, the furthest point south is about a 2,500-kilometre trip," said Petersen. "I always say it takes three days to get down there and three months to get back home."
Similar to Thacker's experience, Petersen's main focus is on harvesting winter wheat. He has done some corn and soybeans over the years, but those crops fall mainly into the "fall run" and the timing conflicts with harvest in Canada. Some of the earliest fall seeded crops in Texas are ready for combining in May. Petersen starts with winter wheat in Oklahoma. He said crop ripening progresses at the rate of about 19 to 24 kilometres north each day.
Most of the winter wheat crops in the southern U.S. are straight-combined and most grain is hauled from the field to nearby elevators. As Petersen moves into Montana, he'll start to see more swathed crops, and more grain is stored in on-farm bins.
Happy with the reliability of his equipment, he'll keep his New Holland
combines in service for about three years before trading. The company offers a harvest support system, which has a team of service technicians in the field following custom combiners—providing timely service and minimizing downtime.
Again, he said weather is the big factor. Even when it is sunny, high humidity can be a factor in delaying harvest.
"We work as many hours as we can, and the odd day might put in 20 hours, but you can't keep up that pace all summer," he said. "On rain days we service equipment and take a break, and most days, depending on humidity, we hope to get started before noon and then run until about 8:30 at night before humidity shuts you down again."
Petersen said that, because of weather, it is a narrow window for these U.S. farmers to get the crop harvested.
"At home, if a guy had 2,000 acres of wheat, he'd probably have one combine and work away at it to get it harvested," he said. "But [in the U.S.], if a guy has 2,000 acres of winter wheat, when it is ready, it is all ready, and he likes to see machines moved in so it is done in a couple days."
For Petersen, custom combining rates range from $30 to $40 per acre, but there can be a lot of variability in the details depending on the size of the crop, hauling distances and other factors.
"Timeliness is worth a lot," said Petersen. "If you have a 40-bushel crop that goes as No. 1, that's worth a huge amount compared to if there is some weather delay and it comes off as a No. 3."
While there is always business turnover, Petersen works mainly with an established clientele—some who have been with him for 16 years.
Petersen and Thacker are two of about a dozen Canadian custom combining operators making the trek south each year to harvest mostly winter wheat crops from New Mexico, north through Texas, Colorado, Oklahoma, Nebraska and Montana, before arriving back in Canada in time to harvest a variety of crops, including barley, wheat, canola, flax, peas, lentils and mustard.
They are carrying on a business tradition that became well established during the Second World War. With a shortage of manpower and machinery during the war years, U.S. farmers needed help to get the crop off.
"The shortage of labour and machinery during World War II, coupled with the resurgence of wheat production, precipitated custom combining," said Thomas Isern, a history professor at North Dakota State University. "And it wasn't even a labour issue as much as a machinery issue. With limited allocation of steel, there weren't as many machines available."
Isern said records show there were about 500 machines in itinerant operation in 1942, and as many as 8,000 machines operating in Kansas alone by 1947. One of the most dramatic episodes of the era, he said, was a special allocation of steel to Massey–Harris of Toronto in 1944 to build 500 self-propelled harvesters to be used as custom combines.
While the demand for custom combining services increased for many years, it eventually plateaued and, for a number of reasons, has been on the decline since the 1970s, said Isern.
Petersen and Thacker, who are president and vice- president, respectively, of the Association of Canadian Custom Harvesters, said there is still work out there, but margins are getting tighter and manpower continues to be an issue, as well.
"There are fewer Canadian custom harvesters going into the U.S. for several reasons," said Thacker. "On the U.S. side, we're seeing farms get larger, and perhaps more self-sufficient in harvesting their own crops. And we're seeing some diversity, too, with different crops in rotation, so not everything is ready to harvest at once.
"From the custom combining side, it takes a fairly large capital investment just to get started," he added. "And custom harvesters run into the same issues as farmers in trying to find labour. When I started there were about 80 custom harvesting outfits in Canada and today we're down to about 12 crews. There is work out there, and a demand, but margins are very tight."
Petersen agreed that the economics, labour issues and, of course, the lifestyle—not everyone wants to be on the road away from home for three months—are all challenges for the industry.
"Economy of scale is important. You can be out there with several machines, but I know several operators who just have one combine, good clientele and make it work", said Petersen.
Tackling the millions of acres of wheat harvest with thousands of harvesting machines is an amazing sight and lifestyle, said Conrad Weaver, a U.S. filmmaker from Frederick, Maryland.
Earlier this year, he completed a 65-minute documentary film called The Great American Wheat Harvest, airing at different venues this summer, and he hopes to release it for TV distribution and DVD sales later this fall.
The film captures the life and times of custom harvesting outfits that spend months on the road, travelling from town to town and from state to state, bringing in the vast U.S. wheat crop. Petersen and his crew are among those featured in the film.
"I grew up on a dairy farm in Ohio," said Weaver. "So I had a connection with farming, but I didn't know a lot about the whole custom harvesting business. One day, about four years ago, I was reading a blog about custom harvesting on the Great Plains and my wife said, 'you should make a film about that.' So that's when I really started thinking about it."
Over the next three years, he followed three custom harvesting crews, capturing the experiences of the people as they worked their way across the American Midwest.
"I think what struck me the most is here are these custom harvesters and they each have made this huge investment in machinery and in their lives for this career, and yet they have no real safety net themselves," said Weaver. "It is a very risky business. If they run into drought in Texas, or hail in Colorado, freezing temperatures, or storm systems that can settle in for weeks, they have no protection themselves.
"There is opportunity there, and they seem to get this harvest bug for the lifestyle. The film has beautiful scenery and it also captures the story of the lives of these people—their resilience. And you also get a sense of the real community they form and how they help each other. It is a great story."