WHERE THE WHEAT MEETS THE WATER
PORT METRO VANCOUVER AND THE FUTURE OF WEST COAST GRAIN EXPORTS
BY IAN DOIG
An ever-changing array of bulk cargo and container ships frequents Port Metro Vancouver (PMV). Though the temperate maritime trade destination handles much of Canada's import–export traffic, the average Canadian barely knows it exists.
A defining feature of Vancouver's geography, the sprawling port features 640 kilometres of shoreline. Extending from the Canada–U.S. border to Burrard Inlet and Indian Arm, it encompasses the lower Fraser and Pitt rivers as far as the Fraser Valley.
It is a pivotal cog in Canada's economic engine, handling 19 per cent of the country's total trade by value. North America's largest exporting port (by tonnage), it's also Canada's biggest and most diversified—transporting containers, automobiles, and bulk and break-bulk cargo, as well as servicing cruise ships.
With 28 major marine cargo terminals and three Class I railroads used by CN Rail and CP Rail, an incredible $184 billion worth of goods traverses the port annually. Incoming ships offload containers of everything from consumer electronics to clothing into storage yards, from which 70 per cent are transported inland by train and the balance by truck. Bulk exports range from container-loaded (break-bulk) commodities such as lumber, steel and machinery to pourable commodities (bulk) such as coal and grain, which are conveyed in ships' holds.
In 2013, the port's five grain-handling terminals in the Burrard Inlet inner harbour, and a sixth located on the Fraser River, handled 16.1 million outgoing tonnes of grain. The port is better known to Prairie farmers than
to most Canadians. However, PMV senior account representative for trade development, Doug Mills, said producers visiting the port are typically surprised by its size and scope.
"What I hear from the farmers when they come here is, 'We had no idea it was this big, this vast,'" he said.
The scope of the port's daily reality came into focus during the 2013–14 transportation crunch that followed the 2013 harvest, bringing the operations of Canada's ports into the spotlight.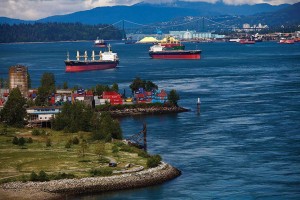 THE PORT AND THE CRUNCH
The railways absorbed the bulk of farmer frustration as grain movement slowed during the winter of 2013–14, but the spectacle of empty ships queued at PMV awaiting grain shipments raised questions about the port authority's part in the bottleneck.
Mark Hemmes is president of Quorum Corporation, which is contracted by Transport Canada and Agriculture and Agri-Food Canada to monitor the Western Canadian grain handling system.
"I would be very much in disagreement with anybody who is blaming the port authorities," he said.
The blame, he said, lies squarely with five weeks of the worst winter weather in living memory, bringing rail traffic to a standstill. Grain company sales orders made in late November and early December for ships arriving in Vancouver at the end of January could not be stopped. As rail movement slowed, all parties were forced to wait out the weather. A pileup of as many as 34 vessels, each with 40,000 to 50,000 tonnes of vacant hold space, waited at PMV and the Port of Prince Rupert.
Both ports, in conjunction with the Chamber of Shipping of British Columbia, went above and beyond the call in coping, reported Hemmes. As mooring space dwindled, more anchorages were created off Vancouver Island so ships would not be turned away.
Meanwhile, in Eastern Canada, Lake Superior had frozen solid for the first time since the 1930s, shutting down outgoing Port of Thunder Bay grain shipments almost a week-and-a-half earlier than usual. The port subsequently had its latest opening ever on April 23.
When the weather cleared, it was not merely business as usual.
"The railways were right on the money. Starting at mid-April and until today, we've been breaking records in the volume that we've been setting," said Hemmes, who added that it will long be argued whether or not federal legislation prompted the railways to turn the situation around. "But the fact is, they did perform."
Whereas in a typical year PMV will move between 16 and 17 million tonnes, it is likely to move 19 million tonnes this year, and growth in West Coast volume is the continuing trend.
"It's all good," Hemmes said. "In April, it was doom and gloom. Now, we've got a system that seems to be working."
Hemmes explained that, while it's a passable assumption that the grain export system strengthened itself as a result of the crisis, it was already robust.
Thresholds imposed by federal legislation during the crisis pushed the railways to use the most efficient origins and corridors that allow them to meet volume commitments, which are not necessarily where the most lucrative markets are, said Hemmes. He cited
the U.S. as an example, saying one can understand why railways would be reticent to put equipment into a corridor where the car cycle is half as productive as it is on the West Coast or in Thunder Bay.
Hemmes said he hopes that, in the coming months, grain companies and the railways can find a balance to meet the demands of the markets they serve.
"The capability of the West Coast terminals has always been there," he said. "When push comes to shove, they always perform."
Issues at the ports are also affected by outside factors.
Mills suggested that independent business decisions made along the supply chain can negatively impact its efficiency. For instance, the cost of chartering vessels is at a record low, as are daily demurrage charges imposed on idle ships. Six years ago, demurrage might have totalled up to $75,000 per day, but it is now between $7,000 and $10,000. While this may provide grain companies more logistical flexibility, it may also encourage lineups as ships are secured to ensure their availability.
When anchorage space is clogged with empty vessels awaiting grain, other commodity movers incur greater costs
in securing moorage elsewhere up the coast. Mills suggested supply-chain stakeholders might work more closely to increase efficiencies and ensure timilier, predictable grain movement.
"With that larger perspective, we can grow the pie as opposed to trying to grow our piece of the pie," he explained.
Such co-operative interaction is a hallmark of the port authority's operations. Contrary to popular perception, labour disruptions involving the 15 unions represented at the port are rare. And when striking non-union truckers working at the port's container terminal brought PMV operations to a standstill, the port helped launch a 14-point action plan that resulted in an end to the work stoppage.
The port has also worked collectively with the Chamber of Shipping of British Columbia, the British Columbia Maritime Employers Association, the Grain Workers Union and Transport Canada to create a set of regulations that allows grain to be loaded in wet weather. Previously, rain delay caused an annual 20 per cent loss in handling efficiency.
"It's a web of activities that all can have significant impacts on the overall community," said Mills. "We try to initiate dialogue to create awareness around those issues and create interest in resolving them."

THE GATEWAY INITIATIVE
Answering to the federal minister of transportation, the Vancouver Fraser Port Authority's duty is largely to ensure the assets it owns and manages run efficiently and safely, and to act as a landlord to its tenants. Notably, it has decision-making autonomy over its operations; this includes borrowing and accumulating funds for the purpose of maintaining its mandate. Under the Marine Act, the federal government cannot pay for port infrastructure.
What the port authority doesn't do is directly touch the supply chain, leaving the handling of goods to independent terminal operators. However, the port authority involves itself when issues such as anchorage usage and supply backups arise within its jurisdiction.
"We have in the past become engaged, when necessary, to ensure that we work toward the most efficient reality possible," explained Mills. "Sometimes, it's more complicated than other times," he added, directing a piece of well-aimed understatement at the massive, ongoing, federal Asia–Pacific Gateway and Corridor Initiative (APGCI) spearheaded by the port.
Roughly 10 years ago, PMV began to extend its planning window to better accommodate the time it takes to secure investment dollars for large infrastructure projects and to physically complete them. The port initiated a series of studies forecasting its growth needs decades into the future. It also
took the lead in engaging the British Columbia and federal governments, as well as supply-chain stakeholders, in identifying and accommodating trade opportunities and creating an agreement to collectively fund necessary infrastructure.
This process produced the APGCI, under which the port is undergoing a long-term upgrade with the goal of making the country's West Coast import – export network the top trade link between Asia and North America. Much of the program is centred on PMV, but also includes upgrades to the Port of Prince Rupert, as well as road and rail connections across Western Canada and into the U.S.
Committed, collective investment in APGCI infrastructure by the federal, British Columbia and Vancouver governments, as well as the port, its stakeholders, its corporate tenants and the railways, is approximately $9 billion. For perspective, almost 50 per cent more is being spent on APGCI projects than on current expansion of the Panama Canal.
The scale of the program and the fact that the port is located on the edge of Canada's third-largest city makes planning and development a complex challenge. In carrying out its projects, PMV must work with the 16 municipalities and several First Nations whose territories it borders, as well as minding several ecological preserves. Development requires community engagement processes that can take much longer to complete than in other global jurisdictions, as well as competition with real estate developers for land acquisition.
Aiding the planning process, the port's land-use guidelines were simplified following the amalgamation of three separate port authorities in 2008.
The port authority uses the Port Metro Vancouver Land Use Plan as its central policy and planning guide. Within it, the port has systematically taken stock of all its properties and regions, cataloguing the most opportune use for each.
The network of projects to be completed within the port's jurisdiction over the coming 10 years includes the building of new highways, overpasses and bridges that will increase road and rail capacity. Decoupling road and rail interchanges will create maximum fluidity and thus boost the port's capacity and speed of movement. A number of these improvements had already been implemented prior to the fall of 2014.
Initiatives also include an extensive $2-billion enhancement of the Roberts Bank Rail Corridor in Delta, British Columbia, the country's largest container port.
Mills said these investments spurred industry to recognize the growth potential involved, and major terminal expansions by tenants—including agricultural corporations—followed.
"They're all looking at increasing either efficiencies and/or structural capacity to increase their access to the market," he explained.
MAXIMIZING EFFICIENCY AND OPPORTUNITY
Viterra, whose Prairie grain co-operative predecessors have maintained PMV facilities since the 1920s, moves approximately two million tonnes of oilseed and pulse crops through Pacific terminals. It will triple this number to six million tonnes once APGCI upgrades to its Burrard Inlet terminal are complete, in order to keep up with steadily rising Western Canada harvest numbers.
"We're taking a longer-term view of changes in cropping patterns in Western Canada," said president and CEO
Kyle Jeworski. "It's important that we ensure we've got the infrastructure to stay ahead of those production growths."
Jeworski added that the proposed $100-million-plus modernization project will enhance processing procedures.
Though its Pacific terminal in Vancouver can move wheat, Jeworski said specializing between port facilities drives efficiency. Viterra is currently committed to moving pulses, including red lentils and yellow and green peas, through its Pacific terminal.
"It's important to understand the complexity of all the different products that are handled on a daily basis, which requires a tremendous amount of co-ordination between our inland country assets and our port facilities," he said.
Viterra also ships barley through its West Coast port facilities in Vancouver and Prince Rupert, and wheat through all of its port facilities.
Mindful of shifting farmer demands and evolving crop patterns, Viterra's system upgrades include two new high- throughput inland grain-handling facilities at Kindersley, SK, and Grimshaw, AB.
With Viterra shipping multiple grades of multiple products, Jeworski said it's also critical to maximize efficiency through seamless co-operation with CP Rail, the company's main carrier.
"We need to be in tune with changes in the rail system— that's larger train sizes and faster loading speed. How do we continue to support efficient movement of commodities from inland to port?"
Richardson International is similarly doubling the size and capacity of its North Vancouver terminal. This grain handler moves the largest volume, which includes barley, lentils, canola, peas and all classes of wheat, turning over its terminal capacity 53 times a year.
"The drive is to have just-in-time inventory to facilitate the quick loading of vessels," said Phil Hulina, regional manager in charge of the facility, adding that Richardson will handle "pretty much every commodity grown in Western Canada."
Hulina explained that his company and its fellow handlers struggle with the movement of grain and push for better fluidity more in sync with vessels.
"We were all challenged this year, though we are operating at a record pace," he said. "We are getting a lot of commodity delivered to us.
"It's a very exciting time," he added. "We're going to see increased harvests, so there are going to be more opportunities for sales offshore."
In addition to pushing its capacity, Richardson also has a 25 per cent stake in Cascadia, Viterra's main shipping terminal, and will also acquire a Viterra terminal in Thunder Bay to bolster operations in Eastern Canada.
Echoing Jeworski and Hulina, Mills said planning for the future is a constant as PMV grows and evolves to maximize benefits to users, including economies of scale. Because it encompasses so much activity, competition is present within the supply chain and its supporting services. Shipping companies compete, as do the three key rail lines that service the port, tug operators, fuel suppliers, ship husbandry services and more.
"Other jurisdictions often are much more expensive because they don't have to compete for that business," explained Mills. "Here, they do. So, it's a benefit to move goods through this gateway."