FROM ONE CAPITAL TO ANOTHER
FORMER SENATOR RETURNS TO WINNIPEG
BY SCOTT ROLLANS
Canadian senators don't exactly have a tradition of early retirement. So, it came as a bit of a surprise when Conservative Senator JoAnne Buth announced in June that she was resigning her post after just two-and-a-half years in the upper chamber. Buth has returned to her hometown of Winnipeg in order to take on a new role as CEO of the Canadian International Grains Institute (Cigi).
Buth has taken over as the new CEO of Cigi from Earl Geddes after he served in the position for the last five years and is now working as an agriculture consultant.
"I'm in listening mode," she explained in August. "This is an amazing organization. I'm just going through meetings with each of the staff right now. There's incredible dedication and commitment here. It's just great."
For Buth, it's the latest fresh start in a lifetime of fresh starts. Over the decades, she has moved from one influential position to the next, usually with an agriculture connection.
"I really believe that when you come into a job you bring a fresh perspective," she observed. "And, over the years, you lose that perspective and your ability to bring a new approach to things. You have to try to keep your mind fresh."
Buth traces her agriculture connection back to a career aptitude test she filled out in high school.
"My listing said that I should either go into the military, be an accountant or be a farmer," laughed Buth. "I don't know what any of those have in common. Perhaps it's discipline and courage? Certainly nowadays, if you think of the people involved in farming, it takes
a lot of courage and commitment."
Buth completed a B.Sc. in botany at the University of Winnipeg before moving on to complete a master's in entomology from the University of Manitoba.
"I did my master's on mosquitoes while I was working for the City of Winnipeg's insect control branch. Winnipeg is a good place to do research on mosquitoes," she said, smiling.
After about six years with the city, Buth felt ready for her first big change in professional scenery. She landed a position as information officer at Agriculture and Agri-Food Canada's (AAFC) research station in Winnipeg. The job cemented her interest in agriculture, said Buth.
"I was working with some of the big-name people who developed varieties—especially the wheat varieties—that were grown across the Prairies."
After AAFC, Buth spent some time with DowElanco Canada. Then came an eight-year stint with Manitoba Agriculture, where she progressively moved into management positions running several different sections, including soil and water, crop development and weed management.
With her next job, at the Canola Council of Canada (CCC), Buth began to develop a national profile.
"The VP of crop production came up. I went for it, and got it," recalled Buth. "I always wanted to get into an organization and really make a difference."
According to all accounts, she succeeded. At the time she joined the CCC, canola had been steadily declining in planted acres.
"It was a really good time to come in and take a close look at the programming and what we were doing," said Buth. After serving as VP for eight years—starting with crop production and later taking on the biotechnology files—Buth took over as CCC president.
Robert Hunter, currently director of communications at CropLife International, worked closely with Buth during her time at the CCC. Hunter gives Buth much of the credit for canola's remarkable turnaround.
"Everyone believed in the canola vision for 15 million tonnes by 2015. But it was really JoAnne who, in the end, gave people the actual plan to see that realized."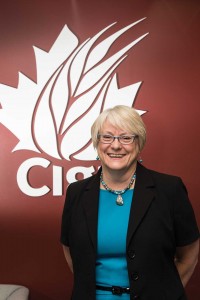 Years later, Hunter continues to see Buth as a mentor and role model.
"One of her biggest assets is her ability to bring people together — to get a bunch of people around the table, and have them leave their hats at the door," he said.
Then, after an unprecedented 13 years with one organization, Buth got a call from the Prime Minister's Office.
"It came right out of the blue," recalled Buth. "I was out of town, and my assistant sent me a note saying that Derek Vanstone from the PMO had called and wanted me to call him back—no rush."
Buth assumed Vanstone was calling for her ideas for a board, or something of that nature.
"I forwarded the message to a couple of friends over the weekend, and said I was going to hold out for a Senate appointment—just joking. And then, I called him the following Monday, and he said, 'The Prime Minister wants to know if you would be interested in an appointment to the Senate.' I just about fell off my chair."
A Winnipeg reporter asked Buth how she thought she would do as a senator, considering her total lack of political experience.
"I told her there's nothing more political than the grain industry," Buth laughed.
Even today, Buth feels awestruck over her Senate appointment.
"I was number 916 in Canada. I mean, just think about that— 916 since Confederation."
Despite a steep learning curve, Buth soon realized her management experience would serve her well.
"Politics is about trying to get done what you believe you need to get done. You try to lead people in a certain direction," she explained.
Buth particularly enjoyed the breadth of experience the job gave her.
"One day I might be subbing in for somebody on a committee where we were discussing the succession to the throne in England, and then the next day I would be talking to a pig farmer from Manitoba, and then the next day I'd hear from a student association about the price of textbooks," said Buth. "You get to participate in a lot of different areas."
Buth would likely still be a senator if the Cigi job hadn't suddenly opened up.
"I wasn't actually looking," she insisted. "The Senate has been through a lot of turmoil in the last few years, but I still believe in the institution and what it's doing."
Still, Buth couldn't pass up the chance to take on yet another new challenge.
"I just thought it was a really great opportunity to come back into the ag industry, and to work in an organization that's a real jewel."
Buth's close friend Trish Jordan, public and industry affairs director with Monsanto Canada, is happy to help welcome her home.
"I'm sorry to lose her in the Senate— she was such a great advocate for our industry and for Manitoba—but I'm really excited for her new opportunity," said Jordan. "Cigi is a key institution for the grain sector, and JoAnne brings a set of skills that will be really welcome. She's going to do a great job there."
At Cigi, Buth looks forward to helping the grains industry adapt to the new environment of open grain marketing.
"The whole purpose is to bring value to growers," she said. "The focus needs to be on new markets, new customers and higher value. If you get increased demand at a higher value, that will translate to the grower getting more money. At the end of the day, we don't have an industry unless the grower chooses to grow it."
She sympathizes with farmers who find themselves grappling with the transition. "It was much simpler when there was just one marketer. But I think there are many more opportunities now."
Buth points to Cigi's long-running combine-to-customer course as one way the organization is working to help producers cope.
"The more knowledge farmers have, the better decisions they make."
With her Senate days behind her, Buth is also hoping to find more time for escaping into her artistic interests. Her current passion is painting on silk.
"You don't think about anything except the line that you're making, or the colour that you're using," she said. "It takes you out of yourself. It clears your mind, and all sorts of things get solved when you're not actually thinking about it. Somehow, in the back of your mind, your subconscious is sorting through things. It leaves you refreshed and ready to tackle things again."
Things like her new position as Cigi's CEO, is just the latest opportunity in a lifetime of opportunities.