THE SHAPE OF WATER
BY MELANIE EPP • LEAD PHOTO COURTESY OF ST.MARY RIVER IRRIGATION DISTRICT
Last November, the province of Alberta, in partnership with the Canada Infrastructure Bank (CIB) and 10 irrigation districts, announced an investment of $117.7 million to modernize the province's irrigation infrastructure. The contribution builds on a previous $815-million advance, which brings total investment to nearly $933 million. The funding will be used to modernize irrigation infrastructure and to increase water storage capacity through a series of projects in southern Alberta. It will also create jobs and spur the province's economic recovery.
"Irrigation is a transformative part of Alberta's history, and we're proudly building on that legacy by investing even more in the province's farmers and food processors," said Premier Jason Kenney in a press release. "This historic investment will create jobs and grow even more agricultural possibilities."
IRRIGATION ECONOMICS
Across Alberta's more than 625,000 hectares of publicly and privately irrigated land, farmers grow more than 60 crop types that include 29 specialty crops. Having access to irrigation gives them the flexibility they need to sustain their farm operations. This flexibility comes with a price, though, most of which is paid by the farmer.
The benefits of irrigation-related activities flow beyond farmers, however. Irrigation generates employment for Albertans and makes a sizeable contribution to the province's GDP, said Margo Jarvis-Redelback, executive director of the Alberta Irrigation Districts Association (AIDA). In the province's 13 irrigation districts, irrigation-related activities contribute $5.4 billion to provincial GDP and $3.2 billion to provincial labour income each year, she said. They also support 46,000 full-time equivalent positions.
"Continued attainment of these benefits requires modern and progressive water conveyance infrastructure, which will effectively manage water as changes in climate are experienced," said Jarvis-Redelback. "By supporting modernization projects, the Alberta Modernization Program is enhancing climate change adaptation and resiliency to support continued economic growth and stability for the entire southern region."
Jamie Wuite is executive director, natural resource management branch, with Alberta Agriculture, Forestry and Rural Economic Development. He agreed irrigation delivers strong economic value. "Because of the stability of irrigated agriculture, it supports a lot of food processing in the province, which is really an even more significant multiplier of GDP," he said, and pointed to sugar beet and potato processing plants. "Regardless of what the weather does, we know those plants can be fed potatoes or sugar beets at a reliable rate, and that's what drives that investment here."
According to the Alberta WaterPortal Society (AWPS), irrigation accounts for approximately 95 per cent of total water allocations for the agricultural sector in Alberta, yet it is used on less than six per cent of the province's cultivated land. In southern Alberta, irrigation districts are responsible for delivering water to farmers. For the most part, water used for irrigation is diverted from rivers. Of the 13 districts, 11 rely on provincially owned diversion infrastructure. Two irrigation districts own and operate their own diversion infrastructure—the Eastern Irrigation District and United Irrigation District.
Reservoirs are an integral part of Alberta's irrigation system. They provide stability during times of flood by capturing water during high flow, and during droughts by storing water for when it's most needed. Throughout the province, Alberta Environment and Parks owns and operates 11 reservoirs. An additional 41 off-stream reservoirs are owned and managed by the irrigation districts.
A portion of water contained in the reservoirs is lost to evaporation and seepage from irrigation canals, also according to AWPS, making investment in technological improvements all the more important. These fixes reduce water loss as well as increase irrigation efficiency.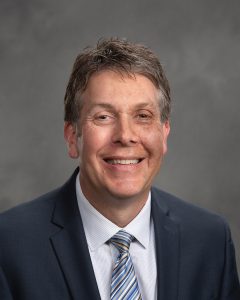 THE MODERNIZATION PROJECTS
In the summer of 2020, the Government of Alberta approached the AIDA to discuss shovel-ready or near shovel-ready stimulus projects that could help kickstart the economy. Initially, eight of the districts were able to provide information on projects they could quickly submit, said David Westwood, general manager of St. Mary River Irrigation District (SMRID) and lead contact on the project. That number later expanded to 10. The initial deal was signed in December of 2020.
Keeping Alberta's irrigators involved is an important part of the expansion projects, said Westwood, as 70 per cent of the funding essentially comes from their pockets. Of the funding made available, 30 per cent is delivered in the form of a full grant from the Government of Alberta. An additional 20 per cent will come from the districts, and the remainder will be footed by CIB in the form of long-term, low-interest loans.
"The loans will be repaid by the districts, so really the farmers, who provide the revenue to the districts to operate and maintain each district, will be paying 70 per cent of the capital costs of these projects," said Westwood.
Most of the modernization projects involve pipeline installations. In total, 92 modernization projects in 10 districts will receive funding. Four separate off-stream reservoir projects will also receive funding.
All of the projects have identical financial repayment terms, but timelines for completion vary in reflection of where they stood in the planning stages at the time the program was announced. Projects must be complete by late spring of 2025, and reservoir projects must be complete by 2028. Westwood said the districts are on target to meet these deadlines. In fact, 11 of the 92 are already in stages of completion.
Projects are not spread evenly among the districts. SMRID, for example, has 26 of the 92 modernization projects. Distribution is dependent on district size, existing infrastructure and how ready they were with modernization projects that fit the selection criteria, said Westwood.
 Each of the 10 irrigation districts involved will determine the breadth of new land to receive irrigation, and districts are limited in how much they can expand. In order to expand irrigated acreage, the districts must first make information available to irrigators regarding the impact of the expansion on the available water supply for the irrigated area. Following this, they must hold at least one public meeting to discuss the proposed expansion, and then hold a plebiscite where existing irrigators are given the chance to vote on the proposed changes.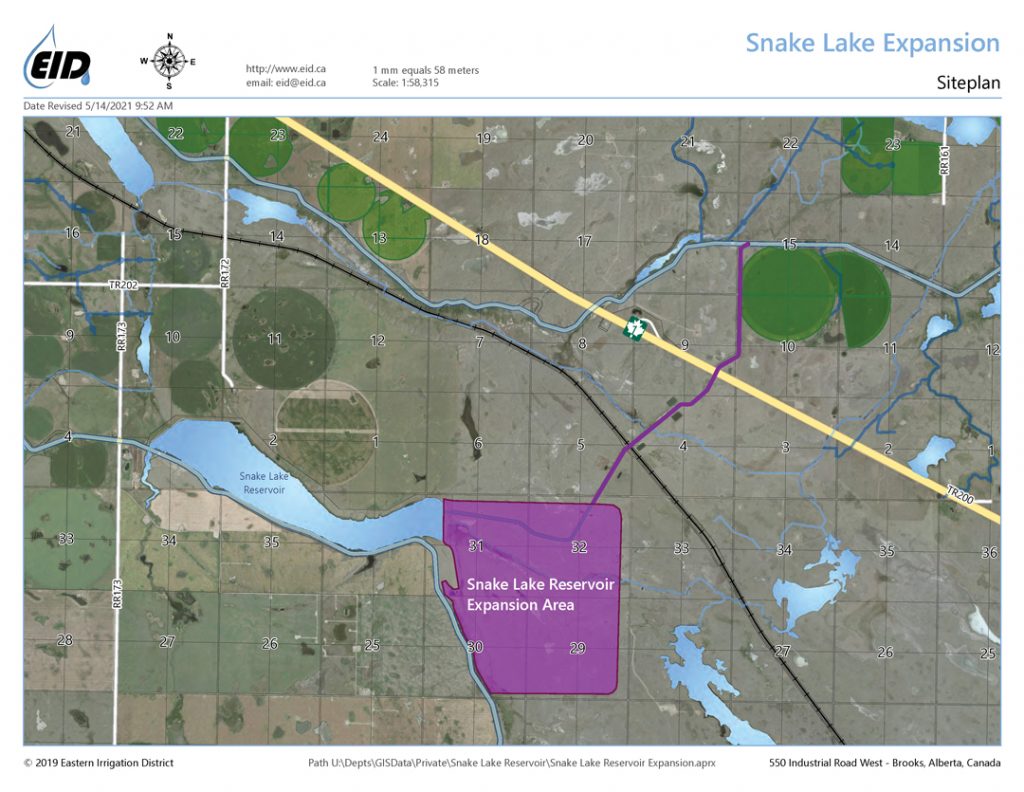 The Eastern Irrigation District (EID) is receiving funding for a series of modernization projects, as well as for the Snake Lake Reservoir expansion project. The proposed reservoir expansion plan will increase storage by approximately 53,000 acre-feet to 67,000 acre-feet and carry a $200 million pricetag. There are approximately 140,000 irrigated acres in the district that are either unsupported by a reservoir or receive limited reservoir support. Of these acres, approximately 50,000 are downstream of the Snake Lake Reservoir.
Ivan Friesen, EID general manager, said the project is important to the district, as about half of its irrigated area is river supported. "When the river is low, these acres can be affected by shortages of water," he said.
The reservoir expansion project in particular will improve water security in the region by removing 35 per cent of the present river-supported acres to reservoir-supported areas. Many of the modernization projects will also allow the district to increase irrigation acres without an increase in the amount of water used. Projects that help water security and water efficiency are also an adaptation to climate change and are good news for those who were hit hard by last year's drought. "Anybody who did not have irrigation in our area was hard hit," said Friesen. "Crops outside of irrigation were burnt up."
Prior to the announcement, the EID was very close to its expansion limit of 311,000 acres and very few new acres were being given out. With 75 per cent of irrigators voting in favour of irrigation expansion in the plebiscite vote in February 2021, the district will be able to open up an additional 29,000 acres. If the Snake Lake Reservoir expansion is completed, an additional 5,000 acres will be added for a total expansion plan of 34,000 irrigation acres. Demand for new irrigation is presently higher than what is being provided by the District on an annual basis. "The Snake Lake Project, in particular, is very important for us," concluded Friesen.
For cattle farmers such as Kevin Serfas, the reservoir project is a huge deal. Serfas farms near Turin, in the EID. He operates a newly built 40,000-head feedyard, as well as a smaller 6,000-head feedyard. Good silage is crucial to the success of his operation. In recent years, though, dry weather and drought have been a major concern. If it wasn't for the fact most of his silage acres are under irrigation, he would never have made the investment in the feedyard. "We can't fool around with that," said Serfas. "If we don't have that silage, we essentially can't feed the cattle."
Six years might not seem like a lot of time to complete a reservoir project, but Westwood said it is adequate. This is in part because the districts have been at work on pipeline modernization for the last 30 years. "We're very comfortable and do these projects all the time," he said. "What this program has afforded for us, is just the ability to do a significant amount at an accelerated pace."
The Government of Alberta estimates approximately 200,000 acres of additional irrigated land could be supported by the water made available through the newly funded modernization and reservoir projects.