FLOUR POWER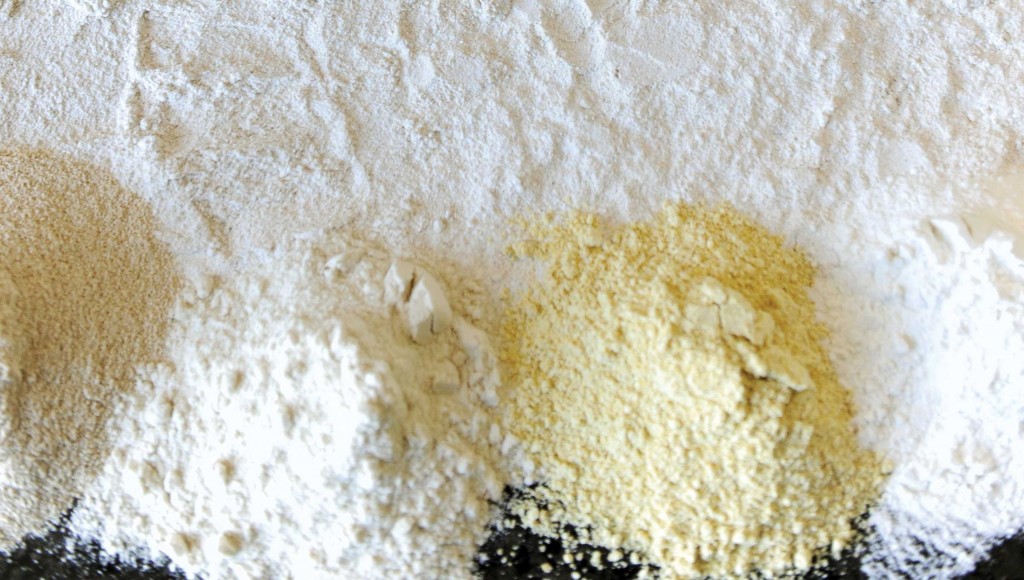 NOT ALL FLOURS ARE CREATED EQUAL
BY ALLISON FINNAMORE
An evolution in customer demand is driving the changing face of Canada's baking industry, from research to sales.
For as long as many of us can recall, Canada has been a traditional market where flour came from one source— wheat—and was either white or whole wheat. Today, Canadian diets are changing to reflect a diversity of products in the marketplace.
Marta Izydorczyk, PhD, is program manager of the Grain Research Laboratory at the Canadian Grain Commission and has done extensive studies on the health benefits found in alternative flours, including barley.
Although barley contains gluten, it is recognized as an alternative flour because it contains high quantities of betaglucan, making it high in dietary fibre and rich in antioxidants. The trick is finding that sweet spot in the milling process. Too much milling "depletes the goodness," she said, while not enough fails to sufficiently crush the barley to allow the goodness to appear.
Izydorczyk explained that the beta-glucan in barley flour contains a compound that, in sufficient amounts, can reduce the risk of coronary heart disease. And while wheat bran is created by removing certain outer layers of the wheat kernel, with barley, it's the outer layers and cell walls that contain the beta glucan.
"If the same process used on wheat to obtain bran is done on barley, there are still very few beta glucans," she stated, adding that research is ongoing. "It's a new way of looking at barley and milling."
The beta glucan may be key to marketing barley flour, Izydorczyk said. Because of the high concentration of beta glucan and its proven link to disease prevention, the product can be marketed with federally approved health claims. Health Canada's food directorate assesses health claims and, if proven, allows the product to use the government-approved health claim for marketing purposes.
Barley in Canada has had a health claim since 2012 that states, "Barley fibre helps reduce/ lower cholesterol, a risk factor for heart disease."
However, obtaining a health claim is just one step, Izydorczyk said. Consumers need to be more accepting of the fact that foods with barley and other alternative flours will look different. Pasta will appear brown or have dark flecks, she explained, as will bread. At the same time, many health-conscious consumers are looking for darker-coloured bread products and don't mind the look of barley products. The chemical structure of wheat means that it's important with most baking recipes to help give standability to bread products. While barley can be used to bake with, a portion of wheat typically makes its way into a baking recipe.
Thava Vasanthan, PhD, is a professor in the Agricultural, Food and Nutritional Science Department at the University of Alberta and has studied the milling of cereal grains, oat and barley beta glucan extraction, and more. He agreed with Izydorczyk and said consumers are looking for products with additional nutritional benefits, such as those recognized in a health claim.
"Consumers are really understanding about healthy eating," Vasanthan stated, pointing to a decade of growth and increasing demand from consumers.
He adds that pulse flours appeal to consumers with celiac disease for their lack of gluten, but also for their nutritionally balanced proteins.
"Amino acids are the building blocks of protein," Vasanthan explained. "When you compare the quality of amino acids of pulses with cereals, the pulses are superior quality."
Pulses also contain high-quality starch. The slow-digesting nutrient is processed into glucose, Vasanthan said, and is an excellent insulin regulator.
But that doesn't mean that wheat is being left out in the cold.
According to Statistics Canada's Cereals and Oilseeds Review, milled wheat in Canada continues to be the front-runner in terms of quantities. Between 2005 and 2010, Canada milled an average of 2.1 million tonnes of Red Spring Wheat, 287,000 tonnes of amber durum wheat, 77,000 tonnes of other western wheat, 463,000 tonnes of Ontario winter wheat and 168,000 tonnes of other eastern Canadian wheat, adding up to over three million tonnes in total. During the 2011–12 marketing year, a total of 2.6 million tonnes were milled.
The Canadian National Millers Association says that, across the country, mills process about 3.1 million tonnes of Canadian wheat a year. Approximately 75 per cent of that is grown in Western Canada, with the remainder mostly coming out of Ontario, but from Quebec and the Atlantic Provinces as well.
From the total processed, about 2.4 million tonnes is for human consumption, with the balance going for animal feed and non-food products. While dependent on North American market values of cereal grains, the value of Canadian wheat exports is approximately $1.2 billion a year, with about $300 million in valueadded products.
While wheat remains the flour frontrunner, market trends show that it makes good business sense to branch into alternative markets.
Brian Hinton, owner of Calgary's Lakeview Bakery, said supplying his two stores with specialty flours like spelt, kamut and quinoa can be challenging because these products are largely sourced from outside of Canada. He added that ingredients like flours made from food barley, lentils and chickpeas are not easy to get, either, even though they're home grown.
"An inconsistent supply is the biggest obstacle," he explained. Still, demand for alternative products has been exponential for Hinton, expanding from three varieties of glutenfree products in 1996 to over 250 today.
Frank Sarro, purchasing manager with Community Natural Foods in Calgary, has witnessed the same rapid and steady increase in demand during the last several years. Today, the selection at Community Natural Foods is diverse and includes dozens of rice and bean flours, as well as premade products.
"There's high demand," Sarro said, pointing out that as medical diagnoses of celiac disease increase, patients are arriving at his stores armed with a list of foods they're no longer able to eat and looking for help. Salespeople become educators and help customers through the initial stages.
As a purchaser, though, Sarro sees gaps in the supply chain with flours and organics. A member of the national Organic Value Chain Roundtable, he said there is certainly a production and capacity issue in Canada as far as supplying organics.
"We need to attract more producers; we are definitely seeing capacity issues," he said.
And while some farmers balk at the paperwork involved in Canada's organic certification, Sarro points out that virtually every
step of agriculture involves paperwork—from getting Hazard Analysis and Critical Control Points (HACCP) approved, to selling to co-operatives, to elevator sales. Creating that trail, he explains, is a key to successful business. "Paperwork is going to pay you," he stated, pointing out that farmers need differentiation to gain a premium price.
Back at the flour research level, Izydorczyk sees only opportunities ahead for the alternative flour industry in Canada. For barley, for instance, new seed varieties of edible, hulled barley are in development. And as research continues, now is also the time for promotion.
"This is the time to promote this barley for food uses. It is happening," she said.