THE NEW WINE AND CHEESE
BEER AND FOOD PAIRINGS TAKE CENTRE STAGE
BY IAN DOIG
There's some takes delight in the carriages a rolling . . .
But I takes delight in the juice of the barley.
And courting pretty fair maids in the morning bright and early.
A well-known Irish folk song, "Whiskey in the Jar," ends with its doomed subject wistfully reminiscing about life's simple pleasures, especially beer. He certainly doesn't long for a glass of Pinot Noir on his way to the gallows. Beer has long been a working class delight, but chefs are now elevating the juice of the barley, choosing it in place of wine as an accompaniment to upscale cuisine.
Not any old brew will do, however. Chefs and contemporary restaurant diners aren't content to wash down their meals with whatever big-name brand is at hand. They want the beer to complement their meal and enhance the dining experience.
The impulse to pair beer with food in this way is relatively new to Alberta. The province is a slow and steady participant in a craft beer explosion that has gripped the West Coast from Seattle to Vancouver. Independent breweries from Calgary's Big Rock Brewery and Wild Rose Brewery to Edmonton's Alley Kat Brewing Company are now producing dozens of lagers, ales, stouts and porters.
Many finer Alberta restaurants feature a selection of these local and international beers. Calgary's River Café is internationally known for its contemporary Canadian cuisine and its wine menu. However, chef Andrew Winfield said beer is increasingly comparable to wine, with restaurant patrons preferring specific brew styles in combination with their meals, and simply being eager to try new tastes.
"Now it's becoming more mainstream," he said. "It's right for a chef to pair a dish with an ale as opposed to a wine." River Café now offers such pairings on occasion, and hosts dining events that focus on beer as the accompaniment.
Beer's rise in the food scene also owes a lot to upscale dining becoming much less rarified, and beer more sophisticated. The two have met in the delicious middle.
"Beer is the new wine, and wine geeks are the biggest beer geeks," confirmed Mike Tessier, co-owner of Artisan Ales, a Calgary beer consultant and importer of craft beers. Tessier is a beer purist and champion of craft beers, and his clients include Co-op liquor stores as well as independent wine boutiques. "With the Quebec and European breweries I deal with, lots of places that were primarily wine-focused are drawn to that craft beer market," he said.
Artisan Ales recently held a foodand-beer tasting event at Calgary's tiny Taste restaurant, which even employs its own Cicerone, the beer equivalent of a wine sommelier. Tessier enjoys briefing restaurant staff on the art of pairing beer with food. "'Oh, I see you're having steak or chocolate cake, well this beer would be awesome with that,'" he says. "It doesn't necessarily have to work—people like to experiment."
"The future of the craft beer market is nothing but growth," said Tessier. Though beer-food pairing is a new restaurant trend, the juice of the barley has successfully made the jump from the go-to beverage of backyard barbecues to the world of fine dining. The phenomenon is limited only by the creativity of chefs and brewers.
In May, Winfield was named Canada's outstanding chef at the 2014 Terroir Symposium, a prestigious hospitality industry honour, and River Café owner Sal Howell was named the nation's best restaurateur. Below is a series of dishes created by Winfield for GrainsWest. Each is paired with a craft beer selection.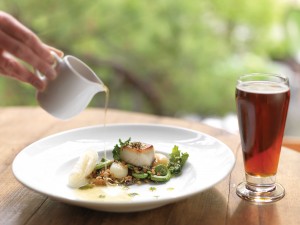 BIRCH SYRUP MARINATED SABLEFISH
WITH TOASTED EMMER WHEAT AND DASHI
Craft beer really lends itself to the seasons, said winfield. "Most wines make sense most of the year, but those ales— there's a certain kind of weather and a feeling you have. You want to have a different style of craft beer at that time."
In this sunny entre, the chef pairs rich and flavourful wild Canadian sablefish and very seasonal fiddleheads with Big rock Brewery's Traditional Ale. Pouring the broth over the balance of the dish, the dashi and birch syrup flavours highlight the flaky sablefish, while the wheat adds texture and crunch.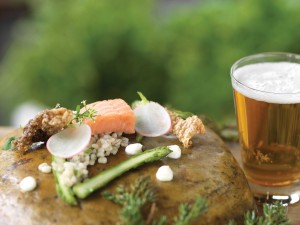 SLOW-POACHED WILD SPRING SALMON,
PEARL BARLEY, FETA AND FIDDLEHEAD SALAD
"Beer is so versatile," said Brian smith, wild rose Brewery's director of brewing operations. "There's such a wide range of flavours with your yeast, hops and malt. You get all sorts of colours and strengths, you've got varied carbonation and bitterness. It really gives chefs a lot to play with."
Here, winfield playfully pairs electric Avenue Golden lager with salmon so buttery soft it melts in your mouth. The crispness of the lager supports the subtle, smoky play of flavours in the dish, including an insanely delicious garnish of crisped salmon skin.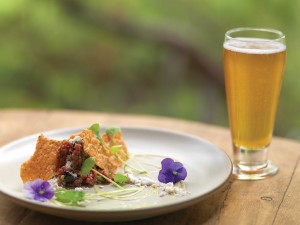 ALBERTA BEEF TARTARE
WITH SMOKED OYSTER SAUCE & PRAIRIE SAGE CRACKERS
"This beer and food thing has really taken off in the last year or two," said smith. "People are experiencing new flavours, and they're enjoying them. I don't think it's a whole lot more complicated than that."
Pairing the uniquely formulated wild rose Velvet fog (a wheat beer that also incorporates 50 per cent barley in the brewing process) with a simple and inventive take on beef tartare, this appetizer is all about the meat. nestled between red fife- and fl ax-based crackers, the unbeatable taste of sirloin is a natural combination with the fresh tang of the unfiltered wheat ale.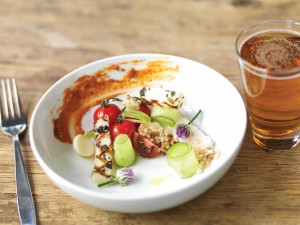 WOOD-GRILLED HUMBOLDT SQUID,
TOASTED BARLEY AND KIMCHI AIOLI
Winfield's approach to pairing is simple: serve beer that enhances both the taste of the food it's served with and the overall dining experience. In this bright, summer seafood dish, the light crispness of wild rose Brewery's electric Avenue Golden lager suits the richness of squid and the spicy tang of kimchi. The beer accents the savoury, smoky char on the squid and the nutty, toasty edge of the barley.