GRAIN GAIN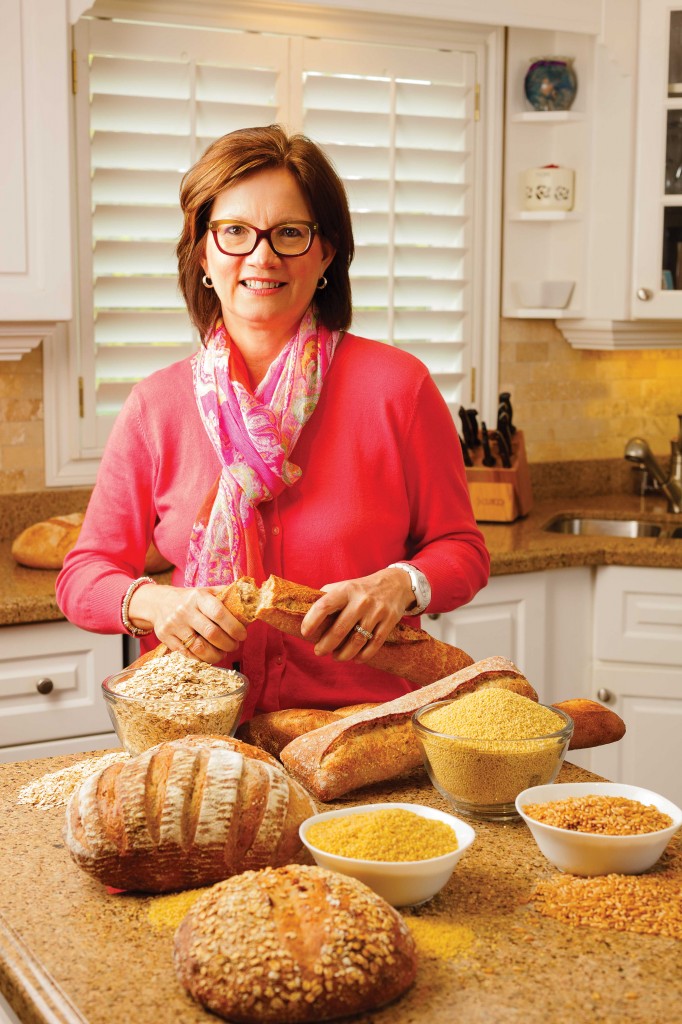 THE HEALTHY GRAINS INSTITUTE GIVES CONSUMERS PLENTY TO DIGEST
BY GEOFF GEDDES
The digital era is both a blessing and a curse.
Everywhere you turn there is information overload, but the quality and reliability of the data can be underwhelming. That's OK when you're looking for the latest movie review, but what if you're seeking advice on the proper foods to eat and how to maintain your health? Where do you turn for guidance you can trust?
These questions were, in part, the impetus for establishing the Healthy Grains Institute (HGI). Launched in November 2012, the HGI is a non-profit organization whose mission is to inform and enhance Canadians' knowledge and understanding of whole grains and how they contribute to health and weight management. The HGI receives backing from eight operating members, including Loblaws, Weston Foods, the Canadian National Millers Association, the Baking Association of Canada, Canada Bread, the Grain Growers of Canada, Grain Farmers of Ontario and the Alberta Wheat Commission.
"We're the only national authoritative voice in Canada promoting all grains and their health benefits to consumers, health professionals and media," said Christine Lowry, registered dietitian and nutrition and policy consultant for the Healthy Grains Institute.
"We work hard to ensure that everything we share with the public is credible, factual and reliable," said Lowry. "Nothing is published on our website or through Facebook and Twitter until it is thoroughly reviewed by our Scientific Advisory Council."
With recognized plant scientists and nutritional experts from across Canada, the advisory council is an independent body that offers guidance to the HGI and ensures that any data it disseminates is based on sound science and the latest research.
The three advisory council members have diverse expertise and conduct their own research programs.
"My current research focuses on cereal and pulse crop improvement," said advisory council member Ravi Chibbar, PhD, professor and Canada Research Chair (crop quality) in the Department of Plant Sciences at the University of Saskatchewan. "We're looking at increasing low-temperature tolerance in winter cereals such as wheat and rye, and changing the seed composition in cereal and pulse grains so they may confer additional health benefits."
While the research isn't paid for by the HGI, some of it, such as the historical changes in wheat grain composition, relates to its mandate.
"These projects advance basic science and develop concepts that can help produce new crops and/or modify grain composition for the betterment of human health," said Chibbar. "As well, some of the discoveries are incorporated to develop new crop cultivars which benefit producers."
The research is mostly funded by the federal and provincial research granting councils such as Canada Research Chairs, the Natural Sciences and Engineering Research Council of Canada, the University of Saskatchewan and the Saskatchewan Ministry of Agriculture, as well as crop producer groups.
Research also plays a part in educating the public, addressing food myths.
"There is so much fiction out there in regard to healthy eating," said HGI board member Paul Hetherington, president and CEO of the Baking Association of Canada. "A lot of media and celebrities have made dietary choices and people think 'if it's good for them, it must be good for me.' Before you embark on any diet plan, it's critical that you consult a doctor and get advice from a nutritionist."
The gluten-free movement is one food trend that has gained momentum in recent years.
"We understand that about two per cent of the population is diagnosed with celiac disease and another four per cent are gluten-sensitive, so they have to eat in a certain way," said Lowry. "But the rest of us can enjoy the benefits and goodness of wheat, barley, oats and rye."
This need to separate fact from fiction was echoed by Sue Newell, operations manager of the Canadian Celiac Association.
"There is a small group of people who feel better when they don't eat gluten," explained Newell. "Some have celiac disease and others self-diagnose gluten sensitivity. But since there's no reliable test for the latter condition, many more people are restricting their diets in ways that aren't making a significant difference to their health."
Gordon Harrison, president of the Canadian National Millers Association (CNMA) and a founding member of the HGI, put it in perspective.
"If 30 per cent of North American consumers are avoiding gluten and six per cent may actually have gluten intolerance, it means five times as many people are worrying about it than need to be." It's this sort of incongruity that prompted the CNMA and other industry organizations to support the HGI.
"We saw what happened with the low-carb diet phase, particularly the Atkins diet," said Harrison. "It
was a disturbing example of how misinformation can influence consumer behaviour to the detriment of producers, processors and the general public. From that, we identified an urgent need for the kind of outreach that the HGI has implemented."
Central to that outreach is promoting the advantages of grains in the diet. Grain-based foods provide some key elements of proper nutrition, including B vitamins, iron and fibre.
"Fibre is a key one, as we are not consuming enough of it," said Lowry. "People think they'll get it from fruits and vegetables, but those foods have different types and amounts of fibre than what is found in whole-grain foods."
Not only is there scientific evidence that people eating whole grains have a reduced risk of cancer and healthier body weights, but removal of grains from their diets could have long-term consequences.
"Many people assume that 'gluten-free' means healthier, that somehow 'free' equates with 'better,'" said Lowry. "But what if it said 'vitamin-free' or 'nutrientfree'? Many gluten-free foods are highly processed and contain a lot of starch and fat, so that some people can actually gain weight on a gluten-free diet."
That's the sort of information that the HGI wants to share with the public.
"Communication is critical. Through our website, we post the latest scientific research and articles as well as fact sheets on key topics such as gluten sensitivity, the benefits of wheat, and the role of whole grains in weight control."
Additionally, the HGI is active on Facebook and Twitter, and features "Wheat Wednesdays" on its website with interesting factoids. Lowry emphasizes that this online material receives close scrutiny from the scientific advisory council to ensure that it's accurate and science-based.
And it's not just consumers who benefit from that accuracy.
"From field to fork, there are so many entities involved in this business that a need existed for one group to provide authentic, reliable data on behalf of industry. If we can be that focal point for all links in the value chain, we're happy to do it," said Lowry.
But the HGI has no intention of doing it alone.
"We're working closely with the Grain Foods Foundation and the Wheat Foods Council in the United States. Our scientists are collaborating with their scientists to review projects and share information." While the HGI isn't engaged in its own research at present, Lowry sees that as an area of potential growth.
On the topic of growth, Lowry is proud of how far the HGI has come in two years and is excited about the future.
"We need to tell more people who we are and connect with other stakeholders to understand their information needs and help them to better serve their constituents," she said.