THINK INSIDE THE BOX
BY GEOFF GEDDES • PHOTOS COURTESY OF VANCOUVER FRASER PORT AUTHORITY
To think outside the box can be good for business as containerized shipping gains popularity in the Canadian grain industry. Though this mode of transport is not without its challenges, more and more shippers see it as a viable alternative to bulk movement.
"Containerized shipping of specialty crops has been going on for some time now," said Doug Mills, senior account representative with the Vancouver Fraser Port Authority. "It came about through the malting industry, as brewers in Japan and China recognized they could get a better handle on quality from the source to the brewery by sending product in smaller batches via containers. This spawned the transloading process, where hopper cars brought malt grains to the coast and offloaded them into shipping containers."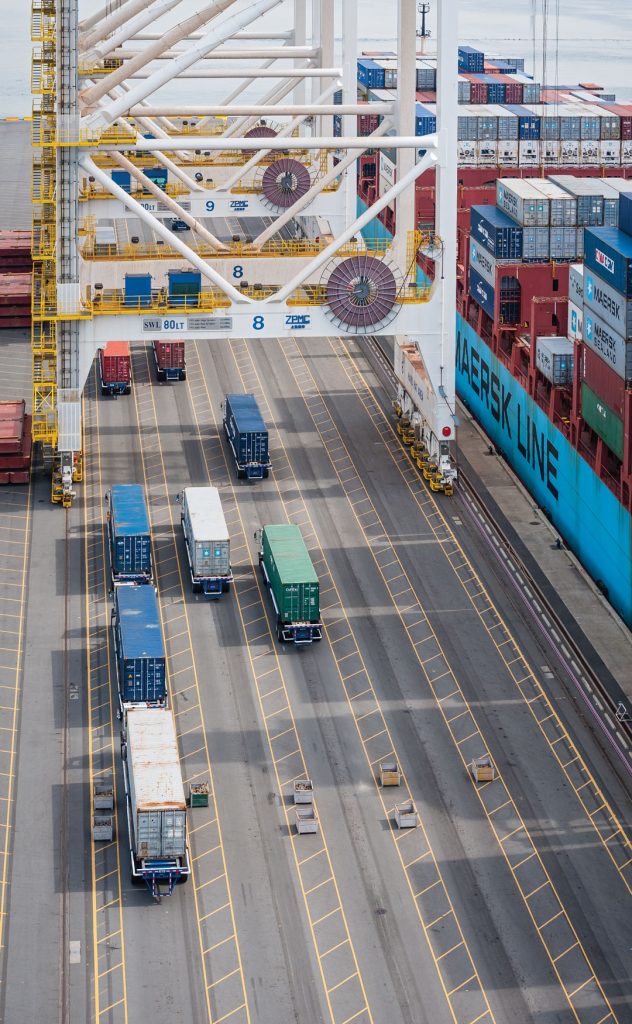 HIGH DEMAND, HIGH REWARD
As malting barley is typically a high-end product, it is shipped in high-quality containers that are newer, cleaner and sport a polyethylene liner to protect the contents. While countries such as Korea are less fussy, Japanese buyers demand the best and willingly pay a premium for it.
"It's more expensive to get nicer container boxes, but Japan sets a high standard," said Dean Giles, general manager of Columbia Containers. Located on the port's south shore, the company operates a transloader facility that specializes in malt shipments to Japan. "Customers in Japan want to ensure there is less dirt and dust touching the product and want quality guarantees. If we have a box coming back from China with tires in it, Japan doesn't want their container smelling of rubber. If there is rust in the box, we will paint over it to prevent rust transfer."
Though malt may have started the container trend, crops such as peas, beans and lentils have since been recognized for their potential to utilize this method. These crops have become the nation's largest containerized crop exports.
CRITICAL CONTAINERS
"Especially when you get into markets that can't take a bulk vessel, containers are absolutely the way to go," said Greg Northey, VP of corporate affairs for Pulse Canada. "And when you deal with specialty crops like pulses, barley and some canola, containers make the most sense.
"There is a whole ecosystem supply chain built up around container shipping. Vancouver alone has six transloaders who specialize in this, where they take hopper cars full of grain and stuff them into containers at the port. There is a lot of investment in this area, and a supply chain devoted to this stream of movement."
There are two common approaches to utilize containerized shipping. One route is for a processing plant to collect an empty container, fill it and transport it to a CN or CP facility. There it is loaded onto a train, taken to port and placed directly on a container vessel.
"The other option is to load a bunch of hopper cars with loose product, take them by rail to Vancouver or Montreal and hand them off to a transloader for placement in containers and subsequent shipping," said Northey.
According to Northey, 25 years ago, the majority of specialty crops were shipped in containers as volumes were lower. This has shifted, largely due to growth in crop volumes grown and changes in market demand for specific crops. For example, increased pea acreage is reflected in an expanded bulk market for the crop. Today, peas and lentils are transported mostly in bulk, but about 30 per cent of specialty crops still rely on containers.
While it has its pros and cons, the benefits of containerized shipping are of particular interest to specialty crop sellers.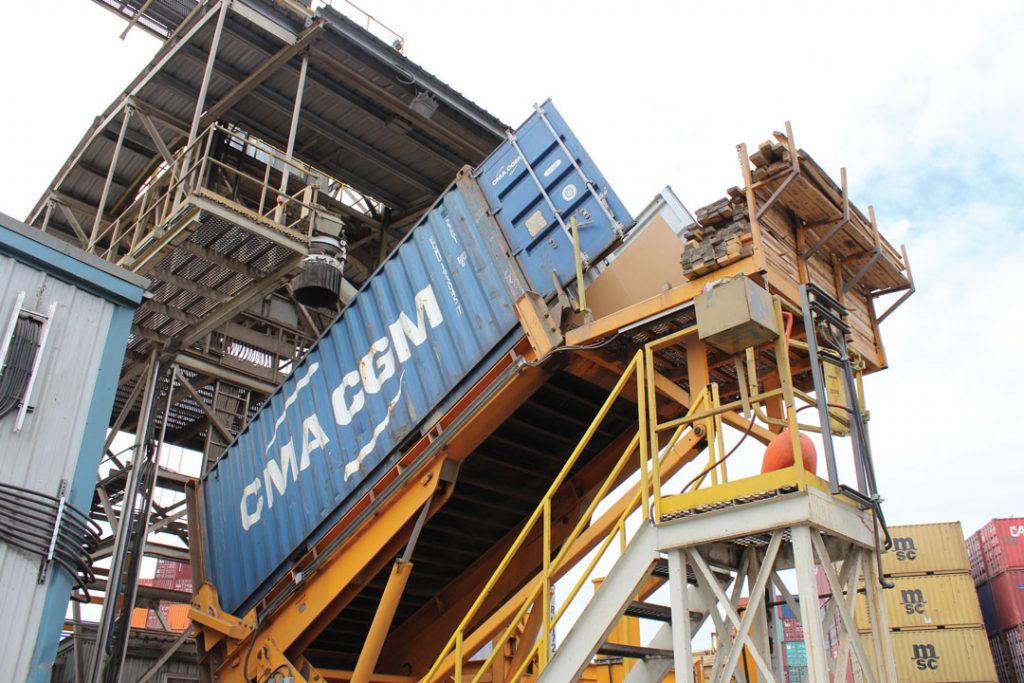 "There is a lower capital outlay involved as you can buy in smaller quantities than with bulk shipping," said Giles. "When shipping a premium product, you can tell which railcar it came from, so it's easier to track shipments for identity preserved products."
Shippers will often realize a greater profit margin from containerized shipping, though this depends on the country and product involved, and returns vary from year to year. As well, not everyone has access to bulk terminals.
"If a small shipper in Saskatchewan is sending lentils, they won't be using a bulk terminal, so the container option lets others play in the market and get access to water," said Giles. "It also allows smaller customers like feed mills, who can't buy in the quantities required for bulk, to participate in the market."
On the downside, containers cost more per tonne to ship product, and shippers are at the mercy of container availability at any given time. "When the container supply is plentiful, you have a lot of access and options, but this year is tight," said Giles. "If three shipping lines are serving a destination, things are more competitive and rates go down.
Conversely, when you don't have that kind of competition, rates go up and you may not even find an available container for your product."
REGROUPING AND REBOUNDING
Though the pandemic initially had a negative impact on container shipping, such exports rebounded with annual export volumes for many crops hitting record totals. "There was a bit of an issue at first with container exports being impacted by COVID-19 overseas, as Asian production of manufactured goods came to a standstill," said Mills. "That reduced the number of containers coming to North America, so there was a lack of containers available to ship items back to Asia."
Given the decrease, many railways cut portions of their rail cars, manpower and locomotive fleets. This was exacerbated when the pandemic shut down much of the retail sector in the United States. Local loaders saw a lack of empty containers and a lack of rail capacity thanks to such furloughs.
"Since then, many retail markets in North America have rebounded somewhat, so that container supply has largely been revived," said Mills. "We are now seeing significant volumes of export goods moving. There is still a lack of empties in certain regions, but we are able to fulfil the record volumes coming through ports. New mid-year records of 16.3 MMT were set for bulk and containerized grain moving through Vancouver's port, an increase of 10.4 per cent or 1.5 MMT compared to mid-year grain records from the previous year."
EXPANDED HORIZONS
Another potential area for container growth is in servicing new markets, where small startup export companies may avoid jumping into huge volumes on day one. In such an instance, the box system may also hold more appeal for the shipper.
"As we dive into new markets, credit risk can be a big consideration, as it may be hard to get paid from some countries," said Giles. "The container business is a way to mitigate that risk by sending smaller quantities and then sending more once you receive payment, rather than one bulk shipment every few months. This approach also means more regular cash flow, which can be important for a new enterprise."
As well, the flexibility of containerized shipping has allowed many sellers to expand their reach. "We ship to over 100 markets every year, and the only reason this is happening is that somebody in Peru wants a container of lentils and so that's how you send it," said Northey.
While new markets offer room for growth, overall volumes for containerized grain shipments have been fairly stable of late.
"Containerized grain movement has almost tripled since 2000, but has stayed pretty constant over the last six years," said Giles. "Prince Rupert went from zero to half a million tonnes last year as a new market, which has taken some shipments away from Vancouver. Even so, volume in Vancouver has been steady, coming in at about 2.6 million tonnes last year compared to 2.8 million the year before and 2.5 million tonnes in 2017."
The current year is shaping up as a tough one for this shipping method due to a lack of containers and the presence of cheap bulk rates, yet there's no reason for alarm.
INS AND OUTS, UPS AND DOWNS
"I think the container business will always be there. It will just vary up and down depending on what bulk freight does and what happens with grain crops on the Prairies," said Giles. "When grain volumes are down, the big companies shipping bulk will buy more as they have targets to hit, leaving less to be moved in containers, especially crops like peas, durum wheat and malt barley."
Sharing Giles's optimism is Mark Hemmes, president of Quorum Corporation in Edmonton. Since 2001, his company has monitored Canada's Prairie grain handling and transportation system.
"Canadian grain movement in containers has increased from 2.5 per cent of total movement in 2001 to over 11 per cent last year, so its impact is significant," said Hemmes. "Initially almost all of the product moving in containers was either malt barley or pulse crops, but it has expanded into some of the higher quality cereals and animal feed."
In his 2019 study Grain Movement in Containers, Hemmes found the cost of grain movement in hopper cars for transloading at port was close to the cost of loading in the country. Significantly, though, there are far more empty containers available at port locations than in the country. His study also noted that most container shipping lines were less inclined to hold empty containers on the Prairies on spec so as to load products.
"When bulk commodities are exporting from Canada in containers, it is a backhaul for them [their revenue from import containers is far greater than export], so the sooner they get the asset back into a position to take a load from an Asian-Pacific country, say, the better for them," said Hemmes. "Over time, railways also started to charge for the repositioning of empty containers, which pushed the economics of the move more in favour of transloading at port."
Regardless of the shipping method, Canadian grain exports are growing, and this presents its own set of challenges for industry and government. "The average shipper or farmer needs to understand that the port as a gateway to foreign markets has been growing, and we've invested in it at record levels for the last 15 years," said Mills. "Total investment including government, port and stakeholders into gateway improvements has been over $7.5 billion in that period. The need for that growth is absolute moving forward, as grain exports are increasing at three per cent per year and that eats up a lot of capacity year over year, especially if you are talking about overall tonnage rates."
For its part, the Port Authority is calling for additional investment to be made in the years ahead so Canadian farmers can get their goods to market. To this end, Mills encourages farmers to speak up to their elected officials.
"I would urge farmers to let politicians know that growing these gateways are important to them as far as continuing to meet their demands 10 years from now," he said. "That type of infrastructure—including rail upgrades and supporting infrastructure such as crossings, bridges and overpasses, as well as terminal facilities—takes years to build and go through environmental assessments and community outreach. All the necessary steps don't happen overnight, and the funding to make it happen needs to be available now. We must open up the future for our shippers and understand that we are enabling them to grow their business, and we want to keep doing that."
As an example of the hurdles faced by expansion projects, the Port Authority's latest undertaking is the Roberts Bank Terminal 2 Project. A $2 billion offshore marine terminal in deep water, its location was designed to minimize environmental concerns. "We've been working at this project for over 10 years, and have been in the environmental assessment process for the last eight years, and still have not gotten approval," said Mills. "It's essential to advise Ottawa that infrastructure like this is vital to accessing containerized markets moving forward."