FERTILIZER TAKES FLIGHT
BY GEOFF GEDDES • PHOTO: SHUTTERSTOCK
While fertilizer is critical to keep farmers in the black, many see red as its cost has greatly increased. As prices are on the upswing, industry groups and researchers turn their attention to new ideas that may boost ROI.
Fertilizer prices have skyrocketed over the last year, to the point where they have almost doubled," said Rigas Karamanos, former senior agronomist with Koch Fertilizer Canada. "In 2021, some growers bought urea fertilizer for $730 per metric tonne, whereas now they are looking at about $1,300 per metric tonne."
Karamanos noted the increase is due to multiple factors. While transportation backlogs impeded supply at the Port of Vancouver and China suspended phosphate and urea exports, higher commodity prices have increased demand.
"In spite of the price crunch, much fertilizer research is focused on best management practices for reducing gas emissions as this is what the public is most concerned about," said Karamanos, in reference to the production of carbon dioxide and nitrous oxide.
As the current price crunch has jolted farmers and the ag industry, three fertilizer research projects now have implications for cost management in the field and at the factory.
AN ONGOING EXAMINATION
An ongoing study conducted by Fertilizer Canada since 2014 may contribute to more efficient fertilizer use. The Fertilizer Use Survey has been expanded to gather information on western Canadian corn, flax, sunflower and wheat crops, which were not previously included. This past spring, the Alberta Wheat Commission (AWC), SaskWheat and the Manitoba Crop Alliance partnered in the project, which will examine farmer adherence to 4R beneficial nutrient practices. The three commissions have contributed funds and participated in committee discussions regarding the structure of the survey.
"The project is assessing the current state of fertilizer management in Canada," said Karen Proud, Fertilizer Canada president and CEO. "The survey shows us how agri-retailers and farmers across Canada are implementing 4R Nutrient Stewardship to increase crop production and safeguard the environment."
The 4R Nutrient Stewardship program emphasizes the importance of using the right fertilizer source at the right rate, right time and in the right place. "By understanding how growers are using the 4R program, we can identify knowledge gaps and address barriers to adoption of the practices," said Proud. "While the survey doesn't directly influence fertilizer cost, which is driven by supply and demand, it can help farmers to be more precise in their fertilizer practices, such as testing the soil to make decisions on the rate of fertilizer required. In this way, they can avoid overapplying fertilizer, using just enough to address their needs."
Survey results to date show that farmers who follow the 4R program tend to save money over those who don't, and that can make all the difference when costs rise. "At times where input costs are high, programs like this aid growers in using inputs more effectively and efficiently, both from a cost and emission control standpoint," said Proud. The organization's target is to have 30 million acres of Canadian cropland under a 4R system by 2025.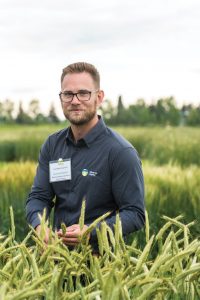 "With the amount of discussion these days around the emission and management sides of fertilizer, we found it valuable to get a clearer picture of how fertilizer is being used on wheat crops," said Jeremy Boychyn, agronomy research extension specialist with AWC and Alberta Barley.
The Western Canada version of the survey was sent to farmers in November and includes an extensive list of questions that address fertilizer use. These will gauge farmer awareness of the program and determine which 4R practices are and are not being implementing and why. Farmers are being asked to identify the types of fertilizers they apply and in which situations as well as the reasons they use in applying fertilizer to wheat crops.
This information will assist AWC to identify where extension activities may prove valuable for farmers, and which types of research projects could be funded in the future to benefit fertilizer efficiency. "As well, there is a lot of discussion now by government regarding emission reduction targets from fertilizer use. This study helps us paint a clear picture of what growers are actually doing around fertilizer
and to make the case that they are already highly efficient in that area," said Boychyn.
Boychyn is encouraged by the general trend in fertilizer research toward greater focus on the relationship between crop genetics, management and environment. "Which genetics will prove most effective with our current management practices in certain geographic locations? There is also greater scrutiny of fertilizer technologies, nitrogen inhibitors and slow-release phosphorus," he said. "There are also long-term initiatives asking how we can get plants to source nitrogen from the air rather than farmers having to apply it."
PHOSPHOROUS FINDINGS
An ongoing project conducted by Agriculture and Agri-Food Canada (AAFC) on long-term test plots at its Swift Current Research and Development Centre in Saskatchewan adds another dimension to fertilizer research. The project uses data gathered from fallow-wheat-wheat rotational plots created in 1967. Some of these have received phosphorous with or without nitrogen, and some have not received phosphorous since 1995. The study will assess how fertilizing with nitrogen and phosphorus changes the chemistry of soils and the availability of phosphorus for crops. It will also examine how fertilizer accumulates when it is not fully utilized by the plant. Researchers will additionally analyze the wheat plants to measure yield as well as nitrogen and phosphorus concentrations within the grain and straw.
The project is an important area of study for the industry because phosphorus is a non-renewable resource and runoff from cropland can transport excess quantities of the nutrient into water bodies. "There is great interest globally in residual phosphorus," said AAFC research scientist Barbara Cade-Menun. "We want to see if we can reduce the amount of phosphorus we apply without negatively affecting yield. Many people apply both phosphorus and nitrogen without understanding the interaction between them. Depending on our findings, we may be able to develop different fertilizer practices that save money for growers.
"If you are going to apply phosphorus at the right time and rate, you need to understand what happens to that phosphorus when it enters the soil," said Cade-Menun. "Is it available to the plant? What are the factors that affect it and to what extent does phosphorus impact soil biology?"
A REVOLUTION IN THE MAKING
IBM is at work to improve the Haber-Bosch process, the method now used to convert nitrogen gas found in the air into nitrates. The company believes it can create an eco-friendly process that may substantially lower the cost of fertilizer production. "We have been actively working to sustain agriculture with digitalization in recent years," said Kommy Weldemariam, chief scientist and global theme leader in the IBM Research Future of Climate division. "We have been using artificial intelligence [AI] to support the decision-making process of farmers, analyzing image, weather and satellite data." In September 2020, the company ambitiously pledged to use its muscular computational resources to revolutionize fertilizer production within five years.
Today, the production of fertilizers is very energy-intensive. "This process is consuming two to three per cent of global energy production on a yearly basis," said Weldemariam, "For every tonne of fertilizer produced, we consume one tonne of fossil fuel." It also accounts for approximately three per cent of global carbon emissions, and as a result, it is not a sustainable and scalable production model.
In response, IBM is working to identify and develop chemical reactions that will allow for conversion of atmospheric nitrogen into fertilizers in a more environmentally friendly and sustainable way. It also aims to develop cleaner, more energy-efficient production processes necessary to provide food for a growing global population.
"AI will help us to generate novel materials that will make the nitrogen fixation process more sustainable," said Weldemariam, "In a few years, a quantum computer might be able to precisely simulate different nitrogen fixation catalytic processes, further augmenting our knowledge and thus improving AI methodologies. The integration of different technologies will create that acceleration factor to change
the way we produce fertilizers today." To power the new process, IBM researchers hope to use renewable energy sources rather than fossil fuels, thereby having a direct impact on the cost of fertilizers.
"Moreover, the impact of improving the nitrogen fixation process will have important consequences for sustainable life on this planet," said Weldemariam, "If we farmed with the best techniques available before the creation of the current nitrogen fixation process, the Earth would support [only] about four billion people. Fertilizers helped to sustain our current population of close to eight billion, and that is no small feat."