TABLE TALK
BY TYLER DIFLEY
GM APPLE GETS CANADIAN APPROVAL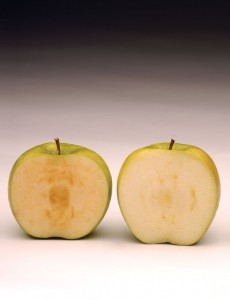 A genetically modified (GM) apple, designed to resist browning when sliced, bruised or bitten, has been approved for cultivation and sale in Canada, making it the first GM fruit that will be commercially grown on Canadian soil.
Okanagan Specialty Fruits developed the non-browning "Arctic" apple by inserting a gene that reduces the level of polyphenol oxidase, an enzyme that causes apple flesh to brown when exposed to oxygen.
A browned apple might not seem like such a terrible thing. However, it's possible that the discolouration is prompting some consumers to avoid buying the fruit in the first place—a problem the Arctic apple is designed to eliminate.
"Arctic apples have the potential to increase apple consumption and really put more apples in more places," said Neal Carter, president of Okanagan Specialty Fruits. "I think the industry should be excited about that prospect."
Browning also reduces the value of apples and other fruits in the food industry, where presentation is extremely important. Fresh-cut apples often need to be treated with antioxidants to preserve their colour, and apples are frequently passed up in favour of other fruits for use in processed products because they brown so quickly.
"We know there's a host of new products that will come out of this, because we're going to be able to use apples in products that currently they're not used for at all because of the enzymatic browning," Carter said. "Businesses can commercialize new products from it because of this trait."
Despite all of its potential benefits, the Arctic apple has its fair share of detractors, including anti-genetically modified organism (GMO) advocates and some fruit-grower groups. The BC Fruit Growers' Association and the Canadian Biotechnology Action Network, for example, are concerned that the Arctic apple will dissuade GMO-averse consumers from buying any apples, not just GM ones.
"A major risk of approving the apples is one we already see unfolding in Canada, which is consumer confusion and reluctance around apple purchasing," said Lucy Sharratt, co-ordinator for the Canadian Biotechnology Action Network, a coalition of environmental and anti-GMO advocacy groups. "We have heard from consumers that some are already thinking about alternatives to apples, so the risk here is an economic risk to the market for apples."
According to Sharratt, the potential impact of the Arctic apple on the Canadian apple industry and consumer perception should have been studied further before the federal government approved the fruit.
"We think the government needs to actually step up and look at the social and economic impacts of decisions like this," Sharratt said. "This will only get more complicated for both consumers and farmers."
Okanagan Specialty Fruits has pledged to mark all of its fresh apples with the Arctic apple logo to differentiate them from unmodified apples. The company also plans to mark food products containing Arctic apple ingredients with a similar logo, but according to Sharratt, that might be easier said than done.
"I don't see how food manufacturers are going to be spending the money changing their packaging to include a corporate logo associated with the GM apple," Sharratt said. "So even with the form of labelling or identification that the company proposes, there's a great many questions about whether that will actually come to fruition."
The first two Arctic apple varieties will be non-browning versions of the Granny Smith and Golden Delicious, with Arctic Fuji and Arctic Gala varieties to follow. The process of planting new orchards to produce the Arctic apples will take some time, but Okanagan Specialty Fruits hopes to have small quantities available for purchase in late 2016.
Carter said creating new Arctic apple varieties is a priority for the company, but he also wants to explore the possibility of other non-browning fruits. "We want to leverage our know-how in controlling enzymatic browning into other fruits, so we're working on projects related to that, too," he said.
PREMIUM MILK GARNERS MIXED REVIEWS
Coca-Cola looks to Fairlife to diversify its drink offerings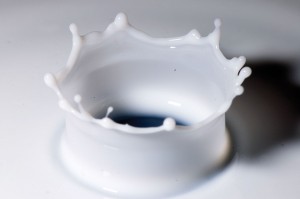 In February, Coca-Cola's Fairlife milk hit store shelves across the United States. The company has been diversifying its drink offerings in an attempt to boost revenues, which have been dealt a serious blow by declining soft-drink consumption.
Fairlife milk is produced through a process that separates milk into its water, vitamin and mineral, lactose, protein and fat components. These are then recombined in different ratios to create a lactose-free milk product with 50 per cent more protein, 30 per cent more calcium and half the sugar of regular milk. There is one major downside: it retails for about twice as much as its conventional counterpart.
Since the release, reviews of the drink have been mixed, and it remains to be seen whether premium milk sales will be enough to improve Coca-Cola's fortunes.
Over at popular online news outlet BuzzFeed, several staffers took it upon themselves to taste-test Fairlife milk. Their results were not encouraging, as reported by BuzzFeed's Rachel Sanders in a post titled "We Tried Coca-Cola's New 'Premium' Milk So You Don't Have to": "Fairlife is a little bit creepy to drink. The texture is much more viscous and thick than regular milk, and the odour is really strong, to the point that it smells almost spoiled."
However, Sanders did acknowledge that, despite its shortcomings, Fairlife milk might appeal to certain people. "Fairlife doesn't taste quite like normal milk, but it doesn't NOT taste like milk, either," she wrote. "So, if the nutrition or lack of lactose is a selling point for you, it might be worth a try."
Fairlife milk is not available in Canada, but it can be purchased at several U.S. retailers, including Target, Walmart and Kroger.
EUROPEAN UNION APPROVES NEW GMO IMPORTS
In April, the European Commission authorized the importation of 10 new genetically modified organisms (GMOs) for food and animal feed into the European Union. The Commission also renewed the authorizations of seven other GMOs.
"All the GMOs approved today have been proved to be safe before their placing on the EU market," the Commission said, in a release. "Any products produced from these GMOs will be subject to the EU's labelling and traceability rules."
The approved products include GM corn, soybean, cotton and rapeseed varieties, 11 of which were produced by Monsanto. With these new additions, there are now 68 GMOs approved for food and feed uses in the European Union. The new authorizations are valid for 10 years.
The decision prompted a fierce backlash from environmentalist groups and anti-GMO advocates in the European Parliament. One of the main criticisms of the move is that many people in EU member states are against GMOs.
"Giving the go-ahead to these GMOs is an affront to democracy," said Bart Staes, food safety spokesperson for the Greens in the European Parliament, in a release. "A majority of EU member states voted against the authorization of almost all of these GMOs in Council and there is a clear and consistent majority of EU citizens saying no to GMOs."
The Commission also introduced a proposal to allow individual EU member states to ban imported GM crops within their borders, even if the crops have been approved for use in the European Union as a whole.
Currently, the only GM crop grown in Europe is Monsanto's corn variety MON810, in Spain and Portugal.
SOYBEAN HEALTH CLAIM COULD BOOST ALBERTA ACRES DOWN THE ROAD
Soy Consumption Linked To Reduced Cholesterol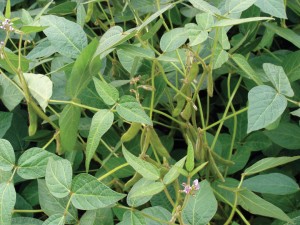 In March, Health Canada approved the use of a health claim linking regular soy consumption to reduced cholesterol.
For more than three years, Canadian soy industry group Soy 20/20, Agriculture and Agri-Food Canada and contract research organization Nutrasource Diagnostics worked together to make the claim a reality. Similar claims already exist in other countries, including the United States, Brazil and Japan.
"When those claims, particularly in the U.S., came into play, it really helped the whole business move forward," said Jeff Schmalz, CEO of Soy 20/20. "It created an environment where the soy food business could take off."
According to the new claim, consumption of at least 25 grams of soy protein daily helps reduce cholesterol, which is a risk factor for heart disease.
Soy foods have other health benefits as well. Soybeans are a good source of calcium and iron, are cholesterol free and contain isoflavones—antioxidants thought to have health benefits. Soy is also a source of high-quality, complete protein.
"Typically, consumers get their protein from animal protein or whey protein, which is cheese," Schmalz said. "There are other sources, and, in this case, soy protein is a very effective protein. It has all the amino acids that are needed for human health.
"Sometimes with animal protein there's a fairly high level of saturated fat that goes along with it. One of the benefits of soy protein is that it has a great, healthy profile, and it doesn't have any of the saturated fats."
According to Schmalz, the Canadian soy market is worth $400 to 500 million, about 10 per cent of the value of the U.S. market.
In Alberta, a small number of soybeans are grown on the irrigated land in the southern portion of the province. Industry estimates indicate that roughly 10,000 to 12,000 acres of soybeans were grown in Alberta in 2014. Currently, the crop can only be grown in southern Alberta, because existing varieties require plenty of warm weather to reach maturity.
Ron Gietz, co-author of a 2014 Alberta Agriculture and Rural Development (now Alberta Agriculture and Forestry) report on the potential for soybeans in Alberta, said the development of new varieties that require less heat to mature is crucial if soybeans are going to capture more acres in the province. That being said, more and more Alberta farmers are giving soybeans a try.
"It's sort of an ongoing process, but probably every year a few more in
different districts are trying the crop," Gietz said. "You don't need a lot of special equipment or anything, so you can try it with what you have."
In addition to their health benefits, soybeans also provide benefits to farmers by fixing nitrogen in the soil. "The end result is that the soil is enriched, and the next crop can benefit from that," Gietz said. "Some guys that have done these field-scale trials have noticed that they get a good bump in yields in the next barley or wheat crop."
In recent years, soybean acres have skyrocketed in Manitoba and eastern Saskatchewan, and Schmalz is optimistic that a similar surge could be in the cards for Alberta. "The projections for growth on the Prairies are very aggressive," Schmalz said. "A lot of major seed companies are spending a lot of time and energy developing varieties that will work on the Prairies."
One obstacle to the growth of soybean acres in Alberta is the crop's profitability. Currently, soybeans do not yield as large of a return on investment as other oilseed crops, such as canola, so they have a hard time competing for a spot in farmers' rotations.
"They have relatively low input costs, but the yield is not super high. It's about 30 to 40 bushels per acre, so they have lower revenue as well," Gietz said. "That's probably the main reason that they're having trouble getting a strong position in irrigated land, because the land here is so valuable. If you look at where the acres have taken off in Manitoba and eastern Saskatchewan, that's happened on dryland acres."
If new varieties are developed that expand the planting range for soybeans and allow them to compete with other crops from a financial perspective, they could gain traction as a rotation oilseed for farmers across the province.
"Farmers are capitalists. They're going to grow what there's a market for," Schmalz said. "If they can make a little bit more money growing soybeans than growing canola, then they're going to
do it."
"Know GMO" BALANCING THE DEBATE
Documentary Hopes To Dispel Negative Beliefs About Genetic Modification
Production is in full swing for a documentary film project designed to educate the public about the benefits of biotechnology for agricultural use and the food system.
Know GMO: An uplifting discussion about food will feature farmers, scientists and a variety of other groups involved in the genetically modified organism (GMO) debate, in an effort to combat anti-GMO sentiments that are pervasive in popular culture and on social media.
"What we want to do is change the conversation from one of fear mongering to one of possibilities," said Rob Saik, the film's executive producer and CEO of the Agri-Trend group of companies. "It's all negative, and we wanted to change that focus."
Saik came up with the idea after watching another film that was intensely critical of GMOs without seeking out both sides of the issue. "They were not interested in hearing anything positive about GMOs, only the negative side, and that's when I got mad and said, 'Somebody has to do something,'" Saik said. "I looked in the mirror and said, 'Why not me?'"
Luckily, Saik's son Nick is a cinematographer. Together, they assembled a team and started fundraising, with a goal of $1 million. To date, they have raised more than $700,000 for the project from a variety of sources, including agricultural organizations, retailers and Saik's own pocket.
Fittingly, the crew started filming in Hawaii, where the first commercial genetically modified (GM) fruit, the Rainbow papaya, has been grown since 1998. They have also filmed in locations across the United States, with stops in California and Missouri, where GM crops, such as GM corn and soy, are grown. Before production wraps up, they hope to visit several countries at the centre of the GMO debate, including India, Uganda and the Philippines.
Saik hopes to screen the finished documentary at several film festivals. It will also be made available to the general public and schools at no cost, so that it can be used as a teaching tool.
"We're designing it to be used in schools," Saik said. "We're also designing anywhere from 30-second to 10-minute vignettes that would provide discussion for classrooms, so that people can have a greater understanding of what genetic engineering technology is truly all about."
GM corn, soy and canola are already common in a variety of processed foods we eat every day.
According to Saik, it is vital that people accept GM crops, because without them, it will be difficult for agriculture to continue to feed the rapidly expanding world population.
"Agriculture needs tools and technology to ensure food security for a global population that's going to increase to nine-billion-plus people. Genetic engineering is an absolutely essential science to seeing global food security," Saik said. "Let's embrace the technology through understanding and realize that it's one piece of the puzzle for agriculture to do its job in feeding the planet."
If production stays on schedule, Saik plans to premiere Know GMO in Saskatoon in early December.