YOU'VE GOT TO MOVE IT
BY IAN DOIG • ABOVE PHOTO COURTESY OF PORT OF PRINCE RUPERT
It's unsettling to even contemplate the possibility of breakdowns occurring within our agricultural system, but the industry is now actively working to avert disaster on a daily basis. Operations may suffer at all levels as people are required to self-isolate because they are sick or have been in contact with someone who is. They may also need to care for their families as childcare becomes unavailable.
When GrainsWest recently spoke with seed plant operators, they expressed a high level of confidence the 67 Alberta Seed Processors member facilities are well prepared to remain functioning during the COVID-19 pandemic.
"We're confident we're going to keep the system moving and keep grain flowing."
—Wade Sobkowich
According to Wade Sobkowich, executive director of the Western Grain Elevator Association, elevator operators feel the same way. "We're confident we're going to keep the system moving and keep grain flowing," he said on April 6. "We have very good processes in place to allow that to happen." Failure is unthinkable, he said. "Things are really going to start falling apart globally if we can't keep grain flowing."
He stressed the first priority of the elevator system is the safety of employees and the people they interact with. This long list includes farmers, railway workers, longshoremen, vessel operators and government inspectors from agencies such as the Canadian Grain Commission and Canadian Food Inspection Agency.
Human resources have required a great deal of planning as safety protocols have been rolled out and logistic changes have been made, said Sobkowich. Elevator employee distancing and workspace disinfecting processes have been put in place while some staff members work remotely.
Even as the pandemic evolves, grain movement has increased following a litany of transport delays that included rail line washouts, the CN strike and rail blockades. "Once those blockades ended, that grain really started to flow," said Sobkowich. This has allowed grain shipments to move more quickly at Port Metro Vancouver and to a lesser degree at the Port of Prince Rupert.
"That means we're paying less vessel demurrage as time goes on," said Sobkowich. "Contract extension penalties are probably near zero now because we've been able to execute on those in the short term.
"We are pushing grain sales further out into summer. But grain prices seem to be withstanding, not dropping as much as we would otherwise see into the spring and summer period." He said this is in part because grain buying nations have assessed their needs and are now acting to maintain certainty of supply and the ability to feed their populations.
"We have to plan for the long term and execute on the short term," said Sobkowich. "You can't put everything on hold." He added doing so would allow competitors to pinch market share. As such, grain companies are making sales six and nine months out with the expectation they will execute on them. In the short term, they are also executing on sales made nine months ago, filling contracts made last summer and fall.
Grain has weathered this better than most agricultural sectors, he said. The livestock and dairy sectors have faced logistical difficulties and shifting consumer patterns, for example. "We count ourselves as fortunate and we just need to be mindful of that as we do our best to keep grain flowing. It could be a lot worse."
"We're going to see significant market volatility going forward. We're going to see grain prices go up and down quite a bit."—Cam Dahl
Cam Dahl, president of Cereals Canada, expresses similar confidence in the system. "We're moving grain at a very strong pace," he said. "There are no delays in the system, and I don't anticipate any." He cites the safety protocols and contingency planning by terminal and country system elevators as a central reason. Another benefit to stability he cited is the recent advancement of the USMCA trade deal. "The U.S. is a very large customer for Canadian wheat. At this time of uncertainty it's critically important we keep trade flowing. The agreement would really help secure that U.S. market."
Dahl said the major uncertainties for the Canadian grain industry are external. He warned the current bump in demand will not likely be sustained. "We're going to see significant market volatility going forward. We're going to see grain prices go up and down quite a bit." There is potential for decreased market demand from some countries while suppliers such as Russia and Ukraine may limit exports. The strength of the Canadian dollar will also figure in.
An additional pre-existing market trend is beyond Canadian control. "Before the pandemic started, we were seeing the rise of protectionism around the world. I'm concerned there are countries that are going to take advantage of the situation to make protectionist moves and move away from science-based open trade."
On the home front, Dahl said Cereals Canada will continue to work in collaboration with government and encourage consistency between federal and provincial pandemic responses as they pertain to agriculture. While the organization would like to see more coverage and recognition in the area of research, he said the broad and early recognition of the agriculture and food sectors as essential was very important.
Also central, is illustrating to international grain buyers that Canada remains a stable, low-risk trade partner despite the pandemic. "We're getting requests from customers for that kind of assurance," said Dahl. "We know that Cereals Canada is providing that kind of assurance and going through the steps that we've taken to ensure our supply chain remains functional."
Initiatives such as the Keep It Clean program, which Cereals Canada conducts in collaboration with the pulse and canola industries has been largely unaffected by the pandemic. But contingency plans will be created for market support activities such as incoming and outgoing crop missions.
While he is certain the industry is well positioned to ride out the pandemic, there's no telling how things will look once it's over. "Anyone that tells you that they know what things are going to look like post-pandemic is making stuff up, he said."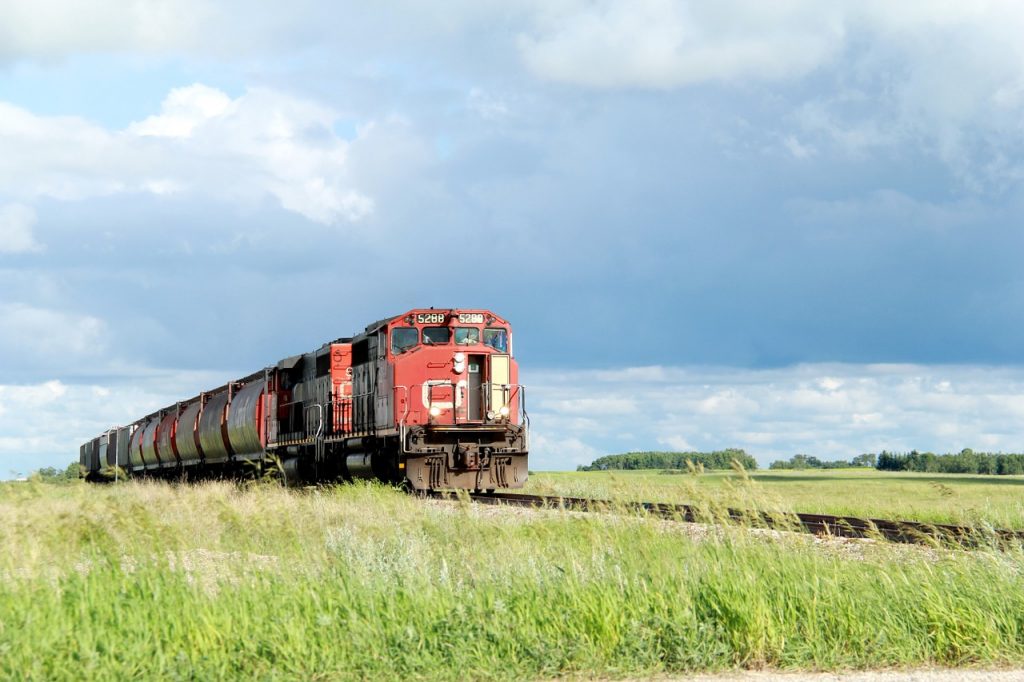 Following a series of setbacks that included the CN rail strike and protest blockades, grain flow has reportedly been good during the pandemic. Photo: Pixabay.
Interim executive director of the Barley Council of Canada (BCC), Erin Armstrong said it is even too early to say how the pandemic will affect global demand for barley. The impacts on livestock and beer production in the nations Canada trades with can only be guessed at.  "It's like so many things—we just don't know yet," said Armstrong. Contingency planning is now underway on how to handle market development given that travel between provinces and nations is restricted.
She won't speculate about the long term, but Armstrong does share Sobkowich and Dahl's confidence in the ability of the Canadian agricultural system to contend with the pandemic. For its part, BCC continues to work closely with the Canadian Malting Barley Technical Centre, the Brewing and Malting Barley Research Institute and Cereals Canada.
"If we lost an entire year of field season, with the variety development work and all the research that supports, that would be an enormous loss."—Erin Armstrong
Communication within the farming and food industries is particularly good, said Armstrong, singling out Agriculture and Agri-Food Canada (AAFC) bi-weekly conference calls as an example. A very broad segment of the ag sector is represented in these frank and informative discussions. She said AAFC personnel follow up with concerns where they have no immediate answer and provide updates as issues are resolved.
Armstrong shares Dahl's concern about the state of agronomic research through the pandemic. This includes programming carried out under the Barley Research Cluster, which BCC administers. "If we lost an entire year of field season, with the variety development work and all the research that supports, that would be an enormous loss. Many projects are multi-year, and if you lose a year's data, it's not a matter of making it up the next year. That has a long-term impact on a whole program or project."
Such uncertainty is commonplace. What is certain, is the grains industry is working effectively to plan, communicate and move its products to market through the course of the pandemic.