COVID-19 AND GRAIN FLOW: THE PORT PERSPECTIVE
STORY AND PHOTOS BY IAN DOIG • ABOVE: CANADIAN FARM WRITERS' FEDERATION MEMBERS TOUR THE ALLIANCE GRAIN TERMINAL AT PORT OF VANCOUVER IN 2019
"All port terminals are reporting normal operations," said Doug Mills, Vancouver Fraser Port Authority senior accounts representative, on April 14. As the global COVID-19 pandemic is in full swing, these are reassuring words. Given the multiple incoming and outgoing supply chain links that meet at this West Coast trade hub, there are, as expected, some concerns.
Acting on behalf of the Canadian government, the Port Authority manages the port's sprawling federal lands and waterways. It oversees leases held with various export terminals and the supply chain businesses that service them. Importantly, the port authority also assesses the operation of the port to ensure it is being utilized efficiently. Facilitating cooperation, it relays operational information to supply chain partners that include international shippers, grain terminals, railways, trade associations and farmers.
Day-to-day port operations have so far been very lightly affected by COVID-19. A small number of terminal employees have self-isolated after travelling abroad, exercising caution rather than returning immediately to work. "That has resulted in some re-manning issues for individual terminals, but in terms of operations, our agri-terminal bulk facilities are reporting better than average tonnage throughput," said Mills.
In fact, the number of empty ships queued up and awaiting cargo has dropped substantially in recent weeks. Prior to the spread of the pandemic, the grain transport supply chain had been hit with numerous slowdowns caused by the late 2019 harvest, the CN rail strike, rail outages and blockades. Because the crop was late to arrive, ships ordered two months in advance became stalled at the port awaiting incoming cargo.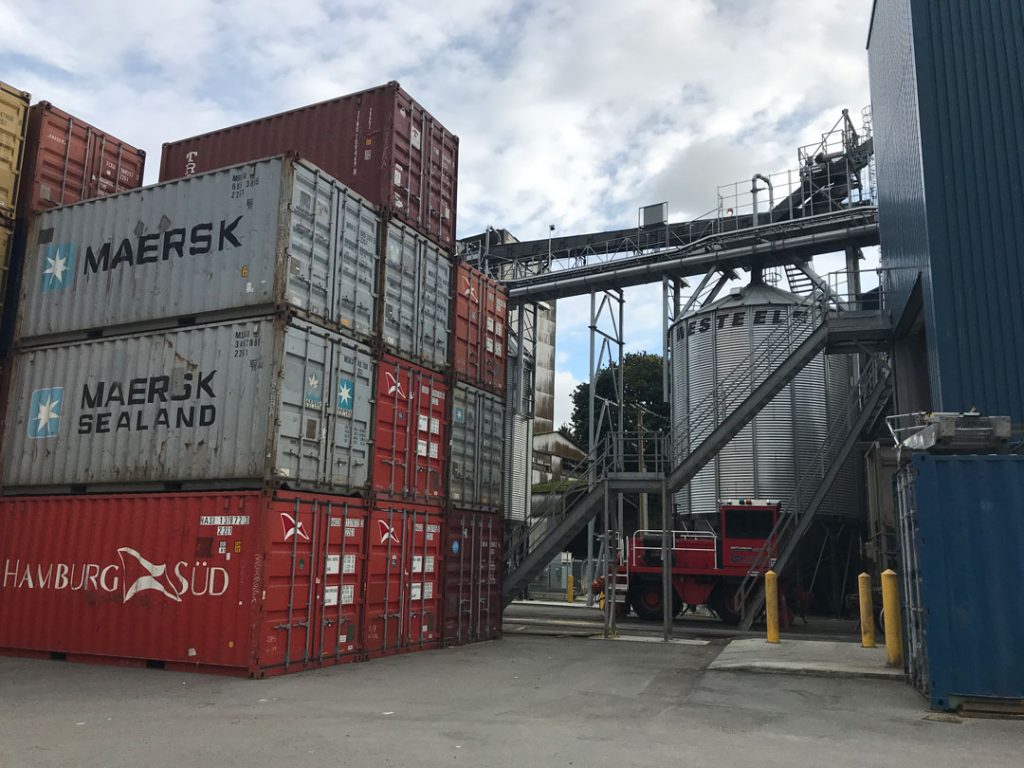 Port of Vancouver container traffic, including specialty grains shipments, has been slowed while bulk grain movement is better than average.
While bulk grain is moving well, container shipment of grains has been negatively affected. These include higher-value commodities such as malt barley, peas, beans and lentils. Early on, the pandemic resulted in the closure of production facilities, primarily in Asia. This caused a drop in demand for container vessel capacity bound for North America, said Mills. Sailings were cancelled, in turn reducing the number of available ships and containers to take export bookings the other direction. Re-booking of container shipments on later sailings has created a substantial backlog.
As Asian production has come back online, North American facilities have closed, reflecting  the global movement of the pandemic. The unloading of inbound container shipments has been slowed, creating a further drop in eastbound container traffic. "It continues to affect our export ability to load and deliver export-container loads," said Mills.
Though grain traffic on the bulk side is moving well, its future movement can't be predicted, said Mills. "Whatever everybody does, it tends to manifest itself here at the port." COVID-19 may continue to cause operational issues that affect any aspect of the supply chain from railroad movement to terminal loading to shipping traffic. Analyzing and understanding these impacts will allow supply chain partners to mitigate difficulties, said Mills.
His message to farmers is upbeat. "The supply chain partners have been very effective in meeting the challenge of keeping operations running smoothly and effectively. Some of them are moving tonnages now that are at or near record levels in terms of throughput. That's a good sign." Specialty container crop movement may be slowed, but all efforts are being made to keep it moving, he added.
Though unforeseen impacts are inevitable, Mills said the Port Authority will continue to do its best to support the continued flow of imports and exports.