ORDINARY BUT OMINOUS
STORY AND PHOTOS BY SARAH HOFFMANN
April 22, 2020
I'm proud to say I sat out the toilet paper hoarding episode of 2020. I'm still working on the supplies that I had in stock before the COVID-19 panic buying began. On my latest trip to the grocery store I saw that its once-bare shelves have been fully restocked. My trust in the system is validated!
My restraint in the paper product department has been somewhat offset by the irresistible urge to take delivery of some of my 2020 crop inputs earlier than usual. We tend to pick up product as we need it when it comes to herbicides, but this year, in light of the pandemic, I decided to bring home all of my pre-seeding chemicals by mid-April. I asked my retailers to deliver canola seed and pulse crop inoculant earlier than normal as well. A few of my early seed customers indicated they wanted the seed on their farms in case social movement becomes more restricted or someone in their operation falls ill.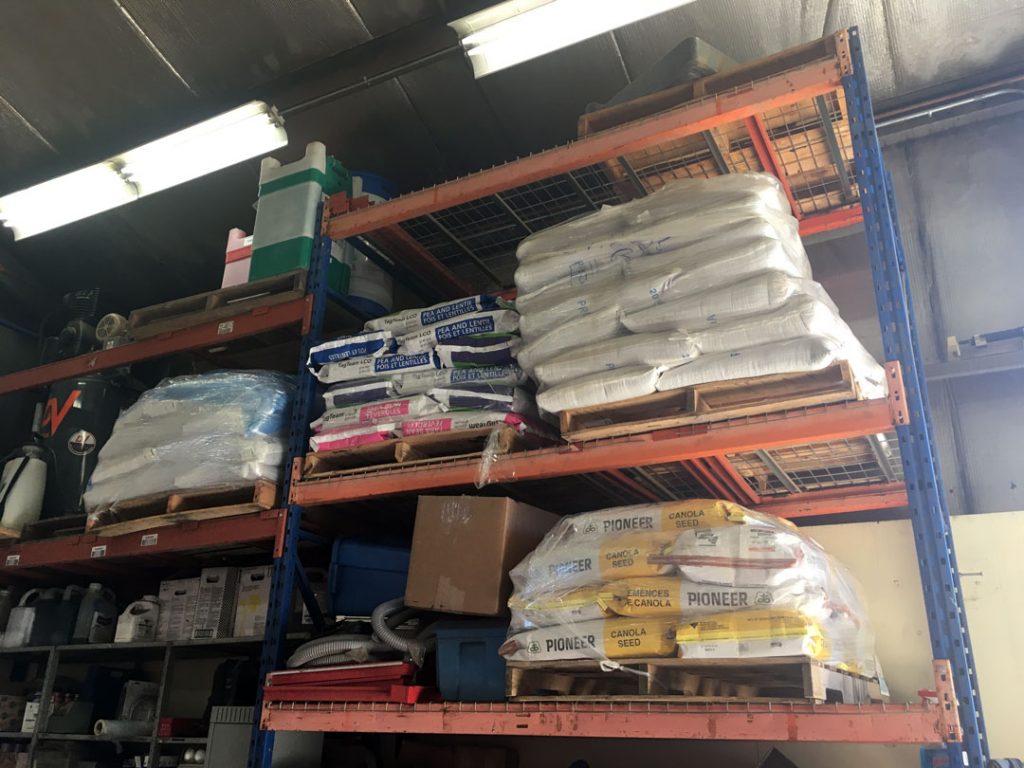 Some of the inputs we brought home earlier than normal in an attempt to avoid extra complications related to the COVID-19 pandemic.
Some good news, of sorts, for farmers: our government has declared us an essential service! It only took a global disaster to receive the recognition for which we have yearned lo, these many years. We are now Very Essential People, and join an illustrious group that includes laundromat operators and pet groomers.
It turns out being essential in this ominous time feels quite ordinary. Routine tasks such as feeding livestock and preparing to plant the year's crop have scarcely changed. We're keeping our distance and making back-up plans in case the pandemic hits close to home, but daily life on the farm goes on. Is this how farmers felt during the world wars: important, but ordinary and far removed from the action?
My grandpa was one such farmer. When the Second World War broke out, he was 24 and running the family farm. He stayed on Canadian soil. He died eight years ago, and my dad doesn't recall him talking about it. A few of my neighbours said the same about their fathers who remained on the farm during wartime. "Dad didn't mention it." It's not surprising the stories of those engaged in essential but ordinary tasks faded behind more memorable tales from the frontlines.
I certainly don't take for granted the ability to carry on with my daily work. Not only for the income it generates, but the sense of normalcy it sustains. I'm also not taking for granted the fact that no one close to me has been touched by the virus. That would certainly move things from being "ominous but boring" to "ominous and alarming."
Sarah Hoffmann is a seed grower whose farm is located in the Three Hills area. She is a regular GrainsWest contributor.