PAYDAY
CASH ADVANCE GIVES FARMERS MARKETING OPTIONS
BY SARAH HOFFMANN
The flexibility to sell the crop when markets are favourable, rather than when circumstances dictate, is a pillar of farm profitability. It's one reason why farmers invest in grain storage. It's also why many turn to the Advance Payments Program (APP) or cash advance funded by Agriculture and Agri-Food Canada (AAFC).
The program allows producers to access up to $400,000 cash in advance on expected farm income so they can pay their bills and invest in their businesses before they sell the crop. If this brings to mind a farm version of a strip mall payday loan company charging exorbitant interest rates, think again. The first $100,000 of the advance is interest-free for 18 months, and interest on the remaining $300,000 (if borrowed) is close to prime.
Many young farmers see the cash advance as a way to grow their business early in their career when they are more cash strapped and traditional lenders are not as eager to loan them money.
Casey O'Grady and Hannah Konschuh farm near Cluny, AB. Although they work with Konschuh's parents, they are eager to fund their farming venture independently and have accessed the cash advance for the last two years.
"It's a great way to access interest-free cash for a period of time without needing someone to co-sign on your behalf, which is often the case for new farmers seeking financing," said O'Grady.
The program also allows farmers to maintain business functions while waiting for marketing options to improve. "If prices are down, we can store the grain a little longer," said O'Grady.
According to the AAFC website, the "cash advance is calculated based on up to 50 per cent of the anticipated value of the eligible agricultural products that you are producing or have in storage."
For example, if a farmer anticipates production of 1,000 tonnes of canola in a year, and the set value of canola for that year is $440 per tonne, then he or she would be eligible for up to $220 per tonne for a total of $220,000. A combination of eligible commodities would increase that total. However, a farm business cannot have more than $400,000 in outstanding advances at any one time.
There are three periods when grain farmers can access the cash advance. As early as April 1, they can submit an application based on their intended seeded acreage and receive up to 60 per cent of the qualifying amount. After seeding, they can receive the full amount. To qualify for spring advances, farmers must carry crop insurance or be enrolled in AAFC's AgriStability program as security. Some producers wait until after they harvest their crop, and apply for their advance based on grain in storage. In the last case, the stored grain is the only collateral needed to secure the advance.
As Dave Gallant, director of finance and operations for the Canadian Canola Growers Association (CCGA), pointed out, traditional loans often require land or equipment to be put up as security, but the APP does not put that limitation on farm businesses. "You have your equity in the farm to use for other financing needs if you need to do that," he said.
The program is open to farmers of many stripes. Grains, oilseeds, cattle, bison, hogs, sheep, goats, honey, maple syrup, fruits and vegetables are just some of the eligible products. However, the APP was not always such a diverse program.
According to Gallant, the program was started in the 1950s for farmers selling grain through the Canadian Wheat Board. Because it could take 18 months for farmers to deliver and be paid for their crop, wheat and barley growers needed a way to access the value from their stored production, so the government began the program to cover this cash flow gap. Over time, other farm groups in Canada asked if their members could access this program, as they too faced the limitation of having to sell their product at market lows in order to pay their bills.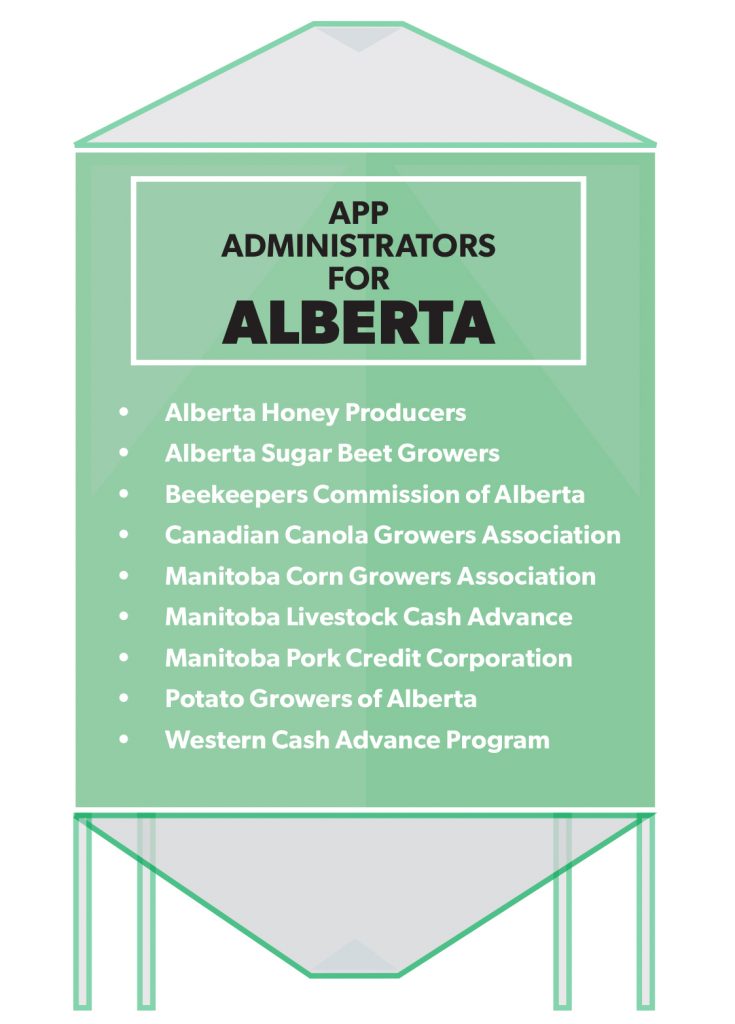 The CCGA was actually formed in 1984 to administer the cash advance program for canola growers. Today, it is the largest administrator of the program, but certainly not the only one. In Alberta alone there are nine administrators. Some, like the Potato Growers of Alberta, only offer advances on one commodity (potatoes, in this case). Others, like the CCGA and the Western Cash Advance Program (WCAP), cover multiple commodities, including both crops and livestock.
For livestock producers, the advance can be issued based on a rate for calves sold in the fall, backgrounded calves sold the following year, or continuous flow operations like feedlots that always keep a minimum number of animals on hand.
Don Koberstein runs 1,000 cows and farms 1,000 acres with his brother in Barrhead, AB. While they are not in the early stages of their careers like O'Grady and Konschuh, they made the decision to expand the cattle side of their business in the last few years and have taken the advance payment through WCAP for about five years to help with upfront costs.
"You have to have a bull and feed, and you're basically banking two years of expenses on that market animal by the time you sell it," said Koberstein. "[The APP] helps with cash needs along the way."
While the loans must be repaid within 18 to 24 months, depending on the commodity, there is flexibility in the repayment schedule. For every calf or tonne of grain sold, producers need to repay at least the advance amount on that unit, but they can pay at a higher rate if they want to retire the loan earlier.
O'Grady said he believes he and his wife will continue to use the APP long after they have graduated from "young" farmer status.
"Farming is a game of margins, and the [cash advance program] is part of the bigger picture of knowing your farm business and using all the tools available to you."