UNCHARTED TERRITORY
ALBERTA CRAFT DISTILLERIES FORGE THEIR OWN PATH IN THE SHADOW OF THE BEER BOOM
BY TYLER DIFLEY
Over the past few decades, craft beer in Alberta has gone from a myth, to a rarity, to a pervasive and positive force of change that shows no signs of slowing down. Now, another ambitious craft alcohol movement with a rich history in the province has emerged in the hopes of replicating craft beer's success and enthusiastic following among Albertans. However, the brew being touted by these new craft acolytes is not beer. In fact, it's much stronger stuff.
These new pioneers of craft are distillers, and instead of beer, they're producing vodka, gin, rum and whisky. Although the final product differs, these craft distillers maintain the same commitment to small-batch quality and local ingredients as their brewer brethren.
"We're extremely proud to be one of the pioneer Alberta craft distilleries," said Matt Hendriks, master distiller at Park Distillery. "It's something that's just starting to bloom in Alberta and we're going to see it slowly pick up steam."
In early 2014, Fort McMurray's Wood Buffalo Brewing Co. added distilling to its already successful beer business to become the first holder of a craft distillery licence in the province. Shortly after, Eau Claire Distillery in Turner Valley emerged as Alberta's first pure craft distillery. Currently, the number of craft distilleries in Alberta stands at five, bolstered by three new additions—Park Distillery in Banff, Big Rig Craft Distillery in Nisku and Red Cup Distillery in Vegreville.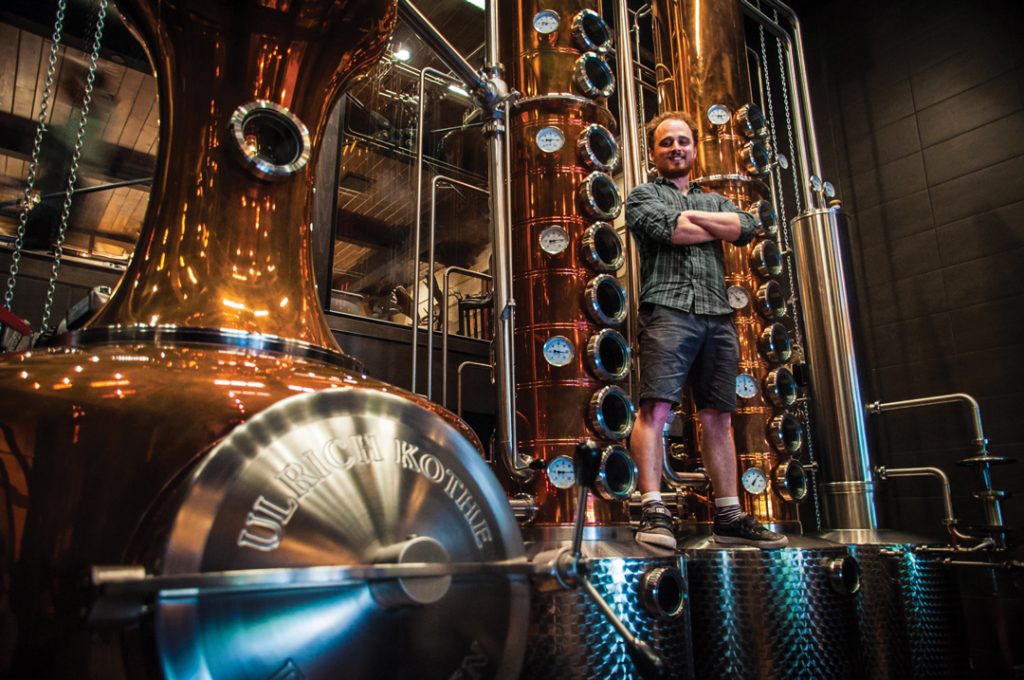 NEW KIDS ON THE BLOCK
At Park, which is part of the Banff Hospitality Collective group of restaurants and bars, Hendriks has quickly developed a following among the locals and plentiful tourists who frequent Banff, thanks to his lineup of spirits that includes a mix of traditional and unique concoctions. The distillery turns out roughly 650 litres of spirits a week across its product line, which includes standard vodka and gin, three flavoured vodkas—vanilla, espresso and chilli—and an unaged white rye. Until recently, these products were only available at the distillery in Banff, but Park has started branching out into the rest of the province.
"Our local community has really gotten on board," Hendriks said. "It was a big education piece because everybody in Alberta, especially in Banff, hadn't seen craft distilleries yet."
To raise awareness about craft distilling, Park started offering free distillery tours. After their tour, many people choose to sample Park's spirits at the bar or buy a bottle to take home to their friends and family. "Nobody offers anything for free in Banff, but we offer three tours a day," Hendriks said. "It seems to be working pretty well."
Over in Nisku, husband-and-wife duo Geoff and Karen Stewart were originally leaning toward starting a brewery, before a fateful visit to Fairborn, Ohio's Stillwrights Distillery changed their minds.
"I mentioned to the owner of the distillery that we were thinking of doing a brewery and he said, 'don't do a brewery, do your homework better,'" Geoff Stewart said. "What he meant by that was to look at the ratio of breweries to distilleries where both were legal, and in some places in the States there are 800 breweries to every distillery, so it was very good advice."
After getting his craft distilling education in Seattle and some handson distilling experience during an informal apprenticeship at Stillwrights, Stewart had the expertise to make Big Rig Craft Distillery a reality. Today, Big Rig produces 1,000 bottles a week—equivalent to 750 litres—and its products are available in nearly 100 liquor stores across Alberta. The distillery's product line is impressive for such a small operation, and includes vodka (original, plus garlic, saskatoon berry and espresso flavours), gin, coffee cream liqueur and a rum-like spirit made with sugar beets. Each Big Rig product comes in a bottle designed as a replica of the original Leduc No. 1 drilling rig that struck black gold in 1947.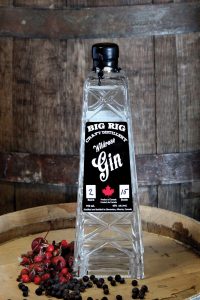 "We actually have 14 products already, which is not normal for a startup distillery, but we wanted to have a little bit of something for everyone," Stewart said.
Standing in stark contrast to Big Rig's burgeoning product line is Vegreville's Red Cup Distillery, which only produces one spirit—a potent brew remembered fondly by many of Alberta's older rural residents. That spirit is moonshine, or  rather "wheat shine" as Red Cup Distillery owner Robert de Groot calls it, since it's made from wheat rather than corn. At Red Cup, de Groot has tried to replicate the production process that was used to make moonshine on the Canadian Prairies during the years of Prohibition and, later, the Great Depression.
"We're doing it the old-fashioned way, which means no cheating, no chemicals, no alpha amylase powder," De Groot said. "It's like grandpa did it."
This old-fashioned philosophy also extends to the equipment at the distillery. Red Cup's still was made from scratch and is Canada's first legally constructed copper pot still, according to de Groot. Currently, Red Cup produces about 100 bottles of 100-proof wheat shine a week, and each batch sells out from the distillery in a few hours. This tremendous reception has led de Groot to start construction on a new distillery space in order to expand his production and distribution.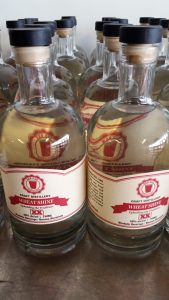 For de Groot, the cachet that comes with starting one of the first craft distilleries in Alberta is unimportant. While much of the craft segment looks forward, priding itself on experimentation and innovation, Red Cup looks to the past, striving to create liquor that is a perfect reflection of a moment in Alberta's history.
"I'm upholding a tradition," de Groot said. "That part, to me, is humbling."
Despite their differences when it comes to products, marketing strategies and overarching philosophies, Alberta's fledgling craft distilleries recognize that they all have shared interests and goals.
"We all really work co-operatively," Stewart said. "We want the craft distilling industry to really flourish, and none of us see each other as competition whatsoever because we all have very different business models and we're all in very different areas.
"Our common competition is the big distilleries. That's who we have to steal market share from."
To that end, Alberta's five current craft distilleries came together to form the Alberta Craft Distillers Association—a unified voice to represent their interests and promote the benefits of craft.
"The Alberta Craft Distillers Association is something really special," Hendriks said. "Just creating that unity between us is a big thing."
PLAYING CATCH-UP
Prior to December 2013, starting a craft distillery in Alberta was virtually impossible, thanks to minimum production rules for breweries and distilleries. Once those restrictions were removed, aspiring brewers and distillers were free to apply for a licence, but the challenges did not stop there, particularly for those with their sights set on a brand-new craft distillery.
"It's not cheap to set up something the size of what we did," Stewart said, adding that no bank would finance his business plan since craft distilling was an unproven industry in the province. "We're into this for just shy of $1 million right now, so we cashed in all of our RRSPs, we took out a second mortgage on our house and we put our entire life savings into this."
As it was with the craft beer movement, Canada has lagged behind our neighbours to the south when it comes to the proliferation of craft distilleries. Currently, there are more than 1,000 craft distilleries operating in the United States, where there were fewer than 100 a decade ago. Comparatively, Canada is the home of more than 40 craft distilleries, the majority of which are located in British Columbia and Ontario. Given the perfect conditions for distilling that exist in Alberta, the province seems to be poised to increase its share of that total.
"We are known to have some of the best grain in the world, period," Hendriks said. "Having this abundance of grain and all the different varietals and species, we're able to make different base spirits for whiskies, vodkas, gins, etc."
With the exception of its white rye, all of Park's spirits are made using 100 per cent Alberta-grown triticale—the wheat-rye hybrid most commonly used for livestock feed. After months of testing various grain mashes, Hendriks decided on triticale as a base grain because it produced a finished spirit with great mouth feel, character and body that couldn't be matched by any of the other grains he tried.
"It's a bit sweet and floral in character," Hendriks said. "I  think we're the only distillery that we've researched in the world that uses 100 per cent triticale.
About 80 per cent of the grain used in Big Rig's spirits is Hard Red Spring Wheat (HRSW), Stewart said, in addition to small amounts of rye, malted barley and corn, depending on the product.
"Everything we use is Alberta-sourced. We go direct," Stewart said, adding that this applies not only to the grains, but also to all the flavouring agents—garlic, saskatoon berries, etc.— used in their products.
At Red Cup in Vegreville, de Groot is also partial to Alberta-grown HRSW, which he sources from a single farm in nearby Two Hills.
"We make so much wheat in this province—beautiful hard red," de Groot said. "For producing alcohol, it doesn't produce as much as a soft white, but it has a wonderful flavour."
Meanwhile, Eau Claire Distillery is notable for using only Alberta barley in its vodka and gin, which lends the finished spirits a subtle sweetness and rich mouth feel that differs slightly from spirits made with wheat, rye or triticale.
Grain is the essence of most craft spirits. Without the hard work of Alberta farmers to produce that grain, the province's pioneering craft distilleries would have no business and no product to sell—a fact that isn't lost on de Groot.
"I have nothing but the most positive things to say about our farmers," he said. "My moonshine is only good because of what they make. I did not expect to have that emotional connection to my farmer, to my seed plant, but without them it's nothing."
In addition to great grain, Alberta's freshwater supply is perfect for distilling. Both Stewart and Hendriks said that the water used at their facilities needs very little treatment—a benefit that can't be overlooked, given water's integral role in the distilling process.
"It's your water that you're using to cook your grains and then your water that you use to proof your spirits back down to potable alcohol," Hendriks said.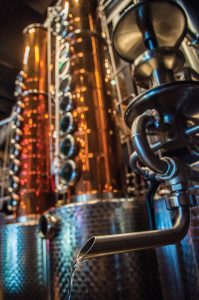 THE ROAD FORWARD
Now that Alberta's first craft distilleries are operational and public awareness about their products is growing, it wouldn't be a stretch to predict that a rapid explosion of growth in the industry is on the horizon, similar to the growth experienced by craft beer in the province. However, one important hurdle still stands in the way for potential craft distillers—an obstacle that wasn't an issue for many brewery startups.
"The one big challenge that we're facing is the amount of tax that we have to pay per bottle," Stewart said. "If you add the provincial and the federal markups, it adds up to about $14.52 for a 750-millilitre bottle, and that's tough when you're small."
In 2013, the provincial government changed the markup structure for all small breweries selling beer in Alberta to a graduated system where the amount of tax corresponded with the amount of beer produced. The change was designed to help small brewers compete with large multinational breweries, which are able to take advantage of economies of scale to lower the price of their products. In 2015, this tax break was narrowed to only apply to breweries in the New West Partnership region (British Columbia, Alberta and Saskatchewan), and as of Aug. 5 the provincial government eliminated the graduated system entirely, reinstating a blanket markup of $1.25 per litre on all beer sold in the province. However, Alberta breweries now have access to provincial grants to recoup some or all of the money they have lost from the increased markup. Stewart said similar measures—whether in the form of tax breaks or grants— should be extended to Alberta craft distilleries to help them get established financially. "If we could have something like that, it would really help us," he said.
While the Alberta Craft Distillers Association continues to lobby the province for changes to the markup structure, this new wave of craft distillers is clearing a path for future protégés in other ways as well. Now that people across the province have seen that it's possible to start a successful craft distillery in Alberta, interest is growing. Stewart said he knows of at least a half-dozen aspiring distillers in the Edmonton area alone who are hoping to get into the business. However, in order for this second wave of distillers to be successful, they'll need a distiller's education—an education Stewart and the team at Big Rig are planning to provide.
"We're actually going to start teaching courses at our distillery to help people get started," Stewart said. "There's nobody teaching this kind of course in Alberta right now."
With five craft distilleries now operating in Alberta, a strong foundation has been laid for a craft distilling industry to grow and flourish in the province. The visionaries at Park, Big Rig and Red Cup, as well as their peers at Wood Buffalo Brewing Co. and Eau Claire Distillery, have blazed the trail. For all the would-be distillers across the province with dreams of starting their own operation, it's just a matter of following their lead.
"We want more and more of these [craft distilleries]," Hendriks said. "Hopefully, people get themselves educated and start talking to the government if they want to get licences, because the more of us there are in craft, that means the consumer sees it more often and will start to realize what this is all about."