HOW IT'S MADE
IS MANDATORY GMO LABELLING ON THE WAY FOR CANADIAN FOOD PRODUCTS?
BY LYNDSEY SMITH
These days, there is no shortage of information on food packaging. But have you ever thought about what goes into a food label?
Some of the labels you see on food packaging are government mandated, while food manufacturers include others voluntarily. In Canada, government-mandated labels focus on two very important aspects of food: safety and nutrition. Based on these two areas of concern, certain pieces of information must be displayed on all food product packaging, such as ingredient lists and declarations of known allergens.
Voluntary labels often note what is—or, more importantly in many cases, what isn't—present in a particular food product (gluten-free celery, anyone?). Among these labels, some are regulated using specific standards or certifications, such as the Canada Organic Regime. Others have little or no evidence to back up their claims and may lean toward selling a product rather than informing the consumer.
One thing that won't explicitly appear on any food label, however, is that every product available in Canadian grocery stores has been tested and deemed safe by Health Canada. This includes all genetically modified (GM) crops and food ingredients that are currently available to Canadian consumers.
"Every plant with a novel trait, regardless of whether or not it is created through transgenic technology, goes through the same regulatory approval process," said Ian Affleck, managing director of science and regulatory affairs for plant biotechnology at CropLife Canada. In other words, every GM canola, corn or soybean crop, for example, has been deemed safe. If that is the case, why is there so much demand for labelling of foods that contain GM ingredients?
MORE THAN A RIGHT TO KNOW
Thibault Rehn is the co-ordinator for Montreal-based Vigilance OGM, a  group that is pushing for mandatory GM labelling in the province of Quebec and, eventually, Canada. He said that the group's campaign for government oversight and regulation of GM ingredients is designed to "ensure a standard of labelling that is clear and not confusing for consumers."
Rehn's group is advocating for label requirements similar to the organic standard, with a front-facing logo or label, plus identification of each GM ingredient on the ingredient list. He said a mandatory label "avoids the marketing or various ways a voluntary label can be made misleading."
Vigilance OGM also claims that there isn't enough science to prove that consuming GMOs are safe, and Rehn is concerned about agri-corporations "making big profits and increasing pesticide use."
Rehn said GM traits have only been associated with pesticide use and are lining the pockets of giant agricompanies— companies that don't care about the environment or farmers, and can't be trusted to do what's "right" to the land.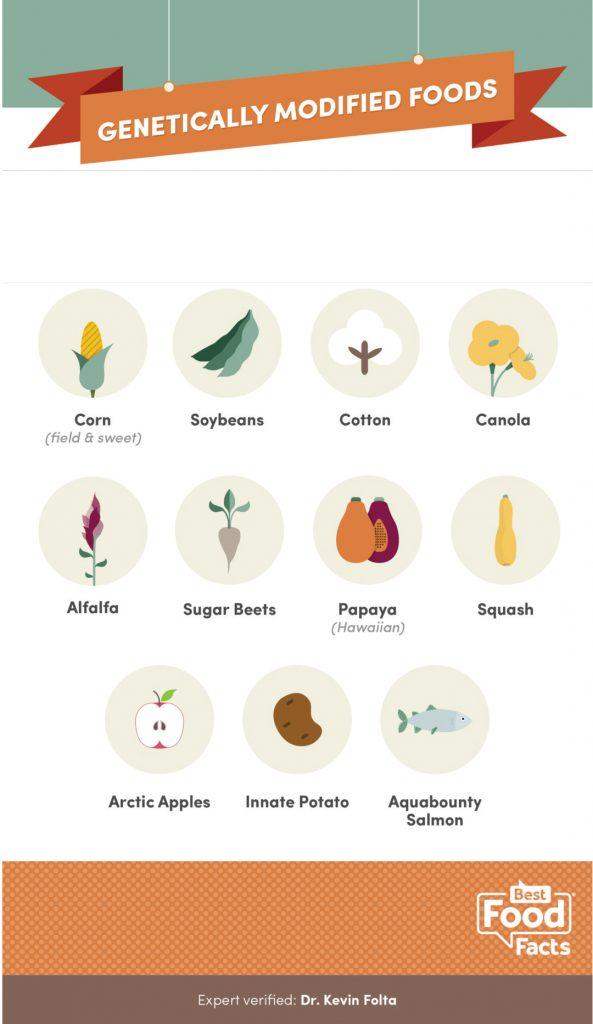 NEXT-GEN BIOTECH
Although the first transgenic traits were all related to herbicide or insecticide resistance, the second generation of approved GM foods addresses different aspects of crop production. The Arctic apple, for example, resists browning when cut, which makes it more appealing for many consumers. However, these next-generation foods aren't without controversy, as Rehn pointed out. GM products often possess negative connotations within consumer culture, and some industries, including fruits and vegetables, have concerns about these new products.
"I would rather plant breeding take 10 years than get unknown consequences from transgenic breeding," Rehn said.
Rehn's group points to the more than 60 countries that have mandatory labelling as an example of what Canadians deserve. Affleck views this  statistic from a different perspective.
"Having GMO ingredients labelled in more than 60 other countries is a testament to their safety," he said. "It means that each of those countries has independently reviewed data and deemed GMOs safe for food and feed."
TRADE-OFFS AND DRAWBACKS
In our current environment of over-information, smartphones and countless Google searches, would a mandatory GM label really convey new, helpful information to consumers?
Vermont recently became the first U.S. state to enact a mandatory GM labelling law. The rules were somewhat scattered, as it exempted meat products—meaning a cheese pizza produced with genetically engineered rennet, for example, could be labelled, but not a pepperoni and cheese pizza. The one-state labelling law meant that many companies simply stopped shipping products there—some 3,000 of them, all told—rather than create two different packaging labels. The U.S. Congress stepped in in early July with a so-called compromise bill that would require labelling of foods "containing modified genetic material" and would give retailers the option of either text on a package or a scannable QR code for more information.
The congressional bill would override the Vermont bill, eliminating a patchwork of state-specific asks on the label. But as Brad Plumer wrote in a recent Vox article, the label doesn't actually tell you why or how a particular ingredient was modified, such as papayas being modified for disease resistance, or GM rennet being used in cheese so the ingredient doesn't need to be sourced from cows.
For many farmers, GM crops have become valuable commodities. Pesticide use has been reduced in many cases, and the new technology has helped farmers convert to reduced- or zero-till production practices. Many in the industry are concerned the spectre of GM labelling could drive some food processors to stop using GM crops entirely in lieu of creating two distinct product streams.
On the retail side, Canadians already have identifiable and available non-GM options. "Consumers have the option of GM-free products through the organic standard," said Dave Wilkes, senior vice-president of government relations and grocery division for the Retail Council of Canada. "[These food products] have all been deemed safe for our health. We believe Health Canada's approach is the right one."
OF BILLS AND LAWS
If the United States has joined more than 60 countries with some form of mandatory GM labelling, will Canada inevitably follow suit?
The rules and regulations around food and food labelling are complex. They are governed by the Food and Drugs Act, and involve several different government departments: Health Canada, the Canadian Food Inspection Agency, Agriculture and Agri-Food Canada, and even Environment Canada.
Rehn's group hopes Quebec's provincial agriculture minister, Pierre Paradis, will introduce labelling legislation this fall similar to the legislation that passed in Vermont. At the federal level, Pierre-Luc Dusseault, the NDP member of Parliament for Sherbrooke, QC, recently introduced a private member's bill (C-291) calling for mandatory labelling, but the bill is unlikely to gain enough support to become law.
Significant change will have to come from the governing party, but the Liberals' position on the issue is unclear. Agriculture minister Lawrence MacAulay has requested that the House agriculture committee examine the current framework around GM animals. The committee recently undertook a review to ensure that current regulations "adequately address the full range of potential issues around the approval of products involving genetically modified animals beyond health and safety, the challenges and opportunities this presents to Canada, and what steps should be taken to best inform the public about new products planned for introduction to the market." That report will be released in early December 2016.
According to Health Canada, "consumers who wish to know if their foods are derived or contain an ingredient from a genetically modified source may choose foods that have been labelled according to the national standard for Voluntary Labelling and Advertising of Foods That Are and Are Not Products of Genetic Engineering." For example, a food can claim that it is "non-genetically engineered" if other similar foods exist that are genetically modified. If consumers have questions about the method of production for a particular food, they can contact the manufacturer directly or inquire at the point of sale.
Where Canada goes from here is still anyone's guess. For those who feel passionate about the issue, it's an all-or-nothing game—full disclosure or none at all. If Canada's southern neighbour and No. 1 customer completes the move to some version of mandatory labelling, is the writing on the wall? If so, could Canada take a revised approach and create useful, informative labels that explain more than just what is or isn't in a package and how it got there? For many who have struggled to convey the complexity of farming and the difficult tradeoffs involved with each production decision to the Canadian public, it might seem futile to attempt to fit all that information on a label. However, as the issue becomes more important and harder to ignore by the day, it might be worth a try.