TRADING PLACES
INTERNATIONAL TRADE EXPERT AND CAFTA EXECUTIVE DIRECTOR SOUNDS OFF ON TPP EXPERIENCE
BY VICTORIA PATERSON
For Claire Citeau, witnessing the impact of currency devaluation while she was growing up in Africa helped spark an interest in international trade. She spent much of her youth in Senegal, growing up there and later in France.
The 1994 Senegal currency devaluation was in part meant to help encourage exports. Piles of peanuts, so large that from a distance they resembled sand dunes, waiting for export from the country served as a visual reminder of the influence of trade for the young Citeau. That context was instrumental in teaching her the important role that trade can play in developing countries to help fight poverty and create jobs.
Citeau first came to Canada to attend the University of Alberta for her bachelor's degree and unexpectedly fell in love with the country. She became fascinated with the Canadian entrepreneurial spirit, particularly in Edmonton. She now has a double MBA from the University of Alberta and the Montpellier Business School in France, specializing in international trade.
After working on trade files with the Alberta government, Citeau moved to the national level to take on the role of executive director for the Canadian Agri-Food Trade Alliance (CAFTA). CAFTA is a coalition of organizations seeking a more open and fair international trading environment for the agriculture and agri-food trade-dependent sectors. CAFTA was advocating for its members' interests throughout the Trans-Pacific Partnership (TPP) trade talks, with representatives like Citeau travelling to the various rounds of negotiations. The final round came to an end in early October with an agreement reached in principle. Now the deal has to be ratified by all TPP member countries before it can be enforced.
GrainsWest: How did you become an international relations and trade expert?
Claire Citeau: Before joining CAFTA, I was actually in Edmonton. I was with Alberta Agriculture and Rural Development … they're in charge of advocacy and trade, basically helping agri-food companies export their products, primarily to the regions of the Americas and Europe. I really loved it and it was fascinating to see Canadian agri-food products being exported. They have an excellent reputation around the world, and the vast majority of farmers and producers rely on export, so it was very interesting to work with companies in that field.
But what also became clear is the fact that there were many market access barriers that make exporting a daunting task, and free-trade agreements are the one way to help bring down the trade barriers that really help ensure more stable and predictable access to market. That's really what the sector needs and that's really what CAFTA is about. I have an MBA in international business, so international trade is really what I'm passionate about.
GW: What inspired you to choose the path that you did?
CC: I'd really say that my growing up in Africa, having the opportunity to travel growing up and getting the opportunity to live abroad has really opened my eyes to the importance of what's happening abroad and the fact that it's sort of an interconnected world. We cannot take anything for granted, and everything that happens abroad may or may not have an impact at home, whether it's an economic crisis, diseases, weather forecasts, health or food safety. It's so important to build bridges and leverage assets abroad to better grow our economy, and in Canada in particular we have such abundant resources to utilize and leverage.
GW: What's the most memorable trade talk you've personally been involved in?
CC: Definitely the TPP. I think I joined the organization last June, and probably I think day five I attended the Ottawa [TPP] round here. I've gone to every single round since.
I think there is still a huge amount of work to do—we still have to read through 6,000 pages of text, then there's the legislative process. It's certainly been a fascinating trade file to monitor. It's a very complex deal, and because it's so complex in itself, it's really a creation of a new trading block. It's really a historic trade agreement in itself.
GW: What was your role and CAFTA's role at the TPP talks?
CC: At the TPP talks, we were there to advocate the interests of our members. CAFTA members have advocated for a long time for an ambitious, high-quality TPP agreement and one that is very plurilateral with plurilateral outcomes. What we mean by that is one that provides and creates a level playing field. If Canada had not been part of the agreement, we would have fallen behind. Or if our competitors, namely the U.S. and Australia, in the TPP agreement had gotten preferential access, then Canada would be at a disadvantage.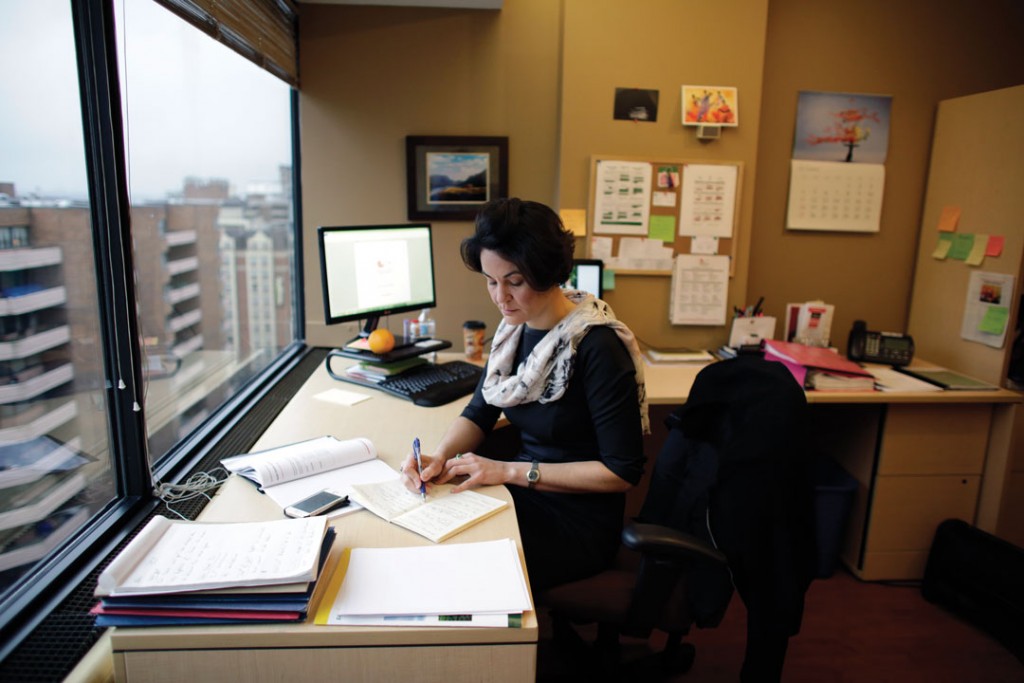 GW: How important is the TPP For CAFTA members? What about the Canadian agriculture industry in general?
CC: It is huge. It is very significant. The fact that we are, that Canada is, in the TPP is a big deal. Now that we have the details, we are assessing the quality of the agreement. What we're saying is we welcome the fact that Canada is part of the agreement and we know that the TPP will increase exports of agri-food products.
In principle, this new trade deal means access to key growing markets in the Asia-Pacific region—a region that currently absorbs 65 per cent of our exports, so it's a very big region and very important that we remain [part of] that trading block.
GW: In general, what was the mood around the table like during the Atlanta round of the TPP talks?
CC: In Atlanta, the mood was very different from every previous round. This time around we saw that the negotiators from all countries were very, very, very busy. They've always been busy but this time around it was just different. You could tell that in Maui, which was the round that took place late July, early August, there was a sense of optimism, a lot of hard work and a really strong resolve to conclude, and in Atlanta the same resolve to conclude but this time around you could … tell that it was not easy.
GW: What's it like trying to balance the interests of different agriculture sectors and groups represented by your members? Were there ever any conflicts?
CC: I like to say it's a very diverse group, but with a single voice when it comes to the need for trade, in a way that makes the mandate of the organization very clear. It's really focused on trade, and the position of CAFTA was to seek a high-level agreement, a high-quality agreement, with plurilateral outcomes that create the level playing field.
GW: What's a day in the life like during a round of trade talks?
CC: It depends. Earlier on, at other rounds (because this last particular round was very unique in itself) we were there to meet regularly with negotiators, but we were also there to exchange information with our counterparts from other countries. We formed alliances and issued joint statements with our counterparts from the U.S., Australia and New Zealand.
GW: How does it feel to finally have a TPP agreement?
CC: It's really one check box checked, I would say. Once the details were made public, we still had a huge amount of work to do. There's going to be a number of newer MPs that will need to understand what is in the agreement, what's in it for us, so there's going to be a lot of advocacy and outreach that will need to take place before this agreement can be implemented.
GW: Are there any other important trade deals on the horizon for Canada?
CC: While [CAFTA] continues to seek free- and fair-trade access to key markets, we've got ahead of us two huge free-trade agreements, the CETA (Comprehensive and Economic Trade Agreement) with Europe and the TPP that need to be ratified and implemented.