THE TABLE IS SET
THE COMMUNITY-BUILDING POWER OF GOOD FOOD
BY NATALIE NOBLE
If you are a Calgarian, or have recently lived in the city, people may wonder if you were present when it flooded in 2013. The conversations nowadays almost always lead into the state of the economy and the price of oil. Ironically, while Calgary's troubling times seem to have put the city on the radar, it's also these challenges that unite Calgarians and strengthen their community connections.
Michael Noble, chef and proprietor/owner of NOtaBLE restaurant and The Nash, and, most recently, co-chair of The Alex Community Food Centre (CFC) campaign cabinet, is a big believer in giving back to his community, both personally and professionally.
"Going back to the floods in 2013, I opened my doors at NOtaBLE restaurant and invited anyone displaced by the flood to come in and have a meal on me," he said. "That was when I fully realized the importance of community to me."
Noble's passion for community serves him well in his role with The Alex CFC, which was created in partnership between The Alex Community Health Centre (The Alex) and Community Food Centres Canada, and is set to open its doors this summer. He brings a talent for fundraising to the table, along with ground-level insight into food insecurity among Calgarians, especially now, in light of the current economic downturn.
"I know for a fact that food insecurity in Calgary has always been an issue," he said. "This is a fact across the country. It's very tough to get a definite answer as to how many people skip meals because they can't afford them. I believe that number is actually much higher than we realize."
Noble has high expectations for the CFC and its potential to overcome food insecurity—not simply by providing food on an emergency basis, but through teaching people how to grow food, prepare it nutritiously and take better care of themselves.
Located on International Avenue in Forest Lawn, the vibrant community space, which was formerly a restaurant, has been transformed through pro bono design work by FRANK Architecture.
"This centre will be a bright, welcoming space for the community to come together to grow, cook, share and advocate for good food," said Renee MacKillop, manager of the Alex CFC. "Equipped with a garden, community kitchen, dining space and offices, the CFC will deliver programs that increase access to healthy food, provide food skills and education, and empower people to have voice and agency on issues affecting the community."
The centre will serve community-minded Calgarians, including children, families and individuals, who struggle to access healthy food.
MacKillop stressed that food sits at the crux of some of the biggest issues of our time. "We're dealing with hunger, poor health and social isolation," she said. "The rate of Type 2 diabetes is four times higher for the lowest income group and is estimated to cost our country more than $16.9 billion by 2020."
She added that an overwhelming number of Calgarians are working hard to make ends meet, but they are still faced with impossible choices between food and rent. While the costs of poor diet affect people in all economic circumstances, people living on low incomes are disproportionately affected.
James McAra, CEO of the Calgary Food Bank, emphasized the difference between the food bank's emergency provisioning of food and the CFC's contribution to community development and enhancement.
"I view the CFC as a community hub, a place for people to come together and say, 'What are the skills that we need?'" he said. "There are so many great things you can do with food that are not emergency-based. If someone can go into the CFC, and they're active in the programs, and they learn to thrive, then isn't that great? I think that speaks well to The Alex and the work they've done across Calgary. There is a natural evolution when you combine the skills and community-mindedness that are being pulled together in this idea."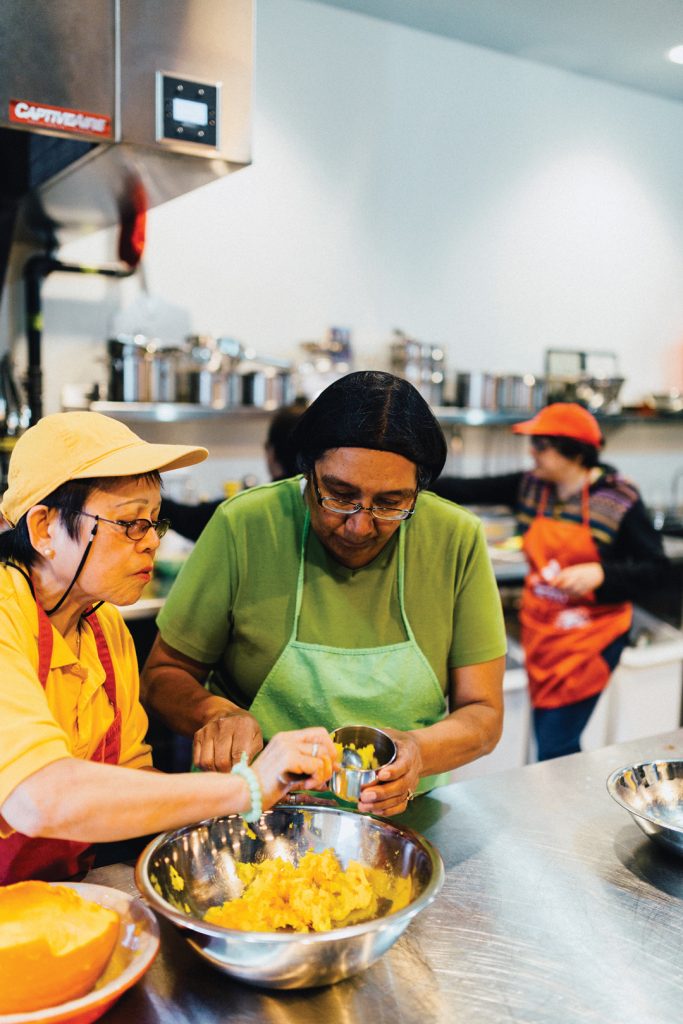 As an organization, The Alex works to provide barrier-free, "whole health" care, reaching far beyond primary medical care to look at all of the determinants—whether they be social, environmental, physical and/or mental circumstances—that are affecting a person's well-being.
"We envision a robust, diverse food economy that sustains farmers and the land, and a social consensus that food is a key determinant of health," said MacKillop.
This philosophy made a partnership between The Alex and Community Food Centres Canada, whose first CFC location was Toronto's The Stop, a perfect match. Nick Saul, president and CEO of Community Food Centres Canada, has high standards when it comes to finding the right partner to open a new centre.
"This centre needs to be owned and loved within the community, and we achieve this by partnering with an organization that has deep roots in the community, one that has great leadership and is philosophically aligned with our vision," he said. "The Alex Community Health Centre stood out on all fronts. They've been a fantastic organization for many years, doing terrific, grounded, responsive work, and that's really critical."
Saul added that The Alex's development of the first centre west of Winnipeg is part of his vision to build organizations that reflect a brighter future.
"When we create centres that are about health, inclusion, dignity, joy and the building of skills, sustainability and pleasure, we show our communities what's possible," he said. "We build positive places where people can find their sense of hope and self-worth—two key ingredients to individual and community change—and we happen to do this through food. There's a whole myriad of ways community members can get involved—gardeners, cooks, volunteers—just being active citizens improving their lives."
Moved by Saul's book, The Stop: How the Fight for Good Food Transformed a Community and Inspired a Movement, local rancher, philanthropist and current campaign cabinet co-chair Michael Kaumeyer
knew he had to get involved in bringing a CFC to Calgary. He started the Harvest Moon fundraiser to celebrate food, community and music with acts like 54-40 and Sam Roberts to help the efforts. And he doesn't plan to stop there. Quality produce from Kaumeyer's large vegetable garden, as well as grass-fed longhorn cattle raised on his 7K Panorama Ranch near Okotoks, are destined for the CFC once it is open.
"Our hope is to have an ongoing relationship with the CFC in terms of supplying them, on top of our fundraising," he said.
Like Kaumeyer, Noble also plans to stay involved beyond the initial fundraising for the CFC's startup and first few years of operation.
"Without the funding, the CFC doesn't open," he said. "The other facets I want to be involved in won't happen unless we raise the funding, and it's my intent to use my influence here in the city to get this off the ground."