WORLDS APART
INTERNATIONAL FACES OF FARMING
Agriculture is vital to every human on Earth. It is the industry that produces the food we eat every day, providing nourishment to the planet's population of more than seven billion people—a figure that increases by 225,000 people each day. It should come as no surprise, then, that in every corner of the globe there are farmers. Each of these farmers frequently has to overcome challenges that are unique to where he or she lives, but they all have the same ultimate goal—to produce food for their families and many other families like theirs scattered around the world. To get a better understanding of how farming differs across geographical and cultural lines, GrainsWest connected with farmers from Argentina, Australia, Canada, Kenya and Ukraine. These are their stories.
PRAIRIE PRIDE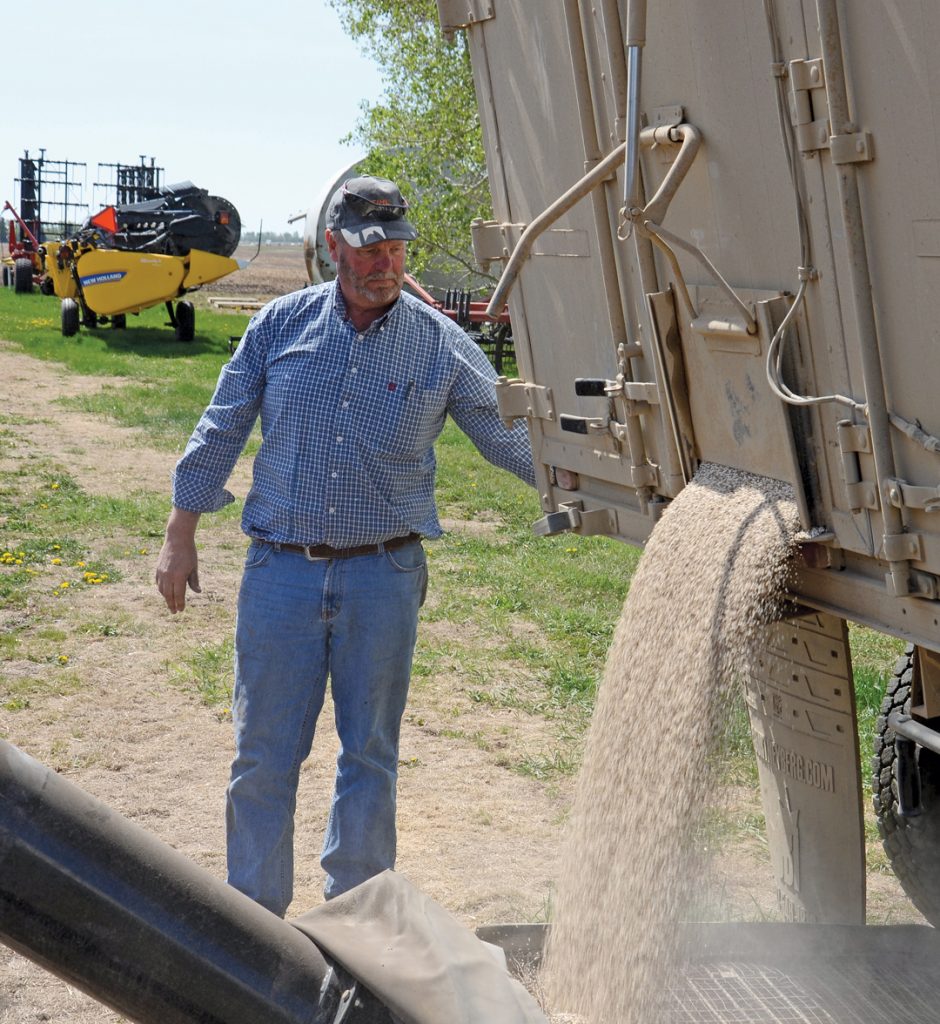 FARMER ADJACENT TO HIGHWAY 2 LOVES WORKING "ON A STAGE"
BY TREVOR BACQUE
Some of us are lucky enough to know what we want to be when we grow up before we're even in grade school. Jeff Nielsen is one of those people. The Olds-area farmer was still a young boy when he appropriated five acres of his dad's farm to start his own small operation, which rewarded him with a tidy 350-bushel yield. During that expedient harvest, he knew he would be a lifelong farmer.
It's a story familiar to many Alberta farmers. They are born into the business. At 52, Nielsen has 36 years of farming experience under his belt. His professional foray into farming began at 16, when he obtained his first Canadian Wheat Board permit book. "I remember because I was underage, so you had to get a parent to sign," he said with a smile. Characteristic of Nielsen's personality, his reason for working in a tractor is straightforward: "It's something I've always liked doing," he said.
Today, he farms 1,400 acres of cereal crops, primarily wheat and barley, in addition to canola. The wheat Nielsen grows is Canadian Prairie Spring Red, or CPSR. It's quality wheat that is predominantly used to create flatbreads, crackers and noodles. Many farmers are partial to Hard Red Spring Wheat, arguably the most popular class of wheat grown in Alberta, but not Nielsen. "We get lots of rain and never get the (proper) protein for Hard Red Spring Wheat," he said.
His malting barley, used primarily for beer making, is directly contracted to the maltsters at Rahr Malting Co., located in Alix, about an hour northeast of Nielsen's farm.
As a farmer, Nielsen inherently carries a significant amount of risk each year. Input costs vary, but this year his initial risk will run about $190,000 even before his crop emerges from the ground: Fertilizer ($90,000), crop insurance ($45,000), seeds and seed treatments ($42,000), crop protection ($7,500) and fuel ($2,500). In order to maintain cash flow, he typically tries to pre-sell about 25 per cent of his crops on contract by the time seeding is complete in early to mid-May.
In order to mitigate risks, both financial and ecological, Nielsen has adopted new methods on his farm to make the business as sustainable as possible.
"Our land isn't blowing away, because of zero-till practices," he said, proudly. Zero-till, or minimum till, is the practice of not disturbing the soil before planting. Farmers achieve this by using an air seeder, or air drill, to plant seeds directly into the soil at a pre-determined depth. "With GPS steering in almost everything we own, when you seed you're not overlapping, you're not wasting seed or fertilizer."
Indeed, Nielsen's farm, and the majority of farms in Canada, have become much more high-tech out of necessity, in response to the vagaries of the market.
"I'm a business. I am here to make money," he said. "I can't be here if I can't make money. But I can't be here and abuse my soil and still try to make money."
Nielsen recalled what his teacher at Lethbridge College told him years ago when he studied farm finance management and technologies: "If you can't handle the stress, you're better off pumping gas at Esso."
"That's a very good point," said Nielsen. "If you cannot handle the fact that tomorrow weather could come in and wipe you out … this is not the job for you."
Nielsen has been victim of wicked winds, floods and droughts during his farming career, but he wants everyone to know he's in it for the long haul. "My farm is right on Highway 2, I'm on a stage. I know that and I embrace it."
RESILIENT IN THE FACE OF CHANGE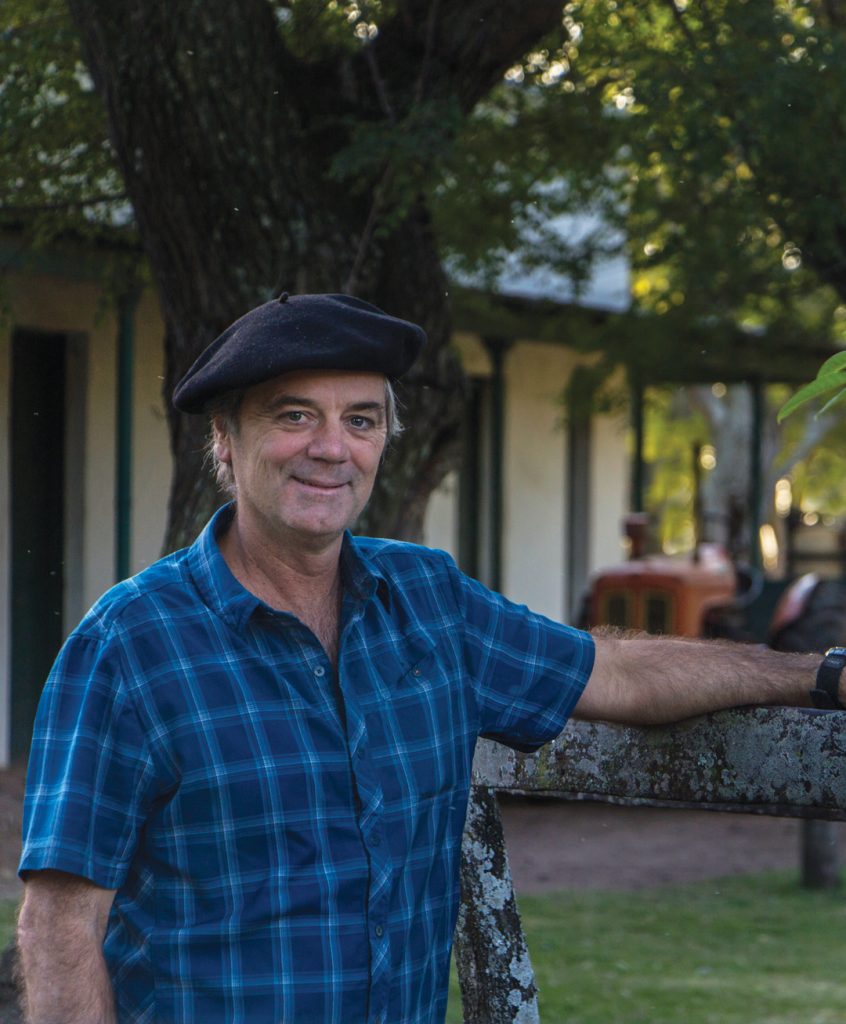 FROM GAUCHO TO GRAIN GROWER, ARGENTINE FARMER EMBRACES THE UNKNOWN
BY MELANIE EPP
If you had to pick one word to describe Argentinian grain farmer Santiago Del Solar, it would have to be "adaptable." In his years on the farm he has had to face many challenges, including troubling soil degradation, burdensome government regulations and climate change. Like most farmers, Del Solar faced each challenge head-on, adapting when necessary, and making positive changes with one eye on the future as often as possible. It's this adaptability that has made him the success that he is today.
Both sides of Del Solar's family have been farming since the 1830s. At that time, they were "gauchos," or cattle ranchers who worked on horses. While they raised cattle, they didn't grow many crops. Their steers were exported to the European market, especially to the U.K., mainly as chilled beef.
In the 1980s, Del Solar's father and uncle started to plant more crops, rotating alfalfa pastures into the crops. Soon, though, they started seeing soil erosion, a problem that seriously concerned them.
Despite resistance from the older generation, Del Solar stopped grazing cattle entirely and moved into crop production, growing corn, barley, sunflower, wheat and soybeans. Due to strict, government-imposed export quotas on corn and wheat, his focus has been on soybean production. As of this year, however, the quotas have been lifted, leaving Del Solar free to plant more corn and wheat. "We are happy about that," he said.
To tackle the soil erosion problem, Del Solar started using no-till practices and working with precision agriculture, while also adopting advanced machinery such as sprayers, seed drills and tractors. Using satellite information and yield maps, he has been able to tailor each crop to the soil, using the exact amount of fertilizer needed by that crop. Del Solar said the change has greatly impacted his farming practice, especially in sandy soils and for his corn crops. Soil erosion is no longer a problem, so Del Solar has turned his focus to other challenges.
"We need more tools to see what is going on in our farms," he said. "We need more 'eyes' than the usual and irreplaceable scouting that the agronomists and farmers do on a daily basis. Satellite info and drones are our new eyes."
Dealing with climate change is another big challenge on the farm. Del Solar said rain variability in Argentina is always a surprise. "We had 1,450 mm one year and less than 600 mm in another; the average is 820 mm, but averages never happen," he explained. "You never know what you're going to get."
Luckily, Argentinian farmers have access to tools that help mitigate the impact of climate change. For instance, heavy rainfall can make grain transport virtually impossible on rural roads, which is especially problematic around harvest time. Farmers, though, designed plastic silo bags that have allowed them to store grain for several months at a time. When roads improve, they can again ship and sell their grain.
As a sixth-generation farmer, Del Solar loves working in one of the most important industries in the world.
"Producing food that will be soon on someone's plate is the most amazing experience you can have," he said. "It's nice to go to sleep knowing that my team and my family and I have done something to feed the world that day."
Today, Del Solar farms 6,500 acres of his family's farmland and manages nearly 25,000 acres on local farms. He sits on the board of the Argentine Association of Regional Consortiums for Agricultural Experimentation, an organization of farmers that works to improve production.
THE DEEP SOUTH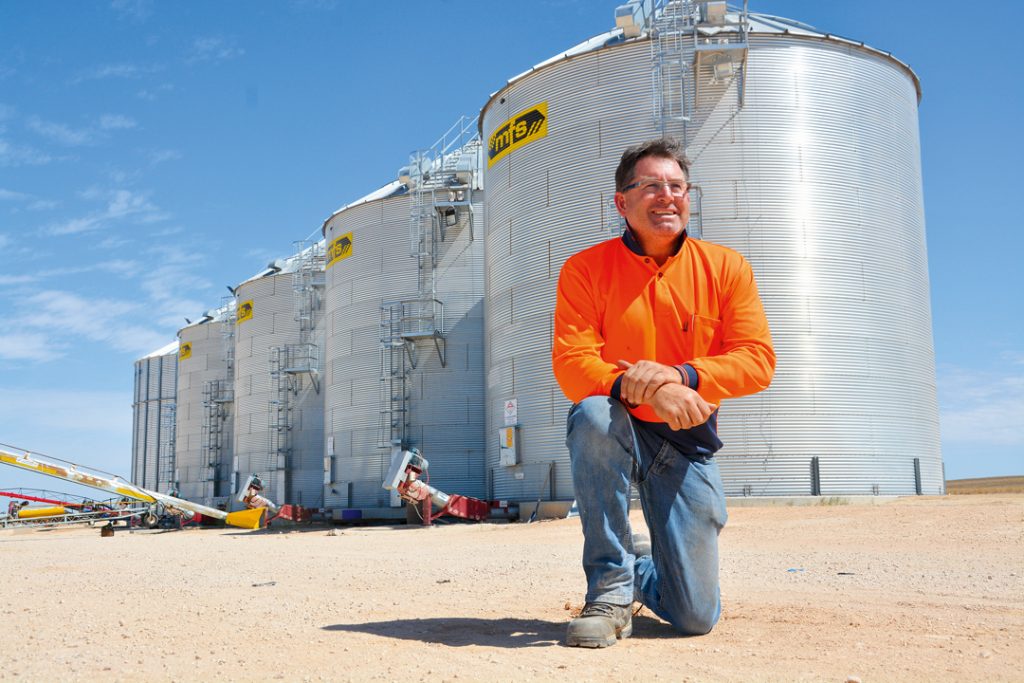 AUSTRALIAN FARMS SIMILAR TO CANADA'S, JUST NO SNOW OR FROST
BY TREVOR BACQUE
April 25 is a solemn day for Australians and New Zealanders. It marks Anzac Day to commemorate the lives of those who served their country during times of conflict. The day also marks the starting point of the farming season for Pinnaroo, South Australia, farmer Corey Blacksell.
He typically plants his crops any time between the annual holiday and mid-May. He mainly grows cereal crops, which include barley, wheat and rye. Blacksell and all other South Australian farmers are prohibited from planting any genetically modified versions of crops, such as corn, soy and canola, due to a government-imposed moratorium. The ban also extends to the island of Tasmania.
His timelines are similar to those of Canadian farmers, despite living more than 10,000 kilometres and a hemisphere away, although the growing season is considerably longer given that crops are growing in Australia's winter months when the days are shortest and coolest. Blacksell will plant crops in April and May, and harvest by November. For comparison, Canadian farmers usually conclude harvest by October.
"We don't have snow so we don't go into dormancy," said Blacksell, 49, who only farms half of his 11,000-acre operation annually, leaving the other half to rest for a season. "Basically, any time in May is a good time to have crops in the ground."
Snow and frost aren't issues for Blacksell, although wind has been an issue in the past and lack of rainfall can cause sleepless nights. Whereas the Canadian harvest can be delayed by snow, the biggest threat in Australia is combine fires due to the extreme heat. Australia's hottest months are December through February.
Blacksell farms on mostly sandy soil, so his loam topsoil is critical to his farm's success. He began farming in 1982, a time when minimal tillage was not widely practiced like it is today. Farmers would till the land multiple times and routinely leave the soil exposed. According to Blacksell, a 50-km/h wind could devastate the land, and soil erosion was a major issue.
"We don't experience severe winds by North American standards, but our soils are extremely sandy and fragile so any bare soil is at risk of erosion. In the past, full-till seeding would result in bare soils," he said. "Today, with minimum till and stubble retention (that is stubble remaining upright in the field post-harvest), soil erosion is a negligible problem.
"People will say the 2002 drought was a real benchmark, when people switched to minimum tillage because of the issues with soil erosion. That's when we converted to wider row spacing, to achieve bigger yields."
The drought forced Blacksell to try something different out of necessity in 2002. Three years later, his entire farm was strictly one-pass farming. Blacksell now works the land less, has higher crop yields, spends less time in the tractor and pays smaller diesel bills.
"I'd hate to think how much diesel we were using before," he said with a sigh. "Back in 1999 and 2000, we were just working ground, sitting on the tractor racking up hours."
At his peak, Blacksell would spend about 700 hours (one month) per year in the tractor managing his land. Today, with a more precise farming model, including GPS auto-steer technology, he spends about 250 hours (10 days) and farms more than double the acres.
A final innovation Blacksell pointed to is glyphosate, otherwise known as Roundup—the most commonly used herbicide on Earth. "Glyphosate is basically the tool we use to kill weeds in front of planting so we don't have to put a full-tillage disturbance on very sensitive soils," he said.
Without glyphosate, "we might as well shut down, it's actually as simple as that," he said.
KENYA CALLING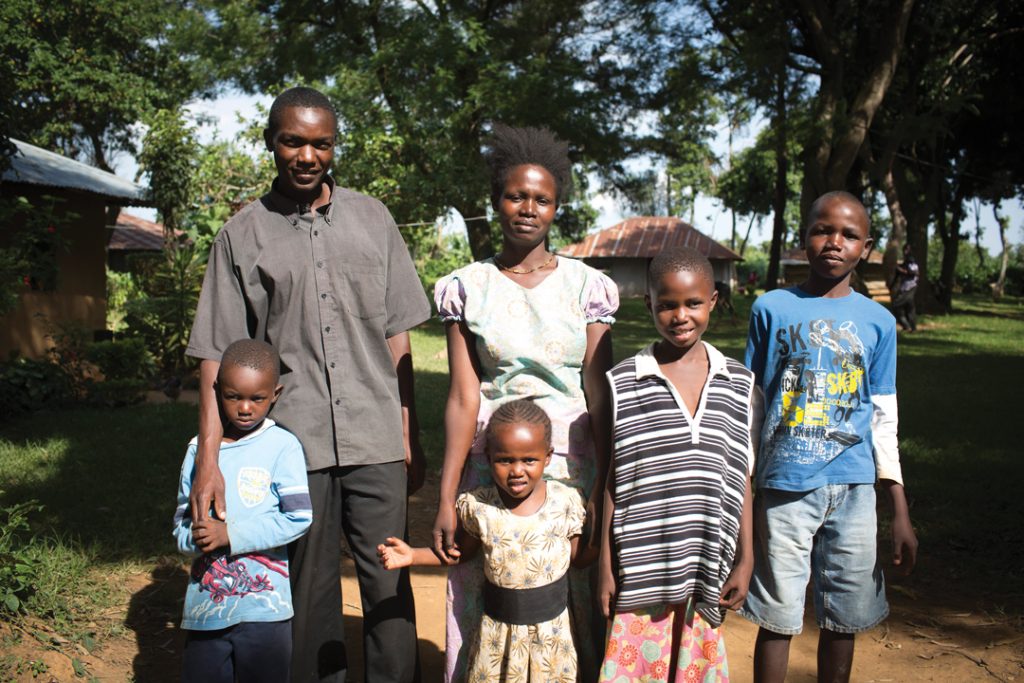 SMALL-SCALE AGRICULTURE IS A WAY OF LIFE IN THE EAST AFRICAN NATION
BY TREVOR BACQUE
Although it is a country perhaps best known for its adventure tourism, Kenya also contributes to one of Africa's most important agricultural hubs and is home to countless small-scale farmers. Joseph Oloo is one of those farmers. Along with his wife Angeline Atieno Sewe and their children, he manages a two-acre farm in western Kenya, about 500 kilometres from the bustling capital of Nairobi.
The 37-year-old farmer typically grows sorghum, maize, groundnuts, soybeans and millet. They are the most widely eaten food crops by most of the families in the community, according to Oloo. There are also a handful of livestock roaming his farmland for manure distribution. From the time Oloo was in primary school, he studied agriculture. At one point, he was a field assistant for the International Plant Nutrition Institute, a global non-profit dedicated to managing plant nutrition "for the benefit of the human family."
Oloo's farm has a contoured border of deciduous silky oak trees that acts as a windbreak and helps the water table recharge. "Dropping leaves also form biomass (organic matter)," he said. In addition, he fertilizes with compost manure, which adds nutrients to the soil and improves its structure for crop development.
The region's rains largely dictate Oloo's agricultural schedule. Biannual rains let him know when it is time to begin planting and harvesting. The first planting is usually at the end of March or in early April, followed by a mid-August harvest. Farmers can then plant again in early September and harvest a second time in January. It's normal to receive 1,500 mm or more of annual rainfall in the area, which works great for Oloo's water-intensive crops like maize, millet and sorghum. However, the rain can all fall in a matter of weeks, making it challenging for plants to persevere through both excessive moisture and prolonged dry spells.
For his operation, Oloo's tools of the trade represent a vastly different approach to farming than that of most Canadian farmers. "I use a jembe (hoe), panga (machete), planting line, tape measure and I hire a tractor for ploughing. Other farm equipment includes a knapsack sprayer with herbicides," he said. "I also do minimum tillage by spraying herbicides and plant without disturbing the soil."
His family helps during planting, and everyone takes turns weeding and applying fertilizer. There's also a slate of casual workers who weed and harvest crops.
For Oloo, a successful growing year is when "the rainfall is adequate and harvest is bumper … and every home has enough stock to survive on."
In 2010, Kenyan citizens voted to rewrite the country's constitution, which paved the way for the national government's delegation of powers to 47 largely autonomous counties within Kenya. For agriculture specifically, this means that issues can now be examined at a more hands-on level that recognizes regional differences.
"The county government bought tractors, which farmers have (available) at a subsidized price," Oloo said, adding that the county has also sold subsidized fertilizer and seeds to area farmers.
When Oloo began farming 10 years ago, profits were much lower.
"The farming pattern has improved from old method to modern techniques, improving income and food security," he said, adding he earns five times what he did when he started farming.
UKRAINE'S UTILITY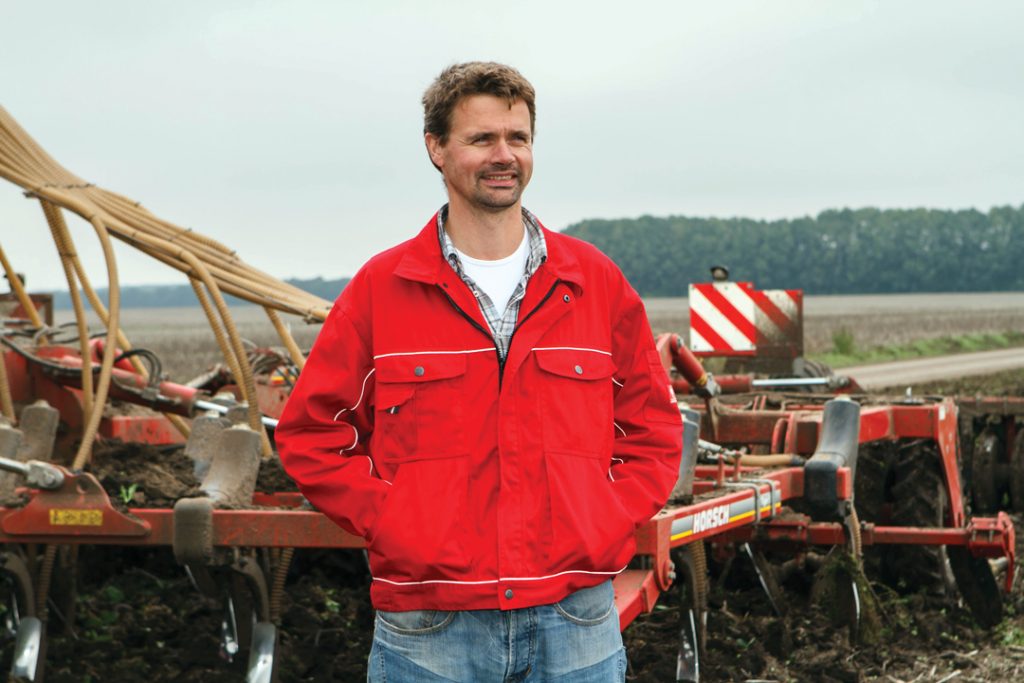 THE ALLURE OF FARMING IN EASTERN EUROPE IS ALL ABOUT THE SOIL
BY MELANIE EPP
Farming in Ukraine has the potential for huge growth in the coming years. No one knows this better than Dutch farmer Kornelis (Kees) Huizinga, who works some 40,000 acres of prime farmland in Ukraine.
After graduating from Wageningen University in the Netherlands in 2002, Huizinga researched farming possibilities in Ukraine. What makes farming in Ukraine so alluring? It's a combination of the availability of land and the quality of the soil. Agricultural land in Ukraine is rented using farmland lease agreements. After the fall of the Soviet Union, all workers and pensioners from the collective farms received a 6.6-acre parcel of land. Huizinga leases land from locals who aren't farming the land themselves.
Huizinga said his company has 5,500 land lease contracts of the 6.6-acre sections. He rents another 4,000 acres from the state. The management of so many contracts requires the dedication of six full-time employees (in total, Huizinga employs 350 farmworkers). Currently, farmland is not for sale in Ukraine, but the government is working to make it happen. Land costs about $65 per acre to lease.
Ukraine is home to about 30 per cent of Earth's black soil, called "chernozem," and it's been virtually untouched by intensive and conventional agricultural practices. This has left the soil with high levels of organic matter. As a result, it is very fertile and produces high agricultural yields. However, Huizinga, who grows winter wheat, barley, canola, sugar beets, corn, soybeans and sunflowers, knows that yields in Ukraine could be better. Although the soil is rich, he thinks growers could make better use of technology and logistics to improve planting accuracy, efficiency and overall yields.
Along with the commodity crops, Huizinga also grows onions, carrots and cabbage. On the livestock side, he milks 800 cows and raises some 750 pigs.
The challenges and opportunities in Ukraine are endless. When asked about the biggest challenge he faces today, Huizinga mentioned fluctuating commodity prices. "We were already used to high commodity prices, and now with the lower prices it takes a bit longer to pay back some loans and execute new plans," he said. "So it does not go fast enough."
As of Jan. 1, 2016, Moscow introduced a one-year ban on agricultural produce, food and raw materials from all countries that joined sanctions against Russia. Russian military intervention has led to a ban on food imports from Ukraine, which has taken a toll on farmers' income and led to higher taxes (war taxes).
Despite the challenges, Huizinga is positive about the future. In addition to the opportunity to increase yields, he thinks there is also great potential in the processing of commodities. Huizinga said that, despite the Russian bans, there are still plenty of export opportunities. He also thinks Ukrainians could be producing energy from manure, straw and other waste materials. "Being dependent on Russia is dangerous," he said.
In the future, Huizinga would like to implement controlled traffic farming, a technique where tractors use GPS to follow their original tracks in the field. Doing so limits soil compaction and erosion. He'd like to grow the dairy to 3,500 milking cows, and increase vegetable production to 6,200 acres. In the long-term, Huizinga also plans to increase the number of pigs he raises and get into the business of energy production.