TOO MUCH OF A GOOD THING
WHEAT CROP TIGHTENS SPREADS ACROSS GRADES
BY ANDREA HILDERMAN
A funny thing happens each day in downtown Winnipeg, high above the city's bustling core. The staff of the Canadian International Grains Institute (Cigi), Western Canada's premier grain evaluation facility, busily analyzes grain samples to determine quality and end-use functionality. They don't grade grain, but they do mill, bake, extrude, stretch, beat and bash it to learn as much about it as they can. Once this is done, teams of people are sent out on missions that crisscross the globe and promote the year's crop to prospective buyers.
The market value of the grain in any year is a function of its quality (including functional quality) as well as the abundance and quality of global competitor grains. Market value is also a function of consistency of product quality from shipment to shipment and year to year in the top grades. For those markets that depend on (and are willing to pay for) this consistency, Canada's grade standards go a long way in assuring this uniformity of supply.
Wheat is a complex grain, and the wheat market is equally complex. There are a range of important characteristics that impact the grain's functionality and value. Protein is one of them. "In years when protein is abundant here in Canada and abroad, then the value of protein drops," said Jon Driedger, risk management portfolio manager at FarmLink Marketing Solutions. "It's supply and demand. This year, protein is not scarce, so growers are probably finding they are not being rewarded for it as they may have been in previous years when it may have been bid up to give good premiums."
This year, Cigi and the Canadian Grain Commission have found the Canada Western Red Spring (CWRS) crop shows little functional differences between Nos. 1, 2 and 3. Bakers around the world use a number of different bread-making methods. Cigi tested the wheat using a no-time dough method (NTD), in which the bread is mixed in one stage, and a sponge-anddough method (S&D), in which the bread is mixed in two stages, separated by a three- to four-hour fermentation period. For the NTD and S&D methods, testers found that, for composites ranging in protein from 13.9 per cent to 14.3 per cent for Eastern and Western Canada, grading between No. 1 and No. 3, absorption was the same, mixing time was similar, and overall bread scores and bread volume were similar. However, dough-handling properties did differ. Dough handling is a subjective rating that the baker uses to describe gluten strength. CWRS No. 1 did demonstrate improved gluten strength over No. 2 and No. 3, and certain markets will purchase No. 1 to ensure consistent quality and minimal impact from downgrading factors. The overall assessment for the 2015 CWRS crop was that certain factors (such as flour protein) were up, but the crumb colour of test breads wasn't up to par compared to previous years. The moral of the wheat story is that there is a lot more to wheat than just the grade.
Western Canada exports roughly 20 million tonnes of wheat every year. The quality of the grain has to be described so that buyers can understand and relate to it every year, and it has to be described in a way that allows grain handlers to easily segregate quality in their facilities before shipping the grain to its final destination.
Growers do not have to sell grain based on grade alone—grain is often bought on specification. Growers are evolving with the post-Canadian Wheat Board market. Now, in order to be effective marketers, growers need to intimately understand the product they produce. Representative samples are graded at accredited grain grading labs. Often, growers will get both Canadian and U.S. grades on the same sample. With information in hand, growers can now shop their grain around to end users, to grain companies or to brokers in order to extract the most value.
Buyers who are buying on specification are generally looking to have some additional assurances around falling number, vomitoxin levels, protein and moisture. "Buyers do buy on spec, but it still has to be relatively easily and quickly measurable," said Doug Hilderman, director of western grain for Broadgrain Commodities Inc. Other contracts, like identity-preserved contracts, might have even more stringent requirements for quality, but, generally, the price the farmer receives reflects this higher standard.
However, not all grain can or will be bought on specification. "It doesn't take much imagination to understand just how difficult it would be to load a 60,000-tonne vessel at port if it all had to be purchased on specification," Driedger said. "Quite simply, a big chunk of the grain has to move that way just to get the crop sold in time for next harvest."
Buyers of Canadian grain are most interested in purchasing grain that meets the specific demands of their customers. Those demands might be met with grades, but, more often than not, more detail is needed—buying on specification is common. Some buyers (or end users) are a lot more particular than others, it depends on what they are manufacturing. Growers who understand this and can reliably provide information about their own production, and then deliver what they promise, are the ones who receive premiums in the market.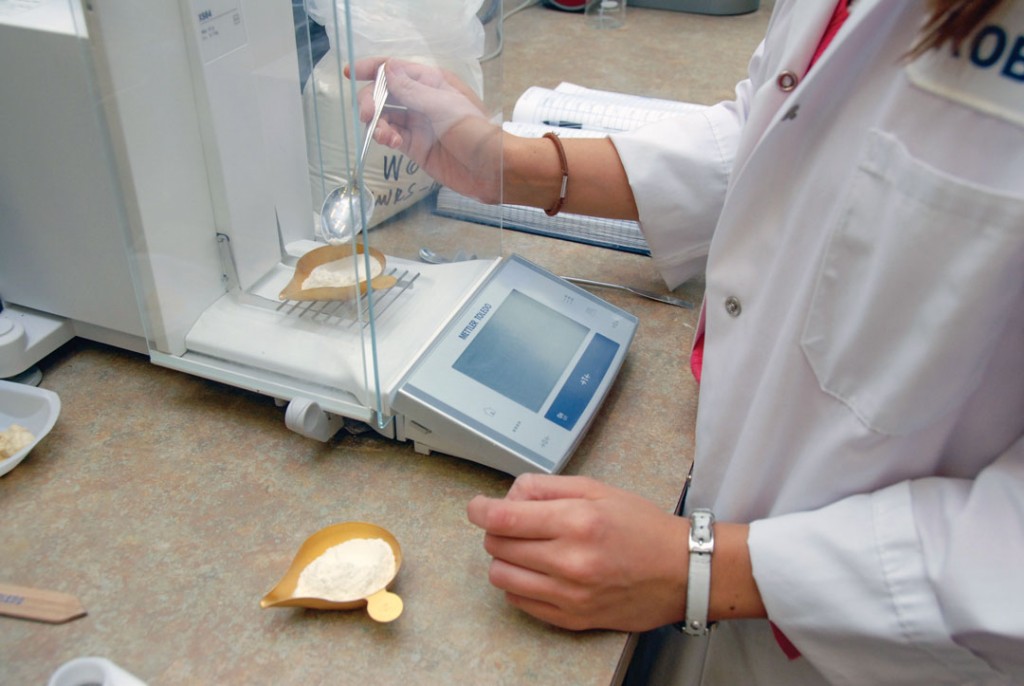 Grades differ north and south of the border. Mildew is a good example of a factor in play for the 2015 crop. Canada grades mildew tougher than in the United States. "This year, mildew is the primary reason for downgrading in Western Canada," said Elaine Sopiwnyk, director of grain quality at Cigi. "It's an aesthetic factor that doesn't affect food safety or functionality, but it can negatively impact flour colour." Flour colour has an impact on end-product quality and consumer acceptability. Grain with mildew will not work for consumers who want white pan bread with a bright crumb colour or Asian noodles with high levels of brightness. Additionally, it can cause increased speckiness in pasta made from semolina milled from Canada Western Amber Durum. In the United States, mildew is not considered a downgrading factor in the same way, so a Canadian grower might find better value for his grain south of the border.
This year, more of the wheat crop graded a No. 1 or No. 2 than the year prior. "Durum is a good example," Sopiwnyk said. "In 2014, only 13 per cent of the crop graded a No. 1 or No. 2. This year, 50 to 60 per cent was in the top two grades." This in turn will reflect in the spreads between grades. "It's important to understand that the grade tolerances for the top two grades for, say, CWRS are kept very tight to maintain the functional quality of the grain. The grade tolerances for the various degrading factors don't change year over year unless research supports such a change. When you get to a No. 3, that's when the tolerances open up and there is the potential for greater impact on functionality."
This year, the crop is performing very well. "The data is showing little in the way of differences in the performance of No. 1 to No. 3 CWRS," Sopiwnyk said. "However, this data doesn't tell the whole story. We are seeing impacts in the flour and the rheological properties of the dough. For instance, we are seeing a decrease in gluten strength in No. 3s, compared to No. 1 and No. 2, which has caused some challenges in baking." Additionally, Sopiwnyk said that No. 3 CWRS showed lower specific volume in the pilot baking process and poorer colour in Asian noodles—although the poor noodle colour was a reflection of mildew, not gluten strength.
It's not strictly a quality scenario that will determine price, however. Supply and demand plays a large part in that determination. "Right now, we are seeing the CWRS spread from a No. 1 to a No. 2 at roughly five to 10 cents, compared to closer to 20 cents in recent years," Driedger said. "The spread from a No. 2 to a No. 3 is wider, ranging from 25 to 50 cents, compared to 60-plus cents in recent years. That spread will improve when the elevator is specifically trying to source a No. 3 CWRS." For this year, the narrower spreads could be reflective of the closer performance of the top two grades. These spreads, and prices in general, vary depending on catchment, company, general demand and demand on any particular day.