RAISING THE BAR
PARTNERSHIP BETWEEN BREWERS AND BARLEY FARMERS TAKES CRAFT BEER TO THE NEXT LEVEL
BY TAMARA LEIGH
A grain bin looms large over the tasting room at Tool Shed Brewing near Calgary's city centre. After 125 years of storing grain at Antler Valley Farm near Red Deer, it stands as a tribute to malt barley and the farmers who grow it.
"There's a symbiotic relationship between the farmers and the brewers—the better they do, the better we do, and on it goes. For these guys who grow malt barley, there's only one use for it, and that's beer," said Graham Sherman, co-founder of Tool Shed and a tireless promoter of Alberta malt barley.
"Almost every brewery out there, all you hear about is hops. Hops are such a small portion of what's in beer. Barley is the majority of what's in beer, and all the small breweries come to Alberta for the barley."
Tool Shed is one of several craft breweries that have opened their doors in Alberta in the past few years, and part of a global groundswell in consumer demand for craft brews.
According to Beer Canada, the national trade association for brewers, there has been a surge of interest in beer that has been building for a number of years.
"Canada now boasts more than 500 brewing facilities across the country, almost double the number 10 years ago," said Luke Harford, president of Beer Canada. "With all of the interest in beer today, the opportunity is there for brewers to trumpet the significant benefits a successful beer category brings to communities across the country."
In an industry where international brewing companies dominate production, distribution and marketing, the growing demand for craft beer is persistent and disruptive. A 2015 report on liquor sales in Canadian restaurants found that, while overall beer consumption declined by six per cent, craft beer servings increased by seven per cent. Furthermore, craft and microbrew beers now account for 17 per cent of all beer at casual dining restaurants, according to market research company NPD Group.
"Craft breweries raise the bar for beer," Sherman said. "Once you start down the path of enjoying craft beer, it's an awakening to what the possibilities are. You want more—more exciting, more interesting beers—and never turn back."
The unique flavour profiles and small-batch brewing that characterize craft beer are difficult for the established large breweries to reproduce.
"Not only is the average palate of beer drinkers becoming more sophisticated, but the big breweries realize that there's no way for them to try to produce the same level of product in their huge systems," Sherman said. "The only other option for them is to buy the craft breweries because every day they are losing market share to craft beer."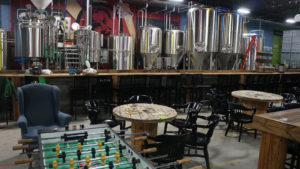 DIFFERENT PROCESS, DIFFERENT MALT PROFILE
The Crop Development Centre at the University of Saskatchewan has been involved in malt barley breeding for the past four decades. Over the years, it has targeted different markets, including a significant focus on malting profiles catered to larger brewers.
According to Aaron Beattie, oat and barley breeder at the Crop Development Centre, he and his team have recently started to focus more on the needs of the craft industry.
"Typically, the biggest difference between the larger brewers and the craft industry is that craft brewers are making all-malt beer where the barley malt is the only contributor to alcohol content of that beer, as opposed to other sources of starch like rice or corn," Beattie explained.
"Where the enzymes in barley are responsible for breaking down the starch into simple sugars in other grains, it means the enzyme level in the barley malt has to be quite high. If all you are using is barley malt, the enzyme levels don't have to be that high."
Canadian brewers source more than 300,000 metric tonnes of malting barley from Western Canada annually. While craft brewers only produce six per cent of the total volume of beer nationally, they can use up to 25 per cent of domestic malt barley in their brews. Craft brewers may not be a major driver in new variety development yet, but their willingness to work with new varieties could help create a market for them.
In 2015, AC Metcalfe and CDC Copeland accounted for 74 per cent of the total seeded acres of malt barley planted on the Prairies.
"One good thing about the barley industry in general is there is good communication between brewers, maltsters, growers and breeders," Beattie said. "Growers are looking for a change in the varieties to get off of Copeland and Metcalfe, but they are looking for a consistent signal that some of the new varieties will be bought."
From an agronomic perspective, Beattie is aiming for the same set of traits across the board—increased yield, good lodging tolerance, and resistance to fusarium head blight and leaf diseases like scald, spot blotch and net blotch.
"AAC Synergy, CDC Kindersley and CDC Meredith are out there with growers and still being evaluated by the brewing industry," Beattie said. He pointed to AAC Connect and CDC Bow as two varieties that show promise. "From a grower's point of view, they offer improved yield potential and have quite good lodging resistance. From a malting and brewing point of view, they offer increased extract and very low beta-glucan levels."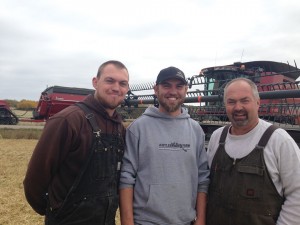 Wade and Scott McAllister at Antler Valley Farm focus on growing CDC Copeland. For them, it's a variety that balances a relatively high level of demand from the malt houses with positive feedback from the craft brewers they work with. In 2016, they have plans to seed 20 per cent of their malt acres in AAC Synergy in response to requests from craft brewers.
"Working with craft brewers like Graham at Tool Shed has been a great experience for our family, as they explain and show us how different malt barleys create different products, and [the] challenges they have to acquire the finished product that they strive for," Wade McAllister said.
Even for barley farmers, making the connection between what's in the bin and what's in the bottle is a fairly new concept. That connection is something that Sherman and the team at Tool Shed think is important to help cultivate the stories that make their beer stand out.
"I think about the barley farmers honing their craft, doing their best work, then they send their barley off to the malt house, and what? It's like sending your kids off to university and not being able to see what they become when they grow up," Sherman said. "We want them to know how much pride we take in what they do. Our beers are the fruits of their labours."
It's an idea that resonates at Antler Valley Farm. It's as much about the personal fulfilment as it is about the business opportunities.
"Our relationship with the craft brewers has given us an opportunity to grow what is needed in the local marketplace, and we love to grow an excellent-quality product that will fill that," McAllister said. "This also lowers our dependence on our rail system for export markets, as the transportation system has been letting producers down in the past years."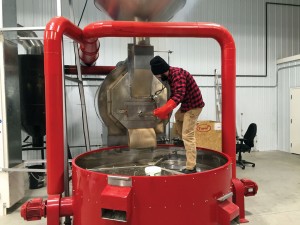 CRAFT MALT REVOLUTION
Despite the emphasis on the personal connection that farmers have to craft brewing, the connection between farmer and brewer is most often brokered by one of a few major malting companies. Collectively, Canadian maltsters buy approximately 1.1 million tonnes of malt barley each year. Roughly two-thirds of the malt they produce goes to export markets, while domestic brewers use up the remaining third.
As brewers and consumers seek more complex flavours in their beers, the emergence of craft maltsters seems to be a natural evolution within the industry. At Red Shed Malting, brothers Matt and Joe Hamill are leveraging a passion for home brewing and more than 85 years of family history in barley growing into a micro-malting business.
"Red Shed Malting is the missing link in the chain between the barley grower and the brewmaster," Matt Hamill said. "We will produce a traceable, local and specialized malt that brewmasters can use to create beer with consistently more flavour."
Once they are operating at full capacity, Red Shed Malting will produce about 250 tonnes of malt per year. The brothers are partnering with their father, John Hamill, at Hamill Farms to provide the barley.
"Our farm has been growing malt barley since 1929, so we're pretty experienced at growing and have had good success at getting it accepted by the big malt houses," John Hamill said. "Canada Malting and Rahr have specific malts that they want us to grow, and I'm excited to have more control over the types of barley we grow here."
Despite high demand for CDC Copeland, Hamill prefers to plant AC Newdale and Bentley—two varieties known for their performance in the brewhouse.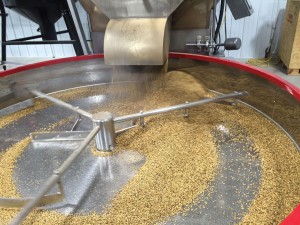 "My favourite barley right now is Newdale, though I like Bentley a lot. They both stand up really well and yield well. Newdale in particular is pretty easy to combine," John said. "I think standability is the most important thing on our farm. Once the barley starts to lodge, you lose some of the plumpness on the kernels."
He is particularly excited to work with CDC Kindersley in the upcoming season, both for its growing qualities and to explore its potential in the malt house.
"I don't think craft maltsters are getting the opportunity to try Kindersley. It's early maturity and high yield, and I have some land that's prone to early frost if it's cold in the fall. It's supposed to be ready quite a bit earlier and still maintain yield," he said.
"Every farm is a little bit different for varieties. You have to try it yourself on your farm," John said. "The thing we're most excited about is to taste our barley in a beer and know it's our barley."
Matt and Joe are looking to change the conversation about Alberta malt barley from one of traceability to one of terroir. "Terroir is a term used more often when you talk about wine. It's used to describe how a region's climate, soil and terrain affects the taste of the product," Matt explained. "It's not a term used very often in the beer industry, and not something that's been explored too much in malting, but we believe it should be.
"In Alberta, we have some of the best agricultural land around, we have ideal conditions to grow some of the world's best barley, and we have some really strong brewers. We want to be specific enough in what we create that we can start to identify the Alberta terroir."
Just as the small brewers have been able to develop new flavours and products, Red Shed will take advantage of the experimentation and customization that its small size allows. The maltsters' plan is to offer unique products that brewers can't find at the large malting houses.
"Value added is important in Alberta, and I think we're the missing cog in the beer line," Matt said. "Everyone we talk to is excited to get some specialty malts that are made in Alberta. It has been really well received."
Breathing some creativity back into a commodity market is not just creating better beer—it's better business. Red Shed Malting has created an opportunity for Joe and his wife Daelyn to come back to the family farm and invest in a new facet of the business.
"The brewers are producing some really great-tasting beers—so much better tasting than what we were drinking before. These brewers are so excited and into their products, just to be part of that is really exciting and changes the excitement that I have on the farm growing the barley too," John said.
"Craft brewers use way more barley in their beers. There will need to be more barley grown, so it opens up opportunities. We're just getting started in a beer revolution here. I think that's really exciting for the craft maltsters and barley growers in Alberta."