YOUTH SPEAK UP FOR AG
BY CRAIG LESTER • PHOTOS COURTESY OF AYSA
On July 16, youth from across Alberta gathered at Calgary's BMO Centre as the 2022 Calgary Stampede was underway. Contestants in the annual Alberta Young Speakers for Agriculture (AYSA) competition spoke in junior and senior categories. The 10 contestants, aged 11 to 24, took turns at the lectern in a large meeting room. The enthusiastic audience included friends, family and members of the general public. The collective passion for agriculture among the speakers was unmistakable.
The goal of AYSA is to encourage this passion and develop communication, leadership and networking skills in youth. Given a choice between seven pressing agricultural issues, these future farm ambassadors had clearly done their research and impressed the judges with their insights.
Jenaya Roseboom from Rimbey and Austin Noirot from Caroline won this year's senior and junior divisions, respectively.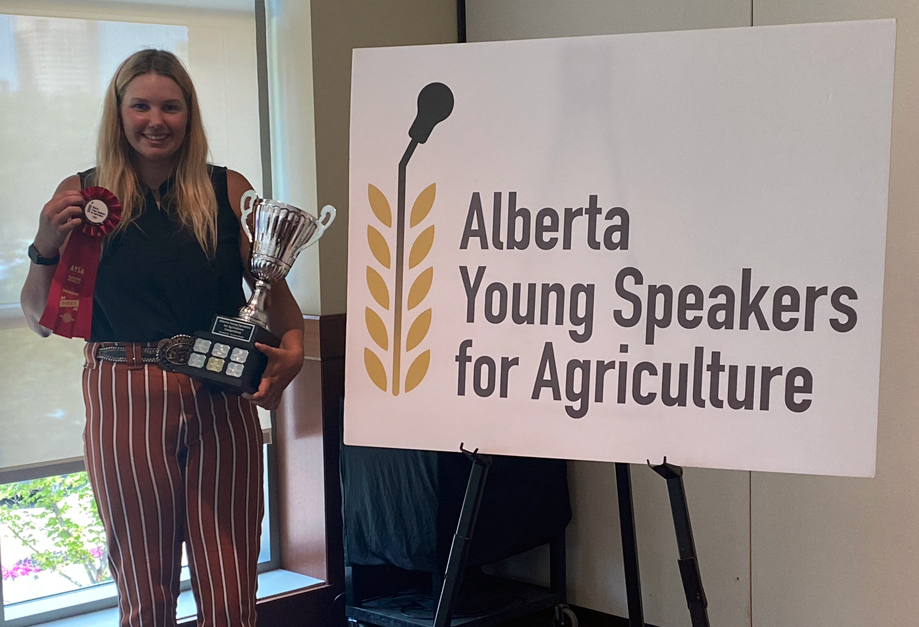 Attracted to the complexity of the topic, Roseboom chose to speak about the sustainability of locally grown food. "It is something that is going to be a challenge and is very prevalent right now, and it just goes hand-in-hand with agriculture," she said.
She emphasized that the agriculture industry is extremely important to her. "It's my life. I have grown up in it. I want to continue to learn about it, and I want it to continue to be part of my life."
Support for local farmers' markets was the focus of Noirot's speech. "I just wanted to demonstrate and show how important it is for the people at these markets to be supported. It's their livelihood," he said. Like Roseboom, he is a strong ag booster. "To me, it is the most important industry in the world, and I just want to be there to help it every step of the way."
AYSA chair and co-founder Eric Dalke said many such eager and engaged participants have taken part in the competition since its launch in 2016. Many have gone on to make significant contributions to the industry. "It has been a springboard for their career," he said.
Just a few of the program's 100-plus alumni include Emily Lowe, owner of horse training business LV Livestock Equine and former Canadian Cattlemen's Association youth leadership coordinator, Kara Oosterhuis, RealAgriculture field editor and Claresholm rancher Chancey Lane.
"When you think of 100 people in the ag industry who have been able to build their leadership and networking skills. That's a pretty special impact," said Dalke.
While most in-person speaking competitions were cancelled during the pandemic, these events continued to be held virtually. The 2022 AYSA competition was its first in-person event since 2019. Dalke said this ability to pivot speaks to the flexibility and problem-solving abilities of the AYSA board, which is comprised of representatives of various sectors of the agriculture community.
As for Roseboom and Noirot, the two will attend the Canadian Young Speakers for Agriculture competition, which takes place November 5 at the Royal Agricultural Winter Fair in Toronto, ON.
To learn more about AYSA, visit albertayoungspeakers.com and to learn more about CYSA, visit cysa-joca.ca.
Craig Lester is AYSA president.