AGRICULTURE COALITION HELPS UKRAINIAN FARMERS
BY IAN DOIG • PHOTOS COURTESY OF EARTHDAILY AGRO
When accident or illness strike and a farmer needs help with seeding or harvest, neighbours often roll in and get the job done. Having grown up on a farm in southern Minnesota, Dave Gebhardt values this generous community spirit. When the EarthDaily Agro general manager heard about the crippling impact of the war in Ukraine upon its farmers, he felt compelled to help his farm neighbours half a world away.
EarthDaily Analytics is a Vancouver-based data processing and analytics company. With its agricultural subsidiary EarthDaily Agro and Agrilab, a Ukrainian precision farming business, the company launched Support Ukrainian Farmers Coalition (SUFC). The global organization is composed of government, corporate and NGO partners.
GrainsWest recently spoke with Gebhardt about this effort to assist Ukrainian farmers caught up in the chaos of the Russian invasion.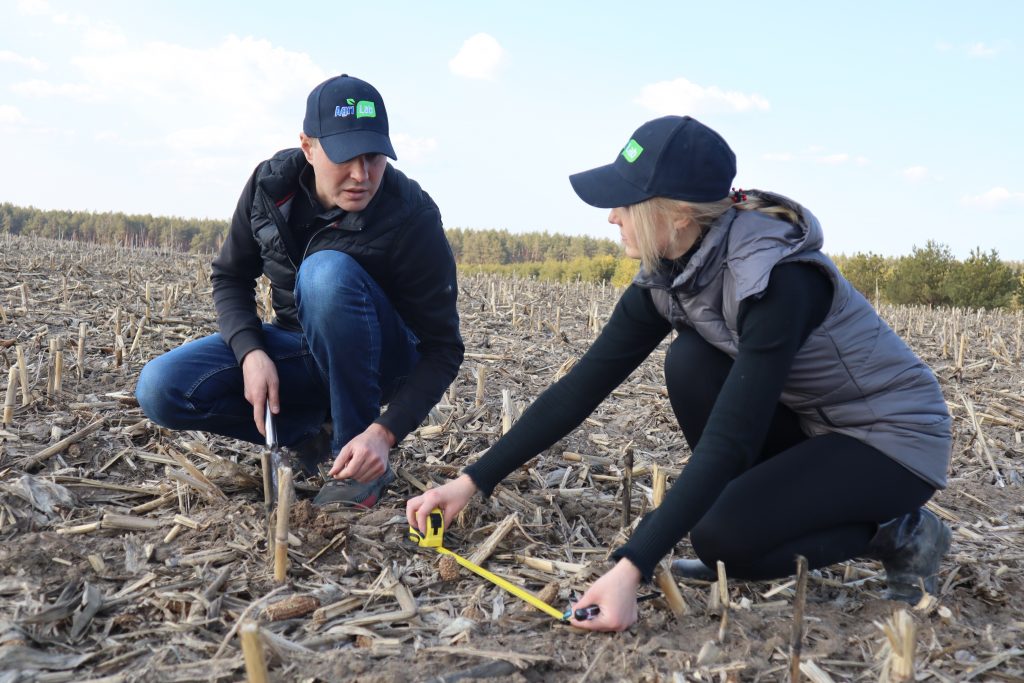 GrainsWest: What should Canadians know about the situation now faced by Ukrainian farmers?
Dave Gebhardt: Russia's invasion of Ukraine is a horrible thing. Agriculture is a global economy but it's also very local. That's the challenge we see with Ukrainian farmers. Export has been shut down for the most part by Russia, but [Ukrainians need to] feed their own people and avoid some kind of local famine. It's not just the price of their inputs, fertilizer, fuel and seed, it's a challenge to actually get the crop sown and to fertilize and maintain it. The farmers are strong but they're really feeling it.
GW: What led you and your colleagues to form SUFC?
DG: I'm a member of a multigenerational farming family. That spirit of community and support runs very deep within me personally, but also through the organization. We've been doing business and have employees in Ukraine. They are directly impacted by the war. We wanted to help farmers, our employees, their families and other people directly impacted. We have a great opportunity from a technology perspective to provide technology support with our satellite imagery or satellite-based analytics.
GW: What types of organizations support this project?
DG: Agrilab is a Ukrainian company that provides technology and services to farmers. Large Ukrainian farms are also part of the coalition. Companies like Kernel, a commodities and trading company that trades much of the world's sunflower oil. We're also looking at partnering with large farmer co-operatives and ag input companies. Syngenta is helping us develop a system to provide resources to farmers.
GW: How did the project partners determine how best to provide assistance to Ukrainian farmers?
DG: We wanted to do something consequential, very immediate and that would have real impact. As a software provider, if [farmers] have some kind of connection, we can deliver something that's scalable very quickly. There's no fuel, so every trip across a field has to make a difference. Our software can help farmers prioritize those activities and manage them today.
But the real issue is this year's crop and the next year's. As you see on the news, in the devastation in Ukraine, it's going to take years of recovery. The longer term thing we're working on is in-kind contributions of things like the crop inputs, seed and fertility and crop protection. It's working with farmer organizations and supply folks like Syngenta and other large companies.
GW: How is SUFC providing in-kind material help?
DG: That part of the chain is one of the biggest challenges. Shipping seed and these types of things is expensive. Some of that supply chain is still under construction. That's why working with companies that already have supply chains into the country, we want to work with them to piggyback on that.
The other part that's being worked on is the supply chain for the financial contributions. Organizations are very willing to contribute, but they want to make sure the money is going where it needs to go. We're putting the final touches on some partnerships with organizations that will make sure that if a company or an individual wants to contribute, they can. And they can be reassured that contribution is going to help.
GW: How many farms and farmers are being helped, and how much farmland is represented?
DG: It's upwards of almost 150 farmers and 70 farms that cover roughly 4 million acres. These range from very small to very large farms. It's helping anyone who is asking for it. We're really focusing on the crops that are in the ground, like wheat and corn, that need to be managed very intensely during the season.
GW: How will this project evolve as the growing season progresses?
DG: There are new fields and new farms and new acres being loaded into our platform daily. Those will carry forward into the next year. We're continuing to do the on-the-ground work with Agrilab.
We also publish a regular report on global crop production to help non-profit NGOs—folks trying to help food security and food supply in places where it's a huge challenge to do so. It will help them manage that process and move resources around. As the season goes on, we're keeping an eye on Ukraine, but also on the regions it exports to—those that import from Ukraine and Russia.
We will continue to develop additional ways of contributing through the coalition through in-kind contributions and also philanthropic and financial types of contributions.
GW: How can individuals and organizations contribute the SUFC project?
DG: I would encourage individuals to contribute wherever they can. But what we are doing is putting the vehicles in place so there can be almost a direct connection between a farmer in Ukraine that's asking for help to a farmer here in Canada, the U.S., Australia or Brazil. There's an app being built. We're really trying to facilitate that farmer-to-farmer, individual-to-individual ability to contribute. A co-op or company that wants to contribute can be assured their contribution will make a difference.
GW: Will EarthDaily and SUFC continue to assist Ukrainian farmers as long as the war goes on?
DG: Let's hope and pray it's over sooner rather than later. Yes, there's a long view to our efforts. We have the ability to help today, but we're going to launch a satellite constellation that will help in the future. We're going to have even more data and better information to help farmers.
We're also working with some of these bigger companies and getting these supply chain challenges fixed so we can provide ongoing help and assistance over the coming years. Given the devastation, it's going to take some of these areas many years to recover.
We welcome any support of Canada's private and non-profit sectors to join in our coalition.
For more information visit earthdaily.com/ukraine.