THE CASH HARVEST
GROWING INVESTMENT IN FARMLAND CREATES DIFFICULT DECISIONS FOR FARMERS AND GOVERNMENTS
BY TYLER DIFLEY
When confronted with the question of who owns western Canadian farmland, the most obvious answer is farmers—and in the majority of cases, this is true. However, concerns have started to emerge about the impact of "outside" or "non-traditional" farmland ownership on farming communities and the agricultural industry as a whole.
Worldwide, purchases of large areas of farmland by governments, agribusiness companies, hedge funds, pension funds and other non-traditional actors have become more and more common during the last decade. This global "land grab" can be seen on a much smaller scale within Canada—where legislation in most provinces severely limits foreign investment, but allows Canadian investors and companies to buy farmland as they see fit.
A variety of investment companies, pension plans, private investors and farmer-investor hybrids own varying amounts of farmland across Western Canada. Most of this farmland is located in Saskatchewan and Alberta, which contain the largest proportion of Canadian farmland at 38 and 32 per cent, respectively, according to Farm Credit Canada (FCC). Until recently, the farmland ownership rules in each province were quite similar—both allowed Canadian citizens and Canadian-owned entities to purchase farmland. In Alberta, foreign citizens and foreign-controlled corporations can own a maximum of 20 acres of farmland. In Saskatchewan, they can only own up to 10 acres of farmland. Due to these restrictions, foreign ownership of farmland on the Prairies is minimal and has little impact on land values or the farming community. Instead, it seems that for many in rural communities, the real bogeymen are the Canadian investors and companies that are scooping up farmland across Western Canada—a trend often singled out as a driver of high land values and even higher rents, and a barrier to both new farmers and established farmers who want to expand their operations.
BATTLEGROUND SASKATCHEWAN
Saskatchewan has become the epicentre for the debate over outside investment in agricultural land. In one high-profile case, the Canada Pension Plan Investment Board (CPPIB) expanded its farmland holdings in the province, buying Assiniboia Farmland Limited Partnership's entire 115,000-acre portfolio for $128 million in late 2013. The purchase triggered tremendous backlash from rural Saskatchewan residents, who pressured the provincial government to intervene.
The result was a farmland ownership review in 2015, in which the government consulted industry groups and surveyed the general public. There were 3,200 respondents who provided feedback—87 per cent were opposed to foreign ownership of farmland and 75 per cent opposed investors, including Canadian pension funds, from buying farmland in the province. Soon afterwards, the provincial government amended its regulations to bar pension plans and administrators of pension fund assets and trusts from purchasing farmland in the province. The amendments also require that all financing for farmland purchases come from Canadian businesses or Canadian individuals, while providing additional powers to the province's Farm Land Security Board to enforce the beefed-up regulations.
Reaction to the changes has been largely positive from farmers and grower groups. According to Lindsey Good, who farms land in Saskatchewan south of Regina and in Alberta east of Carstairs, the new rules barring pension plans from buying farmland should ensure a healthy amount of land transfer continues in the province.
"Once an institution owns it, I don't think it's going to come up for sale very quickly, or potentially ever again," Good said. "That isn't necessarily true of individuals buying land or partnerships buying land, but my hunch is the CPPIB is never going to sell Saskatchewan farmland. So I think from that perspective, the rules needed to be changed a bit."
According to Levi Wood, president of the Western Canadian Wheat Growers Association (WCWGA), farmland purchases by the CPPIB—a Canadian Crown corporation that operates with nearly $240 billion in public pension assets—created a perception that Saskatchewan farmers were being forced to compete against their own government in a fight that was far from fair. As a result, the regulations needed to change in order to level the playing field.
"I think, in general, the government's come up with something that's pretty positive," Wood said, "in terms of the fact that at least now it clearly sets out the rules that are in place.
"We want to leave the market open to Canadians, we want to leave it open to groups of Canadian investors, but we just want to be sure that, from either an investment standpoint or an operations standpoint, farmers are treated fairly in an arrangement, especially when the CPPIB is a pretty enormous and all-encompassing organization."
Surprisingly, given the amount of attention the issue has garnered, the amount of farmland owned by non-farmer interests on the Prairies only makes up a small percentage of the total land base. In Saskatchewan, for example, investors owned only 1.44 per cent of the province's farmland in 2014, according to research by the Johnson-Shoyama Graduate School of Public Policy.
"It's not a very big portion of the market, but it's more visible because the holdings are in general a lot larger than the average farm trade," said Ben Van Dyk, a real estate agent specializing in farmland, and farm team leader at the Alberta-based Real Estate Centre. "There are hundreds of other sales happening that aren't quite as visible and they don't get as much exposure."
Investors might only make up a small piece of the farmland pie, but their presence in the market has grown substantially over the past decade. In 2002, when Saskatchewan opened up its farmland market to Canadian citizens and corporations from outside the province, investors owned 51,957 acres of farmland. That number grew to 837,019 by 2014, a 16-fold increase. Today, in addition to the CPPIB, investors in Saskatchewan farmland include a number of investment companies and partnerships, such as Agcapita Farmland Investment Partnership, AGMW Regina Farms Ltd., Andjelic Land Inc. and HCI Ventures Inc.
CALL OF THE LAND
Although it's not the sexiest investment option around, farmland has gained a certain cachet among investors looking to diversify their portfolios beyond the usual equities. Endorsements from high-profile investment gurus and bloggers have also contributed to the investor buzz around farmland.
"I think it's become trendy because Warren Buffet thinks agriculture is the place to be," Good said. "Over the past 10 years, there's been a compelling return-on-investment story that was sold to institutional investors."
Farmland is an attractive investment option for companies and individuals alike for a variety of reasons. According to farmland investment fund Agcapita, shrinking land supplies and the world's rapidly growing food, feed and fuel needs will ensure crop prices continue to increase long term, making farmland a sound investment.
"Returns to investors have been very good on average," Van Dyk said. "The yields are pretty solid compared to interest rates, and the longer we have low interest rates, the longer the investment companies probably will keep investing in land."
Investors who engage in cash renting—where land is leased to farmers for one upfront, 100-per-cent cash payment—are able to avoid operational risk that could result from a poor harvest or weak crop prices, while maintaining consistent cash flow. Additionally, farmland is generally recognized as a safe investment, as land prices are less volatile than listed equities on most public stock exchanges.
"Whether it's investment or pension plans, they're looking at that asset, and over the last 15 years that asset has been very stable," said J.P. Gervais, FCC's chief agricultural economist.
Saskatchewan farmland has been particularly attractive to investors for many years because prices have struggled to catch up with those in neighbouring markets—including Alberta and the United States—since the province opened up its farmland market to non-residents in 2002. Investors have bought thousands of acres of Alberta farmland as well, but the trend has been far less pronounced. Because sky-high land values make it harder to net a reasonable return on investment, Good said he doesn't see an investor rush on Alberta farmland happening anytime soon. "It's just not as attractive," he said.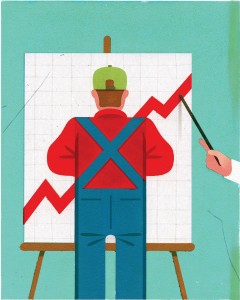 VALUES ON THE RISE
Another factor that has drawn medium- and long-term investors to farmland is the steady rise of farmland values in Canada over the past several years. The average value of Canadian farmland rose by 14.3 per cent in 2014, on the heels of increases of 22.1 per cent and 19.5 per cent in 2013 and 2012, respectively, according to FCC. Saskatchewan experienced the largest increase in farmland values in 2014 at 18.7 per cent, while Alberta saw values climb by 8.8 per cent.
According to Gervais, these steady value increases across Canada can largely be attributed to two factors: the profitability of farming and low interest rates.
"If you look at the last 10 or even 15 years, it's actually pretty amazing to see the impact of crop receipts and interest rates on farmland values," Gervais said. "Yes, somebody that is looking at a very specific piece of land will look at this and that, and potential yield and a million little things, but, overall, the shifts we've seen in the marketplace are really driven by overall income and the low interest rate environment."
Canada's low interest rate environment not only makes taking on debt to buy land more attractive, it also makes land owners less likely to sell, as they can often get more bang for their buck by renting the land out instead. This creates a perfect storm of high demand and low supply, where farmers and investors have to engage in bidding wars whenever good farmland becomes available.
"People say, 'they don't make any more farmland.' Well, true enough, but even then, people don't sell it," Gervais said. "When something comes up and is available, you're going to have a few farms looking at the same piece of land, knowing that if they don't buy it now, it may be gone for another generation and they're not going to have any other chance to buy it."
FARMLAND BALANCING ACT
Finding the right mix of free-market principles and regulation for investor farmland purchases is a complex problem with no easy solution. The competing interests at play are too diverse—there are winners and losers in every scenario.
Many young farmers can't afford to go toe-to-toe with their well-established farm neighbours—let alone wealthy investors or funds—as land values increase due to high demand and low supply, leaving rented land as the only option to increase their acreage in many cases. On the other hand, older farmers looking to scale down their operations or retire have been able to cash in and turn a tidy profit on their original investment.
"It's difficult to compete against a large corporate entity or a fund in terms of the price you can pay for land," Good said. "The flipside of that is it certainly has been lucrative for some farmers who have been able to sell land at a price that they probably weren't going to get from their neighbours."
Additionally, many of the most common criticisms of investor farmland ownership lack the evidence to back them up. According to Gervais, despite the popular perception, investors aren't even the main culprits behind high farmland demand—and the corresponding high prices—in Western Canada. In most cases, established farmers competing against each other are having a greater impact on regional land values. "It's still producers selling to other producers," Gervais said. "That's really what's driving the market."
Complaints that many investor landlords are raising rents to levels that make it hard for farmers to make a living are just as misguided, according to Wood. "I think as much as anything, going back to about 2007, an increase in commodity prices—and in some cases a doubling or tripling of farmland values—has led to a very significant increase in those rental rates too," he said. "Rental rates still just reflect what the market is willing to pay to lease that farmland. So I wouldn't necessarily say that it's any kind of a widespread problem."
In the end—whether regulations are introduced to restrict investment or the market is opened up to encourage it—some people aren't going to be happy.
"It's a double-edged sword," Good said. "On one hand, if you're going to buy land, you don't want the price to be going up—it would be great if it were going down. On the other hand, if you have debt that's backed by land, you don't want the price of the land to go down. So it's a delicate situation and balancing act."
REGIONAL LAND STRATEGY
During Saskatchewan's farmland ownership review, the WCWGA sent a submission to the provincial government with a number of recommendations. One of these was a push for all of Western Canada to adopt a consistent regulatory strategy for land purchases by foreign investors. According to the WCWGA, if B.C., Alberta, Saskatchewan and Manitoba all set their foreign ownership limits at 40 acres, it would simplify things for farmers across the Prairies.
"It's important just to cut through some of the regulatory red tape that's out there with a consistent strategy across the western provinces, because there really aren't a lot of differences between farmland in Manitoba and Alberta, or between the Peace River region and Saskatchewan for that matter," Wood said. "I think that more of a regional strategy on that would be good so that farmers and everyone knows exactly what they're dealing with all the time."
This regional approach to farmland regulation could also be useful for dealings with Canadian investors, Good said, as long as any restrictions aren't taken too far.
"If there was ever to be a huge rush on land, you probably can't turn back the clock and put the legislation and regulations in place after it's all gone," he said. "So it's probably a reasonable thing to do, sort of depending on how restrictive it becomes."