GOODBYE TO A COLLEAGUE AND MENTOR
PHOTOS OF THE ADAM FAMILY BY ANTHONY HOULE PHOTOGRAPHY
It is with heavy hearts that GrainsWest and Alberta Barley say goodbye to former director and founding GrainsWesteditorial advisory board member Bryan Adam.
In the early morning of March 2, Bryan passed at his home in Stony Plain. He was 69 years of age.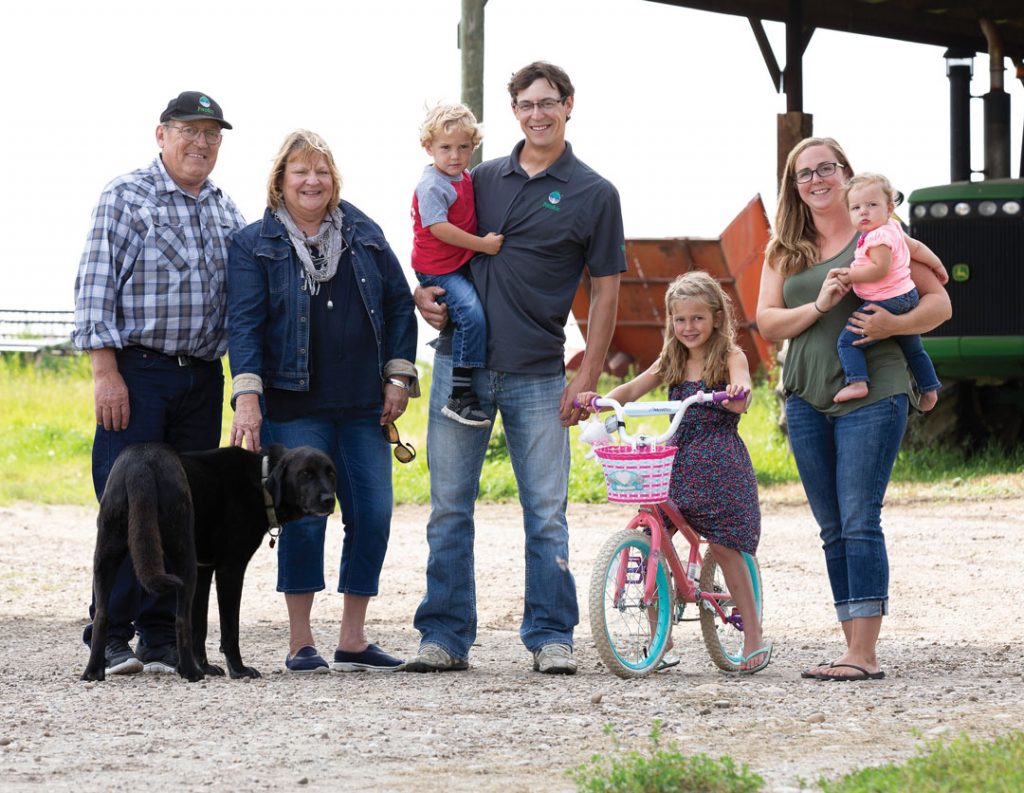 From 2006 to 2018, Bryan represented Region 5, first as a delegate, and then as a director. His many duties included chairing the communications and marketing committee. He was particularly proud to serve on the inaugural editorial advisory board of GrainsWest in 2014. As an Alberta Barley representative, he also acted as treasurer of the FarmTech foundation of Alberta and took on a leadership role with the Barley Council of Canada. He was fascinated with barley research and took particular interest in market development based on the health benefits of barley.
Bryan dutifully served his community and local church, where he held many positions from the age of 18 until shortly before his death. He also represented the agriculture sector on the Stony Plain Chamber of Commerce for several years.
From the time he was a young boy, Bryan knew he would become a farmer. He worked with his brother and father in Stony Plain from the age of six until 1989 when he purchased the family's fourth-generation farm. Though he initially ran a mixed dairy and grain operation, he preferred the cropping side and sold the dairy end in 1999.
Bryan married his wife Bev in 1981. Though she was a city girl, Bryan introduced her to the joys and benefits of farm life, and they celebrated 40 and a half years of marriage this past Valentine's Day.
The couple was blessed with two children, daughter Aimee and son Luke. They were later thrilled to become grandparents to their eight grandchildren. Their children and grandchildren all inherited Bryan's love of farming. The Adam family farming legacy will continue, as Luke now carries out the majority of the work on Rolling Acres Farms.
Bryan was careful not to pressure his son to take over the family business. He encouraged Luke to pursue his passions and find a career he loved. Luke took on teaching positions throughout British Columbia and Alberta, but later returned to the family farm full time. As he struggled to find his identity as a farmer, he asked his dad if he thought he had what it takes to make it. "You don't have to be like me, you have a skillset that I don't. Use those skills and you'll succeed," was Bryan's reply.
One of Bryan's greatest attributes was his kindness and generous belief in others. He was always there to provide a word of encouragement and to urge friends, family and colleagues to work toward their goals. His belief in GrainsWest as a source of information for barley and wheat farmers is a key reason for the magazine's ongoing success.
We will miss seeing Bryan at the annual Prairie Cereals Summit, regional meetings and FarmTech, and will always recall how he helped to point us in the right direction. From all of us at Alberta Barley, the Alberta Wheat Commission and GrainsWest, we thank Bryan for all his hard work, insight and support.