DATA DILEMMA
MAKING THE MOST OF PRECISION AG
BY MELANIE EPP
As technology for collecting on-farm data continues to grow, so too does the number of questions it raises. Where does the data go? Is it securely stored? Who owns it? And probably the most important question: Is all of this data collection really necessary?
QUESTIONS ABOUT OWNERSHIP AND SECURITY
What is "big data" for agriculture? For some, it's merely a catchphrase; for others, it's a way of life. Technically speaking, it's the business of collecting and analyzing data that is generated by farm equipment, such as planters, sprayers and combines. Typically, data has been stored on cards to be downloaded later or transferred to an ag tech provider. Now, as technology rapidly changes, data transfers are typically done wirelessly, collected on the go from the field and sent through the ether into the cloud. For instance, with John Deere, on-board data is wirelessly beamed to the John Deere Operations Center and can be later accessed from your smartphone, tablet or computer by yourself or a trusted third party with permission.
COLLECTING ON-FARM DATA ISN'T NEW, BUT TURNING IT INTO SOMETHING USEFUL IS
"Data can now be manipulated, interpreted and used," explained Mary Kay Thatcher, senior director of congressional relations at the American Farm Bureau Federation. "It offers opportunities for farmers to apply fewer inputs, use less water, be more efficient, produce higher yields and ultimately make higher profits.
"But the technology also brings risks," she added.
To mitigate those risks, producers need to know who controls and has access to their data. They also need to know whether the aggregated data can be shared or sold, and whether it can be used by ag tech providers to speculate in the commodities market.
"If you ask an ag tech provider, the answer is almost always [that] the farmer owns the data," Thatcher said. "If only it were that simple."
Thatcher is right—there is no easy answer. For instance, in a recent interview, Mike Martinez, marketing director for Trimble's Agriculture Division, said it is the farmer who owns the data. Later, though, he amended that statement, saying that some data simply cannot be extracted once it's been integrated.
Trimble offers a product called Connected Farm, a data management platform that collects, organizes and stores on-farm data. One of the big questions new clients ask Martinez is whether or not they can get their data back if they want it.
"In all cases, all of the data that the grower feeds into Connected Farm, they are able to extract," he said.
But not all files can be returned to the producer. For instance, some pieces of value-added data cannot be removed, as they have already been incorporated into larger collections.
"We want people to know that sometimes when you ask for a product, you've asked for a service to be created with your data, and sometimes in order for us to do that, that data gets spread into other places," Martinez said. "Some things are fully embedded and spread across the entire ecosystem. It's just spread out and it can't be surgically extracted like that."
Thatcher offered other scenarios where data ownership may be unclear. For instance, who owns the data on leased land—the landowner or the tenant? What if you crop share? What if you hire someone to do your spray applications—does he or she own the collected data or do you? If the landowner owns the data, could it lead to higher rental rates for the tenant?
The list goes on and on.
"Farmers need to talk to those with whom they do business and make sure that their contract or lease is explicit about who owns the data," Thatcher advised. "This has to be done before you can truly address how long the owner of the data actually controls the data, and what type of ag tech provider is right
for you."
Another consideration when choosing an ag tech provider is security. Martinez explained that Trimble uses a modern and secure storage system. All data, he said, is stored in the cloud, and can only be accessed by subscribing customers. Those customers, however, can invite others into their accounts, including their agronomists, crop advisors or seed salespersons. To protect that data, Martinez advises farmers to come up with an agreement before allowing access.
While privacy and data usage aren't regulated in Canada, one organization—the Western Equipment Dealers Association (WEDA)—has put together documents to help dealers provide producers with the transparency they seek.
"Canadian privacy legislation is years ahead of where they are in the United States," said John Schmeiser, CEO of WEDA. "When Canada updated its federal legislation regarding protection of privacy, where we got involved is that we put privacy documents in place and prepared sample documents for Canadian equipment dealers to use to ensure that they were protecting the customer's data and information."
At the time they were created, the documents were related primarily to customer information, such as social insurance numbers and credit information. "When some of the major manufacturers started producing GPS-enabled equipment and launched precision agriculture initiatives, we immediately saw that our equipment dealers were collecting customer data beyond just their personal information … like crop yield and equipment performance," Schmeiser said.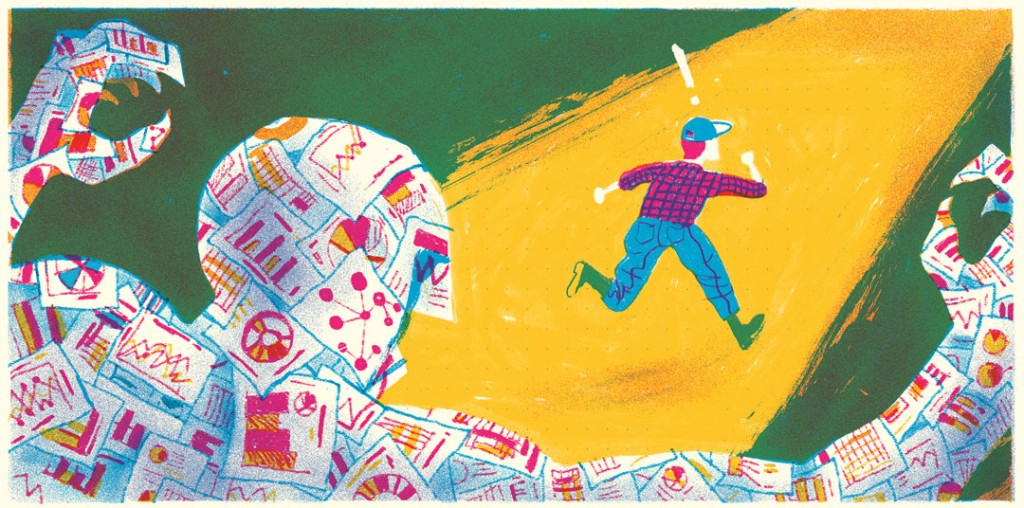 As a result, in 2013, WEDA came up with a new set of documents for dealers to use that would clearly outline how a dealer was going to protect a customer's data and information, as well as a release from the customer about how the dealer would use that information.
"Our position is that it's the customer who owns the data and information, and what we've put together is a series of documents that outline how we're going to protect their data and information, but also what are the limited uses of the data and information going to be in the repair of equipment," said Schmeiser.
Most John Deere dealers are on board, Schmeiser added. The association is currently working with Case IH, Kubota, New Holland and AGCO to put the same process in place.
The documents are available for purchase online at agridocshq.com. While several dealers have adopted the documents, Schmeiser said WEDA has no authority to impose agreements. If a dealer does not use the documents provided by WEDA, producers should steer them towards the site.
"These documents are available for dealers to use. And by all means, if an equipment dealer in Canada does not have these documents in place, our position is that they are exposing themselves to unnecessary risk or liability," Schmeiser said. "We want our producers to know that we have taken the proper steps to protect their data and information."
Last year, overseen by the American Farm Bureau Federation, a number of U.S. agricultural organizations joined ag tech providers in drawing up privacy and security principles for farm data use. Their aim was to reassure farmers that the data they share with their service providers would not be misused. The principles address questions of ownership, collection, access and control, transparency, portability, and use and sale limitations, among others.
As of Jan. 23, 2015, 35 individual companies and organizations, including AGCO, DuPont Pioneer, John Deere and Syngenta, agreed to the outlined principles. Monsanto purchased data science company Climate Corporation in October 2013 for $930 million as part of the agrochemical and biotechnology giant's move into the realm of data services. Climate Corporation also agreed to the privacy and security principles.
The buying and merging has continued on, as well. John Deere acquired Climate Corporation's Precision Planting LLC equipment business late last year to take advantage of its Climate FieldView software that examines weather patterns and agronomic trends. In addition, Trimble acquired Red Deer-based Agri-Trend for an undisclosed sum, and Canadian companies FarmLink Marketing Solutions and Farm At Hand joined forces. With so many companies getting into data, it's paramount that farmers seek clarification if the privacy and security policies of any provider are murky.
IS ALL OF THIS TECHNOLOGY REALLY NECESSARY?
According to a recent Business Insider story, sensors on Monsanto's harvest data equipment generate about seven gigabytes of data per acre. That's an incredible amount of data, especially if producers aren't making use of it. Not everyone sees its value, though. Ask around at any farm show or ag conference and you'll get a mix of responses. Some swear by the data they collect, claiming it has allowed them to solve problems they didn't know they had. They'll say that it has helped them to reduce input costs and increase yields and profits. However, others are not only uncertain about security and ownership, but simply don't see the value of the data in the first place.
Andy Stender, owner-operator of Crowfoot Ag Solutions in Strathmore, AB, has been involved in agriculture for more than 20 years, and during that time he's seen a lot of change. Currently, he works with about 120 farmers, helping them to improve their businesses. Stender said there are three main reasons why farmers are slow to jump on the data bandwagon. For one, he said, they're protective. They want to know where the data is being stored, who owns it and how to interpret it.
"There are a lot of issues with data," he said. "There's no consistent platform for producers to collect, store, interpret and convert it into something they can use on the farm."
He also pointed to money as a potential hindrance. "It can be a lot of additional cost without a lot of financial reward for the farm," he said.
Despite his skepticism, Stender encourages his farmers to use their data for good stewardship and traceability. Still, only a few of the farmers he works with are keen on using the data they collect. He thinks uptake will be higher in the future, but not until farmers have access to trustworthy and reliable platforms.
"Once it's at the point where we can interpret the data and make it useful, then yes, it has a future," he said.
Rob Stone farms 7,500 acres of durum, barley, lentils and soybeans in Davidson, SK. While he does collect data, he prefers a more "old school" approach.
"We keep records of all our field activities on a written desktop calendar," he said. "That method dates back a long way. It's easy to access and it's often compared easily with other years."
Stone uses yield data to pick out trends in the fields, sometimes splitting fields to compare treatments or varieties he's testing. Sometimes he uses yield data to make changes to variable rate zones and to guide future recommendations. For the most part, though, he admits that what he collects is underutilized.
"There is so much data generated. We need to do a better job of saving it to a [USB] stick and getting our consultants to organize it for us," he said. "We are paying for that. It just doesn't get done.
"I've had bad experiences with a couple of different monitors, and it takes too long to download," he added. "It's a weak excuse, but it's the truth."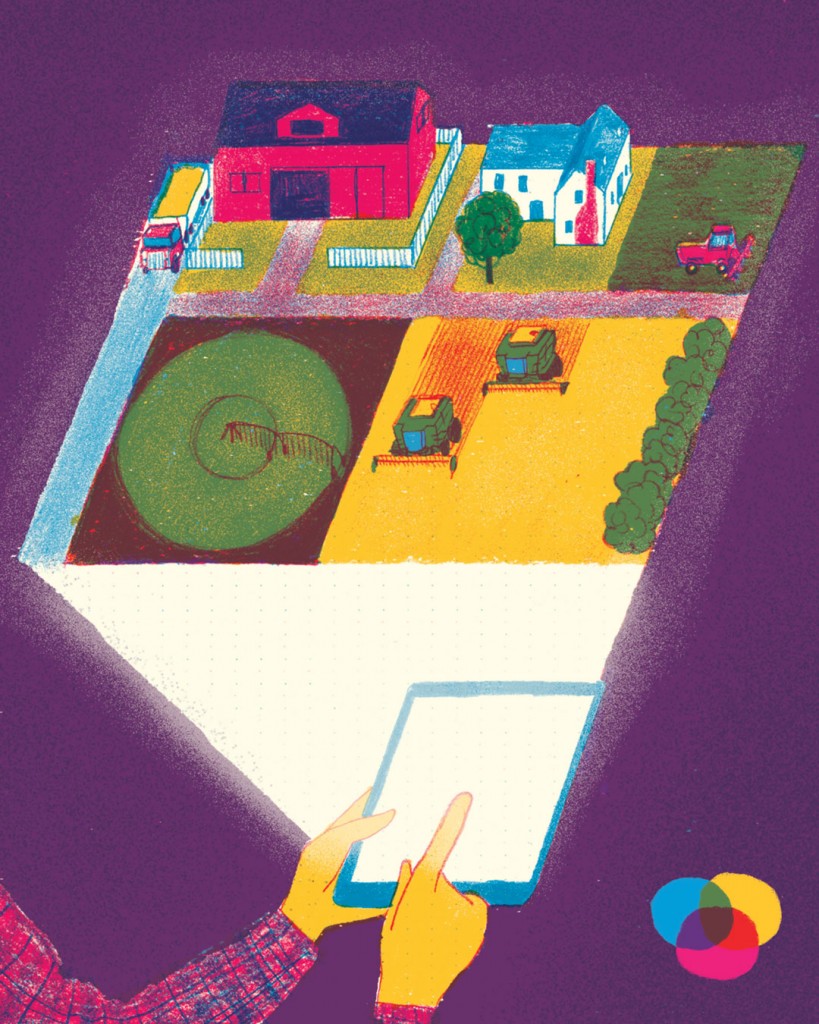 Peter Gredig farms roughly 1,000 acres of soybeans and wheat south of London, ON. Gredig is also a partner at AgNition, a mobile app development company, so he understands the importance of technology on the farm. He's excited about the potential of precision ag, but said he thinks on-farm data is more useful in controlled environments, such as dairy and hog farms.
"Trying to do that same analysis in crop production is tough because we're constantly facing variables," he said.
To make the data really work, he said producers should identify a problem and then use the tools to generate data that addresses that problem.
There are other producers who swear by the usefulness of on-farm data. Josh Fankhauser farms 7,000 acres in Claresholm, AB, where he grows spring wheat, yellow peas, canola, flax and barley. He's a huge proponent of collecting and using on-farm data.
"Every single thing that happens on the farm gets recorded," he said. "You don't pull a land roller or a harrow without me knowing about it."
While Fankhauser doesn't use all of the data he collects, he stores it for possible use in the future. Today, he uses data to run trials and test inputs.
"There's not a single input on the entire farm that I don't have an extremely good idea of exactly what the return on investment is," he said. "We're dealing with very unique soils—very, very long-term no-till soils. A lot of our agronomic practices are changing. We were told that some things just weren't possible in our climate, and we're doing 'em because we have the data to back it up."
MAKING THE MOST OF YOUR ON-FARM DATA
On-farm data is only worth collecting if you plan on using it, and only useful if it answers the right questions.
Shaun Haney, founder of RealAgriculture.com, said the problem isn't so much collection or even security. "The issue," he said, "lies solely in farmers' capability or willingness to transform the data into information to make better agronomic decisions.
"Don't get me wrong, many are doing it and doing a great job, but farmers tend to enjoy collecting the data much more than crunching the data. There are some great companies in the market that are attempting to help make this change."
One of those companies is Farm Credit Canada (FCC). Not only does FCC offer data management applications, like Field Manager Pro, but it also produces educational tools to teach farmers how to better utilize the data they collect.
"One could argue that our ever-improving ability to measure and collect this information challenges our capacity to fully understand or draw value from the numbers," said Kevin Stewart, president of AgVision Media and host of several of FCC's educational videos. "Crop yield monitors are a good example. Recording a geo-link yield value every two seconds as the combine moves across the field has resulted in enormous data files, and many growers have 10 years of yield information, but deriving the value from this information has not been very easy."
By designing simple trials, he said, farmers will be able to test old and new processes, and use the data they collect to make better decisions.
"The yield data scenario provides a good example," he said. "Instead of simply collecting the same information across the entire field year after year, consider which single fertility or crop protection product decision you are most uneasy about. If you think you are applying too much or too little of a particular nutrient, design and conduct a field-scale trial and measure the results of two different rates."
In another example, Stewart suggested setting up a "with and without" trial to test agronomic advice, such as whether or not that additional fungicide treatment is really worthwhile. Doing so allows farmers to use data to support their decision to use—or not use—the treatment in question the following year.
Perhaps most importantly, Stewart said farmers need to shift their mindset. Instead of measuring aggregate performance in the field, he recommended they analyze datasets and records to measure the cost benefit of specific practices or products.
"For the grain grower, a simple on-off experiment or variety comparisons provide yield data that puts a hard number on the experience and injects confidence into future decision-making," he said. "Direct your data collection so that it tells you something that you don't know. More importantly, the data should provide you with clarity and confidence to either do things differently or stay the course."