A NEW MAN
ONEIL CARLIER'S JOURNEY TO MLA AND MINISTER OF AGRICULTURE AND FORESTRY
BY TREVOR BACQUE
The son of a farmer in Val Marie, SK, Oneil Carlier, Alberta's newest minister of agriculture and forestry, has led an interesting life. His rural upbringing included inoculating cattle, helping at harvest and riding tractors, while his spare time was spent swimming in irrigation ditches and making occasional visits to the "big city"—Swift Current.
Throughout his childhood on his family's mixed farm, Carlier's life revolved around his family and friends. The word "teamwork" became a hallmark of his outlook on life.
"It's people looking after people," said Carlier, 53. "I've always taken that through my labour union work. You could say that not just for labour—if you have an organization, whether it's marketing in farming or industry, if you do it collectively, you'll have a better chance."
He means it, too. Carlier spent 13 years working at Public Service Alliance of Canada (PSAC) as a regional representative for the Prairies, from 2002 to 2015. PSAC is one of the largest labour unions in the country, with an estimated 170,000 members. While he worked at PSAC, Carlier liaised with groups such as Revenue Canada, the Canadian Food Inspection Agency and the federal government.
Prior to working at PSAC, Carlier spent 20 years at Agriculture and Agri-Food Canada as a geotechnical technician, from 1982 to 2002. There, he embraced his "first love" of irrigation. Memorable work involved the rehabilitation of the Bassano Dam and quality control at Crawling Valley.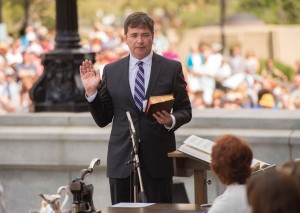 A shift into politics wasn't necessarily on his radar, but he has always been in the political mix. "I had been involved in Saskatchewan with the NDP helping on various campaigns and advocating for certain issues," said Carlier. "I moved to Alberta and was active still. Saskatchewan had a more active party structure, but I realized Alberta was just as active and vibrant."
So, onto the ballot he went: Carlier, Oneil—New Democratic Party. Carlier's party was drawing low numbers for provincial support, and it looked like another NDP election exercise: collect the bronze medal, regroup, repeat. However, Carlier saw his odds improve during the abridged election campaign triggered by then-premier Jim Prentice. A now-infamous remark that "math is difficult," made by Prentice to Rachel Notley during the televised leaders' debate, gave the NDP a jump in the polls, and it never looked back.
"I knew about halfway through that I had an extremely good chance of winning and doing well," admitted Carlier. "It was a pleasant surprise. We worked very hard with our volunteers, our leader and [our] now-premier."
The numbers show that his confidence was not misplaced. He rode to victory with 36 per cent of the vote, or 5,472 votes, in his riding of Whitecourt-Ste. Anne. That tally is 875 more votes than the NDP garnered in the northeast constituency in the last six elections combined, dating back to 1993. Similar upsets occurred provincewide, and the NDP toppled the Tories with a 54-seat majority government, reducing the incumbents to a mere nine seats.
Now, as he works to establish himself in a portfolio with more interest groups than grains of sand on a beach, Carlier has been busy shaking hands and having coffees. "I'm still meeting different stakeholders. Not even second meetings. Just new stakeholders," he said. The minister admitted that his strong suit lies in agriculture, not so much the newly minted "F" of forestry under his ministerial bailiwick, but his staff has been helpful in getting him up to speed.
If one measure can be expected to have a lasting impact in the agricultural world, it's the introduction of new measures to protect Alberta's farm workers, in the form of occupational health and safety (OHS) regulations. "It's going to happen," he said, adding that consultations have been ongoing almost since he took office. "For the most part, people are not only realizing this is going to happen; they are looking forward to it, because it's the right thing to do."
Alberta is the last Canadian holdout when it comes to on-farm OHS provisions. The PCs started the work during their final term, but the NDP will see it through. The regulations are helpful in international trade agreements as well, and Carlier sees that legislation as a key to entice other countries' governments to continue or even develop new relations with Canada and Alberta.
It's a simple 1, 2, 3 for Carlier for market priorities: the United States, China and then Japan.
The biggest elephant in the room—the Trans-Pacific Partnership, or TPP—is something that we cannot miss out on, according to Carlier. "I think for us not to be at [the] TPP [or] not to sign on would be very detrimental, especially to grains," he said, adding that supply-managed farms need to be protected, something that's been echoed at the federal level by politicians of all stripes.
Regardless of the TPP, OHS or any other ag-cronyms that come his way, the minister is committed to the value and importance of rural life. "Ag is the backbone of Alberta," he said. "It's a part of our social being, of our government, of myself, and it remains important for our economy and rural economy."
Fast facts on Oneil Carlier
Age: 53
Background: Mixed farm, semi-arid
Born: Val Marie, SK
Resides: Darwell, AB
Terms in office: One (current term)
Job: Member of the legislative assembly for Whitecourt-Ste. Anne and minister of agriculture and forestry
Previous jobs: Geotechnical technician for Agriculture and Agri-Food Canada and regional representative for the Public Service Alliance of Canada
Political affiliation: Lifelong NDP
Mentor: Older brother Ervin
Cheers for: Saskatchewan Roughriders