BREWING REVOLUTION
ALBERTA'S CRAFT BEER CULTURE IS MORE ACCESSIBLE THAN EVER BEFORE
BY TYLER DIFLEY
"It is not the critic who counts; not the man who points out how the strong man stumbles, or where the doer of deeds could have done them better. The credit belongs to the man who is actually in the arena, whose face is marred by dust and sweat and blood … who at the best knows in the end the triumph of high achievement, and who at the worst, if he fails, at least fails while daring greatly, so that his place shall never be with those cold and timid souls who neither know victory nor defeat." – Theodore Roosevelt
Graham Sherman, co-founder of Calgary's Tool Shed Brewery, lives by those words. Many mornings, he reads them as he prepares to face the day. They serve as constant inspiration and a reminder of the difficult road he and his business partner, Jeff Orr, navigated to convert their dream of starting a brewery into reality. Only a few years ago, they were home brewers—tinkering with different recipes and styles as a hobby while they made beer for themselves and their friends. Today, the pair's 25-hectolitre brewhouse can barely keep up with the enormous demand for their beer coming from thirsty fans across the province.
"Beer makes everyone happy," Sherman said. "When you see that you can actually have that effect on people around you with the beer that you're making, it's addictive."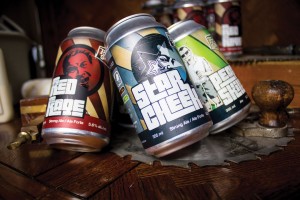 Many Alberta breweries have similar origin stories. Most commercial brewers got their start making beer at home—brewing batch after batch in their basement, garage or, in Sherman's case, backyard tool shed. The popularity of home brewing has exploded, and now anyone can try his or her hand at making great beer. As a result, there are brewers across the province at all stages and scales of production: casual home brewers, competitive home brewers and commercial brewers of every size, with plenty of overlap in between.
Until recently, Alberta was a hostile environment for many small brewers looking to get their foot in the door. The Alberta Gaming and Liquor Commission's (AGLC) minimum production capacity requirements of 5,000 hectolitres (500,000 litres, or about 1.4 million bottles) per year ensured only a select few brewers could secure the necessary financing and facilities to open their own operations in the province. Small breweries flourished in other parts of the country, while Alberta lagged behind. To get around the rules, Sherman and Orr were forced to contract-brew their beer on weekends at Dead Frog Brewery in Aldergrove, B.C., then import it back to Alberta for sale.
Everything changed in late 2013, when the AGLC eliminated the capacity requirements. Suddenly, one of the largest barriers to starting a microbrewery in the province was gone, and several brewers were quick to take advantage of the new situation. Sherman and Orr were the first to apply for a brewer's licence when the changes took effect, but they have since been joined by several other Calgary-area startups, including Half Hitch Brewing Company and Dandy Brewing Company.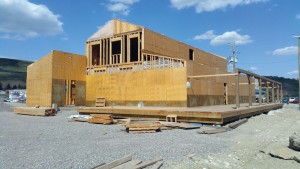 While Tool Shed evolved from Sherman and Orr's beer-making hobby, the founders of Half Hitch Brewing Company in Cochrane took a different approach.
"We wanted to try and start our operation as a family business," said Half Hitch president Chris Heier. "So [a] brewery wasn't necessarily the first idea that was put on the table."
Once the Heiers decided that a brewery would make a fine family venture, they immediately ran into a serious obstacle—they didn't know how to make beer.
"I personally dove in to home brewing to figure out how beer is actually made," Heier said. "I was brewing a batch of beer almost every week, sometimes twice a week, just to experiment and play around with different ingredients."
Once Heier had learned the ins and outs of beer making, the family secured a development permit and started building their brewery from scratch. They hope to release their first batch of beers in fall 2015.
Among the new entrants to the Alberta brewery scene, Dandy Brewing Company stands out because of its small production volume—it currently holds the distinction of being the only nano-brewery in the province. With a brew house that produces only 3.5 hectolitres (350 litres) of beer at a time, Dandy's founding trio of Ben Leon, Dylan Nosal and Derek Waghray take small-batch brewing to a whole new level.
"We like it because it's so hands-on and we have so much control," Leon said. "At our size, every step—from unloading the grains off the back of a truck to dropping off the cases of bottled beer at a liquor store—we have control over."
Despite its small size and low profile, Dandy has already developed a sterling reputation for quality in Calgary craft beer circles. For Sherman, Dandy's success is a testament to the positive impact the AGLC regulation changes have had on the brewer community in the province.
"They're home brewers who have the tiniest system," he said. "That's the best part—guys like that can now come and challenge every brewery to raise the bar."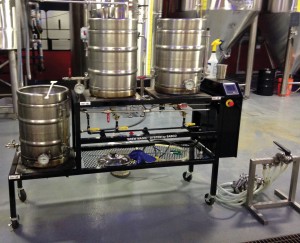 As Sherman, Heier and Leon transitioned from home brewing to commercial production, they quickly recognized that making the jump from hobby to business is easier said than done.
"You don't understand how to scale up from your homebrew system until you do it," Sherman said. "Where in the brew you add ingredients makes all the difference in the world, so the timings of the things that happen when you're brewing five litres compared to when you're brewing 2,500 litres is very different.
"The other thing is you just have no concept of the sanitation of a brewhouse on a large scale. I don't care if a beer gets infected in my basement—I dump it out. But when it's $10,000 of barley, you can't screw it up. I can't afford to dump a batch, so you have to get things perfect in here."
Many of these challenges were overcome with the support of the brewer community, both within Calgary and across the province. When one brewer hits a snag, another is usually quick to offer a helping hand.
"In our first few months, as we were ironing out our kinks, if we didn't get a bottle shipment on time, [we'd] call Wild Rose [Brewery] and they'd have a palette delivered to us. When we started brewing, half our grain didn't make it in time for the brew, so we called Village [Brewery] and they were more than happy to sell us a couple bags," Leon said. "It's crazy how tight-knit and supportive the community is across Alberta."
That tight-knit brewer community includes professional and amateur brewers alike. The latter are currently enjoying a home-brewing renaissance of sorts. The practice of home brewing has come a long way in the last several years, making it more accessible than ever for casual craft beer enthusiasts who want to find out how the sausage gets made, so to speak.
Neil Bamford, co-owner of The Vineyard, a Calgary homebrew and winemaking store, has been home brewing since the early 1980s. Originally, he did it because he was a student trying to save money, but since then he has become vice-president of finance for Calgary's Cowtown Yeast Wranglers homebrew club and one of the top home brewers in Canada. He has witnessed first-hand how rapidly interest in home brewing has grown, and how it has become popular among more than just cash-strapped students.
"At the store, the shift in the last five years has been from probably about 80 per cent wine and 20 per cent beer to 80 per cent beer and 20 per cent wine now," he said. "You still get the young kids coming in and doing it to save money and have beer on the weekends, but you get a lot more older and middle-aged people that just want to make a good-quality craft beer."
Calgary, in particular, has become a hotbed of quality home brewers. The Yeast Wranglers average around 200 to 250 members per year, but members of the wider home-brewing community in the city likely number in the thousands, Bamford said. The Yeast Wranglers have been the top homebrew club in Canada three years in a row. This record of competitive success could be intimidating for more casual brewers looking to get involved, but the club welcomes all beer enthusiasts, regardless of experience.
Bamford works closely with several of the breweries in town, and many of the brewery founders still make test batches with supplies from Bamford's store—often to try new ingredients or techniques. This co-operative relationship blurs the lines between professional and amateur brewers and further contributes to the sense of camaraderie among brewers of all stripes.
"Whether you're in it for the fun or you're in it for the money, it's still a lot of fun to be in the community," Bamford said.
Advancing from home brewing to a full-fledged commercial brewery is a daunting task. But the founders of Tool Shed, Half Hitch and Dandy have shown that, with the right knowhow, it isn't a pipe dream.
In terms of advice for those who hope to follow in his footsteps, Sherman is blunt. "Learn that quote," he said, referring to Roosevelt's weighty words that never stray too far from his mind.
"There are so many bloody stumbling blocks that have come our way that probably should have shut our business down. But you get in that arena and it's a fistfight every day. Once you commit to going after it, you just never look back."