QUALITY OVER QUANTITY
A TRUE SUCCESS STORY FOR AN ALBERTA FARM FAMILY
BY IAN DOIG
It was lunch hour at Sunterra Market Keynote in Calgary, and it was elbow-to-elbow at the self-serve salad bar. Office folk in casual-Friday finery heaped cubed ham, spinach and shredded cheese into plastic take-home boxes. Within minutes, the sandwich cooler was emptied of its egg-salad, roast beef and turkey packs. Two helmeted construction workers searched for other convenient cartable options.
Determined shoppers roamed the tight main-floor produce aisles and surrounding counters for the night's dinner. At the prepared-food kitchen, servers doled out containers of marinated meats and a rainbow array of cold salads. Over at the butcher counter there were glistening chicken-and-pepper kebobs and a perfect selection of steaks, while the packaged-meat cooler displayed Sunterra Farms pork-back ribs, Carmen Creek bison and Maple Hill Farms chicken.
At the deli kiosk, olives and fine cheeses complemented Valbella Landjaeger sausage, and portly Sunterra ham and beef roasts were ready for slicing.
The fishmonger's crushed-ice coolers displayed scallops, salmon fillets, lobster and a showy half-metre halibut; the adjacent bakery counter featured a profusion of pies and pastries, and a wall of fresh Sunterra bread.
The balance of the main floor featured shelving and coolers chockablock with packaged goods, from premium jarred tomato sauces to artisan sodas, quinoa chips and endless tangles of packaged pasta.
Storewide, service was quick and attentive, and at the tills, lineups had little time to form. It may have looked it, but operating this premium grocery chain is not easy work. The business model cuts no corners and demands the best foods be cooked, packaged and served in multiple convenient configurations, explained senior vice-president of operations Chris Alladin. He oversees the operation of nine Sunterra market locations in Edmonton and Calgary.
A trained chef with a background in restaurant management, Alladin has been with Sunterra almost 13 years. "When I first got here, I saw how proud the people were. Everybody was just so enthusiastic about the quality of the products they were working on," he said. Staffing is always challenging in Alberta, but Sunterra's cachet is its own hiring tool.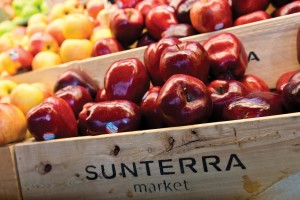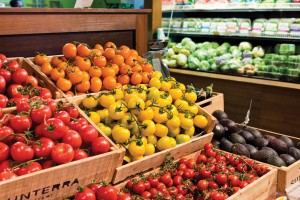 "The bigger chains tend to give up on service," said Alladin. "They try to be quick. We try to find a balance between fresh-to-order, great quality and good variety, and still offer speed and service." And yet, keeping prices competitive is a mantra here. Copycat concepts have tried and failed to duplicate this cost-versus-quality feat.
Sunterra may be perceived as expensive among the uninitiated, but once visitors try it, they understand why they're paying a premium price, said Alladin. The chain's marquee example is its own pork products. While fattier supermarket pork may require trimming at the kitchen counter, Sunterra offers lean, delicious and perfectly aged cuts of pork at a comparable cost.
Patricia Derbyshire is a regular patron of Sunterra Market in Calgary's West Market Square. "If I've ever needed a quick meal, particularly when my son was growing up, I always found Sunterra better than a restaurant and as convenient as fast food," she said. "I don't compare Sunterra [prices] to other grocery stores, but to what I would spend if I ate out."
The owner-operator of a seniors concierge, Catherine Cartmill shops at Sunterra and recommends it to clients who may benefit from its services, including grocery and meal delivery, to make their lives easier. "I used to think Sunterra was more expensive than other stores, then I did a cost comparison," she said. Sunterra's pricing can be "all over the map," but the prepared foods are more interesting and less generic than typical grocer fare.
Cartmill is also a fan of Keynote's third-floor restaurant, Marketbar, which serves made-to-order pasta dishes and "big pan" meals such as sausage with perogies. At $20 for two entrees with coffee and juice, it also serves the best breakfast deal in town, she said.
Sunterra's magic formula, said Alladin, is the foresight of the Price family, its founder and majority owner. Years ahead of their time, they anticipated consumer demand for healthy, convenient groceries and prepared meals. They've also married commodity agriculture with direct-to-consumer retail in a unique and determined way.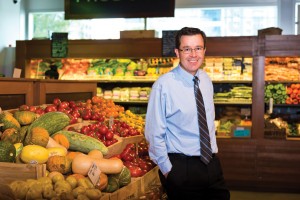 Less than an hour's drive northeast of Calgary, the apparent sleepiness of Acme's evergreen-lined Main Street belies the area's history as a hotbed of forward-thinking agricultural practice. The Sunterra Group of Companies is headquartered here, in a nondescript, one-floor office block.
The modest situation suits the self-effacing clan that operates one of Alberta's most conspicuous entrepreneurial success stories. Sunterra employs a staff of close to 1,000, with sales of approximately $150 million annually. Majority-owned by the Prices, two other local families, the Woolleys and the Fredeens, are minority partners.
Sunterra Group president Ray Price leaned on the boardroom table surrounded by posters of beautifully prepared Sunterra take-home meals. He said the Canadian grocery and meat industries do a very good job supplying good product at a good price. Diplomacy aside, with its high-quality product and above-and-beyond customer service in tandem with competitive pricing, Sunterra has not only differentiated itself with consumers—in Alberta, it has virtually no competition within its admittedly modest slice of the grocery market.
Ray Price is one of seven siblings, four of whom are active Sunterra managers. The Price family farm, just west of Acme, was established by Florence and Stanley Price in 1950. Price family and Sunterra farmland comprises about 2,000 acres in the same general area. Annually, the farming operation produces up to 120,000 bushels of wheat and up to 80,000 bushels of canola, predominantly for the commodity market, as well as a small amount of barley for silage production.
Sunterra Farms operations in Alberta, Ontario and Iowa produce 300,000 pigs annually, and it operates two meat-processing facilities—one near Acme, the other in the nearby town of Trochu. Supplying the beef side of the operation, brother Doug Price operates a cattle ranch and feedlot north of Acme, with land around Rocky Mountain House, Drumheller and Czar.
Florence's father was born on the Burns Ranch south of Calgary in the late 1800s. He settled in the Crossfield area where Stan's father's family farmed. Flo and Stan met here, and subsequently purchased land in the Acme area. Stan, who died in 2012, established himself in pig breeding and was well known in horned-Hereford circles. Stan and Flo passed on their passion for livestock to their children, and all seven worked to manage various farm operations through their school years.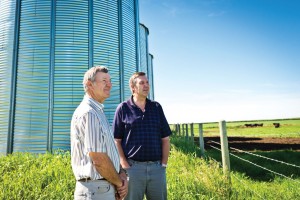 Dave Price is past president and a company director, and his duties include interfacing with government. As a young man in 1968, he spent a year in England working with the Pig Improvement Company, a new pig-breeding concept. It so impressed him, he convinced his family to launch Pig Improvement Canada, 50 per cent owned by the U.K. group at that time. It would later become Sunterra.
Pig Improvement Canada launched in 1970 with Dave as manager, Stan providing directorial vision and Flo bringing the financial expertise. With stock from the U.K. operation, Pig Improvement Canada began breeding operations in Acme, which in turn provided stock for the launch of Mexico and U.S. operations.
The Prices and their partners were instrumental in turning the Pig Improvement Company network into what is now by far the largest pig-breeding network in the world. By the late '90s, it was the largest supplier of breeding stock in Canada, but growth levelled off. Rather than compete with other Pig Improvement Companies in the international marketplace, all decided it was best for the business and for the family to sell the breeding stock marketing business.
Retaining the Alberta farms and Canadian marketing rights, the Prices once again employed visionary flair, anticipating production and retail agri-food trends.
"What we believed we saw coming was that packers were going to get more involved in pig production and pork utilization," said Ray. As early as the mid-'80s they began to explore meatpacking and the retail sector. "We were experts in pig production but we needed to be experts in pork production," said Ray. They worked with packers to understand their needs, touring farms and packing houses in Europe.
The knowledge, expertise and high-quality pork developed by the Pig Improvement Company was the impetus for this ambition. Its genetic improvements produced leaner, faster-growing pigs exhibiting better feed conversion and bigger litters. "We felt we had really high-quality pork, and it was being lost in the system," explained Ray. "We also knew we had to understand more about pork qualities."
Purchasing a small Trochu meat plant that handled pigs and cattle, the Prices began testing the pig-to-pork transformation and traceability. With the meat supply and processing system in place, the market beckoned, said Ray. "We said, 'Well, why don't we just get into a retail store and find out what consumers think of us?'"
A commodity-based family farm launching a consumer-direct retail operation was unheard of in the late '90s. It was a step into the complete unknown, said Ray with a chuckle. "Crazy farmers thinking we could go downstream and sell products into a store situation. But we really believed that high-quality pork and beef at a competitive price would sell." This was prior to the eat-local trend, so success would be predicated upon quality and value. "We had a better product and we could sell at a similar price to everybody else, so why wouldn't we do that?"
The family wasn't flying blind. Glen, the youngest brother, had just spent 14 months in Hong Kong working for ParknShop, one of that market's top grocers. The family put his expertise to work conducting a business feasibility study.
Determining that a meat-only business wouldn't work, Sunterra launched in 1990, mirroring the one-stop shopping of European markets. Sunterra market in Calgary's Bankers Hall opened that year and continues to serve customers 25 years later. Its structure was suggested by the Prices' own busy lives. "Who has time to cook?" posed Ray. "We went into it thinking we needed to have prepared and ready-to-cook meals." Careful attention was also paid to store layout, shelving and product presentation.
"We needed to get people into the store and tasting the food," said Ray. "We felt once they tasted it, they wouldn't go anywhere else." Its high-quality alternatives to TV dinners and better consumer experience proved a hit, with unexpectedly high demand for sit-down restaurant service.
As the Sunterra chain has expanded, the evolution of its goods and services has been based almost exclusively on in-store consumer feedback. The subsequent tailoring of this quality-plus-value equation has informed its penetration of foreign export markets, notably the Japanese premium grocery sector. Sunterra now also sells into China and Hong Kong, where even a sliver of market share is highly lucrative.
Over coffee at the CrossIron Mills food court, Dave and son Matt are on a short break between rural business meetings. Not surprisingly, as a next-generation Price, Matt is a big fan of producer self-determination. As Sunterra crop manager, he also handles special projects.
He said the dissolution of the Canadian Wheat Board monopoly has been entirely positive, allowing improvement to the bottom line through hedging and forward selling as well as marketing into the United States. "It just gives you a lot more control. The Wheat Board was a pretty restrictive system."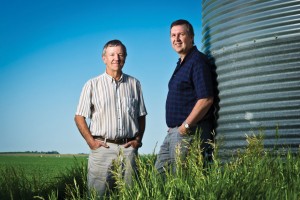 Grain is but one Sunterra revenue stream. Though the bulk of Alberta production is tied to the commodity system, the integration and production of multiple high-quality products is key for Sunterra's success, said Dave. Selling to China wouldn't be possible without Sunterra's ability to process its own raw product. It can easily act on its own marketing insights while maintaining the stability for growth.
As with new retail locations, the Prices have learned to take measured steps into new export markets. "We look for opportunities that, with focus and due diligence, we might do a better job [with] than somebody reacting to opportunity as opposed to planning for it," said Dave.
The pendulum has swung towards the Sunterra model in the greater grocery industry, he said. It was to be expected, he added, but he believes Sunterra's high-end market segment remains secure because it's a specialty, not a sideline.
Dave spoke fervently of bettering the agriculture sector, and both father and son see vast new opportunities for Prairie producers, notably in California. With a population equal in size to Canada's, its agricultural operations are shutting down due to water shortage. There is opportunity for California-bound dairy and poultry product exports and a subsequent spinoff for local feed-grain production that Dave predicts will grow in tandem.
"We can land product in California more cheaply than they can out of the U.S. Midwest, which is the major production centre for pork and beef," he said. Gearing some of Alberta's crop and animal production for that market is an obvious move, he added. "That's the lowest-freight target market for our meat products anywhere in North America, other than close at home, because of the backhaul opportunity." All it will take, he advised, is federal and provincial government help to eliminate American trade entanglements. "Just facilitate it, get that stuff out of the way, and we will grow like mad."