RISE AND SHINE
BAKERS TAKE US BACK TO THE FARM THROUGH OUR DAILY BREAD
BY TAMARA LEIGH
Grains and flours may be common items in every grocery store, but when it comes to flagship products, bread carries the banner for wheat. While growers produce the grain, and millers transform it from commodity to food product, it's the bakers who bring it all together into a much-loved food staple.
Today, most Canadians pick up their daily bread at grocery or convenience stores, but smaller retail bakeries continue to thrive by offering a personalized experience and products that promote a different kind of relationship with the customer.
"We are the connection between the farmers, the millers and the customers," said Aviv Fried, owner and baker at Sidewalk Citizen Bakery in Calgary. "I think people want to know where ingredients are coming from, how they are grown and what exactly is in their food, and these questions are coming to us."
Since the doors to the artisan bakery opened four years ago, Fried has created sourdough baked goods from locally sourced organic ingredients. He works closely with suppliers ranging from a small farmer who grows and stone-grinds the heritage wheat variety Red Fife, to organic white flour from a mill in nearby Saskatchewan.
"I enjoy learning more and digging into what's happening in milling to try to find out why the flour this week is different from last week. We don't always get satisfying answers," said Fried. "I think there is still a bit of a disconnect between the production and milling process and the bakery."
According to Paul Hetherington, president and CEO of the Baking Association of Canada, these challenges are not new. "Historically, bakers focused on meeting consumer demands and needs, and producers focused on yield. As a result, there is a conflict with regards to needs and expectations," he said, noting that information available to consumers through social media is closing the gap.
"The curtain that producers have been behind for many years is now being drawn back, and now producer groups are being drawn more into the kinds of consumer-oriented discussion that we in the baking community have been engaged with for many years," he added.
On-farm practices such as herbicide use are always top of mind for farmers and now, with much talk about food safety, consumers are increasingly interested as well. These factors tie in to the biggest trend in food today—health and wellness. What may begin with an article on Facebook one day becomes a question at point of sale the next, and bakers are often the ones to respond for the entire value chain.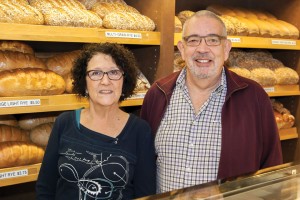 Bon Ton Bakery has been an Edmonton favourite since 1956. Hilton and Michelle Dinner took over in 1998, and maintain a reputation built on high-quality European-style baked goods and strong relationships.
"My motivation is to do things local, healthy and current," said Hilton Dinner. "I need to offer people the option of buying healthy or different. We were the first bakery in Edmonton to take out trans fat from our product—now I use non-GMO canola oil and trans-fat-free shortening."
An estimated 2,500 customers per week come through the door of Bon Ton Bakery, and an increasing number of them have concerns about gluten and food sensitivities. Engaging these potential customers has been illuminating for both customer and baker.
"Thirty-five per cent of North Americans are either reducing their consumption or not eating wheat, and wheat producers are doing nothing to combat it," said Dinner. "I explain the different ingredients and characteristics of the products to customers so they can make informed decisions about their diet, instead of just following the latest trends."
Dinner's search for specialized products and a closer relationship with his miller brought him to John Schneider, a sixth-generation farmer who also mills grain.
Gold Forest Grains is a certified organic farm near Edmonton producing farm-milled organic flour and whole-grain products from heritage and ancient grains. Schneider started the milling business in 2009 in an effort to maximize profits on his family's 300-acre farm.
"It became obvious very early on that we could not operate a small farm profitably without some significant value-add on whatever it was that we produced, and grain was no different," Schneider explained. "Milling the grains into healthful flour products seemed like an obvious choice for us."
Gold Forest Grains sells through farm-gate sales, farmers markets, produce home delivery services (The Organic Box and SPUD), and a select number of retailers in and around Edmonton. Gold Forest's flours are sought after by some of Edmonton's best bakers. Bon Ton Bakery uses Park Wheat, a variety developed in Alberta in the 1950s, in its Heritage Whole Wheat and Heritage Multi-Grain baked goods.
According to Schneider, flavour and freshness are important to his customers, but so is being able to tell the story of organic, local, heritage grains.
"Really, we are still a fringe specialty product, and mainstream bakeries interested in high volume and lower margins do not use our flour," said Schneider. "We like it that way, to be honest. We happily supply our favourite bakeries and benefit from their tremendous baking skills in our marketing."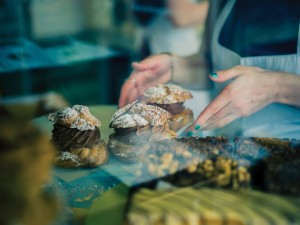 Diet trends aside, bread still touches most consumers at a very basic and personal level. While the Internet offers as much information about their food as people want to digest, bakeries offer a different kind of connection.
"I grew up with my mom making bread, so the quality of artisanal bread has always appealed to me," said Tara O'Donovan, a loyal customer of Sidewalk Citizen.
"I like the community aspect of it as well—the bread is fresh-baked every day, locally sourced, and nobody is cutting corners anywhere," she added. "The flavour particularly appealed to me, and they always make a point of telling me what kind of wheat the bread is made with."
Bon Ton Bakery customer Marlee McGuire is motivated by a desire for quality and to support small business, rather than the details of the ingredients. "The source of ingredients has been relatively low on my radar until recently," she said.  "I wouldn't generally think to ask my baker, but it would be great if that were to become part of the culture of bakery purchasing to know those types of details."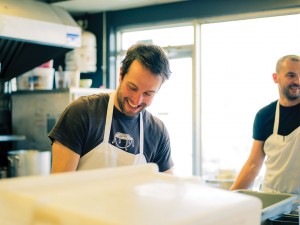 For the bakers, it's all about balance and making sure the customers get what they want. 
"Some people buy here because it's sourdough, some because it's organic. Everybody has their own relationship for why bread is something they want to spend the extra few bucks on," said Fried, reflecting on his customers. "I think people are looking for tasty, good-quality food, so we don't really try to follow trends or do something that we think is hot right now. We try to do something that we think is good and that we like to eat."