GOOD TO THE LAST DROP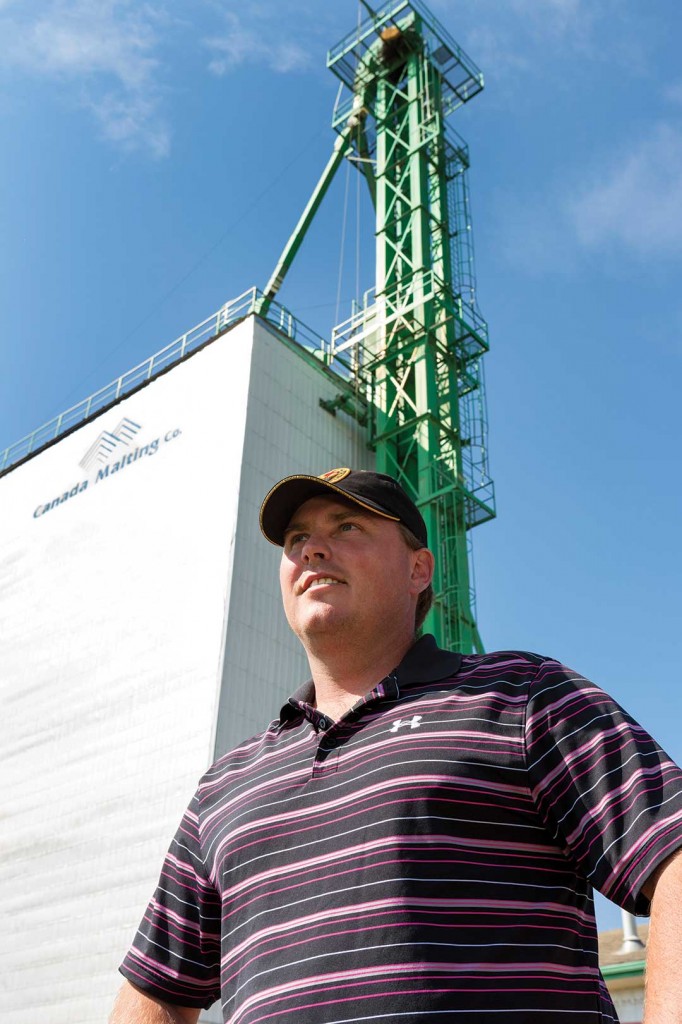 INSIDE THE LIFE OF A MALTING BARLEY ELEVATOR BOSS
BY JEFF DAVIS
You'd think being the Canadian elevator operations manager for the Canada malting Company — with responsibilities stretching from Alberta to Manitoba — would be enough to keep a man busy. But not for Ryan Dodd.
When he's not meeting brewers or overseeing operations at one of 10 grain elevators, Dodd can usually be found on his family farm, tending to 300 acres of grain and raising around 130 head of cattle.
Dodd, 37, has spent his career in the elevator industry, working for Louis Dreyfus Commodities and Viterra before joining Canada malting 12 years ago. He got his start in the grain business with the Alberta Wheat Pool, which recruited him just a week after he graduated from high school.
"They phoned me and asked me one day if I'd have any interest to come over and help them load rail cars, and I never ever looked back," he said.
GrainsWest: What has changed in malt agronomy since you began your career?
Dodd: Varieties have really changed. You went from Harrington to Metcalfe, then Copeland. Now you're seeing Newdale, Bentley, Synergy — all these newer varieties that are higher yielding. They're built for a lower protein, and people are able to put more nitrogen into the field. You see guys putting more money into herbicides and some of the top fungicides in the business, trying to get the best quality out of the barley.
Nowadays, we're seeing so much more wet weather and people really have to fight against disease. Manitoba has been hit badly because of fusarium. It has to do with their climate and soil conditions.
GW: What are some of the big changes you're seeing when it comes to malt barley marketing?
Dodd: The loss of the Canadian Wheat board was huge — not only for farmers, but for the industry. It has been a challenge for some that aren't quite up to the market speed, say, with cellphones or the internet or anything like that. But then, other guys have been very successful with production contracts and private contracts with domestic maltsters.
For us maltsters, having to manage all our own contracts and purchases has been a really big change. There's a lot more paperwork, and you've got guys [who] — instead of coming in and selling big lots of barley — are selling one b-train load here, one b-train load there. It's been a big change for us.
GW: You manage 10 elevator operations — what does that entail?
Dodd: We have grain elevators across the prairies, and what I do is help each elevator — whether it's with marketing, pricing, contracting, farmer visits, as well as everything down to maintenance and capital investment into our facilities — making sure they're all working top-notch. Then there's personnel management as well. We've got 29 employees across the Prairies, so there is always something going on with staff.
I travel around to all the elevators, and I try to get to the eastern guys quarterly, so it's a lot of travel out to Mariapolis, MB, and Norman, MB. Usually, I drive around in a truck and stop at a local coffee shop, and have a chat with the farmer there.
I'm always carrying tools, a new motor or whatever. Last year I put about 75,000 kilometres on the truck.
GW: Who are the big buyers of malt and what can Canadian farmers do to satisfy this demand?
Dodd: For the Canadian operations, Canada Malting, Rahr Malting, Cargill and Richardson are some of the largest players. One of the things I'd tell guys is to know your quality specs, take very good samples, and retain those samples for future re-checks and stuff like that. Too many guys just put it in the bin, grab a scoopful, and think that's going to be their sample. And that's not it — you have to have a continuous good sample. That way you're protected if they come back and ask you later why your barley is something different than when you delivered your sample.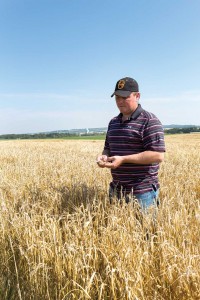 GW: A lot of barley goes into brewing beer. How particular are brewers about the barley they get? What effect can the barley have on the final beer?
Dodd: Quality is the No. 1 concern for the brewing industry. It's the taste, the speed of the process, the colour of the beer, the clarity of the beer — it can all be affected, one variety to the other. Brewers have a really good eye and they run a lot of tests, so they pay well for the product, but they want good product in return.
GW: Are the smaller craft brewers more demanding?
Dodd: I don't deal a whole lot with the guys in the craft brewing industry, but I would say they are not quite as demanding on the quality as an Anheuser-Busch. Those guys are very, very top-notch when it comes to quality. But if a microbrewery doesn't get a product they like, they're probably not going to come back and deal with you again.
GW: What are the best and worst parts about your job?
Dodd: I would say probably the worst part is the declining barley acres and watching the industry go down. It's making our jobs a little more difficult. We have to go out and show farmers good returns in the barley market in order to get them to grow barley.
Probably the best thing is the excitement in the craft brewing industry and the demand in barley from them. It's really picked up and helped out a lot in terms of getting more demand for malt.
GW: How can farmers get into the barley game?
Dodd: The best thing is to call one of our grain elevators, which are located across the Prairies, and ask them about varieties that are in demand. You need to grow something that has a demand in the malting market. We know what varieties work better in certain areas, as well as what kind producers need, so you can grow that instead of a niche variety.
We also attend trade shows. Guys come around and look at our production contracts, which give us first right of refusal on the barley. They're growing for us, but there is also a competitive clause in the contract that says if we're not competitive, then we have to either match or let the guy out of the contract. So it's sort of a no-risk situation for the producer, and they have a home for their barley if it turns out to be a huge
crop.