WATER, LAND AND PEOPLE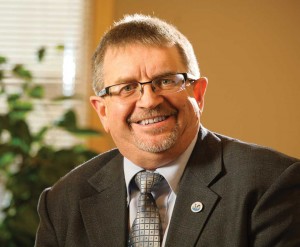 BY DAVID HILL
Farming has changed — and it's about to change even more. With current forecasts suggesting a global population of more than nine billion by 2050, the opportunities and challenges in agriculture are going to increase in number and complexity. We will need to employ technologies, processes and approaches that may seem more akin to the world of high-tech business than food production.
Canada is one of only five or six countries in the world that have the necessary capital in land, water, energy, finance and human resources to significantly increase exports of food and nutrition to meet this emerging demand. At the same time, domestic and global consumers will be more concerned about the environmental impacts of food production and will be increasingly sensitive to issues of food safety. How we use land, water, fertilizers, chemicals and energy, and how we care for animals, will all influence the choices consumers make when they purchase their food. If Canada is to take advantage of the economic opportunities in these emerging markets, we will need to be well ahead of the demand curve in our approach to agriculture.
So how do we meet these challenges head on? Education will play an increasingly critical role. Future economic success for Canada, as well as for primary producers and agribusiness, will rest to a large degree on how well we capture more value from what is produced. This value is critical if producers are to economically implement the most leading-edge agricultural practices and validate their environmental performance.
Canadian producers have already entered the era of data-driven agriculture, with the use of GPS technologies to improve seeding, chemical use and crop quality. These now-standard practices are evolving to include satellite imagery assessments and the use of optical sensors on unmanned, remote-controlled aerial vehicles to develop detailed prescriptions for fertility and watering in the case of irrigation.
As more data is collected, we'll have more opportunities to create even more advanced processes and to enhance crop quality and traceability. Already, students in colleges and universities are being exposed to these new technologies—and the emergence of agriculture as a driving demand for these technologies is becoming apparent.
The emerging skill sets necessary to meet the expanded global demand for food and nutrition are likely to be quite different
from what we understood farm- ing to be in the past. Career training in advanced plant and animal science will need to be refined and expanded — meeting global demand is likely to require new crops and market-specific foods. Applying high-tech approaches to data-driven agriculture will require a new generation of well-trained practitioners to focus on agriculture and to establish
Canada as a leading global supplier of not just safe, high-quality food and nutrition, but of new technologies and practices that can be employed around the world. Advances in environmental science and system-wide approaches to managing land, water and energy will be needed to demonstrate the highest levels of environmental performance in food production.
The business side of agriculture will be very dynamic, with significant new value-added agri-business opportunities. There is a critical need to train people to pursue agricultural opportunities in international business in order to expand our skills in competitive market intelligence that will lead to investments in value-added agricultural production and new market access. The global demands for food and nutrition will require individuals skilled not only in the best business practices, but in diplomacy and the ability to forge strong and lasting relationships and partnerships.
Already, leading academic institutions in Alberta and elsewhere are embark- ing on activities to ensure that students at their institutions will be well placed to be actors in this brave new world of agriculture. Integrated programming, in concert with industrial partners, is being enhanced and new streams are being developed. Now it's time to ramp up recruitment.