HELP FROM FAR AFIELD
BY TREVOR BACQUE • LEAD PHOTOS BY IAN DOIG
Canadian agriculture continues to suffer the firsthand effects of a shrinking labour force. The average age of Canadian farmers has been on the increase for more than 20 years with no sign of reversal. By the latest estimate, Canada will be 30,000 farm workers short by 2033. This is both a crisis and an opportunity.
A report recently released by RBC pegs Canada among the worst situated countries to handle the scarcity of low- and high-skilled help. In short, the fix is more bodies. The more nuanced solution is to build a continuous talent pipeline. The report's recommendations are to maintain high immigration, push ag at the collegiate level and rapidly adopt more autonomous technology.
Some finger COVID-19 as the culprit, but the labour shortage has been ongoing for decades and has now acutely come home to roost, said Jennifer Wright, executive director at the Canadian Agricultural Human Resource Council in Ottawa, ON. She calls the situation critical.
"Over the years, it was probably something that could be managed if people worked a little bit longer in a day or there were ways to accommodate it," she said. "Now that's just not possible in many respects. "Even before the pandemic, the industry was losing close to $3 billion in sales because of not being able to find enough workers, not being able to expand operations," she said.
Over the last few years, labour scarcity has forced the worst possible outcome for certain farmers. "We're seeing farmers choose to exit the industry, or they're reducing their production because it's just too much of a challenge," said Wright.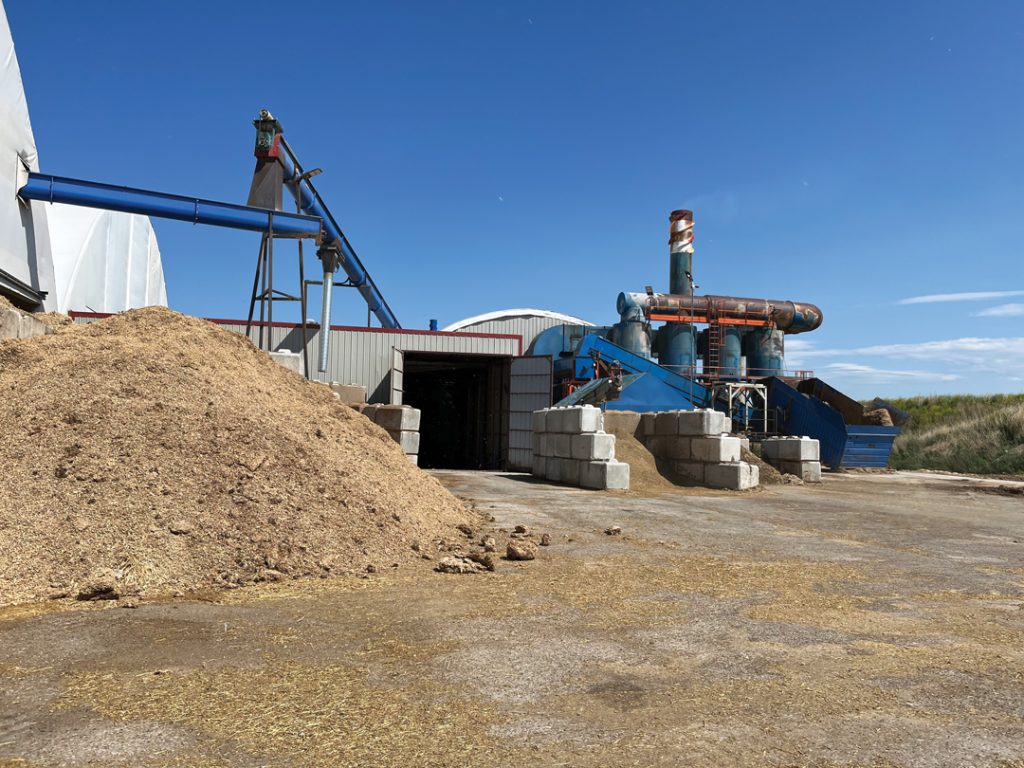 Canada does have small laurels to rest on. At 1.9 per cent total enrolment, Canada is two-tenths above the G20 average for enrolment in post-secondary agriculture programs. This is one percentage point above the U.S. and 1.2 per cent beyond Australia, which ranks last on RBC's list.
The report also notes Canadian research funding severely lags that of countries with comparable farm sectors. It notes: "Public investments represent the largest source of funding
for Canada's agriculture R&D at CAD $450 million in 2020, but private in-house R&D lags by comparison at CAD $108 million. And Canadian firms invest less on average in R&D than foreign firms."
The report does conclude Canada can counter these issues. "However, with the right approach, this acute disadvantage can become a generational advantage," it states. "By increasing the immigration of skilled farmers, encouraging colleges and universities to bring students of all backgrounds into the sector, and investing in innovative solutions to automate and reduce on-farm labour, Canada can lead the world into a new era of low carbon farming."
For their part, Canadian farmers often simply hire foreigners. Many come from nations such as Australia, New Zealand and certain European countries where the scale of operation and machinery correlate with Canadian farming. Farm workers from these countries are also generally inquisitive about Canadian agriculture.
One of those hiring is Taylor Schmitt, a manager at Barr-Ag. The massive hay export operation based near Olds sends 120,000 tonnes of product abroad, including to the Middle East, Asia, the U.S. and across Canada. In hay, it is Canada's leading exporter of non-GMO alfalfa, timothy and mixed hay. It also exports typical Prairie crops. With on-site compression, baling and containerizing, the farm is an all-in-one outfit that requires help 24/7/365. While Barr-Ag exports these products, it imports labour from around the world. Owing to a shortage of qualified locals, foreign workers first arrived here in 2010. The Schmitt family has hired a varying number every year since. With 100 employees, including about 20 seasonal foreign workers, the farm absolutely relies on outside labourers. Without them, "it would be a big hit on our work," said Schmitt.
Alberta's lack of farm help is caused by "very explainable issues," he said. By 20, farm kids often have a ticketed trade and are at work on their own family farm or in the oilpatch. "Most farm kids will take over the family farm and aren't looking to work for other farming organizations," he added.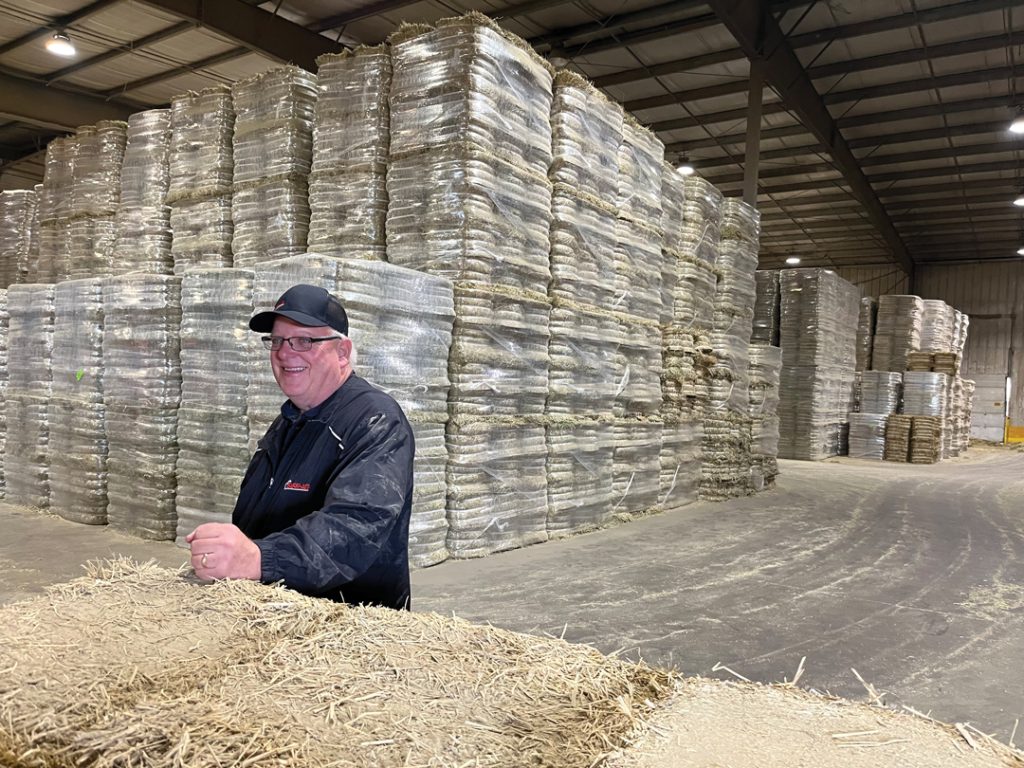 Since 2016, Schmitt has overseen the hiring of domestic and foreign workers. He has employed people from 18 countries that include Egypt, India, New Zealand and Scotland. Some come for a short time, keen to work hard at the farm in summer and ski equally hard in winter. They may stay one or two seasons or become long-term employees.
The foreign marketplace is often easier to navigate, noted Schmitt. "We just don't seem to have a lot of people in our area who are looking to work on a farm. We hire highly qualified Canadian people as well, but with the foreign workers, it's the availability of people who have a farm background. They want to work on a farm, work the long hours and experience the difference in the farm styles. They want to learn something they can take home." Schmitt makes it clear, as well, he primarily hires for skillset. Certain employees may be semi-conversant in English but are fluent in ability.
"We're a multinational, multicultural company; that's what we like," said Schmitt. "We like bringing people in from different cultures who bring different experiences and ways of working and dealing with problems. It's a big identity of ours."
Australia has been a particularly rich hiring ground. As employees tell friends about their Alberta experience, word of mouth within the agriculture community Down Under has slowly but surely created that talent pipeline. Barr-Ag's old farm manager splits time between Alberta and Australia. When he is in Australia, he helps recruit by regularly directing eager Aussies seeking international experience to the hay business in Alberta. 
In some ways, the farm can't afford to stop hiring abroad. Without foreign labour, said Schmitt, the business would have to scale back or be "fighting every step of the way" to remain productive. "We all learn a lot as a company having people from different cultures here with different ideas and ways to grow."
For the perspective of international farm workers, GrainsWest chatted with three now in Canada.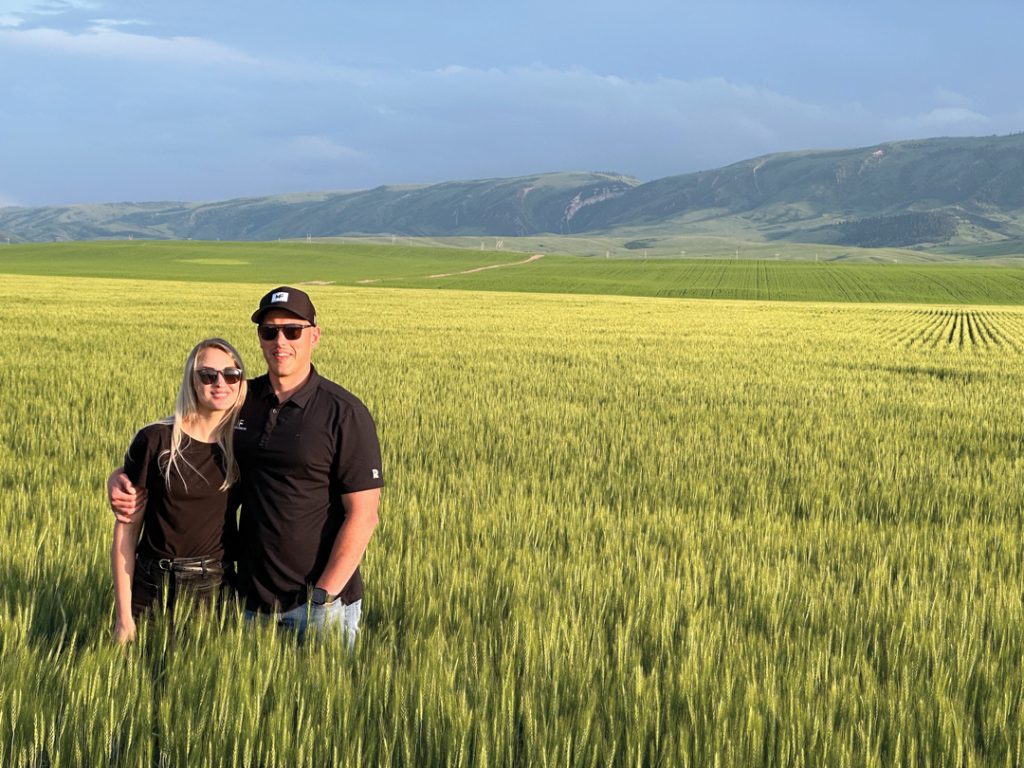 Michael Murphy
Farm manager and director of U.S. operations at Monette Farms, Swift Current, SK
South African Michael Murphy raised his eyebrows at the prospect of work as a Canadian farmhand. In 2015, with no employment lined up, the fresh commerce graduate of Stellenbosch University near Cape Town had a friend who knew a farm manager at Monette Farms near Swift Current, SK. The farm sourced its first international workers more than a decade ago but went heavy into the LMIA world the year of Murphy's graduation.
Despite his initial apprehension, Murphy spoke to the manager, received an offer and was on a plane to Canada the following spring. Not raised on a farm, the Pretoria born Murphy nonetheless loves agriculture and wanted to expand his horizon. "My reason was curiosity," he said. "The plan was originally just for two seasons."
Working 10 months a year, two years became three. When COVID set in, Monette Farms offered him full-time employment. He accepted, and the adventure became a career path.
"You get attached to the people," he said. "It becomes like a second family and you want to keep helping with what you can and grow at the same time. It just stayed interesting for me. The whole culture we have and the vision, it wakes me up every morning and brings me back to the farm."
Murphy is in year seven of life in Canada. His wife Chanri, also South African, joined him in January 2020. Both have PR status and live in Swift Current where Murphy chips away at his MBA when not busy at the farm.
These days, it's Murphy who works to recruit the right foreign workers for Monette Farms. Any given posting receives dozens of responses, though perhaps one applicant in 25 may be suitably skilled and merit an interview. About 30 to 35 per cent of the farm's labour is sourced from a dozen or more countries including Colombia, France and Ukraine.
While the farm's managers aren't afraid to train workers, it's essentially a season-long sprint. There's little time for hand holding, especially as the farm always runs brand new equipment, which is very expensive. "We don't have the resources or time to look over someone's shoulder for a full season until they have gained experience," he said. "We need someone who can catch on quickly."
Murphy is grateful to be employed in western Canadian agriculture, which has given him more opportunity than he ever imagined. He knows others feel the same way. "For the majority of foreigners coming over, they are pretty happy doing whatever, whenever, for however long," he said. "We rely heavily on the work ethic of the foreign labour force."
Though the door is open to all nations, those with the most modern ag sectors tend to field the most qualified candidates. "There's no bias," said Murphy. "It's just whatever we get when we're looking, and we're looking pretty much 365 days a year."
Murphy noted Canada's immigration process and path to gain PR status are straightforward. Workers are keenly aware this benefits them and their families if they are married. "It's an easier immigration system than many other countries," he said.
The Murphys are happy with life in Canada.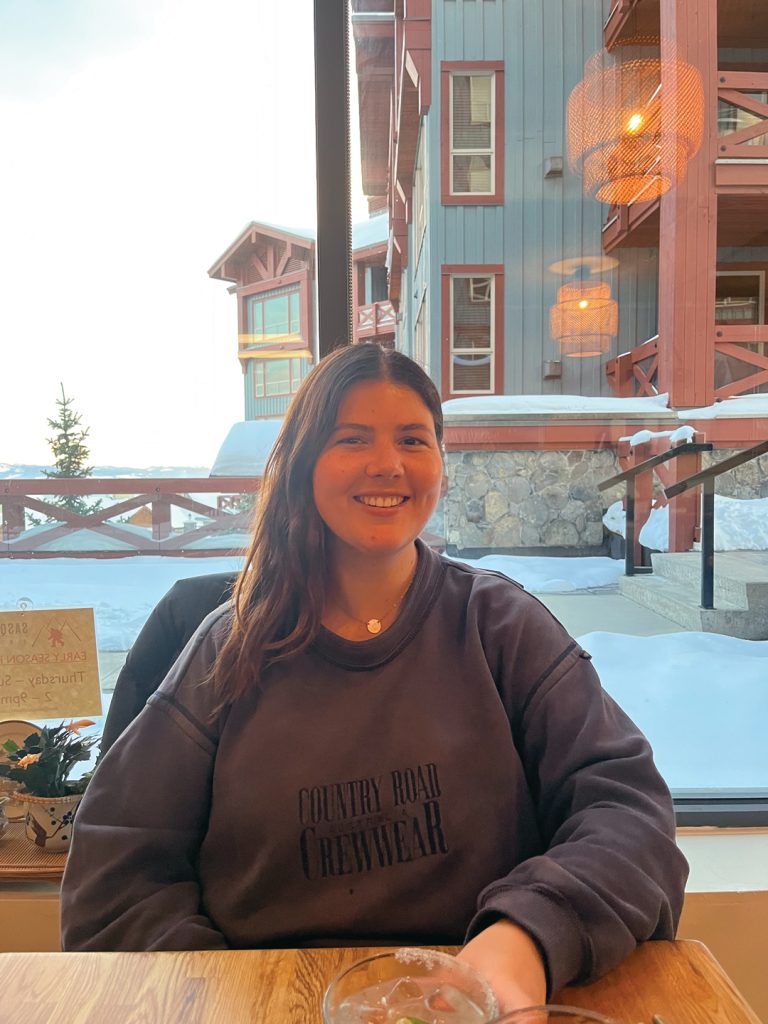 Chloe Hyde
General farm worker at Kobi Land and Cattle Co., Coronation
Aussies such as Chloe Hyde often serve as lifties for a season or two at Canadian ski hills. When she arrived in November 2022, it was straight to Big White Ski Resort near Kelowna, B.C., for a season of work and play on the slopes. The 25-year-old from Ongerup, Western Australia, grew up on a sheep and grain farm and knew she wanted to try her hand at country life in Alberta once she ended her ski job in spring 2023. She contacted International Rural Exchange Canada, a go-between group that links farm managers with eager international workers. Since April, she's been hard at work on a mixed farm in southeastern Alberta.
It seems Prairie farming is in her genes. Her parents Greg and Sarah met in 1992 while working at neighbouring Manitoba farms. Hyde's own experience has been positive. "It's been good, it's been different," she said. "We don't have cows, so coming during calving was new, but good; very intense. Right now, we're haying, which we also don't do at home."
Her days are varied. Like most farm hands, she has already done nearly every farm task imaginable. "We're still bottle feeding a few calves, so in the morning I feed what's left and clean up," she said. "I'll be getting out on the rake and raking all the swaths. You never know what's going to happen in a day on a farm."
This farm has a diverse crew, too—a 75-year-old retiree, a Swiss farm worker, the farmer's son and his friend. Hyde appreciates the eclectic group. 
In part, she took the job to better understand Canada's farming systems. "I thought how cool it would be to go and experience a farm somewhere else and see how they do it differently or better," she said.
Hyde herself knows it's hard to find good help. Her parents hired a Canadian this past year to work as a farmhand at their operation due to shortages of local Australian workers. "It's a challenge with any farmer, really," admitted Hyde. Her days are on average nine to 10 hours, but usually 12 to 14 during busier times. "Help is hard to find. Not just people that can work, but people who are happy to put in hard work and long hours and stay for longer than a few weeks or a month. I was raised working on the farm. Long hours are just something I know. It comes hand in hand with running a farm."
Following her stint as a farmhand, she intends to head back to the ski hills around November but would like to work at the farm for a second season and maximize her two-year work visa. Beyond this, she has no plans.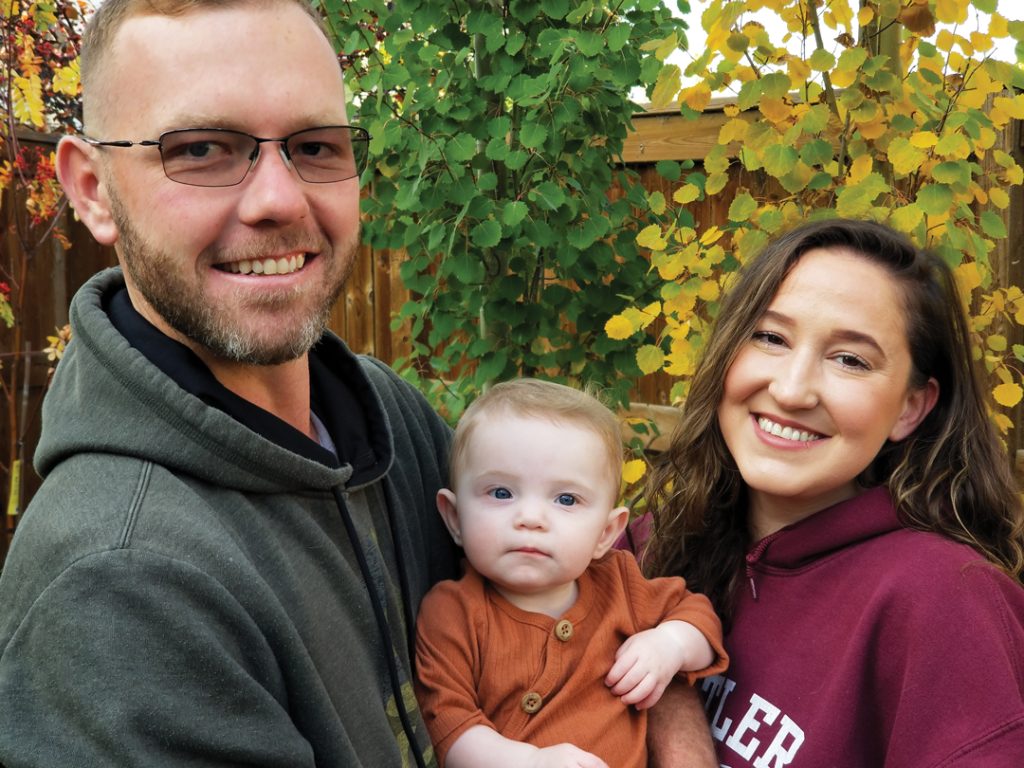 Bradley Withers
Field supervisor and mechanic at Barr-Ag, Olds
Having worked as a heavy duty mechanic in Inverell, New South Wales, Australia, for eight years, Bradley Withers needed a change. Born and raised on a mixed farm, he was keen to try farm life in another country. A contact in Australia connected him to Barr-Ag. He was promptly hired and travelled to Alberta in 2017. With six months of hard work complete and lots of great memories, he returned home.
"I would recommend it to everyone," he said fondly of his first year in Canada. "The experience, all the fun I had, the new people I met. It was quite the time. It was worth it every day."
The adventure proved exciting enough he returned for a victory lap the next year. The Schmitt family liked what they saw and made Withers a full-time job offer at the end of his second stint. He was stunned. "I really wasn't expecting it because I always intended to return to Australia, but being a heavy diesel mechanic plays a fair role in the farming industry," he said. Coming from Australia, a production ag powerhouse like Canada, the learning curve was somewhat less steep for him than others.
"Growing up we had all the old equipment, so just to learn and understand the newer technology and tractors was a little bit of an adjustment period," he said. "But it's very simple and straightforward—as soon as you are shown how to do it, it moves pretty fluidly from there."
Over the years Withers has gone from general farmhand to field supervisor. He primarily runs and organizes work crews in the field or in one of Barr-Ag's massive sheds where hay and grain are prepared for overseas shipping. In the wintertime he returns to his mechanic roots and preps machinery for spring seeding. "I enjoy it because it gives me a variety of things. I'm not just doing the same thing every day," he said.
Withers has experienced the labour shortage issue from the Canadian side. "We've had troubles here with Barr-Ag not being able to get enough people when we needed them," he said. "It can be a struggle at times."
Over six years Withers has carved out a full life in Canada. He has PR status, is common law married to wife Kayla McFarlane, a Canadian, and the couple are raising their young daughter Holland. His own boss calls him "integral" to Barr-Ag's business. 
The outgoing Australian encourages anyone to try working abroad at a farm, whether in Canada or elsewhere. For him, coming to Canada solo was the beginning of an adventure of a lifetime. "It takes no time at all to create a group of friends," he said. "If anyone is worried about that, I wouldn't be. It doesn't take long at all to get a routine and system going once you get here."
For now, the Withers have no plans to leave Canada.