FIRE ALARM
BY KAITLIN PACKER BERGER • PHOTOS COURTESY OF GOVERNMENT OF ALBERTA
Summer wildfires are commonplace in Alberta, but this year's unusually warm, dry spring produced an especially difficult season. Fires sprung up earlier than usual and grew larger and burned longer than normal. They also encroached on farmland where they destroyed pastures and fences and depleted food and water sources for livestock as farmers scrambled to repair the damage.
The Alberta Emergency Management Agency co-ordinates the activities of organizations that respond to emergencies and disasters. The organization reported extreme wildfire danger levels across the province during July with a record amount of area burned for the year by late that month. Central and northern forested areas were most greatly affected.
In spring of this year, a large wildfire tore through the Peace River Forest Area. Dubbed Fire 18, it started on May 5 and burned for approximately six weeks. While there were other fires in the region, this one was unusual because it jumped the Peace River from Saddle Hills County to Clear Hills County and burned along the waterway where there are many grazing leases. "We've probably had fires as large as this in other years, however, they've been away from the populated area more than this one," said Allan Rowe, chief administrative officer of Clear Hills County.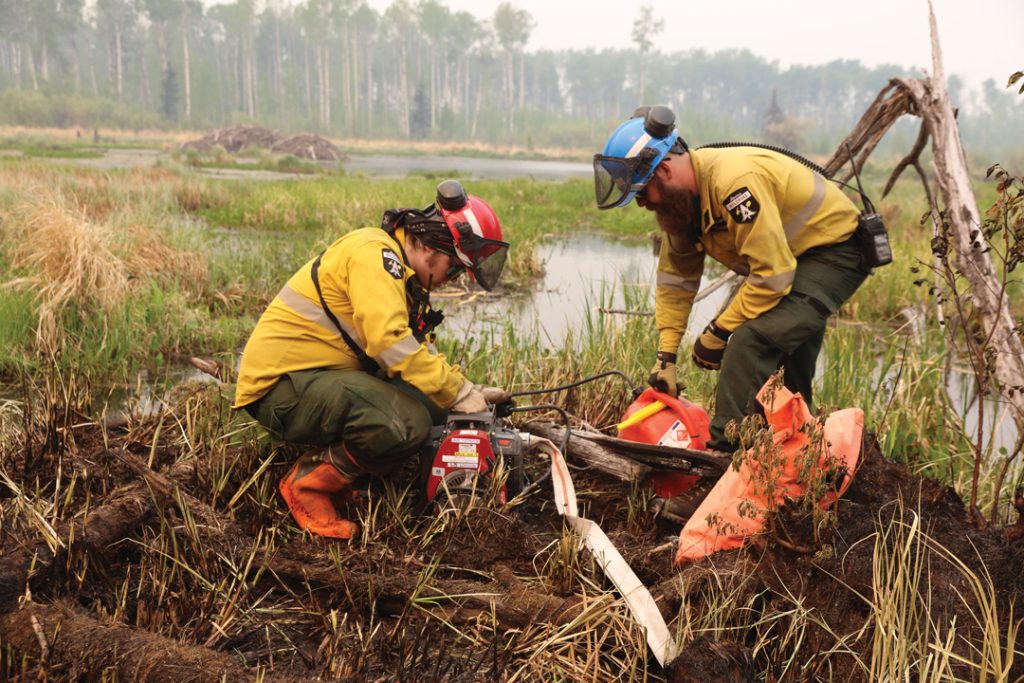 FARM IN FLAMES
Dick Hale has farmed for more than 50 years with his brother Jody near Worsley, a hamlet located in Clear Hills County. With the help of their children, the brothers operate Hale Farms, a 10,000-acre mixed operation that produces field crops, hay and cattle. "This is the worst I've ever seen in my lifetime," said Hale. While he has experienced three or four fires in his area in the past, this one most affected his farm.
"Some of the guys who were before us, they talk about a fire in 1949 that swept across this area," said Hale. "The thing then, there was more bush." With more farmland now, wildfires usually stop when they reach a clearing. This year was an exception with the wildfire burning across pastures, including some of Hale's grazing leases along the Peace River. As it was early in the season, there wasn't enough green growth to stop its progress. "Even the green grass, it seemed like it would burn, it was so dry," added Hale. Many dead poplar trees along the river also served as a fuel source for the fire. "The wind was blowing, and the sparks were hot, and the grass was just tinder dry. Some of the pastures burned completely off, and a lot of the bush land did."
Hale said the fire was difficult to control and unpredictable. It jumped the river, swept along its banks and travelled 24 kilometres in one day. "It would get in the peat moss ground and the willow ground, just burning the ground like a smouldering cigar. Then the wind would get up and here it would take off again. It just seemed really hard to keep it under control."
Two of Hale's grazing leases along the Peace River were affected. Pasture, trees and fenceposts were burned and fence wire damaged. "We had to try to repair all the fences so we could get our cattle out to pasture," said Hale. While they made repairs, they kept the cattle penned. This used up feed that's become more valuable because the dry spring has decreased its production.
While materials to build new fences are costly, Hale said the labour was the biggest expense for his farm because they tried to fix what remained. Much of the work involved the removal of trees that had burned and fallen on the fence lines. "That took us a lot of days with a lot of guys trying to get [those] fences so we could even use [them]," he said. Some of the burned fences are still effective, but Hale predicts they'll need to be replaced eventually because the wire is now rusty.
By July, the Hales had repaired enough fencing to turn their cattle out to graze. "We may have more foot troubles, especially in breeding season," predicted Hale. He believes the cattle may be at risk of injury on the sharp, burned trees. "You can see animals stepping on them and poking themselves."
Another concern after the fire was thirsty cattle and empty dugouts. When the fire hit in the spring, they had already run low due to lack of runoff. Some were completely emptied as firefighters dipped into them with helicopter water buckets, using them as a local water source to fight the fires. Soon after the fire, government water trucks refilled a number of those dugouts.
The effects of the fire have not all been negative. There were a lot of dead poplars, rose bushes and deadfall along the river that had previously prevented the cattle from grazing in certain places. With the fire hazard gone, there's more area for the cattle to graze and the burn encouraged the growth of wild plants they like to eat.
Hale, who is also a pastor at the Worsley Baptist Church, said it was especially encouraging to see the community act as one amid the disaster. Many donated their time, trucks, sprayers and water pumps or supported the families whose homes burned. "It was quite an amazing thing to see people pulling together," said Hale. "I was thankful for that. It just seemed like there was a real demonstration of caring for each other and that was pretty amazing."
Hale said his neighbours worked hard to protect farms and property in the community, which supported the diligence of firefighters. Community members made fire guards by back burning and discing and hosing down the roofs of houses. Some used their spray trucks to transport water for the firefighting effort. "One night, it was pretty hot right where those guys were spraying water, almost more than you could stand, but they saved that house," said Hale.
It can be a hard line to draw between being safe and wanting to protect property and help others. While there was no mandatory evacuation in Clear Hills County, a number of people did choose to leave while others stayed. "I don't know of any person who lost their lives around here," said Hale. "We're very thankful to the Lord for that."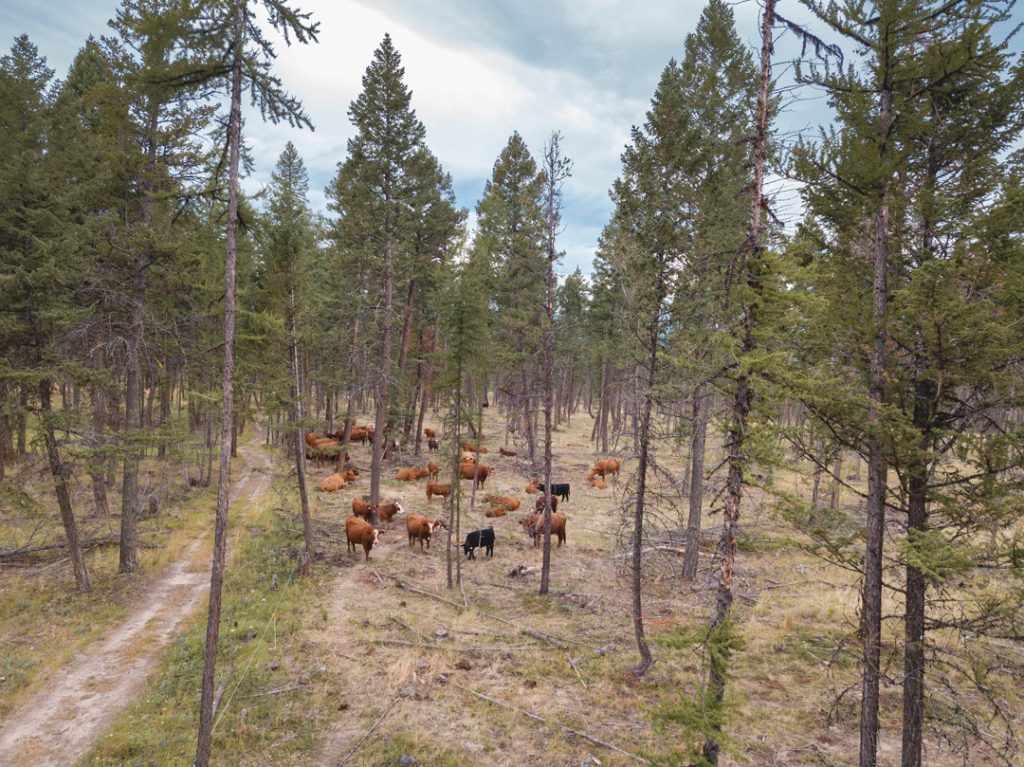 SAFETY TAKES PRIORITY
The top priority in every wildfire emergency should be people's safety, said Jody Wacowich, executive director of AgSafe Alberta, the province's farm and ranch safety association. "We want to make sure we get the farm family and employees and whoever else out safely first."
The AgSafe website (agsafe.ab.ca) is a practical resource for wildfire emergency planning information. Wacowich hopes it will spur valuable conversation on farms in at-risk areas. She emphasized preparation for such an emergency doesn't have to look like an elementary school fire drill. "Maybe we're sitting around a coffee table one morning," she said. In this way, the entire farm team can comfortably contribute and improve the plan. Who is in charge in an emergency? Who has first aid training? Where should people evacuate if there is a choice? Because neighbours may have their own hands full when an entire region is threatened by fire, who can the farmer call to assist with evacuation of livestock?
Sarah Linde, extension co-ordinator of Alberta Farm Animal Care, had similar advice for livestock farmers. "I think the biggest thing is having that plan, knowing how you would potentially execute it and then being able to think through the scenarios of an evacuation, a shelter in place, an evacuation without your animals where you might leave them behind and what those scenarios would look like."
Knowing where to take animals in the case of evacuation is crucial. This may be the local agricultural society, event centre or rodeo grounds. Livestock farmers also need adequate trailer space for their animals and a transportation plan. Once evacuated, they must also ensure the animals are given water and feed sources that don't require power, which may not be available.
It is also necessary to have a protocol in place in the event a farmer is forced to leave their livestock and evacuate. This should include opening gates to allow livestock to move away from the fire. Each animal should also have proper identification on them to simplify the process when it's time to safely round them up and return them to the farm. "Write your phone number on your horse's back or on your cows if possible and make sure you bring your paperwork with you to identify those animals," said Linde. Such emergency planning largely relies on the judgment of each farmer. "You know your animals. You know your property," she added.
Wildfires can be unpredictable, so it's important to have multiple contingencies in place. Linde said her organization learned from the fires that occurred in the spring. Staff identified certain gaps in the resources necessary to respond to fire outbreaks. For example, evacuation centres are set up for cattle and horses, but proper fencing is not always available for goats. "If the producers and we as an industry can be more prepared in the future, we should be able to respond better than we have," said Linde.
INSURANCE RECOMMENDED
Of course, no amount of planning and preparation can stop a wildfire from encroaching upon farms in fire-prone areas. Farmers should consider purchasing a comprehensive insurance plan. "In terms of the long-term outcomes, I would say insurance is kind of a no-brainer for most people," said Jesse Cole, manager of insurance products and product innovation at Agriculture Financial Services Corporation (AFSC).
AFSC partners with the provincial and federal governments to design and deliver farm insurance products. "The amount that the federal and provincial governments are contributing makes it a pretty attractive option in terms of cost," said Cole. With available government subsidization, farmers need to pay only about 40 per cent of the premium.
Because wildfire season started early this year, Cole said there has been a slightly higher number of related claims than typical. Though farm insurance premiums will increase in future due to drought related payouts over the last three years, the relatively small amount of wildfire damage will not appreciably add to the uptick.
The good news is most farmers are well covered for wildfire damage in terms of commodity loss, whether it's through production-based insurance products or pasture insurance. "It's a pretty well-covered peril, which is great because it affects the financial stability and health of the farms that are affected by it," said Cole.
The effects of early season fires on hay and pastureland were major concerns in 2023. Hay is covered by a production-based insurance product and pasture is covered for drought and extreme heat. "It's focused on a lack of moisture, and it uses weather stations to measure how much rainfall there was in that area," said Cole. "And if you're below the long-term average, it pays out."
AFSC also administers the AgriRecovery and AgriStability programs. If deemed necessary by the provincial and federal governments, the AgriRecovery program may cover extraordinary costs due to wildfire such as the repair of burned fencelines and the cost to transport animals and feed. A fire component had not been announced as of press time, and because fire damage has been limited, it is unlikely to be triggered. The AgriStability program assists farmers with margin declines of greater than 30 per cent. It was reopened by the Government of Alberta and Agriculture and Agri-Food Canada to help those affected by this year's wildfires. The registration deadline was additionally extended until September 29.
AFSC also relaxed the recommended seeding dates for those with annual crop insurance products, anticipating delayed seeding due to evacuation. Usually, farmers are expected to report a fire claim within 14 days, but AFSC doubled the window this year. The organization also removed the need to present proof of cause from a fire department as wildfires were an obvious factor this year. "Just making it easier for people to actually submit claims and go through the process was the focus," said Cole.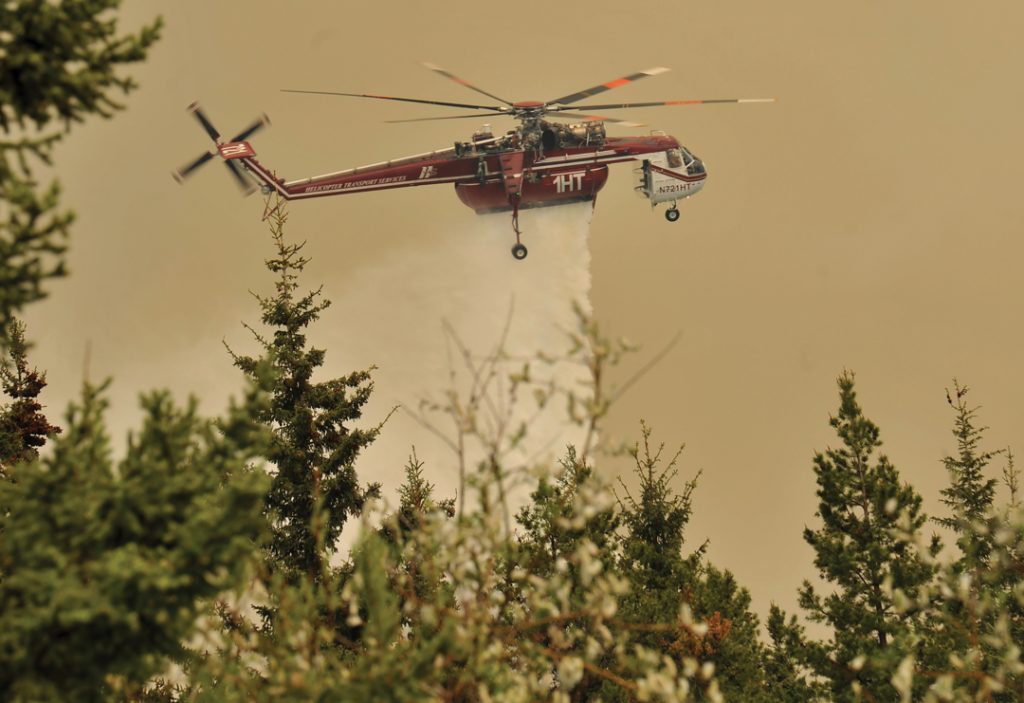 A WAY FORWARD
Given the serious impact of wildfires on Alberta farms this year, the undeniable call to action is to find ways to reduce their negative impact. "We've lost even more land this year than any of the previous years," said Kevin Boon, general manager of the British Columbia Cattlemen's Association. From observing wildfires in 2017, his organization and the British Columbia Wildfire Service have learned a great deal about managing the threat of fire. The research projects the two organizations subsequently launched may prove useful models as Alberta works to reduce and manage its own wildfire risk in the future.
The Wildfire Service discovered fire spreads less easily in areas where fine fuels have been reduced by cattle grazing. Historically, bison served this function. Their decline in combination with increased tree growth and fire suppression unintentionally accumulated combustible plant material on the landscape. "Just getting the cattle in there for that period takes out some of those trees, branches, shrubs," said Boon. They also reduce this vegetation by trampling it with their feet. Grazing can also help stimulate the growth of grass, keeping it green and less susceptible to burning.
This realization inspired the Wildfire Risk Reduction Program, a pilot project designed to test wildfire reduction by grazing cattle in designated areas around Kelowna, Summerland, Peachland and Cranbrook. "If this works in the big picture out on the range, why wouldn't this work practically to graze around major infrastructure?" said Boon.
With the support from the Province of British Columbia, the Cattlemen's Association is conducting a five-year evaluation to determine the effects of grazing on the growth of grass and additional plant species. The project will also assess its effects on invasive plant species and the amount of carbon it may sequester. Researchers are creating a model to assess the degree to which grazing reduces fire risk. "It's been really exciting and fun, but the biggest thing is it created a level where we had to bring together a community and a lot of industry," said Boon.
The 2017 wildfires also initiated the launch of B.C.'s rancher liaison program. It sees permits issued to a select number of trained ranchers that allow them to stay and help in an affected area during an evacuation order. These ranchers work with the British Columbia Wildfire Service to move cattle, maintain irrigation operations, put out fires and keep the team informed. "It's become extremely beneficial in that those ranchers not only know the people, they know the land, and they're able to bring information back to the incident commander on what are the conditions on the ground," said Boon.
Broadly, given the scope and seriousness of the 2023 wildfire season, greater efforts must be made to better prevent and mitigate fires. In the immediate aftermath, farmers such as Dick Hale reassess their vulnerability. "When something like this comes along, we realize how limited we are," he said. "We protect [our farms] and try to be safe and secure as we can, but we're pretty limited. Fires show you that in a hurry."