POWER PLAY
RISING ENERGY COSTS CAUSE CONCERN FOR ALBERTA FARMERS
BY NATALIE NOBLE
With Alberta's carbon levy increase to $30 per tonne from $20 at the start of this year, energy-related operating costs on the farm, particularly grain drying, are likely to negatively affect the farm bottom line. Carbon levy rate increases on propane from 3.08 cents per litre in 2017 to 4.62 cents per litre in 2018, and on natural gas from $1.011 per gigajoule to $1.517 per gigajoule over the year, indicate farm heating and grain drying costs are on the rise.
Exceptionally wet weather in 2017 in some regions of the province had farmers drying more and wetter grain, thus spending more money to do so. Having gone through the two heaviest drying years he's experienced, Minburn County farmer and Alberta Wheat Commission (AWC) region four representative Kendall Freed suggested that in exchange for farmers not being paid in full for the carbon sequestered by their crops, the carbon levy charged on propane and natural gas used for grain drying be dropped.
"In most years, drying grain is unnecessary in my region. Since as far back as the 1980s, I've never had to dry even close to the 90 per cent I did in 2016 and 2017. I'm drying a significantly higher volume, and a wetter volume, too. I had canola that had to be dried down from a moisture level of 24. With all the moisture we've had over the last two years, this may not be uncommon going forward," he said.
Many grain dryers used in Alberta operate on propane, as existing natural gas lines often can't accommodate the volume of fuel required. In order to switch to natural gas, which is cheaper, farmers must incur the expense of having new lines trenched in. A representative from Freed's local gas co-op quoted him a price of $82,000 to have a separate line run into his farm and noted that it would not qualify for government funding at this time.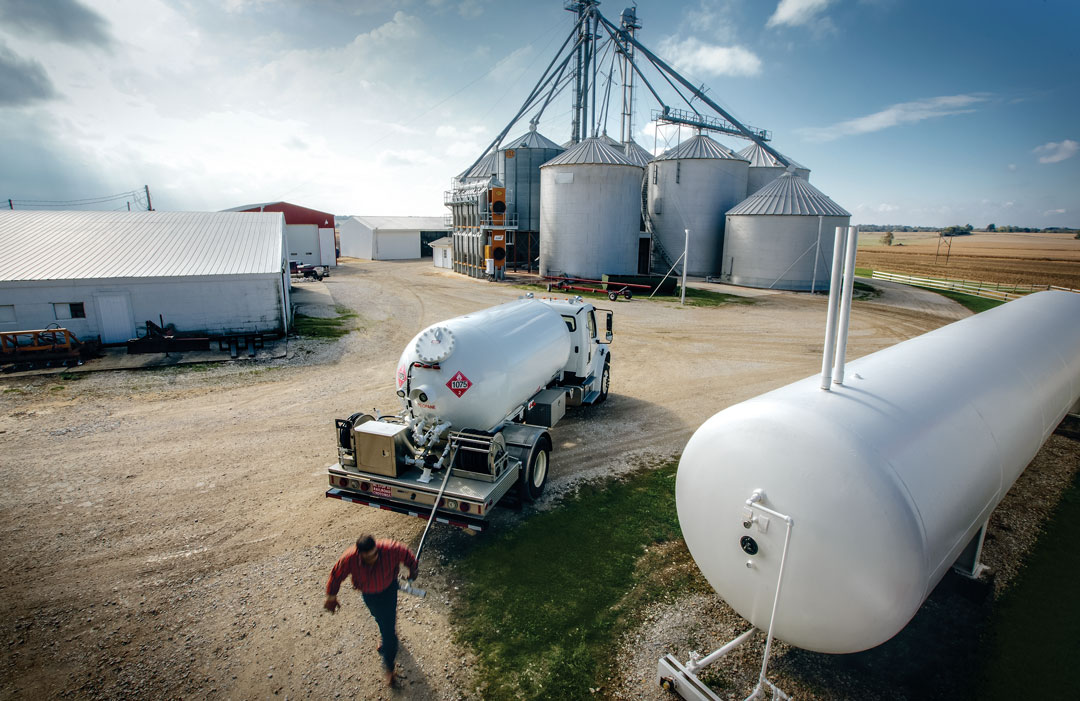 The carbon levy on propane and natural gas used for grain drying is not rebated back to producers, and Freed noted that GST is charged on the levy. Additionally, the average annual West Texas Intermediate crude price was $43.15 in 2016 and jumped to $50.25 in 2017, while the price of propane climbed 40 per cent over one year. Freed noted that the same fill-up of his 1,000-gallon grain dryer propane tank in the fall of 2016 cost $1,173, while this jumped to $2,032 in 2017, a 73 per cent difference.
While the cost of grain drying has been a glaring example of an increasing energy cost on his farm, half of Freed's total farm expenses are based on energy, fertilizer and pesticides. Energy costs alone make up 11 per cent of his total farm expenses and go toward soil preparation, planting, fertilizing, pest control, harvesting, grain drying, trucking and the heating and lighting of farm buildings.
Freed emphasized that energy is just part of rising farm costs and that while farmers can't pass on increases in their tax load, service and input suppliers can pass theirs on to farmers. His export rail costs have risen 40 per cent over five years, for example. Oil prices have simultaneously decreased by 46 per cent, demonstrating the difficulty farmers face in predicting such indirect fuel-related costs based simply on the price of oil, which seems to be largely unrelated. He also said his taxes are increasing, and believes further changes in tax legislation will push them higher.
At the AWC fall 2017 region four meeting, Freed motioned that the organization request the Alberta government remove the carbon levy on propane and natural gas used for grain drying, and at January's AWC annual general meeting, the motion was accepted and passed. He has also been in contact with his local MLA on this issue and encourages other farmers to do the same.
GOVERNMENT SUPPORT
Alberta Agriculture and Forestry (AF) has offered the On-Farm Energy Management (OFEM) program since the launch of Growing Forward  in 2009, through Growing Forward 2  and now as part of its successor program, the Canadian Agricultural Partnership, which launches in April. "There has been steady growth in participation over the years," said Jason Price, AF energy programs project manager. "In 2009, we had four applicants. Last year, we had 400-plus."
The guiding principle of the OFEM program is to assist farmers in reducing energy consumption, facilitating innovation that will improve energy efficiency. The program covers all farm types and whatever energy-using systems they happen to use.
Price said the exemption from the carbon levy for marked fuel has been a great relief to livestock and crop operations. However, farmers in energy-intensive sub-sectors, including greenhouse operators, intensive livestock operations and irrigation farms, have voiced concerns. They worry about projected increases in production costs associated with the carbon levy on other energy sources and their inability to pass costs on to their markets.
"These sub-sectors have a great opportunity to reduce energy consumption and mitigate greenhouse gas emissions," Price said. "Grants like OFEM assist producers with realizing energy and cost savings as they transition to a lower-carbon world."
Mike Hittinger, Growing Forward  extension specialist, said that while it's not currently for everyone, solar energy technology is gaining momentum in Alberta. The On-Farm Solar Photovoltaics program is accepting applications for partial funding of on-farm, grid-tied solar photovoltaic systems.
He added that one of the simplest ways to increase energy efficiency on the farm is to go after "low-hanging fruit." This includes retrofitting with higher-efficiency lights, windows, furnaces and hot water heaters as well as insulating buildings.
Hittinger recommended that farmers visit the Growing Forward 2  website and subscribe to receive program announcements regarding funding that they may be eligible for. In addition, they can view a funding list on the site to determine if any of their self-directed initiatives fit funding criteria.
The Alberta Farm Fuel Benefit saves farmers nine cents per litre on marked diesel and gasoline. No carbon levy is charged on these fuels. The levy is charged on propane and natural gas used for grain drying. However, for eligible farmers located outside the boundaries of a natural gas distributor, the Remote
Area Heating Allowance Program rebates 25 per cent of the cost of propane used for grain drying, up to a maximum of 18,800 litres. Unfortunately, Freed said, the combination of all these rebates amounts to less than one per cent in savings of his total farm expenses.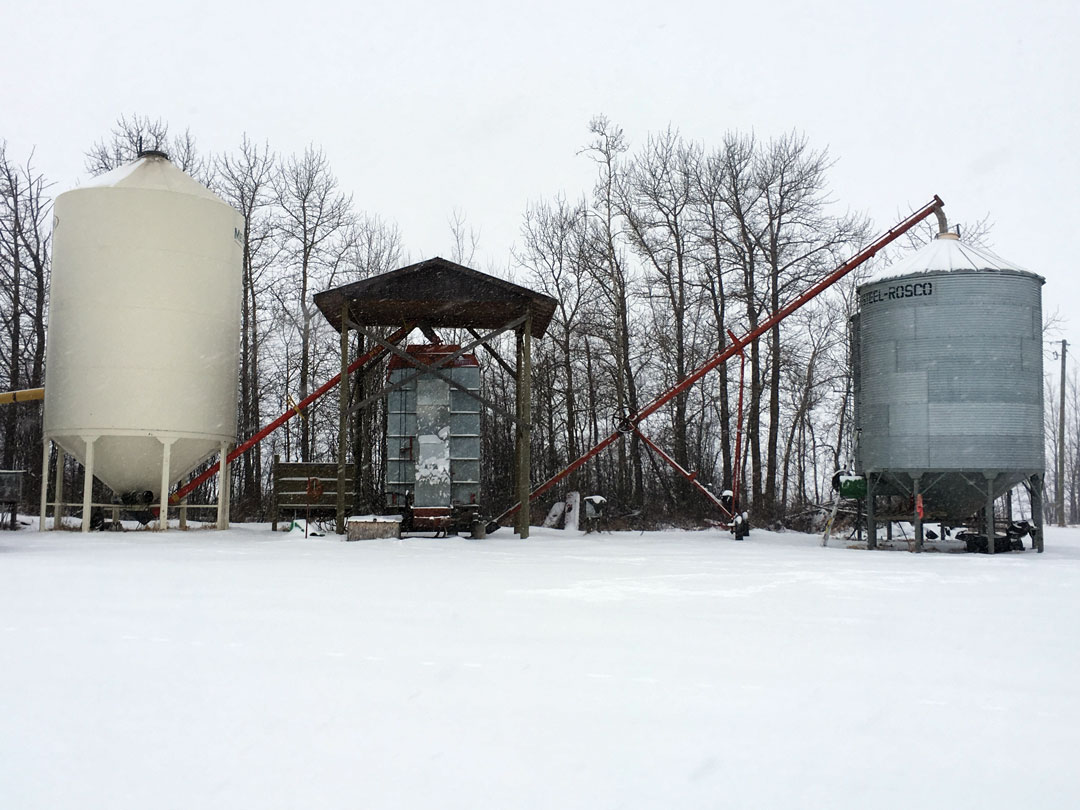 FARMERS WILL ALWAYS INNOVATE
Westlock County farmer Richard Geiger has a knack for modifying farm practices to improve efficiency and save money, and has received Growing Forward  funding for two farm-improvement projects. Over the years, he has upgraded his expanding mixed-farming operation. Likely his biggest cost-reduction innovation is his coal-fired grain dryer. While not for everyone, especially in light of Alberta's commitment to lowering the province's carbon footprint, Geiger's ingenuity illustrates the continuous innovation farmers are capable of in the face of financial challenges.
During the particularly cold fall of 2004, Geiger's propane bill for grain drying alone was approximately $7,000. Years prior, he had switched his home- and water-heating systems from propane to coal at a substantial saving. So he decided to design a coal-powered grain-drying system.
In simplified terms, Geiger's system operates on coal or propane and uses a one-million-BTU vertical tube boiler, circulating pumps and a 900,000-BTU radiator to run a Vertec 5600 grain dryer. The system's boiler is also used to heat Geiger's home and water as well as his 5,500-square-foot shop. He purchases his coal at two nearby mines, hauling it himself.
Up until the implementation of the carbon levy, his new system brought down his combined annual grain drying and heating costs to between $2,000 and $4,000. But between the carbon levy increases and excessively wet conditions over the last two years, Geiger's annual coal costs alone are in the $7,000 to $8,000 range. However, while drying costs are typically 20 to 40 cents per bushel,
Geiger dries canola down 10 points for about 8.5 cents per bushel, and grains six points for about six cents. While coal is more cost effective than propane, he also notes that it poses less fire risk. Also, the heat exchanger produces no moisture when burning coal and allows slow drying that preserves grain quality.
At the end of 2017, Geiger said one tonne of coal cost $45 plus $38 for the carbon levy, for a total of $83. "I burn a tonne of coal a day, which works out to about $3.58 per hour. Without the carbon levy, my coal costs would be brought down to $1.87 per hour."
Asked about his concerns surrounding Alberta's phasing out of coal, Geiger said that because propane is also carbon-levied, using coal is still his cheapest option. He is keeping his fingers crossed for changes in fuel-tax legislation.