FEED GRAIN FACTORS
EXPORT OPPORTUNITIES AND A STABLE BEEF SECTOR ADD UP
TO OPPORTUNITY
BY NATALIE NOBLE
The rising prices and growing export opportunities of the 2017/18 crop year demonstrated that there is excellent potential for feed barley growers this season. Feed wheat also saw an increase, and the price spread between the two narrowed, holding feed barley steady and preventing its escalation.
Early 2018 grain pricing saw feed barley in Alberta at $220 to $225 per tonne, up from $136 in January 2017. Feed wheat was up to between $219 and $225 per tonne from approximately $153 the previous year.
Influencing factors such as the improved yield of the 2017 harvest over the previous year, increasing demand through export markets, availability of both feed wheat and U.S. corn and the lower Canadian dollar have resulted in the price of feed barley rising closer to that of malt barley.
Alberta Barley director Jeff Nielsen said feed barley prices at the end of 2017 had risen at least a dollar per bushel since the previous spring, due in large part to the high volume of wheat in the previous year's system as well as a large amount of Fusarium head blight/DON-affected grains moving from Saskatchewan into Alberta as feed.
"In Alberta, we had a lot of feed-quality grains as well due to the wet harvest in 2016. This year, we saw a lot better quality wheat and it's going into the export marketplace. It's brought the price of both feed barley and wheat up," he said. He added that barley growers produced a better crop in 2017 despite acres being a little below average, resulting in the diminished availability of feed-quality barley, which also acted to drive prices up.
While domestic maltsters were oversupplied for the 2017/18 crop year, the better-quality malting barley produced in 2017 spurred increased exports, particularly to China, as poor weather in Australia produced a below-average malt barley crop. "Because of this, the Chinese are looking at us for more malting barley, and our exports to China are up $1.2 million," Nielsen said. "They're also taking more feed barley this year, which ups our domestic price."
Striking a trade agreement with China could open major opportunities for western Canadian ag sectors. Wrapping up major ongoing international trade negotiations would also increase opportunity for Canada's livestock sector and thus boost demand for feed grain.
The lower Canadian dollar has also supported export opportunities for Canadian ag, including in the livestock sector.
Calf-run numbers were strong last fall, and with hog prices in Alberta determined by a U.S. pricing formula that is converted to Canadian dollars, the low Canadian currency is beneficial to hog farmers.
Stability in the cattle industry has stabilized the feed-grain market. "Not a lot of feed cattle went south in the fall of 2017. We do have a strong basis right now, and cattle that are being fed are making money. I believe feedlots are going to buy back in," said Alberta Beef Producers chair Charlie Christie.
Christie expects the feed barley market to hold steady into 2018, especially with the abundance of corn available for Alberta's beef producers to purchase and freight from the United States. "That's what's holding the barley price where it is right now. If we couldn't get corn in the province, feed barley would take off."
Barley is nutritionally well suited to cattle. "The cows utilize it well, so cow-calf operators use it to supplement their roughage," Christie said. "If you're finishing cattle, you need barley in the ration. It creates a lighter-coloured marbling that is sought after, while the fat in corn-fed beef is more of a yellow tone. Barley-fed beef is unique that way."
Because barley is usually in abundant supply on the Prairies, it is a go-to feed source as it keeps freight costs down. Wheat, though it can cause digestive issues, is a good feed option, but its typically higher price makes barley more economical. "A mixture of the two is ideal," Christie said. "There are some lower-protein wheats finding their way into the feed system and holding the price of barley down a little bit, too."
On his mixed farm west of Trochu, Christie and his wife Rochelle run 400 cow-calf pairs, 800 to 1,000 finishers, 1,500 acres of mixed grain and 450 acres of tame hay. "I typically make my feed decisions based initially on what I have for commodities," Christie said. "I grow most of my own feed, all my roughages and try to grow most of my own barley. So, if I have lots of barley, I might buy a few more cattle to feed than the calves I already have."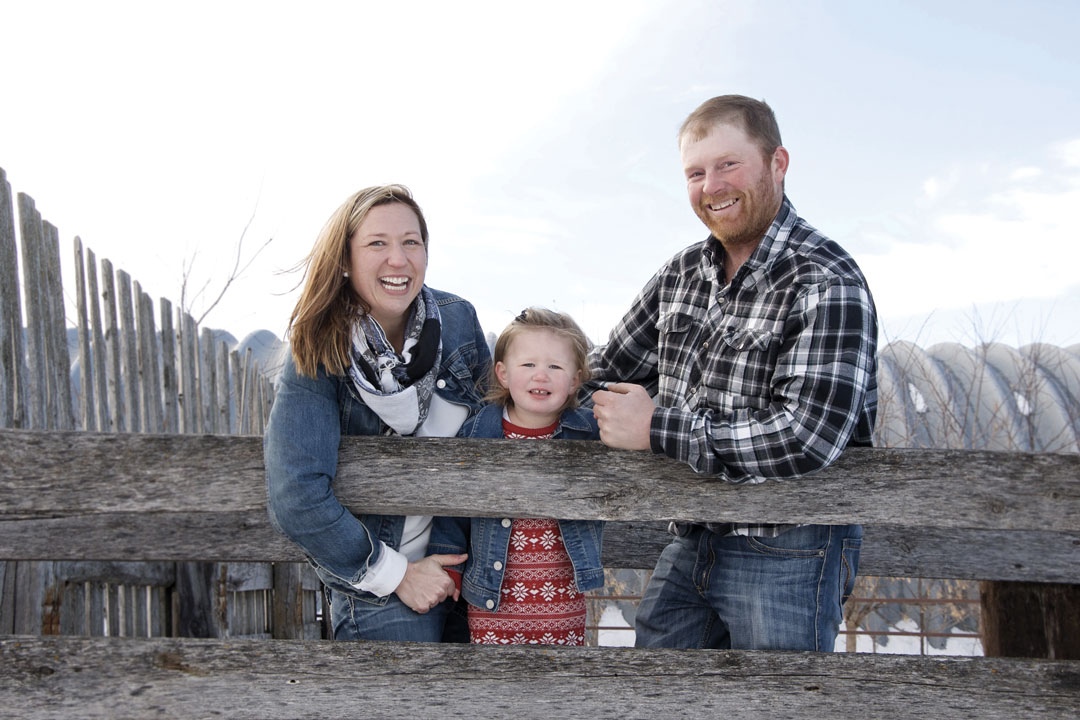 SaskBarley vice-chair and feed barley committee chair Brent Johnson, seen here with his wife Jenna and daughter Briar, predicted good feed barley prices well into 2018.
In determining their feed rations, larger feedlots consider supply, pricing and quality. "Feedlots are fairly sophisticated, to the point where they'll pay according to weight, and somewhat protein," Christie said. He has observed that very few producers buy their feed pre-mixed, generally purchasing large volumes of barley through brokers. Alternatively, the barley grower often comes directly to them.
Early 2017 was also profitable for the hog industry in Alberta; however, feed costs rose during the second half of the year. According to Lennard Vanderschee, who operates a 400-sow farrow-to-finish hog operation west of Blackfalds with his wife, Colleen, this resulted in an approximate loss of $10 per hog for his operation by the end of the year.
The Vanderschees mill their own feed, purchasing the wheat, barley and faba beans used in their feed mix from neighbouring farmers at the price paid by local feed mills. "We have a nutritionist least-cost our rations, and as a result of the tightening spread between barley and wheat over this year, we saw our rations move from 70 per cent barley down to 25 per cent, with wheat moving up in the rations," Vanderschee said.
And while barley stakeholders have seen growth this crop year in the feed barley market, they hope to see a rebound in barley acres. "Alberta Barley has some really ambitious goals in place to increase the acres and yield of barley and also to increase the markets for barley," Nielsen said.
In January, Brent Johnson, SaskBarley vice-chair and feed barley committee chair, said the feed barley market in Saskatchewan was also strong at the start of 2018. "Right now, we have some really good feed prices, possibly holding for the next six months, or even up until the new crop comes off," he said.
Johnson also said the success of the 2018/19 crop year would depend on factors such as corn prices, yields and acres seeded. "It's difficult to say what the feed barley market might look like a year out from now," he said. "But three to five years from now, with the Barley Council of Canada working to get a steady feed market established in China, there could be a stronger baseline for feed to work off of. And as we work toward more research, it's my hope that in five to 10 years, we might be able to find increased uses for barley, increased efficiency by feeding it and a consistently higher value for feed so producers can get a good return on it."