7.8 BILLION PANDEMIC RESPONSES
STORY AND PHOTOS BY SARAH HOFFMANN
May 5, 2020
One of the non-COVID-19 challenges we faced on our farm this spring is dealing with flax straw—a tenacious material that needs to be removed from the field before seeding. We had dropped it in windrows behind the combine last fall but it blew all over the field in a windstorm before the baler arrived. We finally accumulated it into bunches suitable for burning this spring, but then we faced dry conditions, strong winds and a county fire restriction that prevented us from burning.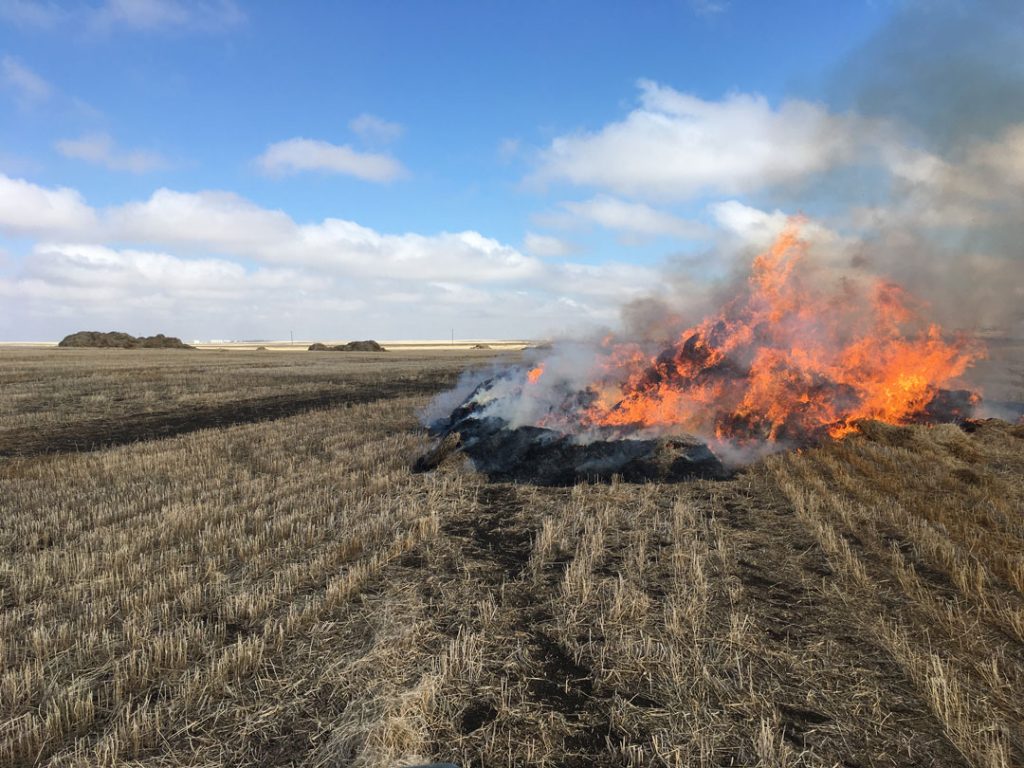 Just like burning straw, controlling the spread of a pandemic involves taking precautions.
The last 24 hours has brought some rain—enough for us to safely burn the straw.
I mention this because I realized that there are similarities between fires and pandemics. They can spread—often in unpredictable and exponential ways. There are many factors that can influence outcomes in a specific situation. The actions of one or a few can have consequences far beyond their own lives. We will be taking many precautions to prevent the spread of the fire beyond our own field, just like people are taking many precautions to prevent the spread of COVID-19, but the results are never 100 per cent certain.
Uncertainty produces varying reactions in the human psyche. As I have consumed news stories, I've heard some people complain that the pandemic induced restrictions are too limiting, while others think stricter measures are necessary.
In my circle, I have friends who will still gather in small groups at safe distances, while others are staying strictly at home. My risk tolerance is calibrated differently than yours.
The pre-fix "pan" comes from the Greek meaning "all" or "of everything" and so a pandemic is a disease outbreak that encompasses all of us. And yet, as auto manufacturers remind us, your mileage may vary. In ways big and small we are all facing our own pandemic experience.
Overrun morgues in New York City and Northern Italy tell a tale of acute suffering. In the meantime, hospitals have never been so quiet in Alberta. The slack we inserted into the system by clearing the docket of elective procedures has yet to be taken up by a surge of COVID-19 cases.
Record breaking unemployment claims suggest that there will be chronic malaise in the wake of COVID-19. But businesses that deliver food and necessary supplies are hiring new workers. Oh, and puzzle sellers have apparently never had it so good as the quarantined stave off the doldrums.
As an Alberta grain farmer, I've felt insulated from the worst shocks of this pandemic, but my heart aches for the livestock producers who have to euthanize animals or who are delayed in shipping their finished animals. The terrible irony, of course, is the fact that foodbanks are busy handing out food to the suddenly cash-strapped.
The pandemic has reminded me that in this interconnected world our actions—for good or ill—affect other people. I've also seen that people experience and process a crisis differently. For me, this has been a strange time where I've read more books and used more video conferencing apps than usual. For others, COVID-19 means death and grief, or financial hardship. I am reminded of the saying, "Be kind, for everyone you meet is fighting a hard battle." The pandemic will pass, but hopefully we take with us renewed kindness, respect and empathy.
Sarah Hoffmann is a seed grower whose farm is located in the Three Hills area. This story appears courtesy of GrainsWest magazine. Find more stories at grainswest.com.