A REAL COUNTRY STAR
BY ELLEN COTTEE • PHOTOS BY SIRROMA ENTERTAINMENT, TRAVIS NESBITT AND SCOTT PHOTOGRAPHY
Country music stars do sing songs about riding green tractors, walking through fields of wheat and having a hectic harvest, but not many live that life outside the recording studio. Drew Gregory, a country musician from Standard, won the 2016 Alberta Country Music Association Album of the Year as well as Male Artist of the Year in 2015 and 2016, and released his latest album Good Place to Start in 2018. His time away from recording and touring is spent working the fields with his father and living the farm life with his growing family.
GrainsWest: How did you feel about spending your childhood in small town Alberta?
Drew Gregory: I loved it. The town itself had around 350 people, and my graduating class was about 22. There were quite a few of them who wanted to get out and leave, move to the big city, but I didn't feel that way. While I did end up going to the city for college for a little bit, I knew it wasn't the place for me. I knew [the farm] was where home was. That's always where I was going to end up. It was good to get out and experience things, but I've always loved the rural lifestyle.
GW: You knew you would come back to small town life after high school. How did that affect your life choices?
DG: I write about it a lot. It's nice to just know you have that home, and it was always just so comforting. Right after college, I did go backpacking in Australia for six months. While it was a really great experience, I'll never forget getting home after six months of being gone. Nothing had changed. It's all just that kind of comfort. I think it's allowed me to go out into the world and explore and travel a lot. Of course, I travel a lot with the music, but I always still feel like there's that comfort of home.
GW: You can hear that sense of home in your music. Is that important to you?
DG: It definitely has always been important to stay pretty true to that stuff with the music. I think every album I've done has been a reflection of where I was at in my life. At that time, when I was reading a lot about it or picking songs about it, it's always been important to me to keep those roots true. I have trouble singing and writing about things that I don't know about. You know, a lot of artists tell stories about other people and I've always had a lot of trouble doing that. I think it's just easier for me to get more heart into it when it's something I really know a lot about.
GW: What was the first song you ever wrote?
DG: This was after college, after Australia. I always sang at campfires, but just covers. One of the first ones was a song called "Lay It All Out There," which was about giving your all. I had written it not long before I took my first trip to Nashville. There was an atlas on the coffee table at the friend's house I was staying at. I was just flipping through it and Tennessee came up. And I thought I'd start mapping the whole trip out—what it would take to get down there. That kind of got it in my head, and it was less than a year later that I moved down there for three or four months to keep writing. Then I started spending every winter down there with the music when farming was pretty slow in January, February. It was a good chance to get down there and really explore the songwriting side of things.
GW: You grew up on a farm and you farm with your dad. How do you balance your music career with your farm career?
DG: I just love both those things so much, so it's about making time for both. People keep asking me, "When does your music get big enough that you can leave the farm?" A lot of people who ask that aren't from a farm and don't quite understand the lifestyle. It may be a little different if I had a couple of brothers back home and I was just back to help out, but it's just the two of us. It's something I look at hopefully taking over someday, but at the same time, I can never picture myself quitting music either. I'm lucky that I've found two careers that I love. Most people never find one.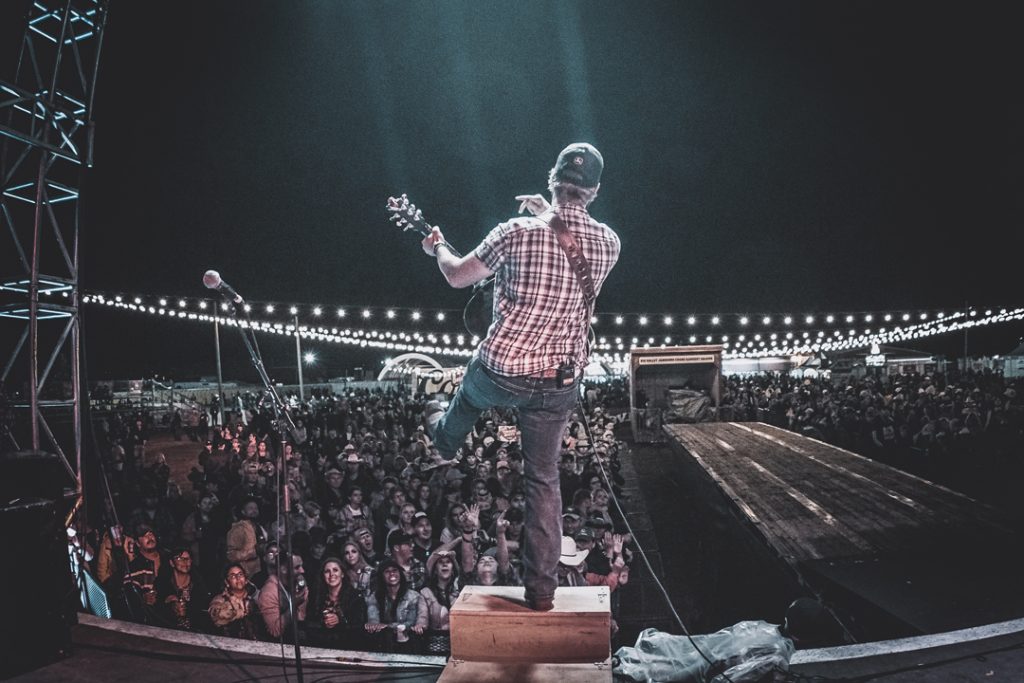 GW: What is your favourite part of farming?
DG: You know, I've always loved seeding. I guess it's kind of that new season turnover, summer's coming up. Just sitting in the tractor. Again, we're going back to the music—that's where I learned to sing—long days going back and forth with not much else to do but sing along to the radio. I think that's where a lot of what I love came from, and especially my love for country music. We sit in the grain truck and watch beautiful sunsets—you have to appreciate it. I mean, it's just so beautiful out there. It keeps me grounded when the music gets pretty crazy. I like that part of it for sure.
GW: Every farmer has their least favourite part of farm life. What's yours?
DG: Cleaning bins. I really don't like that, and sometimes the physical labour gets a bit much for me. But even then, you look back at that part and you appreciate it. You spend so much time in the business side of it—money management, selling your grain, all of that—and it's nice to get your hands a little dirty in the farm work afterwards. Again, I also think that's helped me out with my music. In the beginning, when you have no manager or anyone to help you out, you have to do all of the work yourself. It's a lot like the farm in that respect.
GW: Between farming and music, your life is very full. How do you manage to spend time with your wife Erinn and two sons, Ty and Nate.
DG: It's cool. With farming, I have lots of opportunities to spend time with my family, like having my son Ty out on the tractor this year. We thought he'd be good, and he was loving it. He's two, so we just thought we're going to get to go up one strip and back, and he's going to be bored, but he ended up spending all afternoon with me.
And my wife is out for suppers often during harvest time, and that helps, even in the music a little bit. We're apart when I'm travelling a lot, but when we had a little gig in my hometown at a brewery, my wife and son came by. It was sweet. My son got up and played the taproom with me on stage. He totally stole the show. Everybody was talking about him —never mind anything I did that night. Overall, I don't spend as much time with them as I'd like to, but I do what I can to make it work and do all the things I love.