BRANDING THE FAMILY FARM
MARKETING PACKAGES GO BEYOND LOGOS AND BALL CAPS
BY SHANNON VANRAES • PHOTO COURTESY OF COLE'S AG COMMUNICATIONS
For years, Kehlsie Crone would drive by the sign marking the entrance to her family's farm near Moose Jaw, SK, and think to herself, "that needs to be to be updated." When the sign first went up, Crone Farms was a hog and grain operation. Today, the hogs are long gone, replaced with a custom seed treatment business and cleaning plant.
"We've changed so much," said Crone. "And now that we've grown, we really wanted to brand ourselves and have a logo to say, 'this is who we are and this is what we want to do for you.'"
But even with a background in marketing, Crone was out of her depth when it came to designing a cohesive business logo that reflected the farm's evolving identity. So, when the time to update the farm's image finally came, she turned to Cole Christensen of Cole's Ag Communications, who said an increasing number of farmers such as Crone are seeking professional assistance in an effort to brand their operations.
"The need and desire for farmers to brand their farm has definitely picked up quite a bit over the last several years," said Christensen. "When I started, this was really niche, but now, yes, there's more and more interest."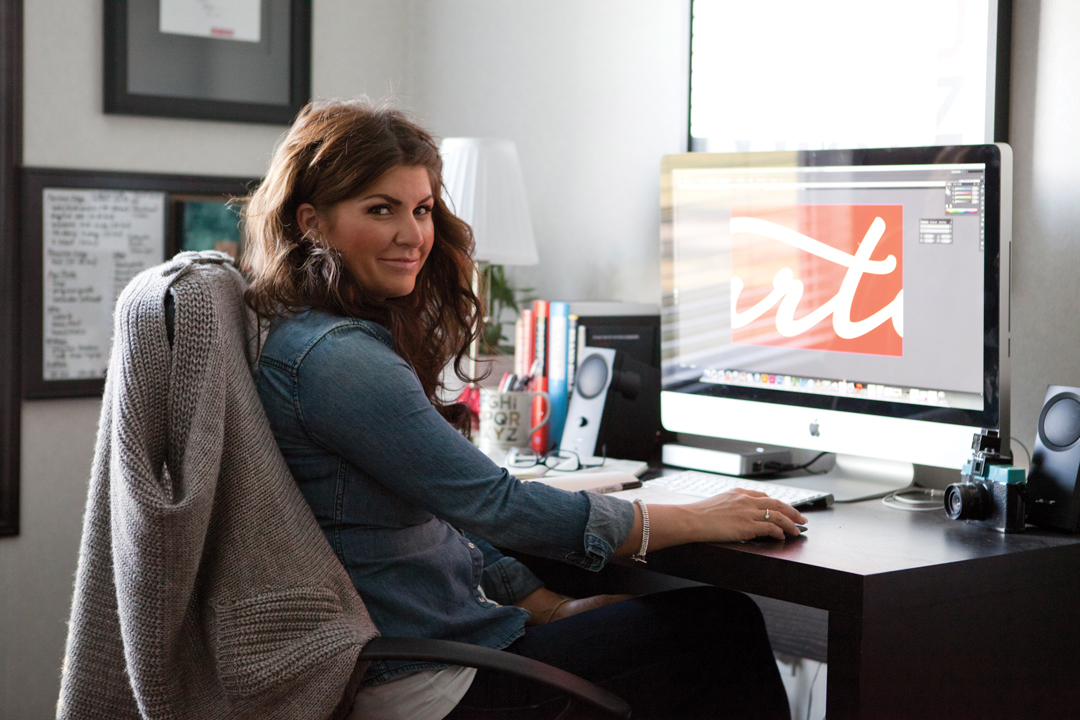 Sabrina McAllister of Quarter Section Creative devised a brand-developement package for Antler Valley Farm.
Sabrina McAllister has also seen an uptick in the number of family farms interested in branding since she founded Quarter Section Creative in 2011. "Branding puts your company on the map," she said. "And I think that the motivation behind wanting to do that is that social media is playing a really active role. And if you're running social media accounts you need to have content."
One of the first farm branding projects McAllister worked on was for Antler Valley Farm. Located near Innisfail, it's operated by her husband Wade McAllister and his brother Scott. The end result was a comprehensive brand-development package that included a logo, business card and stationary as well as website and social media accounts. Additional items included farm signage, industry event banners and promotional items. All reflect the rich history and philosophy of the farm. "A brand is more than a logo," said McAllister. Such a package she said, is about building brand equity—reinforcing the positive perception of your operation in a way that squares with its purpose.
Christensen sees branding as a way for businesses to build "reputational capital" with both clients and the public at large. Those who are looking to brand their farm business are not just selling seeds or tools, they are also selling themselves and the values behind the business they run. "You can't go in with the sort of mindset that I just need to print 10 hats and then hand them out. No, you need to think about it from a business values perspective," said Christensen.
But does building your brand pay dividends in the long run? Crone thinks so. "It definitely has an impact on the bottom line," she said. Once people recognize your logo and associate it with a positive experience, repeat customers become the norm, she added.
When skillfully built, a brand is also something that can be passed on to subsequent generations, McAllister noted. Day-to-day operations can also be positively impacted by having a formally stated mission that's reflected in a farm's branding, helping to keep a business plan on track.
"The whole industry is shifting, and farms, as they grow or change, are starting to be run more like corporations," said McAllister. "And coming in tandem with that is outlining your vision, your mission, defining what you're working toward and stating that clearly so that everybody who is a part of the farm operation is on the same page. From a business perspective, branding is a key part of the business strategy and adding a look or a feel to that is a reminder of what those goals are," she said.
However, Noel Blix is more cautious when it comes to the potential payoff of branding exercises. President of the Canadian Agri-Marketing Association's Alberta chapter and a senior copywriter at ag media agency McCann Canada, Blix said there's nothing wrong with growing businesses sticking to what's been working for them.
"I don't know if you can say it's a money-making tool to brand yourself," he said. "That's a tough one." Small operations that make good use of social media can "be their own billboards" fairly effectively, he added. And with so many web-based platforms such as Twitter, Facebook and Instagram available at no cost, farmers are now able to reach audiences in ways unthinkable only 10 years ago.
"Do it as long as you can yourself, until it becomes a problem or there are things you don't know how to do," he said, adding that new technologies are making it easier for farmers to create their own promotional material than ever before, including services that allow for drag-and-drop website building.
McAllister knows that with all the hats farmers already wear, adding the role of marketer to the list isn't a priority for every operator. However, she said marketing is a topic that should at least be discussed at planning meetings, even if the answer is that now's not the right time for branding or we'll continue to do it ourselves.
"Look at where you want your farm to go to determine if it's a priority," she said. "But know that the other part of having a strong brand is that it opens you up to being positioned as an industry leader. Antler Valley Farm hosts a ton of tours throughout the year, so if you're dealing with a lot of urban people, having a business strategy, having a website, really helps them clearly see what your goals are."
Now that Crone Farms has a new logo, Kehlsie Crone said a website won't be far behind. She noted the family operates a Twitter account for its seed-treating business and almost everybody who works on the farm has a personal account. "I think branding is important when you're growing a family business," she said. "It's an identity thing for the farm and something to take pride in. As well, it's just one of those things that makes you happy."