The Godfather of Grain
Bill Cooper, living legend of Western Canadian agriculture
by IAN DOIG
Let's talk about that.
Over a cup of coffee at Carver's Steakhouse at the Sheraton Cavalier in Saskatoon, the city where he now lives, Bill Cooper framed his achievements in a team context. The sturdy, straight-talking 82-year-old farmer from West Bend, SK, is interim chair of the Saskatchewan Barley Development Commission (SBDC), serves on the Barley Council of Canada, and operates Farm West Management Inc., his own agricultural accounting service and consultancy.
He is also the grain industry's undisputed senior authority and adviser. Affectionately known as "The Godfather," he's eminently approachable.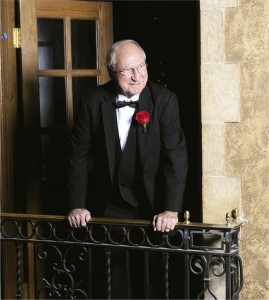 "I always try to turn the negatives into positives," said Cooper. Illustrating this, he cited complaints he's fielded with the SBDC about check-off dollars, the fee subtracted from producer payments to fund research.
"We've had some complaints, like 'We don't benefit from this research.' I'll say, 'Well, just a minute. Let's talk about that.'"
"I've met with some really irate people and had some great conversations."– Bill Cooper
It's a persuasive tactic. To engage with Cooper in conversation is to risk becoming a convert to his point of view.
"I've met with some really irate people and had some great conversations," he said, with obvious satisfaction. Illustrating his case, Cooper recounted how he and his brother received contracts to sow an early variety of rust-resistant wheat. That year, the disease destroyed all their wheat except for 100 acres of the new variety. "And if you look at trans-fat-free canola," he added, emphasizing the bottom-line benefits of scientific investment, "that's worth $100 a tonne more than regular canola. That's research." But more on this later.
One foot in the boardroom, the other on the farm, he often draws such parallels between policy and practice.
"He can manage on the farm talking to a guy riding a combine, but he does just fine in the prime minister's office," said Saskatchewan Agriculture Deputy Minister Alanna Koch. "He'll often make it real for politicians and decision-makers [by saying] 'For a young farmer, here's how that would impact his decision to invest or change.' Bill's always been able to make it granular for [them] by saying 'Here's how it matters to me, and that's why it should matter to you.'"
A mighty resumé
Though his name is not well known outside the agricultural sphere, Bill Cooper has shaped western Canadian grain production, transportation and marketing for more than half a century. His resumé is unparalleled.
Cooper is known as the go-to policy adviser at the rough-and-tumble intersection of politics and agriculture. Having formulated policy recommendations across the industry spectrum, he is a proponent of market-driven economics who has pushed for improved grain marketing, handling and transport, as well as fair returns for producers.
The longtime university instructor and Saskatchewan Agricultural Hall of Fame member has held many grain association positions, including executive director of the Saskatchewan Canola Growers Association from 1978 to 1987. Cooper was also a founding member of the Prairie Oat Growers Association and has served with numerous other organizations including Flax Growers Western Canada (now the Manitoba Flax Growers Association), Saskatchewan Wheat Pool and United Grain Growers.
He worked with the Western Grain Transportation Task Force, which initiated the Western Grain Transportation Act, and also on the Western Grain Standards Committee assessing new grain varieties. His transport work has been extensive, having served on the Rail Rate Reform Committee and on the Prairie Rail Action Committee that informed the Prairie Branch Line Rehabilitation Program.
It takes a deft hand to endure in agri-politics as he has, and his unparalleled effectiveness owes much to his well-informed approach.
Colleagues describe Cooper as consummately practical and exceedingly passionate about his work, a disarming advocate for the best interests of the agricultural sector. All commend his sharp intellect and diligent research ethic. Above all, however, they call him a mentor.
An agricultural education
Born near the southeast Saskatchewan hamlet of West Bend in 1931, Bill Cooper had a childhood that reads like a W.O. Mitchell novel. His English immigrant father homesteaded in the West Bend district in 1903. Returning to England in 1923, he married Bill's mother. The couple returned to Saskatchewan to raise seven children and maintain a grain operation and shorthorn cattle herd.
Life for the family during Cooper's formative years wasn't easy. The Great Depression saw drought, poor crops and low cattle prices. As conditions began to improve, the family's buildings were destroyed by a cyclone in 1937.
"It was tough," said Cooper, "but the other thing that was critical to our development was my parents were really strong on education."
While attending a one-room schoolhouse, he recalls selling his pencil case to another student for what he thought was the princely sum of 25 cents. He later realized what he thought was a quarter was actually an oversized one-cent piece. His parents expanded upon this hard lesson in economics, opening a bank account for their son. While he continued grade school as a boarding student in the village of Kelliher, he was expected to supplement the rent money in the account with his own earnings. His odd jobs included chauffeuring his landlords' children by horse and buggy. Later, attending high school in Foam Lake, he worked at a chicken plant.
All of Cooper's siblings went on to post-secondary education, as did he in 1949, earning a bachelor of science at the University of Saskatchewan College of Agriculture in 1951.
"He can manage on the farm talking to a guy riding a combine, but he does just fine in the prime minister's office."– Alanna Koch
Just prior to graduation came the turn of events Cooper describes as "the real game changer." Hartford Lewis, his agricultural engineering professor, invited him to work on the Lewis family farm in Gray, SK, and subsequently insisted he take a job teaching farming courses. This led to two decades instructing university extension courses in welding, farm power and machinery, as well as marketing.
After two years on the Lewis farm, Cooper purchased a quack-grass-infested half-section adjacent to his father's land and seeded it to barley, but it took him a few years to commit to life as a farmer.
"The wild oats almost did me in,"
he said.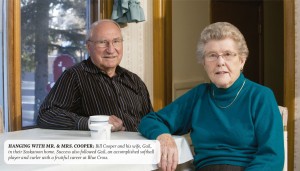 Cooper also took to raising purebred shorthorns, though he sold his herd in 1969 as the demands of his cattle operation became incompatible with his winter teaching schedule. In partnership with his nephews, he maintained a grain operation until 2008.
Cooper's own agricultural knowledge snowballed while co-ordinating the university's rural courses across the province through the mid-'70s. He absorbed the expertise of fellow university professors and the best practices of the seasoned farmers enrolled in the courses.
In the Nipawin area, where farmers grew specialty grasses such as bluegrass, Cooper realized their expertise outstripped what the university was teaching on the subject. In a move that was ahead of its time, he asked several of the farmers to deliver lectures detailing their growing methods.
"His legacy within the university community is his ardent support of young people into their future careers in agriculture," said Mary Buhr, dean of the University of Saskatchewan College of Agriculture and Bioresources. An enthusiastic 4-H supporter, Cooper has also established two annual $1,000 scholarships for students to pursue business-related studies.
Chairman of the board
The farmer-educator added an advisory tier to his agricultural career, joining the Saskatchewan Canola Growers Association (then the Rapeseed Growers Association of Saskatchewan) as a farmer-director in 1973, becoming executive director in 1978. He considers his eight-year tenure there his most important achievement.
"The whole advancement of the canola industry, that's got to be the highlight," he said.
During his time at the helm, the organization was instrumental in the phenomenal growth of the canola industry, launching the Saskatchewan Canola Development Commission and the Canola Council of Canada, as well as initiating check-offs.
Cooper worked to keep canola on the open market, to increase its transport priority relative to wheat, and to lower elevation and handling costs. He also pushed to establish Winnipeg as the world pricing exchange for canola, improving market competitiveness and increasing producer profits.
In 2013, canola production hit 15 million tonnes—two million more than the Canola Council of Canada's 2017 target.
"This is unreal," said Cooper, who credits such numbers to co-operation between industry players, from breeders and producers to exporters and crushers.
"It's difficult to get industry, governments and research institutions all on the same page," he explained. "The canola industry is a good example of how we've managed to do that."
It also illustrates the payoff in the market-driven economics and value-added opportunities Cooper favours. Half the country's canola crop is crushed domestically, a value-added export of which half again is exported.
"We have always wanted our decisions to be based on science and on the market," he said of his canola association work, pointing to advocacy for scientific solutions as an industry weak point. "I was pleased to see Saskatchewan has set up an advocacy group within the Ministry of Agriculture to do that."
He also stands behind the industry's early adoption of genetic modification in producing trans-fat-free canola and other crops, a notoriously volatile subject.
"Nobody objected to that at the time. There's no reason to object now. There have never been any health problems with GMO crops."
While he gets on well with farmers and politicians, Cooper emphasizes that good relations with industry are also crucial.
"I learned quite early to respect industry—even the railways, which are easy to hate. I had a good relationship with both CP and CN. I'm proud of that, and that has continued."
Canada is an exporting nation, he said.
"We rely on industry to make it happen. We don't want to be always condemning the grain industries or the railways. You've just got to say, 'Lookit, let's talk about it, let's work it out, and try to pay our way and make it work.'"
Though he's credited with influencing the process, he downplays his part in the elimination of the Canadian Wheat Board (CWB) monopoly. The move did square with a major pillar of his philosophy, however: market transparency and openness. He doesn't believe the institution possessed the versatility contemporary markets demand.
According to Cooper, farmers must be privy to market signals affecting basis price fluctuations to run efficient operations.
"That was a big thing—the lack of transparency, and also the lack of diversification within the commodity. They were an export agency and therefore not necessarily interested in value-added opportunities."
He was also critical of the CWB preoccupation
with Hard Red Spring Wheat, which he points out represents a small portion of the global grain trade.
"The wild oats almost did me in."– Bill Cooper
"It needed to change, and it has done, and everybody's living quite well without it."
Cooper is fine with the new, private entity the CWB has become (and agricultural corporations in general), as long as it's competitive with other industry marketing options.
"I want fair and honest competition."
Marriage and motivation
Cooper is fully engaged in his work at an age when most people have long retired. In fact, as he sipped his coffee,
he explained that he'd just flown in from a meeting in Winnipeg concerning feed mills and animal nutrition. He merely alluded to slowing down when his SBDC term expires.
"I don't think he would be happy not doing something," said Cooper's wife, Gail. "When he takes on a committee project of any kind, he absorbs his whole self in it."
A farm girl from Outlook, SK, whose large family also raised registered shorthorns, the two met while she studied business at the University of Saskatchewan. They were much alike in that her passion for sport matched his for agriculture and politics. While he orbited that world, she worked for Blue Cross and played softball, taking a senior women's team to the 1970 world championship in Japan. She was also a competitive curler until the age of 78.
For years, both were too busy to settle down. Cooper was even named bachelor of the year by Saskatoon radio station CFQC in 1972. After an on-and-off, 30-year courtship, they married in 1981.
"We were late bloomers," Gail said with a laugh.
According to Gail, her husband happily spends his home time reading about agricultural policy and consulting with colleagues on the phone. She speculated that he may feel as though he's missed out on leisure pastimes, but his enduring preoccupation has always been building a better agricultural industry.
"The Godfather of Grain" had to admit this was an accurate assessment.
"It keeps me motivated," he said. "i think we can't let up."