ENCOURAGING NUMBERS
AG IS TRENDING UP IN KEY AREAS
BY LEE HART
Canadian agriculture is not only alive and well—it's thriving, according to the 2016 Canadian Census of Agriculture.
Some media outlets may focus on statistics showing that Canadian farmers are getting older and that there are fewer farms in the country, but there is really a very positive message to be found in the statistics collected in the 2016 census released earlier this year by Statistics Canada.
"The statistics also show that more young farmers—35 years of age and younger—are now involved in the industry," said Levi Wood, one of those under-35 producers, who farms with family members in Pense, SK. He is also president of the Western Canadian Wheat Growers Association.
"We're seeing more of my generation of farmers either enter or return to the industry, which is a very positive sign. The increase over the 2011 agriculture census isn't huge, but it is a solid indication that younger farmers do have confidence in the future of agriculture.
"I think a few years ago the economics of the agriculture industry was pretty discouraging and younger people were considering other career choices. As farms have gotten larger, as technology has improved, as commodity prices have generally improved, younger farmers are seeing more opportunity. They are seeing a path to profitability, and that's bringing them back."
Wood said he sees several positive signs in the 2016 census. More younger farmers are involved in the agriculture industry; there was also a slight increase in the number of women operating their own farms; and more acres are being seeded to annual crops, which shows confidence in the grain and oilseed sector.
"I believe this is all a very good news story for agriculture," said Wood.
INSIDE THE NUMBERS
The census indicates that while the actual number of farms in Canada is down about six per cent from 2011 (sitting at 193,492 operations), farms are actually getting larger and farmers are farming more acres—cropland increased nearly seven per cent to 93.4 million acres. Most of the increase in cropped acres resulted from farmers switching from hay, forage and pasture production to annual crop production, putting summer fallow land back into crop production and returning western Canadian acres that were out of production in 2011 due to flooding. The average farm size across the country has doubled over the years. Compared with an average of 463 acres in 1971, the average sat at 820 acres in 2016.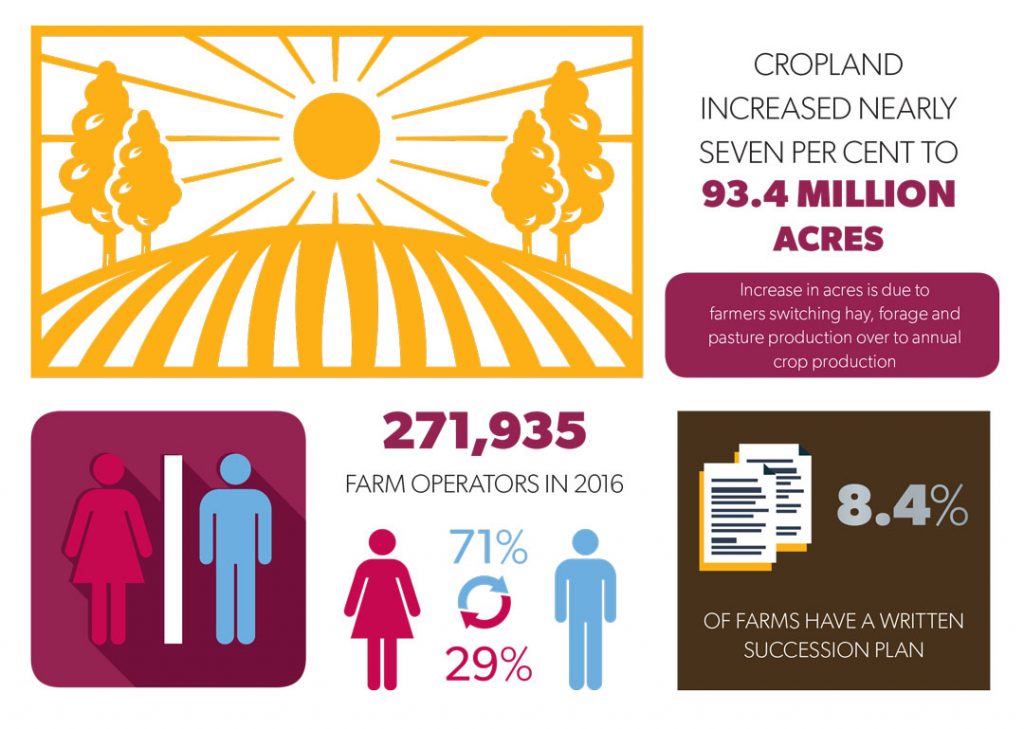 Statistics Canada analyst Erik Dorff points out the total acres in production and total number of farm operators reflect farm operations of all sizes that sell or intend to sell agricultural products—ranging, for example, from a five-acre market garden to a 15,000-acre grain farm. Future analysis of census figures, linked to farm incomes, will provide a more detailed breakdown of smaller versus larger farming operations. That report should be published in early 2018.
Yes, farmers are getting older—following the national trend of an aging population. The average age increased from 54 years in 2011 to 55 years in 2016. However, as Wood pointed out, the census also showed about a three per cent increase in the number of farmers under the age of 35. This is the first increase in younger farmers since the 1991 census.
There was a total of 271,935 farm operators in 2016. While the majority (71 per cent) were male, nearly 29 per cent were female. This is a slight increase over the 2011 census figures, but continues a gradual but long-term trend first seen in 1991. It is also interesting to note that, while there is an increase in the number of male farmers under the age of 35, the number of female farm operators in this age category is increasing at a faster rate. Since 2011, the number of young male operators increased by about 24 per cent, while the number of young female operators increased by 113 per cent.
"As farms get larger, the role of the farm operator is changing," said Wood. "It may mean there is less time in the tractor seat and more time on the managerial side of things, and that may be more appealing to young people regardless of whether they are male or female."
Farm values have increased considerably since the 2011 census. The average value of land and buildings was $2,696 per acre in 2016—a 38 per cent increase from five years before. While farm asset values have increased, this does make it more challenging for new farmers to get involved or existing farms to expand. However, at the same time, producers have been able to expand their farming operations by renting or leasing land from retiring operators.
Wood said that while there are many good signals in the 2016 census, he is concerned by low figures regarding farm succession planning. While farmers are aging and getting closer to retirement, he is concerned that the census showed only 8.4 per cent of farms have a written succession plan. This ranged from 5.7 per cent of sole proprietor farms with succession plans to 16.3 per cent of family and non-family corporations with plans.
"Overall, I was surprised that less then 10 per cent of farms have a written succession plan," he said. "And this is going to be a huge concern over the next 10 to 15 years, again, as farmers continue to age. Young people are looking at coming back, but at least a verbal or preferably a written plan is needed to guide the transfer of ownership."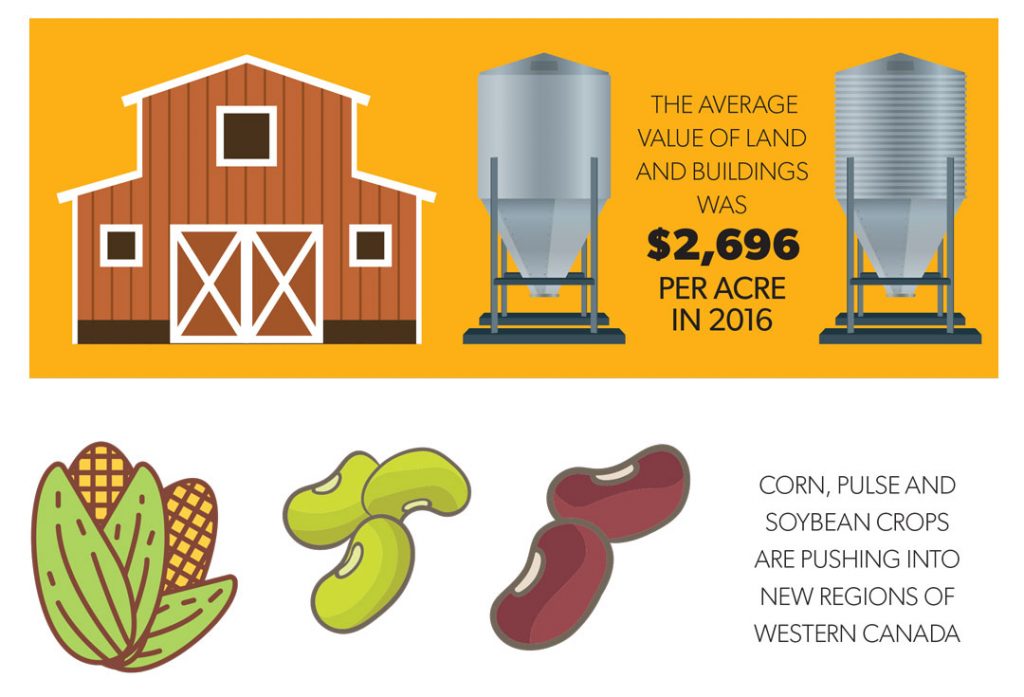 CENSUS REVEALS POSITVE TRENDS
On the financial side, J.P. Gervais, vice-president and chief agricultural economist at Farm Credit Canada, also sees very positive trends in the 2016 Census of Agriculture.
"The statistics are showing more younger farmers farming larger farms, and this is a sign of a very progressive industry," said Gervais. "We're seeing more cropped acres and expanding livestock operations, which demonstrates confidence in the industry. Canadian farmers are very progressive, they are becoming much more sophisticated in their management skills, and they are adopting and applying new technology."
And bigger isn't necessarily the way to go. Gervais noted that there is also more diversity in agriculture, with more producers developing opportunities in smaller or niche markets such as organic and natural production systems.
Statistics Canada's Dorff agrees that the 2016 census describes a positive picture for Canadian agriculture. A welcome and positive trend sees an increasing number of  younger, progressive farmers involved in the industry. And more producers are using new technology to improve production efficiency.
"Since the first census was taken back in 1871, we continue to see farm operators being more innovative and progressive in their production and management skills," said Dorff. "The innovation trend continues across all sectors of the industry. One of the cool things to note is the increasing diversification on farms. More producers are growing pulse crops, for example, and we continue to see corn and soybeans pushing into new regions of Western Canada. It is a sign of how things progress and change."
Dorff said that, in the future, the census will be employed  to keep track of evolution within the agriculture sector by posing new questions to quantify developing trends as they emerge. "The industry in general and farmers in particular are very adaptable," he said. "So we may be asking about how they are diversifying their operations."