FROM BEAKERS TO BREWING
OLDS COLLEGE BREWMASTER'S LOVE OF SCIENCE HELPED TO FUEL HIS FUTURE
BY KARIN OLAFSON
Jason "JP" Popesku is a lover of beer, but arguably, he was a lover of science first. After completing his undergraduate degree in biochemistry and biotechnology at the University of Waterloo in 2001, Popesku decided to pursue a master's degree in microbial biotechnology and fermentation science at the same institution. From there, he went to the University of Ottawa and completed a PhD in molecular neuroendocrinology.
Popesku is a highly educated, science-minded guy, but he's also the kind of guy you can have a beer with. And that's easy to do, considering how much time he spends around beer these days. Popesku is now the head brewmaster at the Olds College Brewery, and the first person to hold that distinction who was educated through the Olds College Brewmaster and Brewery Operations Management program. Today, Popesku oversees all the beer the college brewery produces, while still finding plenty of time to enjoy a good Kolsch, his favourite style of beer.
GrainsWest: Your academic background and your current profession in brewing seem to be worlds apart. How did you transition from your PhD to brewing beer? Jason Popesku: I didn't transition immediately from academia to brewing. After I finished my PhD at the University of Ottawa in 2009, I did a post-doctorate fellowship at the University of British Columbia in Vancouver. During that time, I started home brewing. That's when it dawned on me that what I really wanted to do was make beer.
GW: What got you into home brewing when you were in Vancouver?
JP: I've always been into craft beer. The "mainstream" beers just didn't do it for me—I was looking for more. Once I started drinking craft beer, I realized that it's the small-batch, flavourful beers that have a lot more character.
GW: What were your first few home brewing experiences like? Did you settle into it easily?
JP: Honestly, it was anti-climactic. I started out with kits, like the Coopers Canadian Homebrew kits. Basically, it was beer for beginners. The flavours weren't there—they were dulled and muddled and boring. I did that with two different kits from two different companies and it was just very underwhelming.
GW: It sounds like you were ready to take your brewing to the next level.
JP: Yes. In 2013, the Brewmaster and Brewery Operations Management program at Olds College was just starting up. I applied on a whim—I thought that perhaps with a PhD I might be overqualified for the program. During the interview process, Olds College was looking for people who were very passionate about making beer and wanted to really do something with a diploma in brewing.
I was accepted into the two-year program that started in the fall of 2013. I was one of 24 students to go through the program's first-ever year.
GW: Why did you choose to apply to the brewmaster program?
JP: The main thing was the program itself, but also the opportunity to use local products. We have definitely used local  ingredients [here at the brewery]. For example, we've used Red Shed Malting's malt in our beers. I don't think that there's the same opportunity to use local products in Niagara [where the brewmaster program is also taught at Niagara College], for example—at least for barley.
GW: What were some of the highlights for you from the two-year brewmaster program?
JP:  We did a trip to the Yakima Valley in Washington to see the hop harvest. I remember this was the first time I'd ever seen hops harvested on an industrial scale. To smell the fresh harvested hops, to visit the breweries that are in those hop fields and that use the hops right from those fields—it's a unique experience. Everybody who goes on that trip to the Yakima Valley always comes back with a huge smile on their face. Students in the program still go every September.
GW: Did any other aspect of the brewmaster program really stand out for you?
JP:  I loved the science courses. Even though I have a science background, I'd say getting the brewing science background from the program was the most crucial to my future.
GW: You finished the program in the spring of 2015. Then what?
JP:  Well, right after that my daughter was born, so I took the summer off to help my wife. After that, I came back to work at the retail portion of the Olds College Brewery. I was talking to people and selling them beer and giving them tastings. I found that to be an important part of the process. It's great getting direct feedback from consumers about our beer.
GW: When you were promoted to the role of head brewmaster in January 2017, did you go straight from brewery retail to the top job?
JP:  Not exactly. Even though I was working in retail, I helped out a lot in the back. I was an assistant brewer as a student.
GW: Even though the brewmaster program and brewery at Olds College are only a few years old, you're already following in the footsteps of two extremely talented brewers.
JP:  I am, yes. Larry Kerwin, whom I'd call a "grand brewmaster" and who was one of the partners who started Village Brewery, was contracted to be our brewmaster in the beginning when I was a student. Then there was Dave Mozel, our brewmaster for two years. I worked closely with him when I was assistant brewer.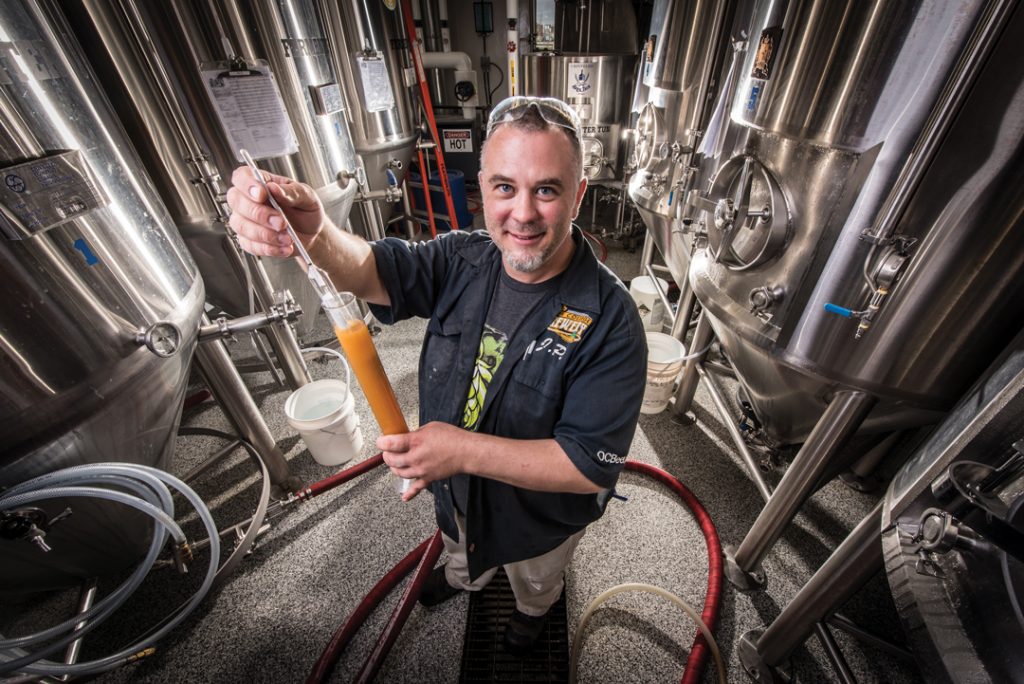 GW: What does the head brewmaster job entail?
JP:  There's a lot of lab work, quality control and microscope work. Then overseeing the students every day, because they're bringing beer to market and have questions.
As brewmaster, I also oversee all of the beers that are produced in the brewery. We have four core beers and we have rotating seasonals, too. We do special beers, like a Christmas beer and the Alberta Beer Festivals beer. And I have to make sure the students are doing everything properly when they're brewing, like checking their mash chemistries and their extracts, for example.
GW: As a lover of craft brewing, you must be excited by all the new craft breweries opening in Alberta right now.
JP:  I love it. I love being able to walk into my favourite liquor store and find something new on the shelf almost every time I go in. There's some great brewing happening in Alberta right now at breweries like Common Crown Brewing Co., Bench Creek Brewing and Troubled Monk Brewing. Last Best Brewing & Distilling is making some great stuff, too.
GW: You call yourself a "beer tourist." What does that mean?
JP:  Wherever I go, I'm looking for the local beer. I think my favourite beer experience so far was the Saint James's Gate Brewery in Dublin for the Guinness tour. The Guinness itself in Ireland is different—it's got a sour twang to it that exported Guinness doesn't quite have.
GW: Where is the next place you want to visit as a "beer tourist?"
JP:  Belgium is on the top of my list because there are 400 styles of beer there.