CHECKMATE
OUTGOING EXECUTIVE DIRECTOR PROUD TO HAVE FOUGHT FOR FARMERS
BY ALEXIS KIENLEN
Meeting Blair Rutter is a calming experience. He's polite, respectful and a good listener. Don't let his good-natured exterior fool you, though. As quick as he produces a smile, it can turn into a snarl if he smells a bad deal for farmers. Rutter's body of work as the executive director of the Western Canadian Wheat Growers Association (WCWGA) for the last 11 years drives this point home. In a similar fashion, Rutter is all business when it comes to his beloved hobby of chess. He has been involved with the Manitoba Chess Association for the past 13 years and is its current president.
Rutter grew up on a grain farm about 100 kilometres west of Winnipeg in Miami, MB. Rutter left the farm to obtain a commerce degree from the University of Manitoba, worked at CIBC for nine years and then went back to the University of Manitoba to get a master's degree in agricultural economics. Following that, he went to the WCWGA for three years as the Manitoba policy manager before moving on to work for nine years as the policy manager at United Grain Growers and Agricore United. He came back to the Wheat Growers as their executive director in 2005.
GrainsWest: How would you describe the WCWGA to someone who isn't familiar with it?
Blair Rutter: It's a farm policy advocacy organization in support of open and competitive markets, free trade and innovation. The organization has about 450 members across Alberta, Saskatchewan, Manitoba and the Peace Region in British
Columbia. The organization was founded in 1970, and we've always been strongly supportive of farmer self-reliance and farmers having the freedom to manage their own business. We have a free-enterprise orientation.
The organization was founded by about a dozen farmers in southern Saskatchewan. In the early days, we fought for protein grading and having a separate pool account for durum wheat. We started as the Palliser Wheat Growers Association, and in the mid-'80s we changed the name to Western Canadian Wheat Growers Association.
GW: What do you love about working in agriculture and what did you love about working for the WCWGA?
BR: I have always had an interest in agriculture and I wanted to make a difference and make a positive contribution. I enjoy working for entrepreneurs and advocating on their behalf. I do have a free-market philosophy, so the Wheat Growers was a good fit for me because we had shared values and shared beliefs. You do have to bring passion to this job, you have to have a willingness to go to bat for farmers when you see policies that are not in their best interest. You have to promote their interests and make sure that they have a business climate that encourages investment and innovation. There are always groups that want to restrict the kind of freedom farmers are allowed to have.
I've been very proud of the Wheat Growers and what we've been able to accomplish on a very limited budget. What I'm most satisfied about is that we've been able to restore the Wheat Growers to being an effective policy voice on behalf of forward-thinking farmers.
GW: What does the group do and who are the members?
BR: We mainly advocate policy in the areas of grain transportation, trade and grain marketing regulations. We also look at provincial issues. Certainly, Bill 6 in Alberta is a hot issue, but we've looked at land ownership and drainage issues in the past year in Saskatchewan. Primarily, we look at federal agricultural issues, but we also weigh in on provincial issues.
Throughout our organization's history, we've been strong advocates of getting greater market access for grain and livestock industries. We're not directly involved in trade negotiations, but the government always seeks out industry positions and so we're there to make sure the grain sector's interests are put forward.
We advocate for policy positions on behalf of our members. It's our board and members that set the direction. We are completely volunteer-based. Members have to reach into their pockets and plunk down $300 on the table, so that keeps you well grounded and accountable. We rarely lose members; generally we only lose them when they exit or retire from farming. The membership is individual farmers and we have about a dozen independent agri-retailers as well.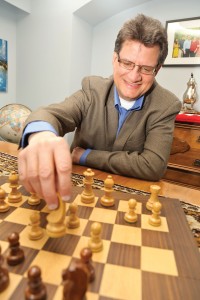 GW: Looking back over your time as executive director, what are some career highlights or memorable issues?
BR: The gaining of marketing freedom was something that we had been working towards for almost our entire 46-year history, so that will always stand out as a major achievement. We've always been strong proponents of trade deals, so during my tenure the Trans-Pacific Partnership and the European Union trade deal stand out as highlights, but we were also involved earlier in the Canada-U.S. Free Trade Agreement and the North American Free Trade Agreement. Some of the other issues that have been important are the elimination of kernel visual distinguishability registration criteria, which allows greater flexibility for plant breeders. We're now starting to see the benefits of that.
We've always been strong advocates for plant breeders' rights as well, because that encourages greater investment in the seed industry. Back when plant breeders' rights were originally adopted in the early 1990s and then modernized again in 2015, we were one of the leading groups in support of that. We strongly support intellectual property protection as a means to encourage investment and innovation.
In terms of transportation, our organization was the first farm group to seek expanded inter-switching, going from 30 kilometres to 160 kilometres. That was our idea. In the end, it's proving to be beneficial. Grain companies are now using that provision to gain access to competing railways. It's had some effect in helping get better service for the grain shippers. In recent months we've also been pushing to allow dealer cars to be loaded at producer car loading sites, and if that happens it should help bring about more competition in the grain handling and transportation system.
We're all still waiting for the release of the Canada Transportation Act Review (David Emerson's) report, which should be made public in the next few weeks. We hope some of our recommendations are part of that report—for example, making sure that shippers can enter into binding contracts with railways that include reciprocal penalties and other performance provisions. Our goal would be to see those sorts of measures included in new legislation.
GW: What are your plans for the future? Have you officially retired?
BR: I have stepped down as executive director. I'm not retired, but I'm scaling back. I'm not sure where I will land, but I want to keep a hand in the policy arena in some way. I've had a good run with the Wheat Growers and I'm very proud of what we have been able to achieve—we've had some policy success, we've increased our membership and we're financially in better shape. With Robin Speer taking over as executive director, I know the organization is in good hands.
GW: So tell us more about Robin. Are you helping with the transition?
BR: Robin has lots of experience in government relations and policy. He brings a lot of new skills to the table and is an excellent fit for the Wheat Growers. It's a one-person shop. You want to have this sort of transition so somebody is not thrown in cold. I also wanted to stay on until the annual general meeting in March, because the last fiscal year is my responsibility. It also gave me an opportunity to face the members one last time and make sure Robin's transition goes smoothly.
It's been a wonderful journey, and I leave feeling confident that the Wheat Growers will continue to be a strong advocate for forward-thinking farmers for many years to come.