THE FOUND GENERATION
MEET THE YOUNG GUNS OF CANADIAN AGRICULTURE
BY IAN DOIG • PHOTOGRAPHY BY CURTIS COMEAU & SCOTT GOODWILL
There's a new sense of optimism in farming. Following decades of attrition, in which coming of age often meant abandoning the family farm, young farmers are leading much-needed industry renewal.
In recent decades, the ag community discouraged farm kids from taking up the business. Accepted wisdom held that farming was a dying proposition. Negative reinforcement sent the industry's lost generation off to careers in the city and Alberta's oilpatch.
At first glance, the numbers support the ingrained pessimism. The Statistics Canada 2011 Census of Agriculture found that the number of Canadian farms decreased, while the average age of farmers increased between 1991 and 2011. Just 8.2 per cent of the country's farm operators were under 35, compared to nearly 17 per cent in the balance of the self-employed labour force.
However, closer examination hints at industry renewal rather than implosion. Both the average age of farmers and farm size may skew high, as older farmers shrink their operations rather than retire. As well, the age breakdown of the farm families surveyed in 2011 was surprisingly similar to that of the country's total population.
The total number of Canadian farms fell by a whopping 10 per cent from 2006 to 2011, but this likely reflects practical changes to the industry. The predominant trend among those surveyed was to utilize the economies of scale that come with expansion, or to shrink holdings and produce more lucrative specialty crops. So despite the improving viability of farm operations, the StatsCan numbers may give the impression the sector is somehow worse off than it really is.
The generational drain certainly appears to be reversing as farm youth defy agriculture's pervasive negativity. Many of today's active producers in their 20s, 30s and 40s are cultivating a new attitude, and their involvement in industry policy groups is changing the face of agriculture.
While today's young guns acknowledge the hard-earned wisdom of their elders, they're distinctly more positive. The young farmers who are the subjects of this story are educated and ambitious problem solvers and organizers. Leaders such as Cherilyn Nagel of Mossbank, SK, past-president of the Western Canadian Wheat Growers Association, are eager communicators, knowledge sharers and adopters of new technology. They've seen what research and producer-led associations can do to renew the industry's confidence and financial bottom line. They are actively renewing a belief in close family ties, strong work ethic and agriculture as a fulfilling and rewarding career. They've struggled with the practical and spiritual pressures of taking up the mantle of the family farm on their own terms, working to reshape the farm economy in their favour.
Energized by the opportunities and challenges of the post-Canadian Wheat Board monopoly era, they echo their predecessors' cautions. But in raising their own kids, they're passing on their determination, celebrating the positive in agriculture and encouraging the next generation to engage in farm life.
"Our generation is much more likely to share with our neighbour what our goals are, what our financial statements look like, and we're seeking out other people who are excited about the industry," said Nagel. "We just don't seem to have time for the doom and gloom."
A new generation of tough and informed ag leaders has arrived. The destiny of the industry has been placed in their hands, and they're up for the challenge.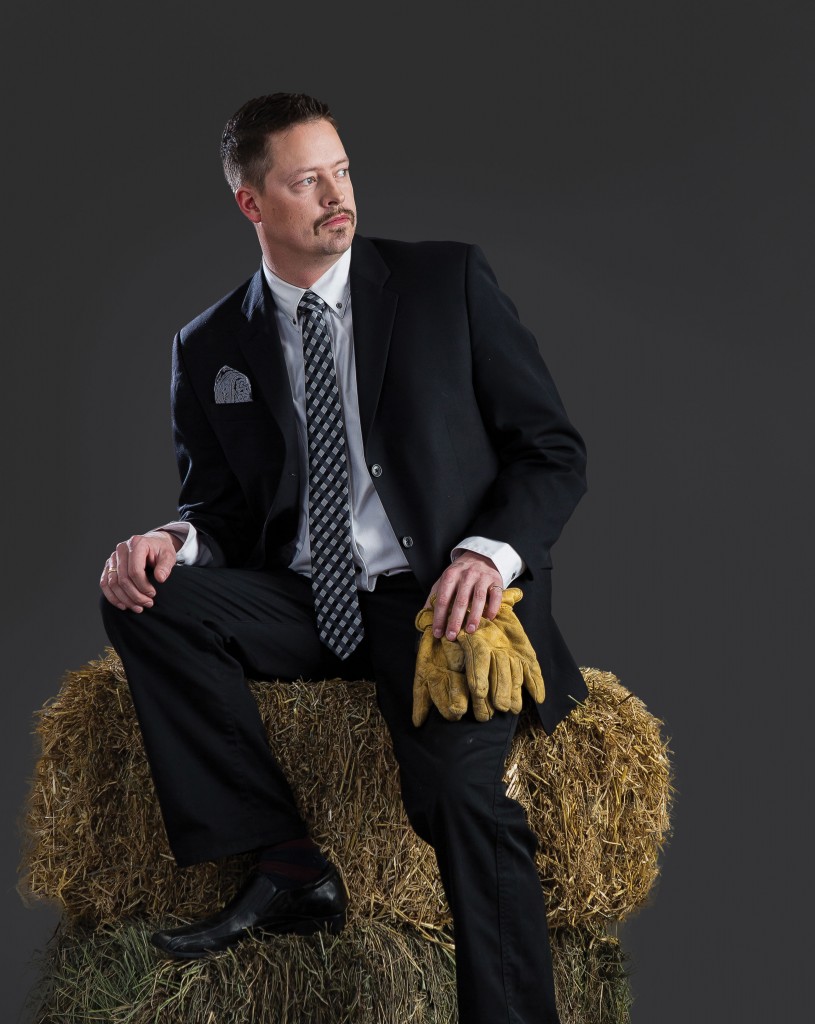 KENT ERICKSON
Farming is in 33-year-old Kent Erickson's blood. Like many rural kids he felt obliged to take up the family business, but he wasn't sure it was for him. Ironically, he made his commitment to agriculture in the city.
Deciding against pursuing crop science, he enrolled in the University of Alberta's economics program. "I'm a numbers guy," he said. He did, however, take agriculture electives and ensconce himself in FarmHouse, an agricultural fraternity. Maintaining communal living quarters with fellow students, he served two years as its president. The frat's fellowship and incubator-like atmosphere made a lasting impact on Erickson and many other farm professionals now reshaping the industry.
"It's a breeding ground," he said, pointing out that a large number of FarmTech conference attendees are Farm House alumni.
While in school, Erickson married Tausha Holt, his high school sweetheart. The couple now has four children and lives on the Erickson family's 1908 farmstead near the town of Irma.
"I realized, talking to my parents and seeing how I grew up on the farm, I wanted to have a large family, and farming is an excellent way to raise kids and have time with them," he said.
He credits his father's passion for farming and willingness to learn as the anchors that kept him in agriculture. But his commitment to farm life was the exception among his peers.
"Farmers have a tendency to express all the negatives in farming and agriculture, not the positives," he said. "In my age group, a lot of families were really discouraging their kids from going to the farm."
Erickson notes the generational tide has turned farm-positive.
"In the 10 years I've been involved in FarmTech, I've noticed the change in demographics. I see a lot of young people coming to the farms, young couples coming to these conferences. People are realizing farming is a good way of life. It's hard work, but there are a lot of rewards."
Erickson jumped at the chance to direct the Alberta Winter Wheat Commission in 2006, determined to counter the complaining he heard in rural coffee shops.
"I thought, 'Maybe I can be a part of making small changes.' At the time, I didn't realize how much these boards could do. I've found these commissions have the ability to mould policy and make changes in the ag community. They have a lot of clout."
Rick Istead, the Alberta Wheat Commission's former general manager, calls Erickson a visionary, big-picture thinker.
"We've got a lot of young people starting to make their mark in the industry," he said. "Kent is one
of those people, but we need more of him."
Erickson cites Istead's positive mentorship in helping him develop the leadership skills necessary to take on the next challenging step in his agricultural career. Erickson was elected chair of the Alberta Wheat Commission in 2012 when the province's soft and winter wheat commissions merged.
"We have set up an organizational structure that's going to work well for producers," he said. "I want to help make sure the commission is one of the leading organizations to mould change."
For example, he cites financial support for long-term variety development as critical.
"Government, consumers and farmers are going to miss out if we don't get sustained funding in cereal breeding," Erickson said.
Also, though public perception of what constitutes good food isn't always accurate, with his characteristic positivity, he said farmers should embrace the public attention agriculture is receiving.
"Consumers can dictate the food they want, whether it's right or wrong. Everybody wants organic food and gluten-free. Consumers are looking at where their food is coming from for both good and bad reasons, but agriculture has been given the spotlight."
Here, he sees an opportunity for education.
"Farming practices in the last 15 years have hugely benefited consumers and the environment—GPS efficiencies and reduced use of chemicals. We need to be able to tell people that."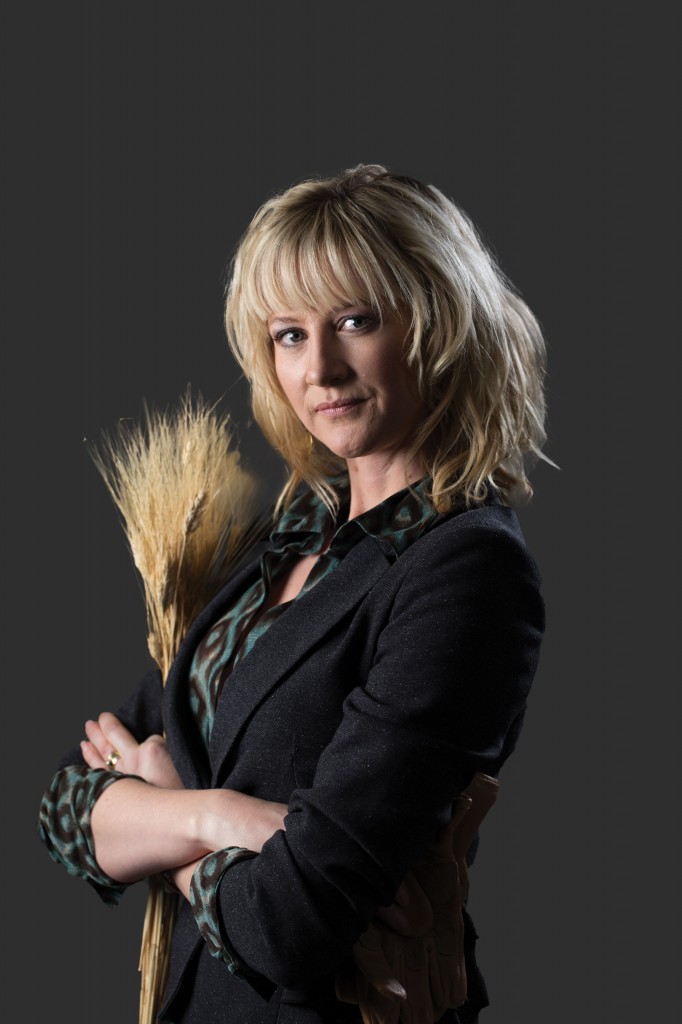 CHERILYN NAGEL
One of agriculture's most visible young faces, Cherilyn Nagel has taken farming public, narrating CropLife Canada videos promoting farm technology. Nagel, her husband David, and their two young daughters have also appeared with celebrity chef Michael Smith in a video love letter to lentils, and Nagel promotes positive ag stories as a participant in Farm Credit Canada's Agriculture More Than Ever campaign.
Though an active industry spokesperson, much of her work has been behind the scenes. Just 34, Nagel has served on ag boards for over a decade. Past interim chair of the Saskatchewan Wheat Development Commission (SWDC), she has also served as director and past president of the Western Canadian Wheat Growers Association (WCWGA) and is an Agriculture Development Fund director.
"It's her enthusiasm that impresses people," said Blair Rutter, executive director of the WCWGA. She, in turn, credits him with helping her navigate the industry, encouraging her to develop strong principles upon which to build policy positions. For example, she is a firm advocate of transparency and accountability in the check-off process.
Nagel has just handed the reins of the SWDC to its newly elected board. The new producer-led body administers grain check-offs for Saskatchewan's wheat farmers. As interim chair, Nagel was the natural public face of the fledgling body, fielding media and producer inquiries. She delivered a strong sales pitch for the application of producer check-off dollars to variety registration, agronomic research and market development.
"Producers know that money is coming back to us tenfold, fortyfold, a hundredfold in some studies," she said.
She admits to having been a research skeptic.
"I went in thinking I was going to shut some of these things down. It took being on these boards to appreciate what basic research was doing."
One might say that Nagel's life is characterized by a 180-degree trans-
formation. Now an industry leader, her re-entry into farming came about in an unlikley manner.
"I'm a fifth-generation farmer, but I had absolutely no interest in farming through high school," she said.
Born in Mossbank, SK, where she now lives, she left the family farm to study hospitality and tourism marketing. After college, she got her dream job as a dance instructor in the Turks and Caicos Islands.
"It was on the beaches of Turks and Caicos that I started to appreciate where I'd grown up and the lifestyle that I had," she said. In teaching country line dancing to tourists, she would tell them about her rural upbringing. "Telling that story, I realized what it was I had back home."
Returning to Saskatchewan, she was disappointed by the gloominess of the ag sector. Shocked by her return, her parents nonetheless encouraged her to enter farm life, and her friend Alanna Koch, now Saskatchewan's deputy minister of agriculture, suggested she attend Olds College.
Reuniting with her high school sweetheart and future husband, she embarked on a diploma in agriculture business with a finance major, determined to find a place for herself in farming. She thrived in the college's open-minded environment.
"I took a lot of cool welding classes, and it was [in school] that I started to get involved in ag policy."
Headstrong, with a love of argument, she gravitated toward strong, policy-minded peers.
"They showed me I could really take a position," she explained. "My husband was back home farming, making the best decisions he could make, but I could see the government was making decisions for him that weren't in his best interest. I got a bit angry about that, and decided that was how I could contribute to farming."
A decade of policy work later, she remains a tireless advocate of all that's positive in farming, and the constructive optimism she exudes has taken root in the industry.
"It's actually come true," she said. "Agriculture's made such strong strides. This is a great industry to be in."
The Nagels are now raising their children on the farm. The kids happily help their mother deliver meals to the field and ride along on the tractor with dad.
"The kids are just as involved in farming as they could be," she said. "That makes me feel really good."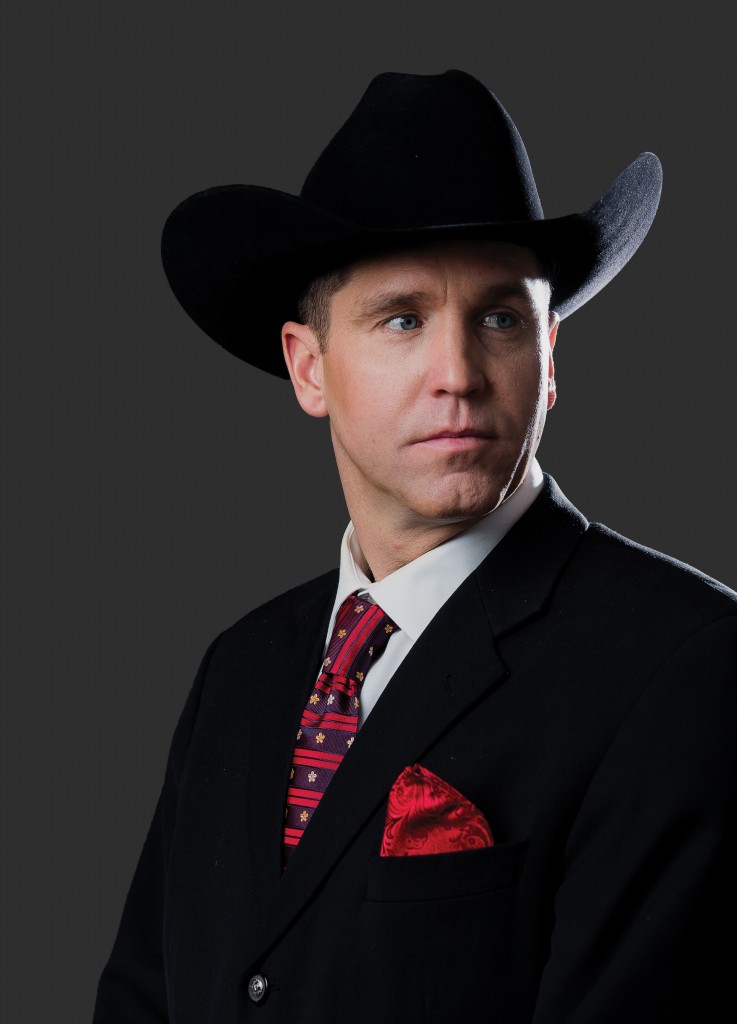 MATT SAWYER
The towering work ethic of former Prairie farm boys is legendary in the country's corporate boardrooms, but the brain drain of agriculture's best and brightest emerging leaders has slowed in recent years. Times are changing, and western Canadian agriculture is increasingly harnessing the power and ambition of its young minds.
Matt Sawyer, 42, exemplifies the powerful motivation of this generation. A grain and oilseed producer who raises Black Angus cattle, he works the family farm near the town of Acme. He is also Alberta Barley chairman, a WCWGA director and vice-president of Grain Growers of Canada.
He reminisces about backbreaking farm labour as fondly as if it were a European backpacking trip. While studying agricultural production at Olds College, Sawyer packed live chickens into semi-trailers at facilities across Alberta and into the United States.
"We'd pack upwards of 35,000 birds a night," he recalls. His philosophy on the subject is simple: "I've always enjoyed hard work. You know, if you're not working, you might as well work, right? That job taught me about work ethic." It also paid for his education and his first herd of cows.
Graduating in 1993, Sawyer took on feedlot work as he searched for direction in his farm career. He found a mentor in Doug Miller.
Just a few years older, Miller farms grain and cattle a few kilometres from Sawyer.
"My grandpa always said, you pick somebody that's doing a good job and you kinda go with it," explained Sawyer. "And this guy was always doing a good job. He was a good farmer, a good family man, and I respected that." The two became great friends, and when Miller became an Alberta Barley director, Sawyer paid close attention.
"I was interested in learning, and it was exciting," he said. "I certainly learned you do need to have farmers' voices in there to help shape your industry and help move things in the right direction. Politicians and policy makers, whether it's provincial or federal, they look to accredited agriculture groups to help them make decisions."
"Matt's pretty sharp," said Miller. Soaking up ag policy like a sponge, Sawyer stepped up when Miller's term ended.
"He had a knack for it," said Miller, who ascribes much of his friend's success in the ag-sphere to charisma. "Matt is very influential because of his personality. He's very well respected. People like being around him. When he steps down as chairman of Alberta Barley next year, he's going to be missed."
Under Sawyer's leadership, the commission has indeed been very productive. In 2013 alone, it worked to build barley's profile and boost communication with farmers, in part through a rebranding initiative that saw the launch of two barley-focused websites. Sawyer was also influential in the creation of the Barley Council of Canada.
"We were the group that spearheaded it and put a lot of funding behind it, because we realized the importance of having a national voice for barley farmers—a voice that unites the entire value chain on the barley side," said Sawyer. These and other initiatives, such as the creation of GrainsWest magazine, reflect the hunger for communication and information sharing that really characterize contemporary farming.
Sawyer and his wife Tara practise what they preach. Together, they received the 2011 Outstanding Young Farmers of Alberta Award. Aptly, the award's national governing body presents the honour to producers for their farm practices and achievements, as well as community contribution. While he balances fieldwork with commission responsibilities, she does the books, acts as the general leader of the Swalwell 4-H Beef Club, feeds the hired help and together they host 4-H meetings and raise three young children.
The award illustrates Sawyer's hard-earned understanding of the agriculture industry. As a man who finds fulfilment in hard work, this suits him fine.
"It's exciting. The environment is always changing. There are always issues that have to be dealt with," he said. "You want to make sure that you're always moving your industry forward. Farmers' opinions matter, and it's important they're represented. And that's what I'm excited about."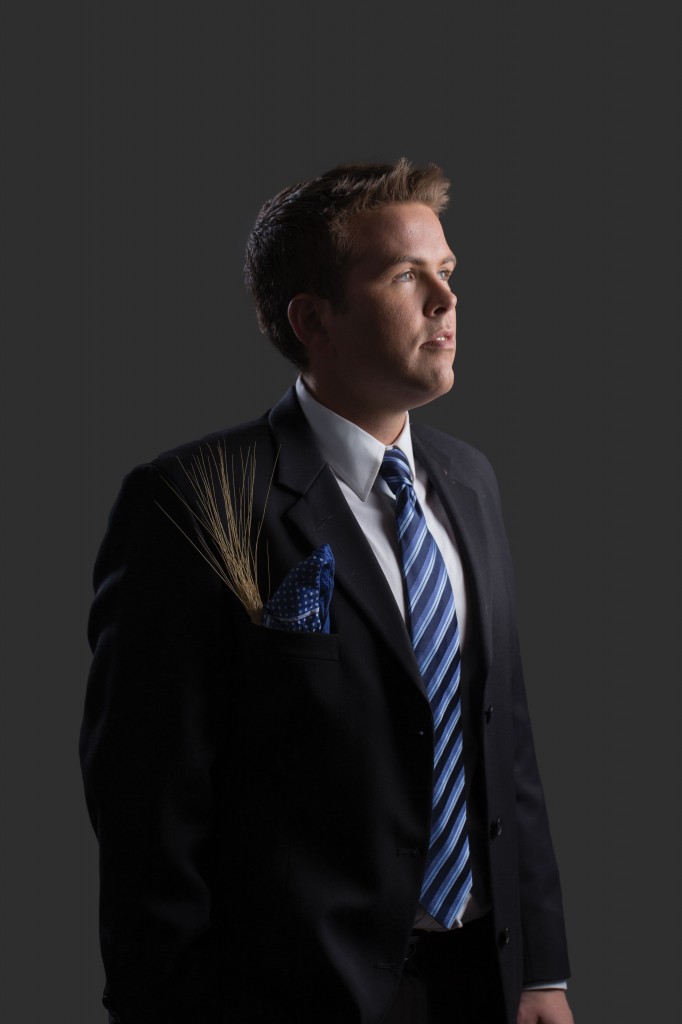 LEVI WOOD
Worldliness is not a quality historically ascribed to farmers, but "worldly" well-describes today's young farmers. Informed and connected, many contemporary farm leaders have worked and studied outside their field (no pun intended). Additionally, the Internet and social media platforms are as much a part of rural life as life in the city, allowing farmers to share their experiences with regional and international colleagues more than ever.
Levi Wood, president of the WCWGA, is a man of his generation. He spoke with GrainsWest having just returned to his grain and oilseed farm near Pense, SK, after attending the annual CropSphere agricultural conference in Saskatoon. He praised the conference as a place to discuss issues, compare notes on productivity, socialize in person with farm colleagues and simply take the pulse of the industry.
He said he believes the prevalence of social connectivity among young farmers drives attendance at events such as CropSphere, with its roster of informational sessions.
"Producers, especially younger ones, are looking at agriculture as a business, and they understand the interconnectivity not just within their own region or province, but also nationally and internationally. Getting a good understanding of where we fit in globally is becoming more important, especially when it comes to making marketing decisions, making crop rotation choices and all those kinds of things."
Wood's own journey off the family farm and back to agriculture was a roundabout one. Completing a bachelor of commerce in finance and marketing from the University of Saskatchewan, he worked in currency trading, completed his master of business administration at UBC and spent six months studying in Hong Kong. Though he had no interest in farming after high school, once his university education was complete, he was drawn back by a renewed optimism in the industry that he said is driven in part by young producers.
Gerrid Gust, a young farmer in Davidson, SK, and WCWGA board chair, approached Wood to join the organization. Wood said Gust's encouragement and mentorship has shaped his grasp of ag issues, as well as his leadership style.
Gust countered that Wood exemplifies farming's skilled new breed.
"Levi's experiences add value and make you look at things in a completely different manner than you would have before," he said. "People coming into ag policy now have all kinds of experience in everything from banking to retail to agronomy. It's people who've really had to work for what they've got, and made a conscious decision to come back to the farm. It really makes it exciting."
Elected a director of the WCWGA in 2011, Wood was named president in 2013. As an industry association populated with like-minded young farmers bent on moving the industry forward through the promotion of open markets and good business practices, Wood said its ambitions are close to his own.
"These things continue to make agriculture an attractive industry for people," he said, "and I think that's really kind of the key."
His ambitions for the organization are both local and global in scope. Farmer outreach will increase, for example. He also said the elimination of the Canadian Wheat Board monopoly and its umbrella over the grain industry value chain has left parts of that chain—such as grain transportation and variety registration—in need of attention.
Last year, he returned to Asia on a joint trade mission with the New West Partnership, whose member provinces include British Columbia, Alberta and Saskatchewan.
"It really opened my eyes to Canada's position internationally as a grain supplier," he said.
The trip also highlighted the ferocity of Canada's international agricultural competitors, and the need for the country to boost its own competitiveness, as well as access to foreign markets and demand for Canadian crops.
"Realistically, that translates across all industries we use, whether it's potash or wood or wheat. As a country we need to really, really be focusing on our international market."