UNDERGROUND UPGRADE
BY MELANIE EPP
Healthy soil is the foundation of thriving, sustainable grain production. Soil health management is crucial for healthy crop development and also reduces erosion, improves nutrient cycling and maximizes water infiltration. Bettering soil health can even help farmers lower their input costs. With this in mind, agribusinesses and agronomists alike work to provide farmers with the soil knowledge, data and equipment they need to cultivate long-term resiliency.
SOIL PROBE OFFERS CARBON QUANTIFICATION
Until recently, Canada's growing carbon economy has been missing one key piece of technology: a carbon quantification tool. After all, you can't reap the benefits of that which you cannot quantify. Montreal-based ChrysaLabs aims to change this with its real-time soil analysis probe. The probe quickly and accurately measures soil health parameters. While it determines nutrient levels it is also a reliable tool to verify nature-based carbon credits.
The probe is a real game changer when it comes to soil analysis, claims Guillaume Breton-Ménard, ChrysaLabs chief operations officer. The device combines three patented technologies and uses spectroscopy and electroconductivity technology supported by artificial intelligence and machine learning to deliver real-time reports on 40 soil parameters. Once inserted into an auger-drilled hole in the field, the hand-held probe generates a light-spectrum analysis of the surrounding soil. Its measurements include micro- and macronutrients, pH, organic matter, moisture, organic carbon and cation exchange capacity.
The information collected is processed in the cloud. Data is visible to the user via a smartphone or web portal. According to Breton-Ménard, the geo-specific results are available within 20 to 30 seconds. This allows farmers and agronomists to make actionable plans in real time.
Gifford Gillette is head of science for Redox Bio-Nutrients at Burley, Idaho. Gillette has used ChrysaLabs soil probe for more than a year. He likes the speed at which he can provide results to his farm clients, but is especially impressed the probe allows the user to more easily gather a representative sampling. "You have two million pounds of soil in one acre," he said. "Soil testing, quite honestly, isn't very representative. To be able to go out and get results in 30 seconds and not have to send in any soil or wait for it allows you to get more representative sampling across a field."
Interest in the probe has grown, particularly among project managers at carbon offset registries who wish to accurately quantify carbon sequestration, said Breton-Ménard. "There is very big demand for this kind of analysis, and delays can be three to four months in the United States and Canada. We offer a very scalable, cheap and accurate alternative for carbon quantification."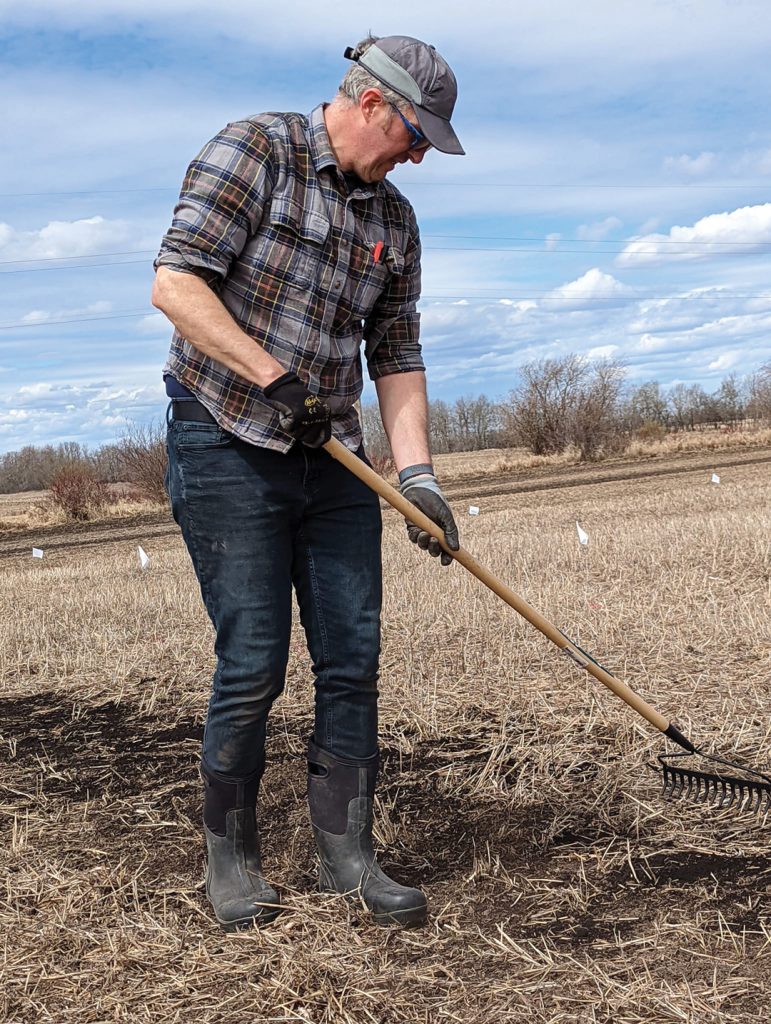 STUDY EVALUATES COMPOST FOR CROPS
In recent years, regenerative agriculture has gained much attention in Western Canada. The term covers a variety of related practices such as no-till, intercropping, cover cropping and compost fertilizer that are employed to improve and preserve soil health. Compost may also have positive economic and environmental implications, as it requires less non-renewable energy to produce. Until recently, however, soil experts have been unable to recommend an application rate for compost used in crop production. It was also unclear as to whether commercial fertilizers are needed as a top-up in the event compost nutrients fall short.
A recent University of Alberta study, led by M. Derek MacKenzie, professor of soil plant relations, and funded in part by Results Driven Agriculture Research, tested a variety of compost blends. Used with canola across various soil types, blended material included biochar, wood ash, gypsum and inorganic fertilizer.
Key partners in the study include Innovative Reduction Strategies, an industrial equipment designer and fabricator that supplied biochar and Gateway Research Organization (GRO), a Westlock area applied research association. AltRoot supplied compost made from green waste produced by the City of Edmonton.
Identical research plots were established in the Westlock, Camrose and Wetaskiwin areas. Each site included 13 treatments replicated three times. Microbial diversity was tested by extracting and sequencing DNA. Using a plant root simulator probe, MacKenzie and his team measured the availability of nutrients in the soil, including standard N-P-K-S values as well as calcium, magnesium and various micronutrients. They also measured CO2 and nitrous oxide emissions weekly. 
While the analysis of carbon sequestration and microbial diversity is not yet complete, MacKenzie was able to offer certain preliminary results. At the Westlock site, the combination of compost, synthetic fertilizer, biochar and ash offered the same productivity results as synthetic fertilizer alone and stimulated microbial activity. "We believe that it's also going to affect carbon sequestration positively," added MacKenzie.
Similarly, at the Camrose site, the best results were seen when a combination of compost and synthetic fertilizer was used. Interestingly, at the site in Wetaskiwin, compost performed just as well as synthetic fertilizer on its own. "Productivity wasn't affected, and yet you're using this organic amendment that is going to sequester carbon," said MacKenzie. "It's going to improve soil health, and it's going to stimulate micro-organisms."
The question, he said, is whether or not farmers will get paid enough to compensate for the expense of applying compost. "If you're using compost and biochar to maintain productivity, even if you're supplementing with synthetics, that's fine," he said. "But if you're using those materials, I believe you're going to be sequestering more carbon. Farmer should get paid for that, right?"
MacKenzie and his colleagues will continue to analyze the project's below-ground results to determine how the various component combinations impact microbial activity and carbon sequestration. This will define how compost blends affect overall function across soil types.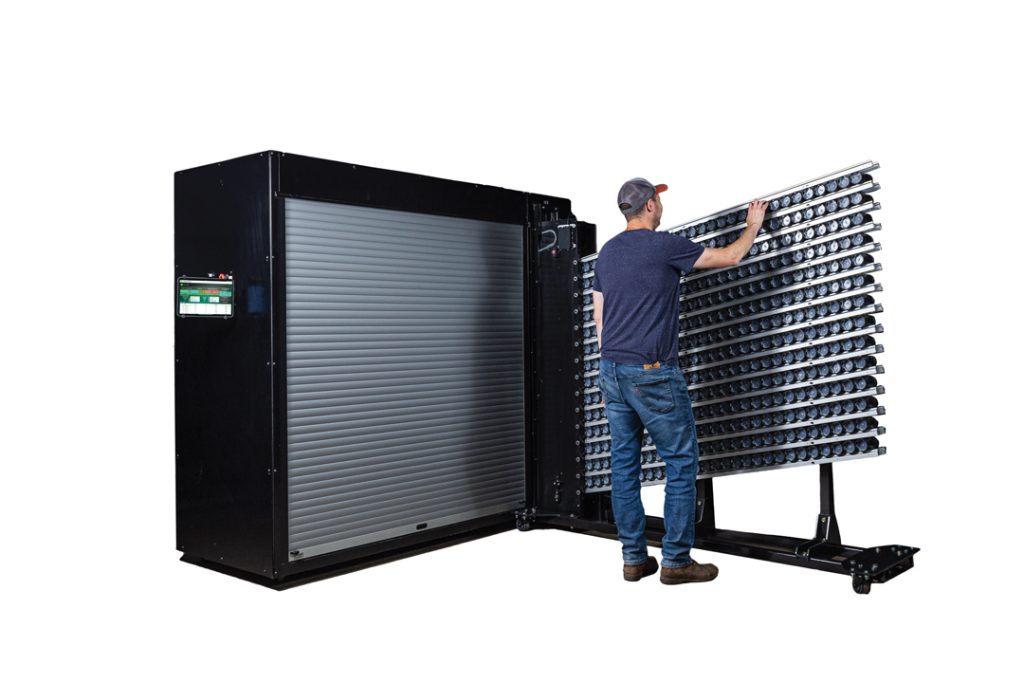 A TOTALLY RAD APPROACH TO SOIL SAMPLING
The need for effective soil nutrient management is a pressing agricultural challenge. It is the key to farm profitability and plays an important role in environmental stewardship. To better address the need for sound soil management, Precision Planting of Tremont, Ill., developed Radicle Lab. The central component of its Radicle Agronomics system, the fully automated soil laboratory gives professional agronomists the ability to analyze hundreds of soil samples quickly and accurately. "It can be operated by anyone who can run a dishwasher. It's that simple," said Dale Koch, Radicle Lab product manager
Radicle Lab is supported by a suite of tools that includes GeoPress, a collection module that mounts to the back of a truck or quad. Soil is collected using a conventional soil probe coring tool. Funnelled into the GeoPress, it is thoroughly blended and stored in a reusable tube. The tube is equipped with a radio frequency identification (RFID) tag that records geo-location and additional field data. The agronomist gathers quality samples without the onerous task of recordkeeping associated with the old bag-and-tag approach.
Back in the shop, following sample collection, the tubes are loaded into a rack attached to the main body of the Radicle Lab. Like a wide refrigerator with a rollup shutter that reveals its complex inner workings, the unit automatically analyzes the samples. There is no need to download or upload information, as the data collected using the RFID tag is automatically stored in the cloud. The unit holds up to 400 samples simultaneously and begins to produce results, sample by sample, in as little as 15 minutes.
While the lab is convenient and improves work efficiency it also improves sample accuracy by removing human touch from the lab analysis. "There are dozens of times that a person in a typical commercial soil lab would touch and handle the soil," said Koch. "Unfortunately, every one of those touches is an opportunity for a problem to be created."
Michigan-based agronomist Kyle Kelley of Cropwatch LLC began to use Radicle Lab last fall. He's impressed by the system's overall efficiency and how quickly he can offer his clients accurate results. "With prices hitting all-time highs, guys were wanting to cut fertilizers," said Kelley.
A couple of features boost the system's overall accuracy. A wet lab, it uses purified water in its analysis, and this allows for the precise measurement of potassium levels. Conventional labs dry soil samples prior to processing, which decreases the accuracy of potassium testing. Second, while most commercial labs assess hand-scooped samples by volume, the Radicle Lab makes its calculations more accurately by weight.
The unit now measures pH, soil acidity, buffering capacity, phosphorus, potassium and calcium. Precision Planting aims to soon add magnesium to the mix, which will make measurement of cation exchange capacity and base saturation possible. In the future, the company hopes to also include analysis of micronutrients, including zinc, sulphur and copper.