DIGITAL DOMAIN
BY TREVOR BACQUE • ILLUSTRATION BY DOMINIC BUGATTO
Technology continues to upend agriculture. More and more tasks in a farmer's daily routine can be carried out using recently developed technology. From input programs and crop scouting to safety logs and inventory management, farmers typically opt for convenience. Grain marketing is no different.
Grain marketing used to be an arcane process shrouded in mystery. As new players have jumped into the game, this spookiness has begun to dissolve, and this world has simply never moved so quickly. Perhaps this relatively sudden revitalization was to be expected. Until western Canadian farmers had marketing freedom, there was virtually zero impetus to innovate and create robust marketing mechanisms. After a decade of farmers navigating grain marketing on the Prairies, many players have emerged, all with the same idea in mind: make the system work better.
It's certainly what Jon Driedger has observed. The vice-president of LeftField Commodity Research has spent 20-plus years in the grain marketing industry in Western Canada. He said the Prairies are a unique region and need to be treated as such, especially when it comes to marketing.
"I would argue that price transparency and the availability of accessing prices on a widespread basis is more difficult and more opaque in Western Canada than it would typically be, for example, in the U.S," he said.
Despite companies that push grain marketing innovation with their products, these represent a "tiny fraction" of all grain transaction, said Driedger. "Perhaps at a certain point there will be a higher portion of it that does flow through these platforms, but the whole thing is a little more evolutionary than revolutionary," he said. "It probably is also a reminder that it is kind of a relationship-and-people industry. Sometimes it's easy to forget people want to pick up a phone and actually talk to someone or have a rep that comes by their farm."
Progress, even if it's incremental, is still progress, noted Driedger. As an example, he cited the fertilizer market as a seemingly prime target for disruption. With countless buyers, sellers and wholesalers, it could easily be tied to a futures market. However, this has never materialized.
"It's hard to get people to change how they do business if they're sort of comfortable doing things a certain way and it's working for them. Even if it's not working as well as it maybe should or could," he said. "People are increasingly more comfortable using technology and apps, and I think just by virtue of that, it does make it easier to put information quickly and easily in people's hands. If they're comfortable using it, all of that helps."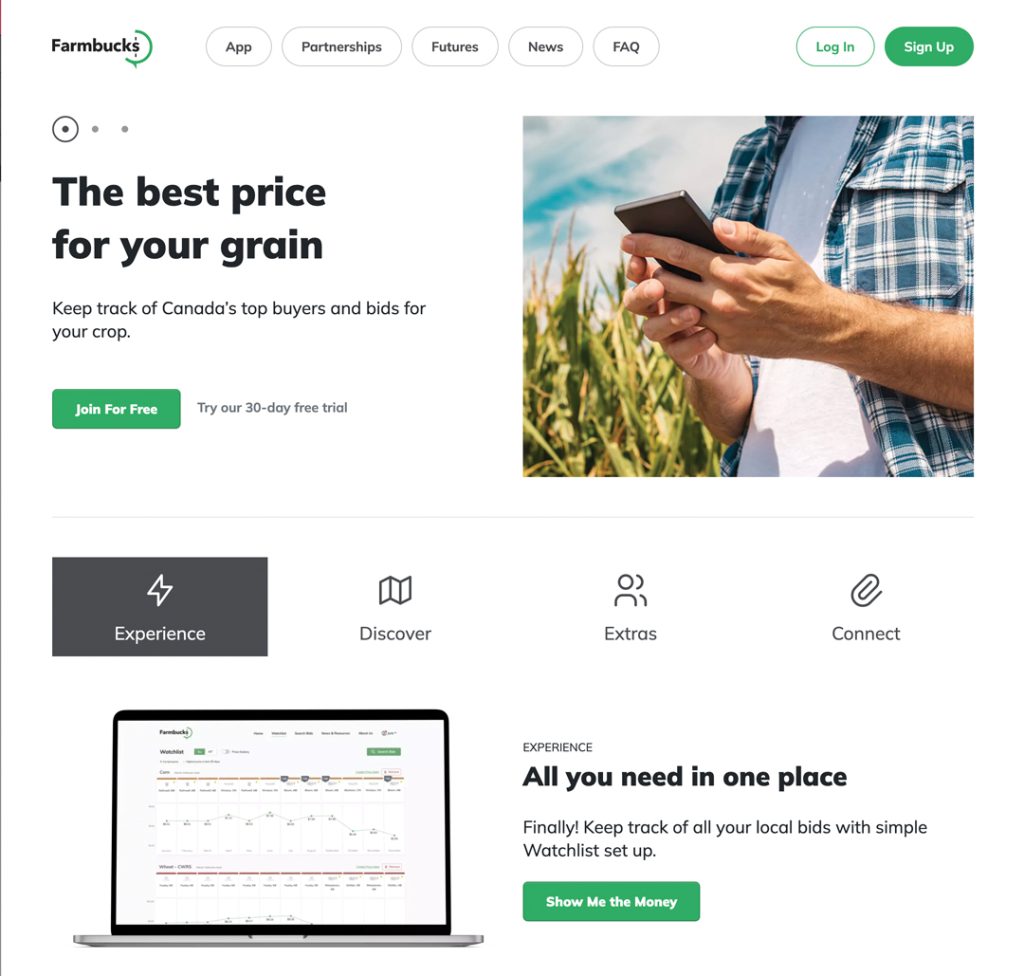 LIKE EXPEDIA FOR GRAIN MARKETING
If you want something done, ask a busy person. In 2017, amid the busyness of farmyard chores, Lynn Dargis had set a price target for her spring wheat and awaited the call. With a bit of downtime, on her phone, she scrolled through a competitor's platform. To her surprise, that buyer had just shored up its basis and suddenly her desired price was staring back at her.
She was glad and frustrated all at once. Had she not randomly done the quick search she would never have known her target price was met elsewhere. "I was super annoyed modern technology wasn't allowing me to properly find these prices quick," said Dargis. "Farmers just don't have time in the day to check everyone's websites and sort through the thousands of bids that are available because, you know, we have farming to do."
She spent the rest of that day trying to find an app that gathers bids in one user-friendly platform, but none existed. So, like any good farmer, she made one herself.
Dargis is a woman with many skills, but app developer isn't one of them. She enlisted tech professionals and set about building what is now Farmbucks, an online portal and app to connect western Canadian farmers with live bids on every crop.
A farmer punches in their location, commodity and radius, and the Farmbucks algorithm gets to work. Within seconds, they will view thousands of available bids sorted according to their parameters. No more scouring every grain company's price page continually throughout the day.
To begin, though, she needed buy-in from the industry. She quickly gained support from several large multinational grain companies through face-to-face meetings. Over the years, she has slowly added just about every major buyer a Prairie farmer might do business with, and there are very few holdouts.
Her 400 users view 100,000 price updates per day. The 3,500 newsletter subscribers receive Dargis's weekly insights and latest scuttlebutt from the grain marketing world. Even without a paid membership, users can access key information such as canola bids and futures.
Dargis has configured the program to give farmers the real goods with as little guesswork as possible. That means she's integrated spreads on wheat so everything is on a level playing field and farmers can try and find pricing with both a grade and protein level in mind.
"Once farmers select their grains, it automatically pulls up the top bid for every delivery month for the next 12 months," she explained. "When you click on a specific delivery month of interest, you will find a drop-down chart of all the 'next best' bids. We also try to show specials that pop up or targets that are triggering. There is all sorts of good information you can use to your advantage as a farmer."
For less than the price of a Netflix account, farmers receive greater transparency on pricing data like no other app. Beyond grain prices, farmers can browse the recently introduced rack fuel prices on gas and diesel.
As increasingly more farmers turn to digital grain marketing solutions and spend less time speaking over the telephone, Dargis believes it benefits a company to have farmers see its name while scrolling for prices. "People don't shop like they used to. The grain marketplace has changed so much and there are more buyers and locations than ever. We all want convenience. It's no different than using Expedia to find hotel options and best deals," she said.
"As for grain buyers, the more you're involved in the marketplace and have eyes on you, the better. Farmers need to be able to sell grain confidently, and that's where transparency comes into play."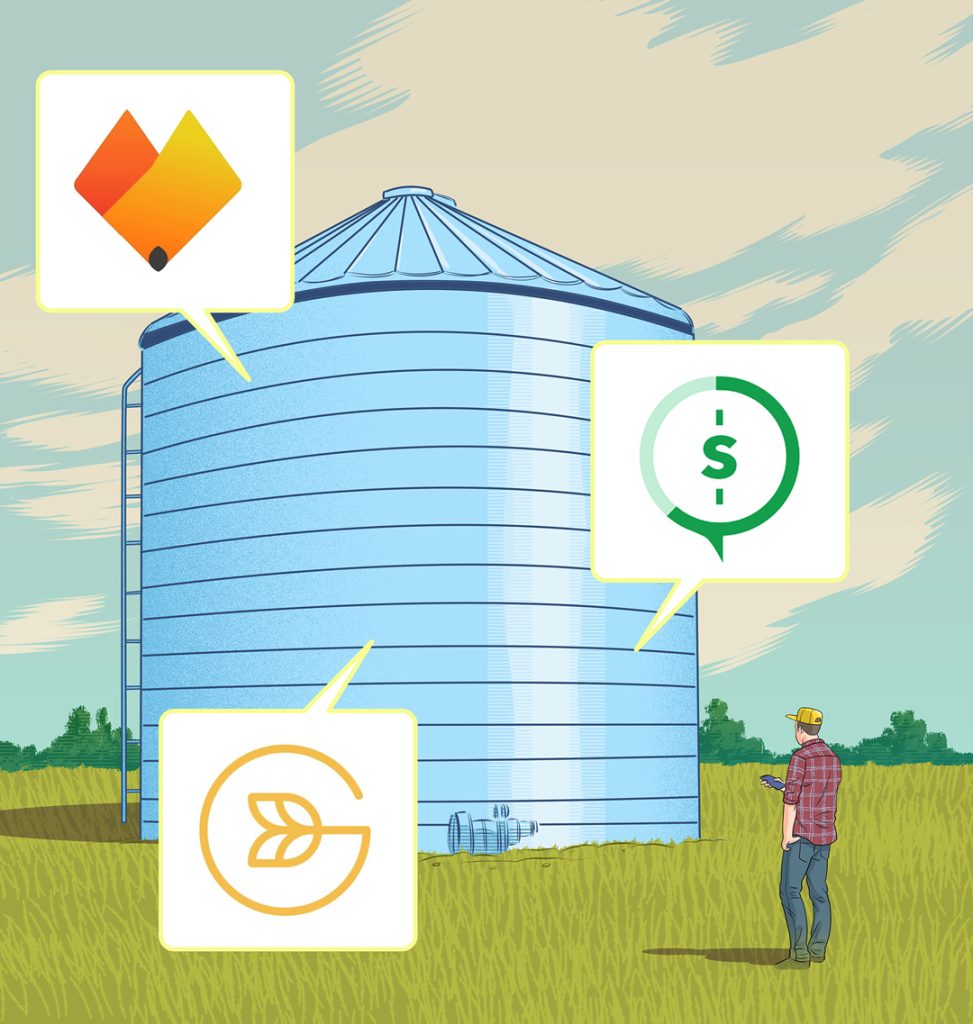 BIN TO BANK GRAIN MANAGEMENT
The founder and CEO of GrainFox, Mark Lepp said the company helps western Canadian farmers manage their crops from "the bin to the bank." He defines this digital tool as a farm wealth solutions platform that treats commodities no differently than any other assets in a healthy investment portfolio. The company has worked with farm operators of all sizes since 2019 to help them make informed business decisions. A GrainFox subscriber will experience customized tools and resources designed specifically for their farm.
"What we've done is take those broad, high-level strategies—short-, medium- and long-term—and really evolve that into a kind of fintech where you put your crops in a portfolio and help you understand what the relative outlooks are of each specific product and what that means to you," said Lepp. 
Farmers can choose to input as much, or as little, information as they want. This can include cash flow goals and needs, storage constraints and sales as well as contract and delivery details. A risk tolerance survey is also included to help inform the tailored strategies users receive. "You can literally sign up, put that information in and within five minutes you will have your personalized sales strategy, at least as a starting point," he said.
GrainFox recently launched its Smart Advisor tool, which provides personalized sales recommendations via machine learning and AI by combining decades of market data with a farmer's data. "We set out to eliminate 'newsletter fatigue,'" said Lepp. "In the process, we developed a tool that takes personalization above and beyond anything in the market."
It's typical for a farmer to receive marketing recommendation eBlasts for each of the multiple crops they grow. This creates a glaring issue. "None of those are relative to each other," said Lepp. "It's telling you to hold on to your canola. It's also telling you to hold on to your wheat for maybe less time; but each of those strategies are independent by the crop." GrainFox can understand the status of a farmer's crop characteristics and operational goals to generate a holistic solution for a business.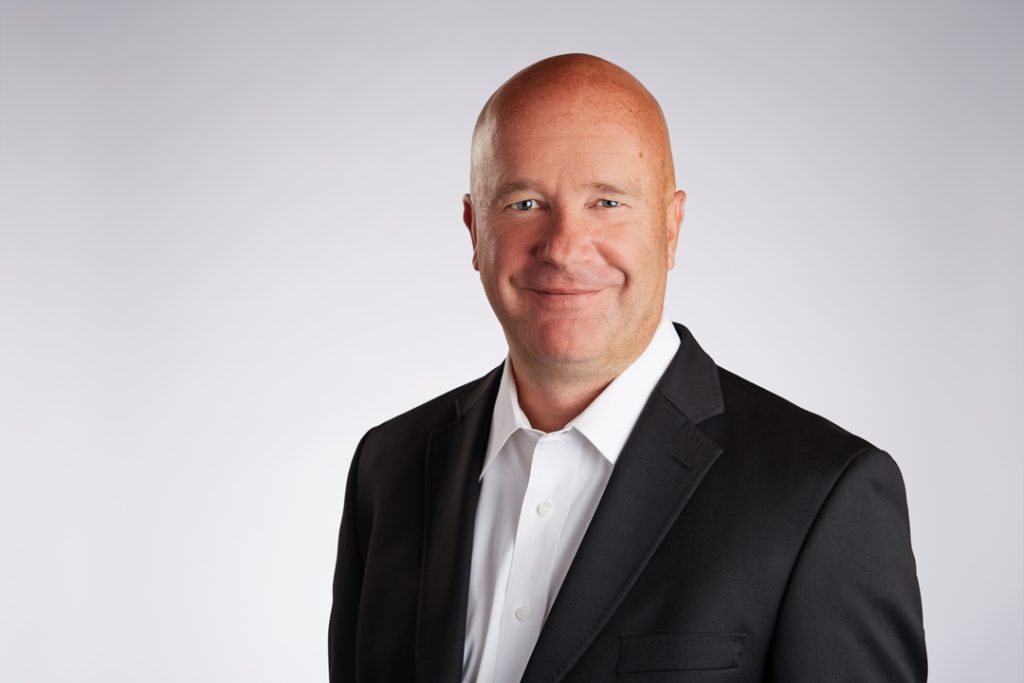 Because it's priced on a flat rate, Lepp believes his 5,000-plus customers all benefit with GrainFox. With its two primary models based on subscription rather than a per acre fee, many "smaller" farms can now get top-rate insights, he said.
"We really try to make this as easy as possible to use for all types of farmers … but we have definitely seen the 80 to 90 per cent of farms under 5,000 acres are rarely serviced with a company that helps with grain marketing," said Lepp. "That's what we're trying to change."
GrainFox plans to integrate with other farm data management platforms, including John Deere, so cross-compatibility is not an issue, he noted. He hopes farmers try the app and realize crops should be treated with the same diligence as retirement funds. Farmers routinely work with many trusted advisors and Lepp sees GrainFox as another means to strengthen farm management.
"There's a lot of ways farmers can create better connectivity with the people they're doing business with," he said. "That helps on every single component of that farm business on just improving communication and information flow so that farmer can make better decisions."
TRACEABILITY ACROSS THE SUPPLY CHAIN
Not every digital marketing business wants to roll up its sleeves and get dirty. Some just want to provide the platform where the work can be hammered out. This is just what Grain Discovery has done. Since its 2021 launch, Grain Discovery has grown from zero to 6,000 users and added 60 grain buyers, and counting, to its platform. Companies and farmers use the platform to conduct business with one another, while Grain Discovery acts as the agent to make it possible.
What's more, the company has found a niche with many crops, including wheat, corn and soybeans. As more grain buyers demand certain deliverables from farmers—spraying, scouting and input history of fields—Grain Discovery has set up its interface so this information is shared with all supply chain partners.
Founder Rory O'Sullivan has 18 years of experience in the grain industry and has watched more and more Canadian farmers and buyers continue their digital migration. "Anyone can trade stocks in the palm of their hand, but if I'm a grain farmer, why am I still doing it similar to how my parents or grandparents did it?" he said. Through the company's new traceability aspect, any farmer's crop can be tracked right back to their field. This can be especially important for high-value crops such as malting barley or identity-preserved soybeans, both of which move regularly through Grain Discovery.
"It's very tailored towards particular closed-loop contracts," he said. As the Canadian commodity sector continues to shift to an ingredients sector, platforms like his will simply become "table stakes" to conduct business, he added.
The company has seen huge growth in Ontario where there are more independent grain buyers than on the Prairies, but it has made inroads in Western Canada. O'Sullivan said Grain Discovery can save the average elevator about 3,000 hours per year of basic calculations and back-end administrative work, which can easily total $80,000 or more annually.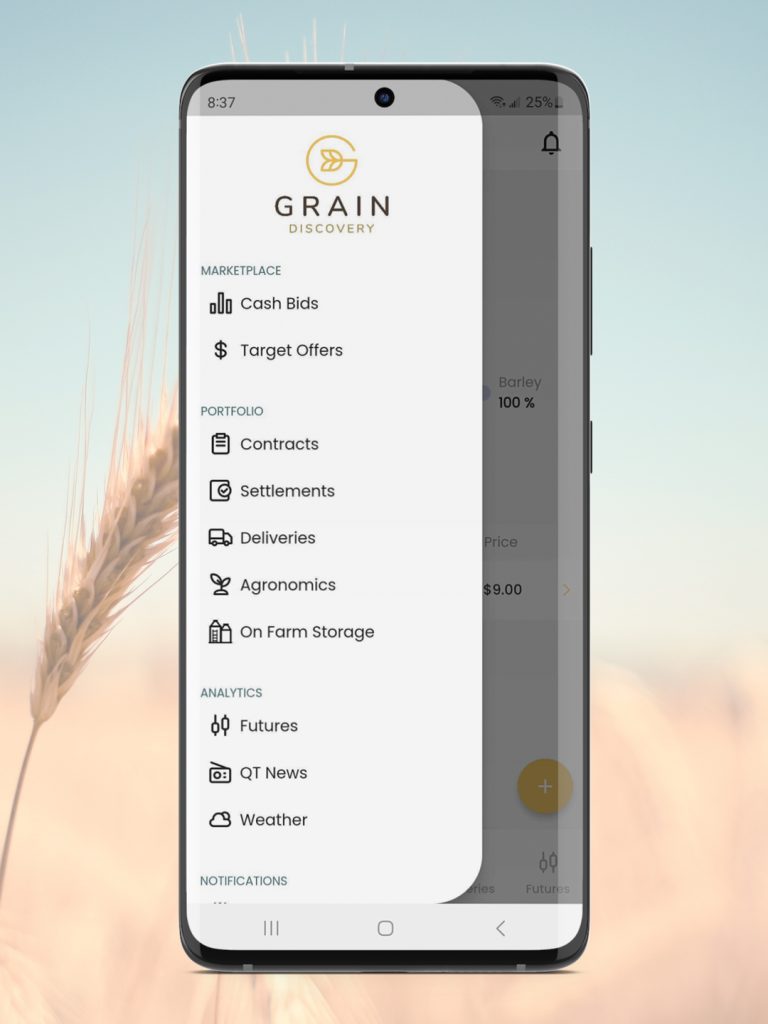 He said the software is easy to use and his octogenarian users attest to this fact, O'Sullivan noted. He's not chasing a certain type of farmer, he added, but rather "just whoever's buying or selling grain."
As the first and only live buying and selling platform in Canada, it can be a little daunting to lead the pack, but O'Sullivan is ready for the challenge. "It's a one-stop shop where you can see from a farmer's perspective, they can see all their portfolio and where the positions are. They can re-sign contracts, book logistics and view their ticket sales," he said. "Now, they can also do all the traceability work like agronomics when their grain gets sold. That digital passport gets attached to that grain and you get a premium for that."
Part of that passport includes working with third parties, such as the Canadian Seed Growers' Association, where grain buyers can easily validate the authenticity of seed tags with the organization's database. O'Sullivan continues to see more farmers seeking marketing advantages and to leverage their data for a double payday.
"Certain companies may want an ESG standard or be able to prove a crop is low carbon, sustainable, whatever," he said. "Instead of scrambling around to find out what system I should use, Grain Discovery has already built that. It's simple and easy to adopt. We've built up laser focused data of what's required for traceability today, so when there are premiums in the future, that information is easily verifiable."