THE INFLUENCER
BY ELLEN COTTEE • PHOTO COURTESY OF TEAM ALBERTA CROPS
Founded by Alberta Barley, Alberta Canola, Alberta Pulse Growers and the Alberta Wheat Commission, Team Alberta Crops was formed to elevate the influence of Alberta's farmers in key agricultural policy areas. Focused on four priorities—improved market access, reduced regulatory hurdles, increased global competitiveness and continued sustainability—Team Alberta Crops advocates on behalf of Alberta farmers.
The organization hired Reg Warkentin as its first full-time staff member in spring 2022. As government relations and policy manager, Warkentin works to unite the voices of the organization's eight member commissions and advises policy-makers on its collective priorities.
Born and raised in Red Deer, Warkentin's time outside work revolves around family. He and his partner Lindsey take their five children to the rink and pool and spend time together hiking and swimming in the mountains.
GrainsWest: You didn't grow up on a farm. How did you come to work in agriculture?
Reg Warketin: I'm a generation removed from the farm. My grandfather leased out the land from when I was a young kid, so I didn't have a lot of exposure growing up. However, when I started working in finance investments, a lot of our clients were farmers. That was my first big introduction. Later on, as policy and government affairs manager with the Red Deer District Chamber of Commerce, there was a lot of ag policy to consider. We were really fortunate to put together a strong policy group from the bank and finance side, along with equipment, value-add and producers. We have one of the stronger chambers in the country when it came to ag policy.
GW: Long ago, you did work for a summer as a research assistant with Agriculture and Agri-Food Canada. How did that role impact your career?
RW: That was a huge learning opportunity. It was also a fun place to work because you had a mix of research scientists and people who farm as well as work there. Even being able to tell the difference between wheat and barley, I know it's elementary for most of us, but in the general public there is an extremely limited number of people who can even do that. It really granted me a huge appreciation for the industry and everything that goes into it.
GW: What drew you to the government relations and policy manager role with Team Alberta Crops?
RW: When the position came up, I was really interested because [agriculture] is an extremely important industry. Issues like food security and safety are critical. Whether you're a farmer, a policy person or working in a commission, you're providing that much-needed support to an extremely important but often underrepresented industry.
Agriculture policies, perhaps more than most other industries, have an incredible impact on the sector. It's a lot more pronounced than other industries. It is extremely important to have representation. The real props go to the commissions for understanding the value of working together. I'm fortunate enough to be the person who gets to collaborate with all of them and make sure we're all rowing in the same direction.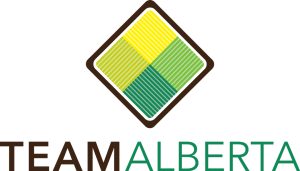 GW: What are the top priorities for Team Alberta Crops? 
RW: The way things have been going, especially with the current federal government, nearly every issue at its core is dealing with sustainability and environmental issues. Whether it's fertilizer emissions reduction or the Pest Management Regulatory Agency transformation, the Sustainable Canadian Agriculture Partnership or AgriStability program, it seems like almost everything is related to the environment.
We know farmers are excellent stewards of the land, but the big challenge is getting the public and governments to understand farming a little better. We don't want to risk the implementation of potentially harmful policies that negatively impact the industry.
Another interesting issue we've been talking about recently, and I think will be a big issue over the next year, is land use conflict. That's always been an issue with urban sprawl, but we're seeing several large solar projects in particular occurring on arable land. It's an interesting contradictory situation where folks are trying to save the environment by putting in these renewable energy projects, but also taking arable land out of operation. That's definitely something we're going to have to look at.
GW: You started with Team Alberta Crops in March 2022. Approaching one year, what would you say has been your biggest challenge and success? 
RW: The biggest challenge is narrowing down our common interests and finding how [producer groups] can work together. We have so much more in common than we have differences. The biggest success was when we first met as a group with Minister of Agriculture and Irrigation Nate Horner. We were able to discuss key issues and the minister was also very much on board with our priorities. I think that was of incredible value to our team, our commissions and all the producers we work for, because it was incredibly effective. Minister Horner was able to take those issues and priorities to the annual federal, provincial and territorial meeting of the ministers of agriculture.
GW: In April 2022, the Alberta Beekeepers Commission, Alberta-British Columbia Seed Growers, Alberta Sugar Beet Growers and Potato Growers of Alberta joined Team Alberta Crops. What do you see as the value of additional members? 
RW: It's all about strength in numbers. It's incredibly important to be part of the crop commissions, but when you have all the commissions across different aspects of the sector speaking in one collective voice, presenting one message, it's so incredibly impactful. Including these commissions grants a much more substantial degree of influence. It makes it easier for the government to listen to us when we're speaking collectively. 
The commissions are well-run and well-organized, with such invested boards of directors providing great direction and feedback, as well as such competent staff. It's really been a pleasure to work with these groups. 
GW: What's on the agenda for Team Alberta Crops in 2023?  
RW: We want to work on building out the organization's brand and public awareness, starting with a logo refresh to better incorporate our new partners. That will be a priority. 
We also want to start working with more like-minded groups such as the Alberta Motor Transport Association and local chambers of commerce on common policy issues, making sure we're collaborative and our name is out there. We want to be recognized broadly amongst the public and governments as the go-to source for issues surrounding crop policies.
GW: What are you most looking forward to in your ongoing role? 
RW: One of my goals, and that of Team Alberta Crops, is getting food security at the top of mind for people. People take for granted going to the grocery store, grabbing food and not understanding all that goes in to producing it. I really want to see the public get more engaged with food production and food security, because I think that is key to having a policy environment that is conducive to letting the farmers do what they do best.   
For more information on Team Alberta Crops, visit teamalbertacrops.com.