THE PEACE PROCESS
BY IAN DOIG • PHOTOS BY ZOLTAN VARADI
The first all-weather road to link Alberta's Peace Country to the rest of the world was built in the 1930s. As road trips go, it was a doozy. The dirt track was no more than a glorified trail that linked Edmonton with Fort St. John in northeast British Columbia by way of Lesser Slave Lake. A South Peace Historical Society writeup describes it as "a twisting, squirming route that turned into an impassable bog of gumbo after frequent cloudbursts." It was known locally as the worst road in North America. 
Bad as that road was, in prior decades, aspiring farmers had fought their way through the bush to build new lives on their own terms in this remote region reputed for rich soil and mighty sunlight hours. Though barley was reportedly grown at Fort Dunvegan in 1809, Peace Country agriculture only began to grow significantly beyond the subsistence level in the early years of the 1900s. Land was steadily broken for farm production as successive waves of settlers arrived during the Great Depression and after the Second World War.
Wheat and barley were exported from the Peace Country starting in the 1920s when a rail line from Edmonton penetrated the region. Legumes and grasses were established as seed crops in the '30s and '40s, as was flax, while barley acres exploded in the '40s and '50s. Rapeseed proliferated in the '50s. In 1965, A.A. Guitard, then-director of the Beaverlodge Research Station, described the Peace Country as "this 'Inland Empire' of ours … Now it is a well-developed, well-serviced and diversified region rich in timber, minerals and sources of energy. There is a broad-based, diversified agricultural industry."
His informed words suggest a region that had rapidly modernized. The declaration is ancient, but something of the Peace Country's frontier reputation remains in the popular imagination. Resident farmers are quick to point out their Inland Empire is just as progressive as it was in Guitard's day.
In August, inspired by Guitard's claim the Peace Country has long been ahead of its time, GrainsWest set out on a road trip to gauge just how progressive its farmers are. As pre-research, I contacted farmers and ag professionals across the region. Repeatedly, I was told about neighbours doing "great" and "interesting" things. In all, photographer Zoltan Varadi and I visited seven farms and three research stations from Beaverlodge in the southwest to Fort Vermilion in the northeast. And, at everyone's urging, we spent an entire evening photographing the La Crete Ferry as it crossed this enormous region's namesake waterway, loaded with farm machinery, timber, hay and people.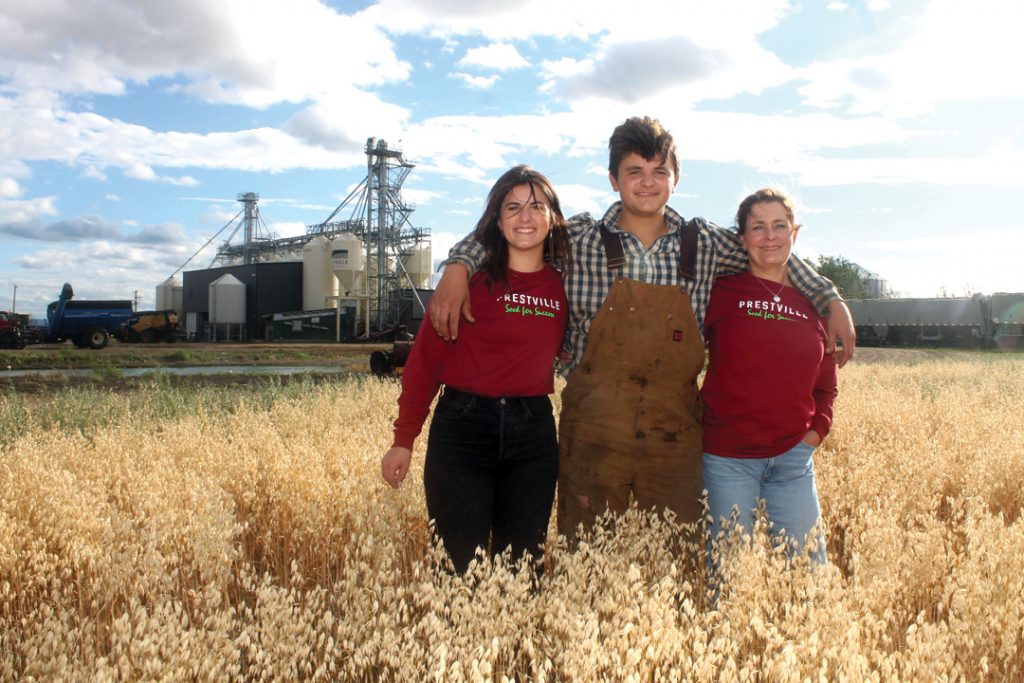 AGGRESSIVE AND PROGRESSIVE
At Prestville Farms headquarters, just south of Rycroft on the west side of Highway 2, Caroline Sekulic had just hired a much-needed bookkeeper. Pedigreed seed growers who operate their own seed plant and cow-calf operation, she and husband Nick are busy and ambitious. The couple's 7,300 acres of cereal, oilseed and pulse crops in the central Peace are spread across the counties of Spirit River, Birch Hills and Saddle Hills. Being one of the few seed growing operations in the Peace Country, they sell everything they grow as demand for locally produced seed increases.
Their children Olivia and Theo will study commerce this fall at UBC and the University of Saskatchewan, respectively. On Aug. 10, they assisted their mother with early harvest and seed plant duties while Nick was on tour in Eastern Canada with son Max. A business student and aspiring pro golfer, Max had just won the Canadian Men's Amateur Championship in Windsor, ON.
Like this family comprised of farmers, finance professionals and a sportsman, the Peace Country is known for its variability. This includes soil. The Sekulic farm ranges from grassland to sandy loam and grey wooded. Climate is particularly varied. "People think on their feet up here," said Caroline. Harvest can bring rain, hail and snow. "There are always changing weather concerns. We have to move quickly."
Despite the notoriously short growing season, much of the Peace is suited to long-season crops such as spring wheat and canola. The Sekulics grow early-season cereal varieties for clients whose local microclimates demand them, but these
are not their main trade. "The lion's share of our business, the focus is on yield, competitive value and economic potential," said Nick, on the phone from Max's winning tournament days earlier.
"We have a much more compressed harvest season," he said. Though summer moisture maps indicated the Peace Country fared better than much of the Prairies, their area endured an unheard-of week of 40 C weather. High moisture is the norm, however, so most farmers here employ tracked machinery and dryers or aeration equipment and bin monitoring systems.
Beating the short season is critical, and the Sekulics have used a high-capacity grain dryer since 2012. They harvest cereals as high as 21 per cent moisture and straight cut canola as high as 15, then clean and dry immediately. Launched in 2019, the Prestville plant now features an Alvin Blanch dryer and heated seed treatment facility.
Necessity defines the Peace Country. It drove many settlers to the region as the rest of Prairies had largely been developed. What drew Nick's grandparents to homestead here in the early 1900s was productive, well-priced and available farmland. Successive generations were shaped by demanding growing conditions. This has made Peace farmers both progressive and aggressive, said Nick, who also serves as a Seeds Canada director. "When they aren't farming grain or running cattle operations, they're involved in logging, oil and gas and trucking to help build their businesses," he said.
He added farms in the region tend to be big and good agronomics bring robust productivity. With good rail access, grain export from this vast region is efficient. "There's a reason they keep adding big grain terminals in Peace Country," said Nick.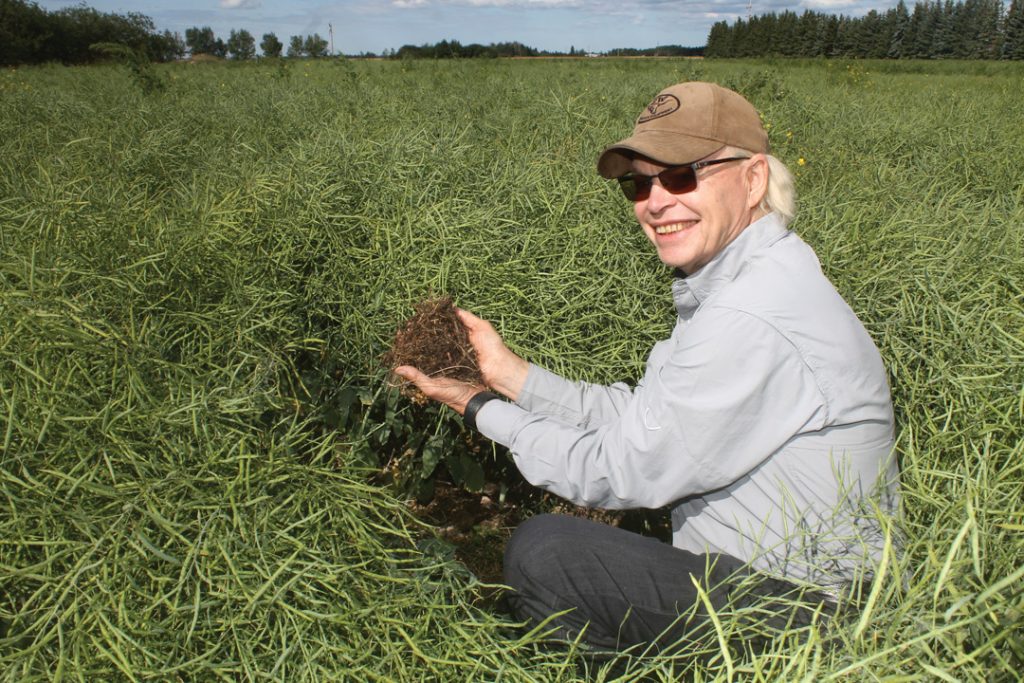 AT PEACE
Just south of Fairview, we asked Neil Boyd if his field practices have helped his crops through the ongoing drought. He answered by walking us out to a canola field. He dug in under the thick crop canopy for a handful of soil heavy with organic matter, surprisingly moist and cool.
Boyd lives and farms with balance and moderation, an approach that has delivered agronomic results as well as contentment. Each workday begins with freeform yoga and easygoing CBC Radio music program Mornings with Saroja Coelho. In this restorative routine, he pays attention to the physical complaints that come with farm labour. A serious devotee, he is vice-president of the Feathered Pipe Ranch Foundation of Helena, MT, a non-profit humanitarian group whose various educational programs include yoga retreats.
"After I finish my yoga practice, I feel great," he said. "I go on with my day feeling more flexible, and your mind feels more open. You need those things to be a farmer."
He and wife Ruby operate the farm, while son Curtis who lives in Lacombe helps out in spring and fall. The couple's daughter Amanda is a professor at Washington State University.
With a lifetime interest in holistic farming, Boyd gravitates to sustainable practices. He has carried out continuous soil improvement since he adopted a no-till, low-input strategy in 1996 and began seeding through straw with a hybrid drill. He now uses a single-chute drill, does not disc or harrow and rarely enters the field between seeding and harvest. He applies inputs as necessary and maintains a 60-20 fertilizer regime on wheat and 60-20-0-10 on canola. "Now, the land is more forgiving," said Boyd.
Peace farms tend toward the extremes of organic and intensive, whereas Boyd describes himself as "a radical centre." He diplomatically emphasized there is no one way to farm. "All a person can do is farm the way he thinks is working. If that changes a mind here and there, that's fine, but I'm not going to preach about it."
Boyd's triple bottom line philosophy is agriculture should ideally have social, environmental and economic benefit. He shares this outlook with the Quivira Coalition, a Santa Fe, NM, organization that promotes resilience in agricultural landscapes. "It sounds like a cult, but it's not woo-woo," he said with a laugh. "It's good ol' boy farmers from the southern states." At the group's annual conference, he picks and chooses practices he can apply.
He believes Peace Country farmers tend to be ahead of the curve in adoption of new technology because land here has historically been cheaper to buy and rent than in the south. This has allowed farmers to utilize advanced equipment and new technologies sooner.
At 67, Boyd reports he feels great, but knows his limits and has adjusted his operation accordingly. To keep work manageable as he ages, he has simplified. He once cropped 2,700 acres, but now rents 950 to younger farmers. He also sold off his cattle operation five years ago to concentrate on wheat and canola. "It's not a real big farm, but it's a good farm," he said. "You have to do things where you're comfortable and still having fun. It's really important to keep your mental health up, your physical health up and to keep the soil healthy."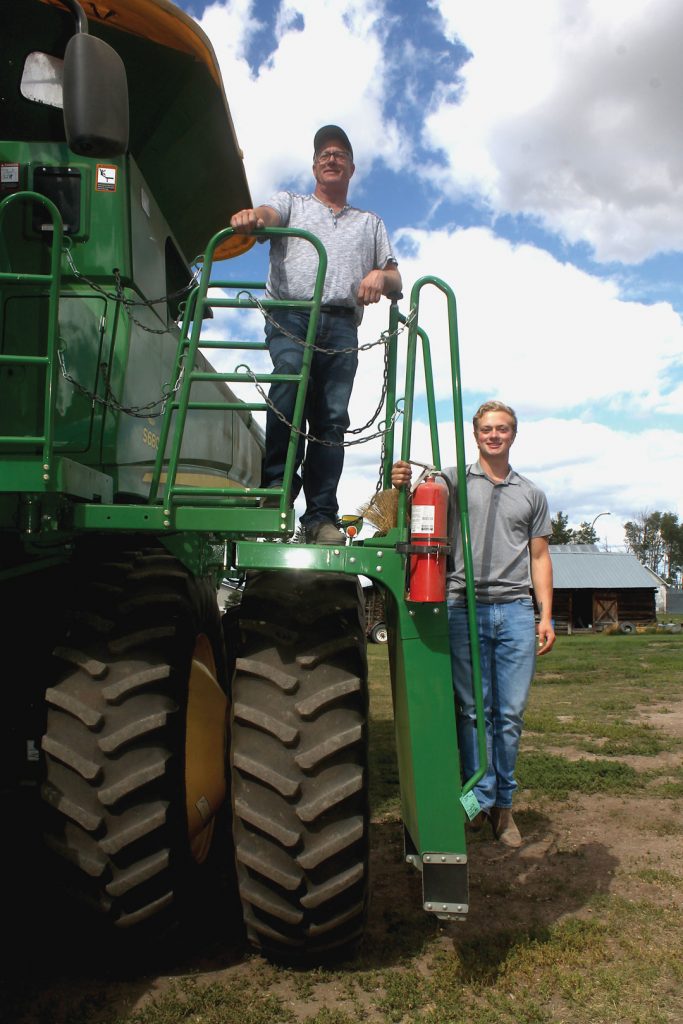 FIRST-TIME FARMERS
One chilly winter morning just a half dozen years ago, John Fingerhut put an idea to his son Mackenzie (Mac) at the breakfast table. "I said, 'you're too young to make a lifetime commitment to me right now, but if we had the opportunity, would you be interested in us going farming?'" said John. Mac immediately knew his answer but sensibly took the day to think it over.
John grew up on a Dawson Creek, B.C., grain farm, but left to be a grain trader in Vancouver at age 24. Through the job, he met his wife Jody, a grain company employee. John later worked off-farm in equipment transport. To facilitate their return to farming in 2017, the couple farms Jody's parents' land near Fairview. John and 20-year-old Mac are in their fifth harvest together on 3,700 acres of barley, canola, oats, peas and wheat. Jody and Mac's 18-year-old sister Monica provides seasonal assistance, as does one harvest-time hire. Monica is enrolled in the agri-commerce program at Olds College, which Mac graduated from this spring.
To establish their operation, the Fingerhuts did extensive research and purchased their equipment within a six-month span. Three months later, their first crop was in the ground. They incorporated new technology on equipment of mixed vintage, with Mac taking the lead in the digital department. They launched with a 2011 Lexion combine, integrated for GreenStar, retrofitted for GPS yield mapping and autosteer.
The two developed a working relationship based on mutual trust that has allowed them to tailor their operation for efficiency. They have continually boosted and streamlined their digital capabilities, which Mac said, "just fell into place." They adopted sectional control and soon graduated to variable-rate nitrogen application, then variable-rate fungicide two years ago. A recently purchased air cart will allow further advancement. "We're looking at full variable-rate fertility for next year and full sectional as well," said Mac. "We've even discussed variable seeding rate. That's less common up here, but something to consider."
To enter digital agriculture takes training and diligence, said Mac. With a limited amount of setup at harvest, the Fingerhuts concentrate on efficiently getting the crop off. Mac then analyzes their collected data over winter and generates yield maps and reports. This includes yield data from two dozen field trials. "We've become a bit of a testing farm for our area," he said.
Mac has also recently purchased his own land, and he and his father hope to expand their operation to take advantage of significant efficiency gains. Ever ambitious, Mac has recently purchased a soil sampling truck and soil electrical conductivity equipment, and has even formed a precision data management side business—MJ Ag Solutions. His ultimate goal is to help Peace Country farmers emulate the success he and John have found in digital ag. "I haven't got it all figured out," said Mac, "but I'm starting to create a system that works to give farmers of any size the ability to do precision mapping and precision data without interfering with their harvest operations. There are ways that you can make it really, really simple.
"You're ultimately trying to calculate return on investment with this data collection and management," he added. "You can make all the pretty maps you want, but I'm trying to make them with a purpose."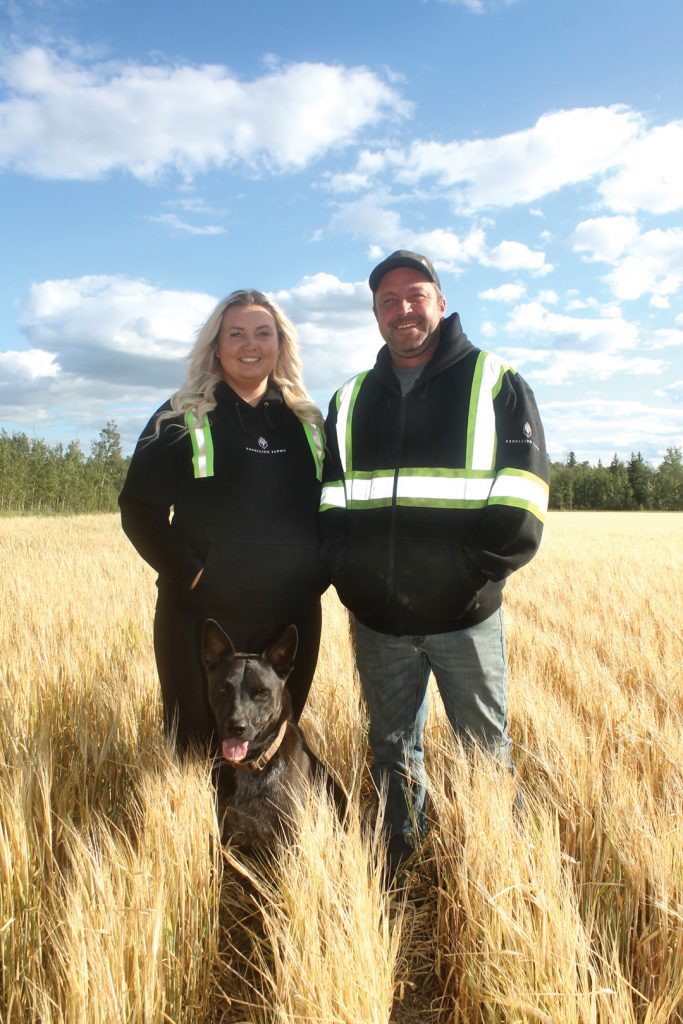 NEW THINGS
The walls were being secured on a towering new 30,000-bushel grain bin as we arrived at Rebellion Farms, 5,000 acres of canola, peas, malting barley and wheat near Brownvale. Owners Christi Friesen and husband Kelly were enjoying the occasion with a celebratory drink while their blue heeler-rotwieller cross Rouger romped around the yard. The couple have two children, Kohlton, 11, and Mackenzie, eight.
In this parkland geography with steep, rolling hills, their fields have highly variable soils from grey wooded to slow-drying heavy gumbo and sandy, gravelly soil that is quick-draining. In years such as this, hilltops can burn off or hardly germinate while hollows are in good shape. This demands they individually manage each field. Under the principles of 4R fertilizer management, each is given its own fertilizer blend at seeding. Uneven maturity rates require certain fields be desiccated and others not. It all takes time to manage and, of course, yields vary.
"It is challenging," said Christi who is an Alberta Wheat Commission region five representative. "We're still trying to figure out what's going to work for us. We're very open and willing to try new things. I think that's what makes you a progressive farmer."
To gauge the value of new practices, the Friesens perform frequent field trials. There can be a fine line between what works and what doesn't. For instance, they don't desiccate their wheat after frost. This worked great when frost hit their mature wheat in mid-September last year, but was a disaster in mid-August of 2019 when the crop was nowhere near maturity. However, that same year, they let their frosted canola stand and mature on its own and achieved green counts much lower than the local average. Not typical for their area, a practice they've adopted that has worked uniformly well is to straight cut everything.
The couple's drive to tailor their methods is twofold, said Friesen. They work to improve sustainability in tandem with the financial bottom line. "We're always calculating here," she said. To avoid unnecessary spray application, they monitor insect thresholds and choose pesticides carefully so as to minimize impact on beneficial insects and soil microorganisms as well as avoid herbicide carryover.
"If you're farming in a sustainable way, it potentially gives you extra marketing opportunities," said Friesen. For example, through Cargill, they participate in a voluntary sustainability tracking program that gives them access to the European biofuels market for canola.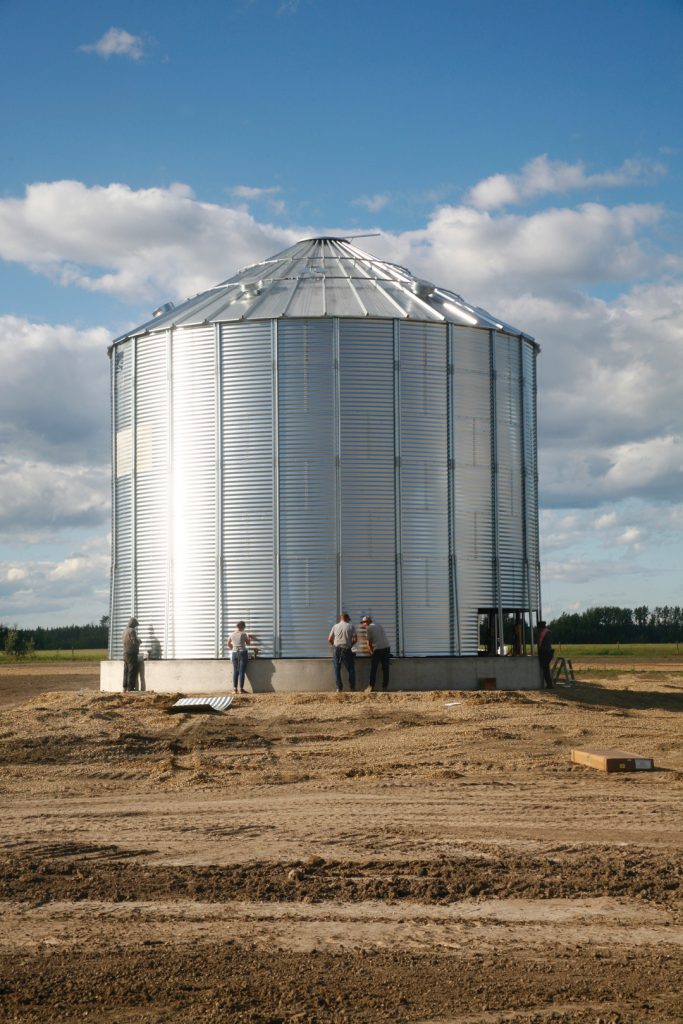 These sustainable ways have also served well in their 1,800-acre rental relationship with the Duncan's First Nation. In a process Friesen described as a two-way education, they've worked with the community to reconcile their weed and pest control needs with the community's own strong cultural belief in sustainability. As well, one of the Friesens' two seasonal employees is a Duncan's member.
The Friesens also employ one full-time hired hand who is part of their business diversification plan. They purchased an excavator and a D6N Cat that allow this skilled employee to do excavation work in winter as well as taking on hauling and equipment moving projects. In tough years such as this, the initiative offers additional income and peace of mind.
"What I'd like everybody to know is Peace Country farmers are the strongest and most optimistic kind of farmer there is," said Friesen. "We deal with anything Mother Nature throws at us. It's like a totally and completely different little world up here."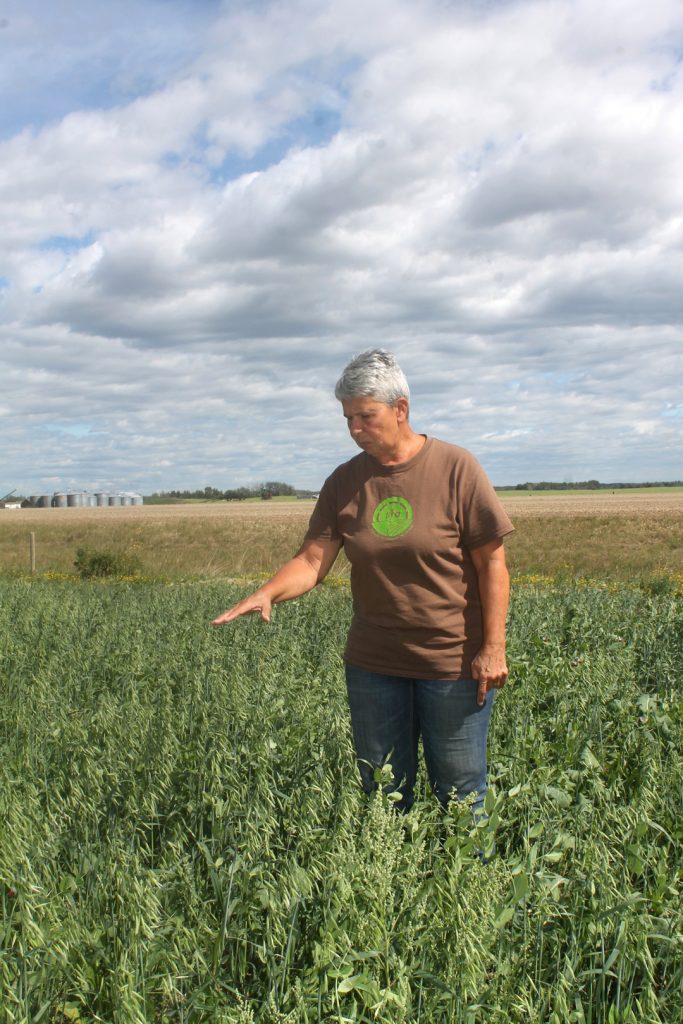 INTEGRATION AND DIVERSIFICATION
In the midst of preparation for a camping trip, Nora Paulovich and her family gathered at their kitchen table. To concentrate on further expansion of their north Peace farm operation, Nora has just retired as manager of the North Peace Applied Research Association (NPARA) in Manning. A big proponent of soil health, from 2015 to 2019 she chaired the Western Canada Conference on Soil Health & Grazing in Edmonton.
Jackknife Creek Land and Cattle is located southeast of Manning and just east of the NPARA Research Farm. Nora's Ukrainian immigrant grandparents homesteaded nearby. Husband Bob Noble grew up on a farm near Taber. With daughter Jolene and son Lee, they maintain a cow-calf operation and grow cereal, oilseed and pulse crops. Their daughter Cara is an accountant who lives in Edmonton but assists on monthly visits.
Geographic drawbacks of farming in Peace Country are magnified as one travels north. Here, market access for crops and livestock is limited. The family hires a custom hauler to drive 80 kilometres to Grimshaw at about $12.50 a tonne. While transport to far-flung terminals takes a bite, grain buyers offer lower rates than do facilities closer to port.
Input suppliers are also spread out, so parts can take time to acquire. Speed of service depends on the colour of the equipment. The family drives an hour-and-a-half to Fairview or two to La Crete. They do appreciate the efforts of service and supply outlets to address local needs, but maintain contingency plans. This includes a limited on-farm, spare parts inventory.
Despite drawbacks, the family speaks glowingly of their northern advantages. Accessibility of land can bring favourable return on investment, and because urban development is limited, there is less pressure on land value. There is also less maintenance pressure on local roads and even less noise and dust pollution.
As well, shy of soybeans, long summer days allow farmers to grow most crops their southern neighbours do. "We pay for the day length in December," said Lee. "But I wouldn't trade it." Neither would Jolene. Like Nora and Bob, Lee and Jolene studied agriculture at the University of Alberta and are now career farmers.
"We're very proud and lucky they both want to come back and farm," said Nora.
"This was always what we wanted to do," said Jolene. "And a big part of that was mom and dad involving us in management decisions from an early age. And they always bring new ideas to the operation and all of us are very open to moving forward and making improvements."
This includes further diversification and vertical integration of crops and cattle. "We will improve our soil health through our crop rotations and grazing management and reduce our inputs to make more profit," said Nora. They are also retailers of forage seed, fence supplies and livestock minerals and plan to introduce a value-added beef freezer trade to their business.
Cover cropping, which they began in 2013, is a proven innovation. "That's what's going to save our bacon this year," said Nora. Late frost and a dry spring knocked forage production back to as little as a quarter the norm.
"Because our perennial pastures are very poor, that's going to help us supplement our grazing."
"We're looking outside the box to see what we can do to increase profit per acre versus adding acres," said Jolene.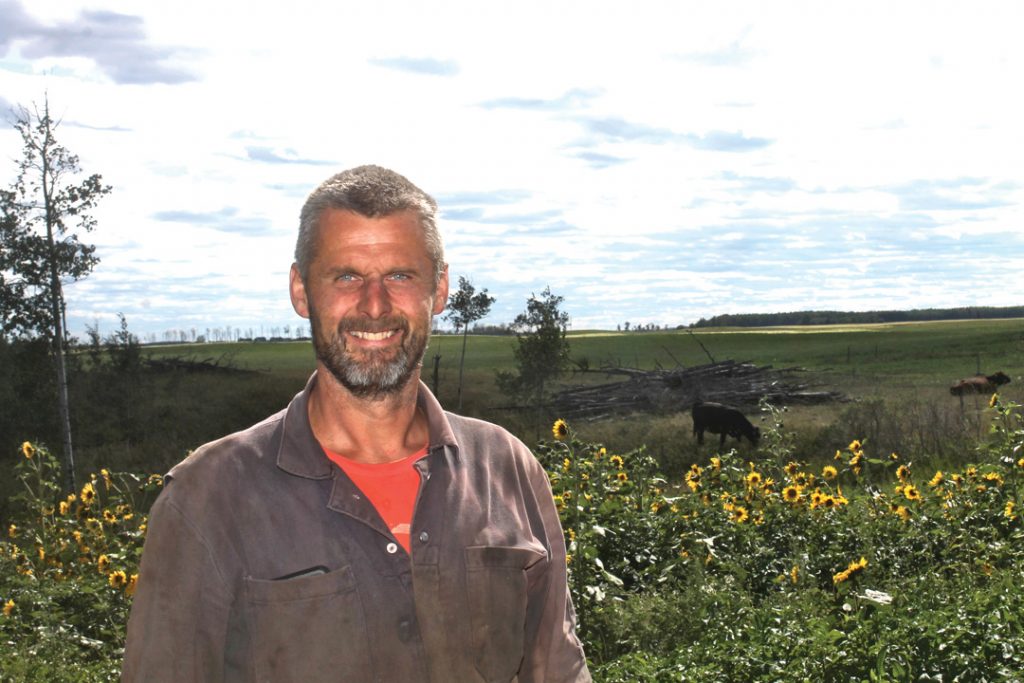 EXPERIMENT AND ADAPT
With the summer's scorching heat, Peter Bigler has considered the impact of increased weather extremes on his farm at Hawk Hills near Hotchkiss. "It has made me realize we have to lay out our farm to become more resilient," he said. "Crop insurance doesn't put bales in the yard."
He had just rolled into the farmyard on his ATV from tending cattle while wife Noelle Weiland was bailing nearby. The couple's four children—Lauren, Erin, Shane and Sharman—are all in school, from Grade 11 to third-year university.
Predominantly a cattle operation, they sow 800 acres of cash crops that may include peas, barley, canola or oats on slightly more than nine quarters. Most of their cattle spend a portion of their summer on two community pastures while Bigler grows winter forages on the farm. They calve 200 cows and background about half the animals. On the crop side, with no grain handling system, he makes do with several aeration bins.
Born and raised in Bern, Switzerland, the scarcity and high cost of European farmland proved a no-go for the aspiring first-time farmer. The Biglers established a dairy and feeder pig operation east of Red Deer but inadequate water supply hampered its growth. The couple discovered the appeal of the Peace Country through friends who lived in the region. In 2005, they made the move and it agreed with them. "Just the sheer beauty of the land, the access to the river, we love it up here," said Bigler. On the heels of the BSE crisis, however, it was a tough start for a cattleman. Most area grain farmers then grew grass seed, but in about 2007, the market tanked and the ready supply of roughage Bigler had counted on disappeared. He made adjustments and keeps on doing so. "My mindset is to experiment and adapt."
This includes experimentation with both feed and cash crops, as the latter can be turned into feed. "I can be a bit more adventurous than my straight grain neighbours," he said. For example, he works with relay crops. He may take a barley silage crop off that gives way to forage species that tolerate cool, late-summer nights. "We've had really good success doing such things which always makes me happy," he said. His input costs remain relatively low, which allows him to roll with nature's punches, and though his income is modest, he said, it is also not subject to great fluctuation.
Wet year or dry, and despite occasional grasshopper pressure, multi-species cover crops always produce. Last year, when excess moisture drowned his barley and oats and kept him from seeding a portion of his forage acres, annuals from the previous year grew tall and thick to save the day. After grazing and silaging, he even took off a second cut in October. This year, barring extreme weather, he's confident winter grazing will hold out as late as March.
Though his operation is well tuned, Bigler admitted he struggles with the next major step in its evolution. "We could just farm grain and have a lot easier life, but it's just not something I really want to do." And again, the mixed nature of the operation allows needed flexibility.
"I think we'll have to start to learn to live with challenging times," he said. "The last three years we've seen many extremes. Neighbours who grew up here say, 'well, that's one for the record books.' A couple of months later, there's another one for the record books. So, that's a lot of entries into that record book."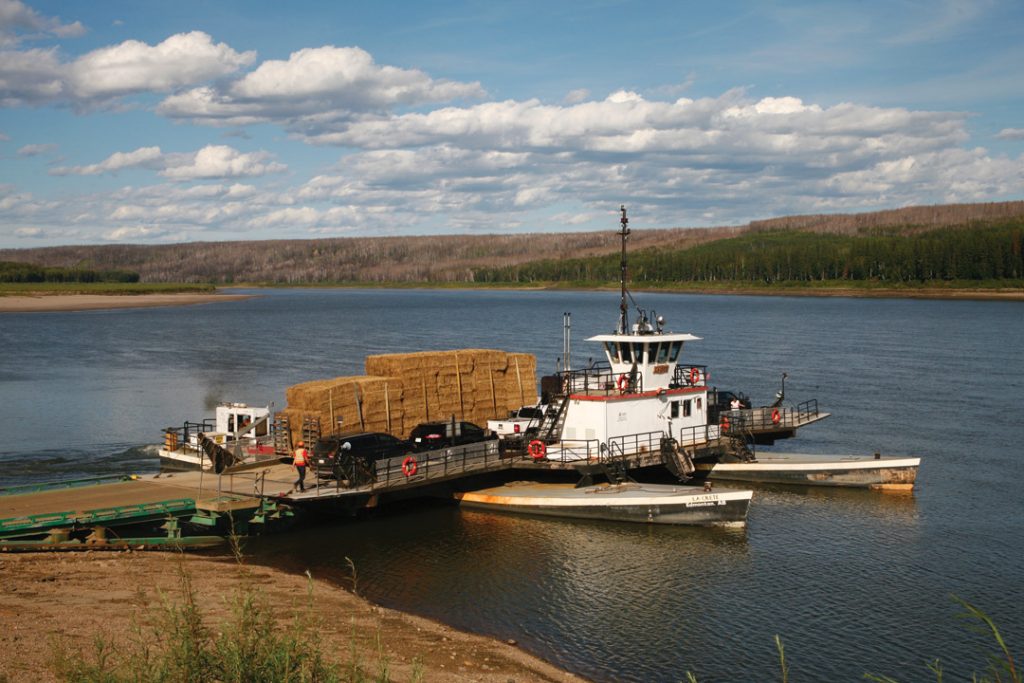 FEARLESS FARMERS
A mere three-hour drive from Alberta's border with the Northwest Territories, there are no obvious signs of drought on the Peters's farm near La Crete. An inflatable water trampoline bobs in the slough next to the driveway, and the canola crop is lush. The farm's soil is mostly agreeable sandy loam with areas of trickier, hard-drying clay loam.
Ernie, his wife Shannon and their two boys—Shaun, 13, and Nolan, 10—farm close to 6,000 acres of barley, canola, peas, oats and wheat in Mackenzie County. With business partner David Wiebe, Peters employs three seasonal employees. He also farms a parcel of land 135 kilometres away in the Keg River area to the south in Northern Lights County. Conveniently for Peters, the La Crete area is typically drier, so harvest can begin there and transition to Keg River.
This is the northern tip of Peace Country, Canada's most northerly agricultural region. Peters acknowledged farming here has challenges, such as high nighttime humidity that can shorten the daily harvest window, but is eager to discuss its advantages.
The land here happens to be nice and flat, but this is the least of Mackenzie County's farm-friendly attributes. "Our crops grow 24 hours a day for about six weeks in June and July, which is quite amazing," said Peters. He also trumpets the high quality of local crops, which include canola with high oil content and wheat with desirable starch and protein. "We're hoping to attract value-added processing facilities up here," he said. He added the area has the necessary labour force for such initiatives.
Additionally, the Mackenzie Applied Research Association (MARA), of which Peters is a director, conducts research to support cropping innovations workable under the area's unique agronomic conditions. Located in Fort Vermilion, MARA assists farmers in part by identifying new and valuable crop types and associated agronomic practices farmers can utilize. Area farmers are also keenly supportive.
"Very often, the perception can be what works in southern Alberta works in northern Alberta and vice versa. That is just not true. It's a totally different environment here," said Peters. "People are not afraid to try different concepts, products and ways of farming." This includes conventional as well as organic operations, which have proliferated over the past several years. When commodity prices were low, and given the often considerable cost of inputs, many here saw organic production as a welcome opportunity.
Sure, parts and products are more expensive to acquire here, and for many, a new Richardson Pioneer terminal in High Level is distant, but Peters takes this in stride. Again, the area's remoteness and high latitude provide counterintuitive benefits. "We're in this far-north bubble and there's so much forest between us and the next communities. That's really beneficial. It keeps diseases like Fusarium and clubroot out, and our colder winters are very beneficial as well. They reduce the survival rate of insects and that suppresses insect pressure on crops during the growing season."
While vastness, geographic isolation, high latitude and the particular farming circumstances they generate may shape the practice of farming here, Peters said it is the attitude and outlook of farmers that defines Peace Country agriculture. "We aren't afraid to tackle anything."