A SUNNY FORECAST
BY CULLEN BIRD • PHOTO: SHUTTERSTOCK
Two acres of James Molnar's 800-acre family farm near Barnwell cause him continuous headaches. Just a short distance from his house, these troublesome acres contain an old oil well site. Its lingering traces of asphalt and oil prevent Molnar from planting the lot with high-value Taber corn or the tomatoes, pumpkins and other market vegetables he farms. Doing so would violate the exacting standards of the grocery stores he supplies.
Though the site has been put through a remediation process by the Orphan Well Association, which capped the well and cleaned the soil, Molnar can't sign off on the reclamation certificate until absolutely no trace of contamination remains. And trying to resolve this with the province and various relevant organizations over the years has been draining.
"They all say that they're trying their best, but sometimes one thing gets passed on to the next guy. You get kind of tired of it all," said Molnar.
When the RenuWell Project contacted him with a plan to turn the site into a solar farm, it struck him as a winning solution to this lingering problem. Molnar's farm may potentially become one of two sites selected for the RenuWell Project. This pilot project seeks to prove the economic case for the installation of solar farms on remediated oil and gas well sites, using existing maintenance roads and power lines to save costs.
The project is led by Keith Hirsche, president of RenuWell Energy Solutions. It was Hirsche who approached the Alberta Energy Regulator (AER) five years ago with the idea for this project. 
While the preparation has been long, actual construction on the sites will be speedy. "It will only take a couple weeks per site to build," said Hirsche. If all goes well, both site installations should be finished by the end of the summer, he added.
The initiative includes many stakeholder groups that represent a diverse alliance of interests. Alberta's Municipal Climate Change Action Centre and irrigation canal power co-operative IRRICAN fund the pilot project. And all of this has been made possible by RenuWell's partnership with the Municipal District of Taber. Renewable energy company Canadian Solar is the developer, while installation will be handled by SkyFire Energy, a solar energy systems business.
Irrigation farmers have seen their transmission distribution costs more than triple in the past 10 years, said Hirsche. IRRICAN Power, whose members include the St. Mary, Raymond and Taber irrigation districts, saw the potential to increase their power capacity through this partnership with Renuwell, said Hirsche. "We can save money on electricity and distribution for the irrigation farmers."
A central concern in discussions about the transition from fossil fuels to renewable energy is the assurance oil and gas workers can participate. Project members Medicine Hat College and Iron & Earth, a not-for-profit employment transition organization, have in turn partnered to train 15 workers in career skills necessary to carry out work on the project. "Our mission is to support the fossil fuel industry and Indigenous workers to lead and build the net-zero emissions economy," said Adam Lynes-Ford, Iron and Earth director of innovation and energy policy. "We support those workers to expand into climate careers."
STAR POWER ASSISTS EARTHLY PROBLEM SOLVING
The RenuWell Project bills its model as one of the keys to Alberta's rapid transition to clean energy production,
while also addressing the province's oil and gas well remediation problem.
"We came to the conclusion there was a real opportunity for former oil and gas sites," said Ryan Tourigny, Solar's national director of business development, which acts as a developer for the initiative. Landowners with defunct oil and gas sites are familiar with the type of lease arrangement RenuWell is proposing and Tourigny believes they will appreciate the work RenuWell is putting in.
Using a site's existing infrastructure saves money that would otherwise go toward removal work and site reclamation. In addition, this method allows reclamation and installation crews to augment their existing expertise with new skills in renewable energy installation. "Crews can come into sites, cut and cap existing wells, then go on to install solar panels as well," said Tourigny.
The AER faces a staggering $30.1 billion price tag for the burden of inactive oil and gas well remediation. The RenuWell Project partners are quick to point out they are only part of the solution. "We're only going to be able to address maybe 10 per cent of the [defunct well sites] out here, that are suitable for it," said Hirsche. "The targets for us, are those with the least valuable agricultural land." The lots in question have to be easily accessible and, of course, receive good amounts of sunlight.
Converting even a fraction of the province's 91,000 inactive oil and gas sites into revenue and electricity-producing solar installations would meet Alberta's 2030 renewable energy generation goals.
"I think one of the things that we like to point to with the project, is that by using just 10 per cent of abandoned wells across Alberta we'd be able to meet the land resource requirements for 6,200 megawatts, and that's enough renewable energy to meet the government's 2030 goals," said Lynes-Ford. "And that would be accomplished without removing any additional land from agriculture," he added.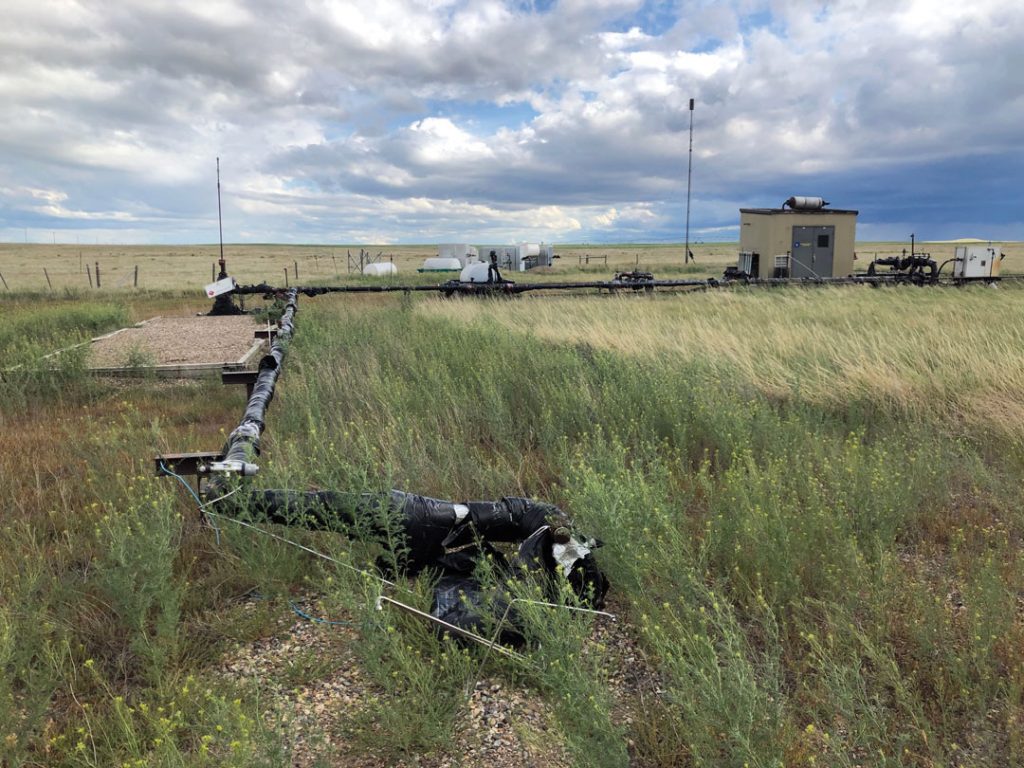 REPLACING REVENUE ON THE FARM
Defunct and deserted wells are a costly liability for farmers. They also represent a loss of steady lease income many have relied upon to level out the ups and downs of farm income. Farmers have to engage the province's Surface Rights Board for assistance in recouping the missing payments from oil and gas leaseholders. The federal government acknowledged the problem in the summer of 2020 and announced $1 billion in funding for oil and gas remediation efforts in Alberta.
Molnar has six paying oil wells on his property. While he said the current operators treat him well, this has not always been the case. "We've had several companies over the years," he said. "Some have been great to deal with and some have been a real pain in the neck."
Local governments have felt the pinch of oil and gas company bankruptcies and the resulting interruption of payments. "The municipalities are really in trouble out here because many of them are really dependent on oil property tax income," said Hirsche.
The Municipal District of Taber is one of those struggling with the drop in property tax revenue as wells become inactive or are deserted. "As far as from the taxation side, we're down over $2 million over the last couple years," said Brian Peers, director of municipal lands. "When [Hirsche] came to us, it's no secret that the energy transition is happening across the world right now, not just here in Alberta," he said. "We saw an opportunity to help the [municipal district] as well as our tax base, as well as some of our landowners."
There are more than 600 oil and gas wells on the municipal district's lands. In the eight years since Peers joined the body, the number of companies operating these wells has dropped from about 30 to 12, following bankruptcies and takeovers. The number of inactive, deserted wells has also risen, along with the missed payments and contaminated land they represent. "These sites are becoming a bigger and bigger problem," he said.
SUNNIER SKIES AHEAD
Alberta, with its abundant sunshine and clear skies, has the potential to become the solar energy hub of Canada. If the RenuWell Project proves viable, such well site transition may contribute to this ambitious goal.
The cost of solar equipment and installations has continued to decline while efficiency has rapidly increased. This makes solar installations profitable without government subsidies.
Additional, larger projects are in the works. The Vulcan area will be the site of the Travers Solar Energy Project, the largest of its kind in Canada, with 1.5 million solar panels set on grazing land.
In contrast to singular energy initiatives, RenuWell's model would create a distributed network of solar installations that won't strain the capacity of the existing electrical grid.
Hirsche, who began his career in the oil and gas industry, said the constantly improving economics of the renewable energy market is exciting given the typical pattern of diminishing returns derived from oil and gas projects. "With the renewable energy projects, it's like every project we put on the ground costs less and produces more than the project before," he said.
It's something Peers also recognizes. "We aren't really trying to drive the transition [to renewables], but we see it happening and we may as well join," he said.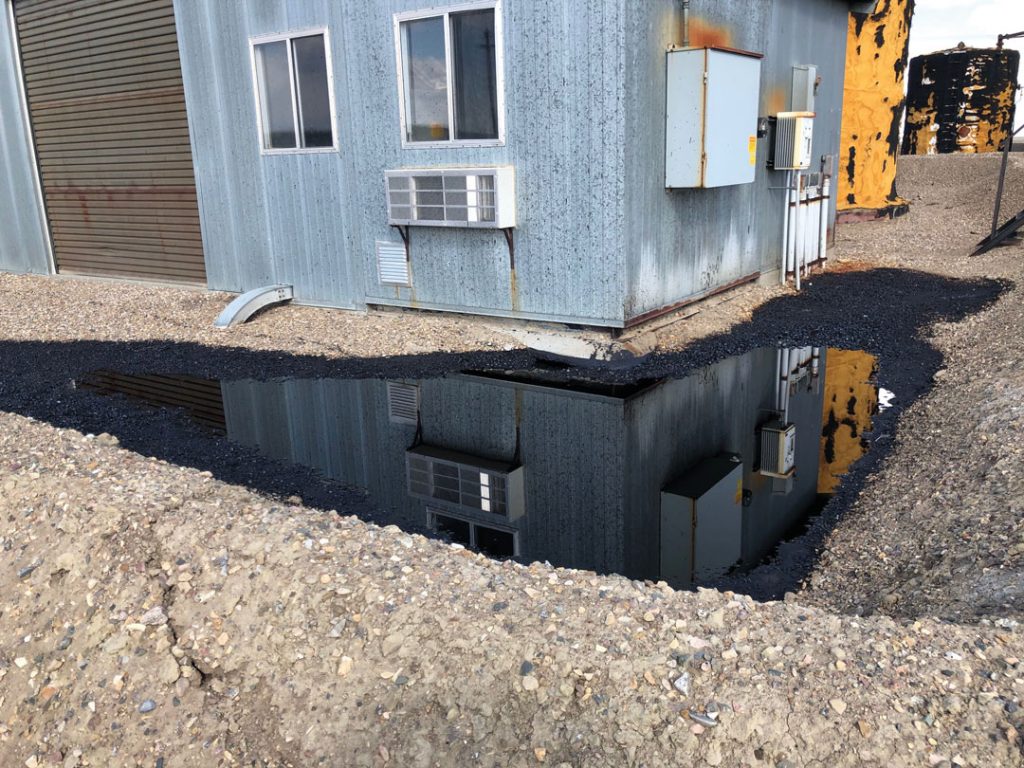 A DEAL WORTH MAKING?
For the RenuWell Project to succeed in both the short- and long-term, farmers must buy into the solar installation concept. Negotiations to sign the site lease for the solar installation on Molnar's farm were being finalized in February. Lease payments from RenuWell will have to be similar to what he would receive from an oil company, he said.
"It basically has to be in line with an oil site, or it's not feasible for a farmer," he said.
Solar installations are also more land intensive than traditional oil and gas wells, covering the majority of the leased site with solar panels.
In comparison, a traditional oil well site can be planted and farmed right up to the well head, Molnar said. A solar farm takes up the entire lot with solar panels and equipment. Still, he prefers seeing solar panels installed on lots like his, rather than on large tracts of prime farmland, he added.
The project is slated for completion in fall 2021, and Hirsche is very confident that the RenuWell Project will meet its commercialization goals. RenuWell has worked for the past year to identity sites for further solar installations. "We're working on a suite, probably about 10 or 20 sites that are tagged for commercialization if the pilot succeeds," said Hirsche.
Tourigny of Canadian Solar agreed it is possible to make much greater strides in renewable energy production. "Our longest-term plan is to really showcase in Alberta how this business model makes sense as a broad approach," he said. He added it could be implemented on other brownfield and underused sites across Canada.
"I think we've already proven that our model can really stretch reclamation dollars."